What boot can handle both mountain and general wilderness hiking?
In a month I will be visiting southern Utah and hiking to and around the Wave area of the North Coyote Buttes. I'm interested in buying a nice pair of hiking shoes for this trip and for future trips of this nature. I also interested in buying a nice pair of hiking boots for hiking in the mountains and general wilderness hiking. The problem is that I'm a poor college student and can not afford two kinds of shoes for two kinds of hiking. Is there a shoe or boot out there that would work equally well on both terrains? I don't think support as much as traction is an issue on slick rock, but support is a huge issue when hiking up mountains. Kristen Provo, Utah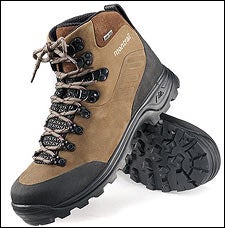 Heading out the door? Read this article on the new Outside+ app available now on iOS devices for members! Download the app.
Ah, Kristen. Surely you're taking a philosophy course at Utah State, or whatever fine institution in which you're enrolled? If so, you certainly would have pondered the merits of fallacious reasoning. You know, non cause pro causa, the fallacy of propositional logic, argumentum ad hominem¸ all that good stuff. Here at Gear Central I spend hours a day pondering this sort of stuff. And I sense in your epistle a particular kind of fallacy, which we shall call the Footwear Fallacy.

Montrail's Blue Ridge GTX
The Footwear Fallacy posits that one must have a change of shoes for every possible activity. As with all fallacies, it rests on a certain reasonable logic. Climbing boots such as the type worn to ascend Mount Rainier, for instance, are likely not appropriate for, say, road biking in the Sonoma Valley. But that's because those activities are nearly polar opposites. "Hiking on a trail" and "hiking in the wilderness" are really not that different at all. Hence, one does NOT need two pairs of footwear for these activities. One will do nicely.
To that we add the Big Pot Certainty—if only one pot is to be purchased for the kitchen, then it had better be one that can handle the biggest patch of pasta you're apt to make. Same goes for boots. You need a pair that can handle wilderness trips into the mountains, and that can perform equally on your milder nature hikes. In this day and age, this request is not much of a hardship, as today's backpacking boots are much lighter and more comfortable than those in days gone by.
So if I had to pick one boot for all seasons and situations, it would look a lot like the Montrail Blue Ridge GTX ($175; www.montrail.com). This lightweight packer has a great fit, the ability to handle off-trail excursions, yet enough flexibility and comfort so that you won't feel awkward traipsing along mild forest paths. Plus, it's gender-specific and has got a flexible Gore-Tex liner, in case rain is in your future. I also am much enamored of Raichle's Mountain Peak XT GTX ($199; www.raichle.com), which throws into the mix a slightly more durable leather upper, plus an ankle collar lined with leather. Vibram sole, Gore-Tex liner, all that good stuff. Lastly, Asolo's Stynger GTX ($165; www.asolo.com) is a version of the popular Fugitive that's made for women. It feels almost like a sneaker, yet can handle tough hikes. They won't have the long-term toughness of the Mountain Peak's or Blue Ridge's one-piece leather uppers, but you'll get plenty of use out of them.
And that, my young grasshopper, is all that stands between you and any kind of wilderness exploration.
Want to widen your boot-stomping options to the wide world of foot apparel? Check out Outside Online's robust inventory of all things hiking boots.

Trending on Outside Online