What boots will hold up under 40-pound loads?
I recently bought a pair of Vasque Zephyr boots (not the Gore-Tex model) from an outdoor store, but the boot salesman was, shall we say, underwhelming. They were very comfortable, but I think he might have overestimated the weight limit on them. I regularly backpack with 40-pound loads. How do you think these boots will hold up? Frank Wayland, Iowa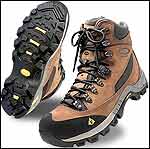 Heading out the door? Read this article on the new Outside+ app available now on iOS devices for members! Download the app.
The problem, Frank, is that your boot guy probably has never been backpacking, least of all on anything approaching a hill. He's probably never left the state, and the highest place in Iowa is Hawkeye Point, 1,670 feet above sea level and I imagine only 800 to 900 feet higher than the median elevation of the entire state.

Vasque Zephyrs

Anyway, you now own a perfectly fine pair of day hikers. The Vasque Zephyrs ($135 for non-Gore-Tex version, $160 with Gore-Tex; www.vasque.com) are perfectly good shoes, but even Vasque doesn't tout them as anything more than a boot for light and fast overnights—meaning loads of 25 pounds or less. Depending on how heavy you are, you could be way under-booted. Vasque's "classic" backpacking boot is the Sundowner ($195), and I don't even regard that as a particularly heavy-duty boot. But fine for loads such as you describe, on rugged trails or even off-trail.


Other good boots to take a look at would include Montrail's Blue Ridge GTS ($175; www.montrail.com) or Raichle's Mountain Peak XT GTX ($200; www.raichle.com). I think that Gore-Tex liners have become something of a plague in footwear—sometimes useful, often not—so another alternative is the rather pricey but extremely good Scarpa Delta M3 ($230; www.scarpa-us.com).
What to do with the Zephyrs? You'll use them in time, so maybe hang onto them. Or go back to the store, make a fuss, and trade them in. Or sell them on eBay. But they are NOT the boot for you.
Wondering what gives a boot its inner mojo? Check out "The Anatomy of a Boot" for an inside look at what keeps the scree from your skin.
Trending on Outside Online