What hiking shoes are best for distances more than 20 miles?
I am looking for an all around boot/shoe to go hiking with in the mountains, usually distances of more than 20 miles. I like to hike without socks in the summer. I have had Merrells before but want to try something different now.—BryceRaleigh, NC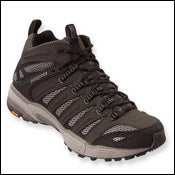 Heading out the door? Read this article on the new Outside+ app available now on iOS devices for members! Download the app.
Uh…no socks? Okay, I've heard a lot of things over the years, and I suppose that's one more. I assume it's a temperature thing—you feel a little less sweaty and hot going sockless. But how do you manage the friction? I can't imagine any shoes or light boots that are particularly comfortable once your sweaty feet are sliding around inside of them. But what do I know?

The Release Mid
I should think that 90 percent of the battle finding the right footwear will consist of just trying them on (sudden thought: Do boot stores let you try on boots barefoot? I have no idea). You want a smooth lining, of course, and not a lot of seams. That could even vary boot to boot with the same maker, due to very small manufacturing variations.
Some good choices would start with Patagonia's Release Mid boots ($130), with are mid-height, lightweight hikers. They have what you want in a summer boot for fast hikes like EVA midsoles for cushioning, Vibram outsoles for grip, synthetic leather/nylon uppers, and nylon fabric liners for a smooth feel. You say you've already tried Merrells, but you might look at theMerrell Outland Mid ($125). Similar to the Patagonia boots, but with a proprietary waterproof liner (one possible down side: a little sweatier). They do have genuine leather uppers, which is a good thing. And a polyester fabric liner, which is a good thing because polyester naturally repels water and will feel drier. Another good choice: The Keen Voyageur Mids ($110), a mid-height boot with leather and mesh uppers, polyester linings, and a running-shoe feel.
You sound like kind of an out-there guy, Bryce. So why not go all the way? Try a pair of Vibram FiveFingers Classics ($75). Perhaps you have seen these. They are sort of like heavy-duty socks with toe "fingers" and a Vibram outsole. Vibram made a batch of these four or five years ago seemingly on a whim, and now they're all the rage with trail runners trying to get away from the excess cushioning in today's shoes. With FiveFingers, you get adequate protection from sharp objects, and gain a real close connection to the terrain. No ankle support, but you'll also be stepping more lightly and carefully. So I think you'd be fine.