Gear Guy
What women's pack is comfortable and able to schlep big loads?
I'm having only moderate success finding a daypack designed for women. I tested a JanSport at EMS and confirmed that the women's cut really is more comfortable (collarbone bruising has been an issue for me when carrying heavy loads in standard packs), but the capacity was a little small and it had no compression straps. I thought Kelty might be good, but their lumbar supports are unforgiving and aggravate a lower back problem of mine. Do you have any recommendations, either with or without internal fres? Diane Cortlandt Manor, New York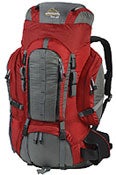 Heading out the door? Read this article on the new Outside+ app available now on iOS devices for members! Download the app.
Fact is, quite a few gear makers have wised up to the notion that gear designed for women is profitable. So there are good choices out there for you.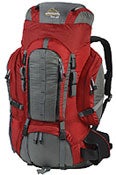 WM Deva 60

One I would recommend unequivocally is the Gregory WM Deva 60 ($229; www.gregorypacks.com), a highly regarded women's pack. Gregory make great packs for the money, and the Deva is no exception; it has a well thought-out bag that makes packing easy, a great suspension, and a fit tailored to women. Now, you don't specify how big a pack you're after, but the Deva isn't huge, only holding 3,500 cubic inches. For a daypack ample, but prudent packing will be in order for trips of more than several days.


For something bigger, albeit pricier, try the Osprey Luna 90 ($379; www.ospreypacks.com). Also a great pack—excellent bag, great suspension, sturdy construction. You can swap out the hipbelt and curve the backstays to help with fit.
A new kid on the block, Sherpani Alpina, is devoted specifically to gear for women. In the words of their GM Ed Ruzic, formerly of Madden Mountaineering and Lafuma, they're attempting to "bridge the gap between kate spade and The North Face." They showcase a range of cleanly designed packs that run the gamut from small daypacks to bigger overnight rigs. Perhaps one of these, like their Sola 35 ($109; www.sherpanipacks.com), would fit the bill.
Still, given your back condition, you might find that even very good packs aren't quite right. You always can supplement the shoulder pads with some simple cushions cut from a foam sleeping pad (something I've resorted to because of a deformed collarbone from a biking wipeout). Or—and I'm serious here—fashion a tumpline for heavier loads. Basically, that's a nylon strap that fits under the shoulder straps then up and over the head, an approach people all over the world use without resorting to fancy $500 packs. The idea is that you support part of the load with your neck muscles, which once developed can be very strong. Your back and shoulders will end up bearing much less of the load, so this might be an alternative well worth exploring.
Trending on Outside Online