What's the ideal pack to thru-hike the AT?
What size pack would you recommend I use to do thru hike the Appalachian Trail? What brand would you recommend? Bob Page Salisbury, NC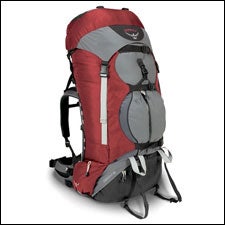 Heading out the door? Read this article on the new Outside+ app available now on iOS devices for members! Download the app.
One word: Big. Not huge, but good-sized. Something in the 4,500- to 5,500-cubic-inch range, although frugal packing might mean you can get by with less. Another word is: Fit. Packs are like shoes—they have to fit well, or you'll be miserable. And that misery will last a very…long…time. As in 2,160 miles worth of walking.

Osprey Crescent 85
So, which pack? I would say there are four absolutely solid choices:
Arc'Teryx Bora 80 ($369; www.arcteryx.com): An excellent pack—superb suspension, good design that makes the entire pack easily accessible, handy touches such as an outside pocket that drains when your gear gets wet. It also has a hydration sleeve and lots of outside attachment points. Carries 4,700 cubic inches in size medium, which should be fine, depending on how much food you intend to carry at a stretch.
Gregory Whitney ($329; www.gregorypacks.com): If your taste or needs run to larger packs, consider the Whitney. A wonderful backpacking pack, which, like the Bora, combines top- and side-loading features for easy access. Gregory always has made excellent suspensions, and the Whitney has that with a partial framesheet, "V" stays that carry the load to your hips, and adjustable belt and shoulder straps. With 5,450 cubic inches of capacity in size medium, it's a big pack.
Osprey Crescent 85 ($379; www.ospreypacks.com): A big (5,300 cubic inches in large), well-designed pack with an interesting twist: Its waist belt can be heat-molded for a custom fit. Osprey packs carry beautifully even without that feature, plus the Crescent has a built-in hydration pouch, a waterproof compartment for things that must stay dry (or for very wet things that must be isolated), and easy access to nearly all of the pack.
Dana Design Terraplane LTW ($369; www.danadesign.com): The Terraplane has been the classic big pack for I don't know how many years. The newest version, the LTW, uses tough but lighter materials to trim about a pound from its weight. It's a big (5,800 cubic inches) pack, but one that makes 50-pound loads seem…manageable. I've always liked the two big back pockets on the Terraplane, which can swallow up just about every piece of gear you're apt to need quickly during a day.
So there you go. There are good, less-expensive packs as well, such as Kelty's Redcloud ($175; www.kelty.com), a fine, big pack (5,600 cubic inches) that can manage a trek like the Appalachian Trail. And if you can trim your load, then Mountainsmith's lightweight,4,000 -cubic-ince Auspex ($199; www.mountainsmith.com) is a good choice. And then there's the whole ultralight concept, pioneered by Ray Jardine. The philosophy has a dedicated following (check out www.backpacking.net for more info), but heading in that direction may require you to rethink a whole mess of options, like swapping your camp stove for a homemade cooker crafted out of an empty beer can.
Try on several packs, though, to be sure you have one that suits you. And have a great hike!
Trending on Outside Online