Gear Guy
What's the best way to keep track of other hikers on the trail?
I will be leading groups of teens backpacking this summer and worried about keeping contact with base cp and being able to call for help, should the need arise. Any ideas for effective, durable communication devices? Is there a difference between satellite phones and walkie-talkies? Etan Los Angeles, California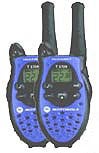 Heading out the door? Read this article on the new Outside+ app available now on iOS devices for members! Download the app.
Tough question, there. Right off the bat, I'll tell you that a satellite phone—at $1,200 a pop plus service fees—just isn't going to be practical from a cost standpoint. Your alternative is one of the many FRS (for Family Radio Service) units that have become so common. These actually work pretty well, provided you are in line of sight with the person you're calling. Range is up to two miles, although that's under ideal conditions. But prices are very reasonable—a pair of rechargeable Motorola NiCad T5720 radios can be had for $70 (www.motorola.com). The T5720s also broadcast on GMRS (General Mobile Radio Service) frequencies, which extend the range to five miles. To use the GMRS frequencies, however, you will need an FCC license (FCC form 605; $75 per five-year license).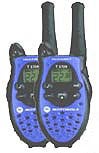 T5720 Two-Way Radios

So, maybe a purchase of four T5720s and a license would be a reasonable solution, with one unit for the "base" and the other for three field teams. Keep in mind, though, that the minute a radio drops over a ridge, it and its user are out of touch.


Anyway, in my view, it's better to eliminate the need for a radio through good group management. Fine, they're teenagers and I know that poses challenges. But here's my advice: At the trailhead, slip a wireless phone and spare battery into your pocket or pack. Don't let anyone see you do it, but that's your backup comm device in case there is a need for medical assistance. Then gather the group together and lay down the law: Stay in touch with group leaders. Don't wander off. Obey the rules. Then point to an adult member of your group and tell the rabble-rousers: "John here is our designated troublemaker remover. If any members of this party do not obey the rules, he will escort them to the trailhead. There, the parents will be called and asked to pick up their son/daughter." Convey the same information to the parents beforehand.
But, you know what, I wouldn't worry too much. Somehow, Boy Scout groups and outdoor clubs and church hiking groups have all managed for decades without radios and walkie-talkies and sat phones and wireless phones. Even with the "Can you hear me now?" guy crawling all over the place, I'm pretty sure that's still possible.
Trending on Outside Online