What's a good boot for a McKinley summit?
Do you have any recommendations about footwear (boots, covers, etc.)? I've seen these nes used a lot for climbs: Koflach Arctis Expe, OneSport Everest, or Scarpa Inverno. Any "new" kids on the block? I'm looking to summit McKinley. Greg Allentown, PA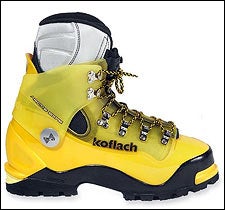 Heading out the door? Read this article on the new Outside+ app available now on iOS devices for members! Download the app.
All would work well, Greg. The Koflach Arctis Expe ($365; www.koflach.com), One Sport Everest ($750), and Scarpa Inverno ($300; www.scarpa.net) all are tested high-altitude boots, and nothing to hit the market in recent years has really supplanted them (all have been updated, in any event). Of the tree, the Everest is the warmest—it's an all-in-one boot that includes boot, gaiter, cold-weather Alveolite liner, the whole shooting match. It's expensive, but on a toes-per-dollar basis ($75 per toe) not that bad. And keep in mind that the Inverno would need a $200 Alveolite liner AND an overboot for comparable warmth, while the Koflach needs the overboot.

The Koflach Arctis Expe
So it depends on your budget and when you intend to climb. When I was on McKinley/Denali, we climbed in June, and while it was incredibly cold (-25 at 17,000 feet), we had generally fair weather and I was more than fine with my standard Invernos and a pair of Outdoor Research Brooks Ranger overboots ($135; www.orgear.com). So I wouldn't hesitate to take those back up that mountain, even if climbing a little earlier in the year. So while I am hesitant to say the One Sports are overkill, it's also true that while Denali certainly is a colder mountain than, say, Everest, most climbers who take care to acclimate aren't as physically shattered on Denali as is just about everyone who nears the summit of the Big E.
So the Invernos or Koflachs, good overboots, and good woolen climbing socks with wicking liners (and several changes) are perfectly appropriate for Denali in almost any season. But if you want to absolutely know you have on the warmest climbing boots available the One Sports are the deal.
One additional word of advice: size the boots a bit large. Your feet will swell as you climb.
Want to widen your boot-stomping options to the wide world of foot apparel? Check out Outside Online's robust inventory of all things hiking boots.

Trending on Outside Online