Gear Guy
What's a good pair of boots for hiking Rainier's Wonderland Trail?
Gear Guy, I badly need your advice before I drop $200 on a new pair of boots for hiking Rainier's Wonderland Trail. Though the trip is in August, I will also use the boots throughout the spring/summer hiking season. I'm probably looking for something tailored to a low-volume foot, with or without Gore-Tex. Will Richmond, Missouri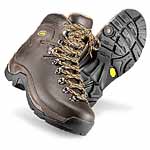 Heading out the door? Read this article on the new Outside+ app available now on iOS devices for members! Download the app.
Shame on me. From where I live, I see Rainier every time it's clear, but I've never actually hiked the 93-mile Wonderland Trail looping around the mountain. Several years back I did drive to Longmire with the intention of doing the half-loop, but a summer rangerette with a bad attitude wouldn't let me go because the nearest "open" campground was 18 miles up the trail, and she doubted I could make it in half a day. I debated whether to just bootleg up the trail and camp out of sight somewhere, but I bailed and did another trip.

Asolo TPS 535

Anyway, my tales of derring-do aside, let's talk boots for the Wonderland and other hikes. August is a very dry month in Washington. (Note I said very dry, not rain-free, so don't yell at me if you get soaked!) So I don't think you necessarily need waterproof boots. Think in terms of a good-quality, mid-weight high-top. Examples: Asolo's TPS 535 ($175; www.asolo.com), a very traditional all-leather boot; Chaco's Garvin ($210; www.chacousa.com); or Montrail's Torre ($125; www.montrail.com), on the cheaper end of this spectrum but still a boot with good-quality leather outers.


I can't say I'm entirely pleased by the fact that most boots nowadays have some sort of waterproof liner. In my considered opinion, these liners add cost and make feet sweatier, without adding all that much "waterproofing." But apparently that's what people want so the marketplace has spoken. One intriguing entry in this category is Lowa's Biomex Vertex ($225; www.lowaboots.com), which I mentioned last week. I just got a pair in hand, and while I haven't done much more than walk around the block in them, they feel light and comfortable and seem promising. Their chief selling point is a built-in plastic ankle cuff for extra support. Otherwise, they are a rough-trail backpacking boot with a Gore-Tex liner. Other boots with waterproof membranes of one sort or another, which may be preferable for your spring and fall hikes, include the Vasque Sundowner GTX ($160; www.vasque.com) and the Kayland Contact 1700 ($199; www.rei.com).
Fit is everything, of course. Generally, these are mid-volume boots, the middle ground for which most boot makers aim. However, I'm confident that all will come close to what you need, provided you take the time to have them fitted properly by a knowledgeable boot-fitter.
And who knows, maybe I'll bump into you this summer!
Trending on Outside Online