What's the perfect boot for an avid middle-distance hiker?
I blew out a pair of much-loved, ten-year-old Asolo AFX 530 boots this past weekend. While hiking, the soles fell off and upon inspection I found dry rot. Contacted the company and they explained that there was something wrong with the engineering of that boot, so they offered to replace it at wholesale cost. I love hiking (schlepping about 40-pound loads) but finding that I'm not hiking the strenuous trails as much as I'd hoped to. Should I switch brands or look for a more moderate boot? Is the wholesale cost replacement a fair deal? Jack Nashville, Tennessee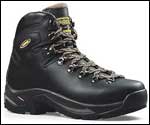 Heading out the door? Read this article on the new Outside+ app available now on iOS devices for members! Download the app.
Actually, ten years of use out of a boot is pretty good, particularly for a mid-weight boot such as the old AFX 530. It wasn't terribly uncommon for boots made around then to "de-laminate," as the cement used to hold the whole thing together, in time, simply failed. The 530 was a first- or second-generation boot using that form of construction, and as you've learned there were some engineering issues. But a decade? I'll still argue that's pretty good.

TPS 535

In any event, I wouldn't hesitate to buy another Asolo boot. The descendant of your old 530s is the TPS 535 ($175, www.asolo.com), an all-leather boot with a shock-absorbing sole. If Asolo is willing to sell you one at wholesale, go for it. Or, for something new, try the Asolo Fugitive ($165), a sturdy, waterproof boot that's designed specifically for backpacking with moderately heavy loads.


I'd also recommend Montrail's Blue Ridge GTX ($175, www.montrail.com), which like the Fugitive has a Gore-Tex liner to keep out water (the 535 relies on water-resistant leather for that task). Montrail boots seem to fit a lot of different people, so you might have good success with it.
For something really cool, particularly if your ankles are less sturdy than they once were, try on some Lowa Biomex Vertex boots. These have an integrated plastic cuff that cradles the ankle and resists deflection, so you're less apt to roll over on an ankle. They're just the ticket for backpacking, and are both light and comfortable. Not the cheapest boots around at $225 (www.lowaboots.com), but for some, well worth it.
Read more boot reviews in Outside's
2004 Buyer's Guide
, including the Lowa Vertex, "Gear of the Year" in the boot category.
Trending on Outside Online