What's the perfect shoe for a pilgrimage?
I looking for the perfect shoe for walking Spain's El Cino de Santiago de Compostela, something that will cushion for 20- to 25-pound loads and up to 20 miles a day. There will be some wet weather, and temps will range from almost freezing to 60 degrees Fahrenheit. I hearing a lot about choosing a trail runner over a hiking boot from former Cino hikers who say it's not necessary for this terrain. I currently considering the women's Vasque Endorphin. Sheila Calgary, Alberta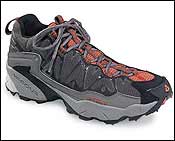 Heading out the door? Read this article on the new Outside+ app available now on iOS devices for members! Download the app.
A pilgrimage! That should be lovely. Spring is said to be the best time of year for that 450-mile-long trek, which takes travelers along the road to the Cathedral of Compostela in as many as 31 stages. But autumn will be wonderful, too.

Endorphin

Really, you're going to be on roads or well-trodden footpaths for this trip, so I agree with those who say you don't need a hiking boot. You'll want something light but sturdy, with good cushioning and stability. And that pretty well describes the Endorphin ($90; www.vasque.com), a trail runner from Vasque that also offers lots of ventilation. Take a look as well at Salomon's XA Pro 3D shoes ($100; www.salomonoutdoor.com), which have excellent fit and well-cushioned but firm midsoles. Lastly, Montrail's Leona Divide ($100; www.montrail.com) are available in women's sizes and built on a woman's last, so the fit should be extremely good. These are a superb tried-and-true pair of shoes.
Also, I'd highly recommend you swap out the insole (the part upon which your feet directly sit—it pulls right out when gripped at the heel) and replace them with Superfeet replacement insoles ($35; www.superfeet.com). Superfeet improve fit, add cushioning, and offer much more stability than factory insoles. They're a good investment in foot comfort.
And, be sure to take enough socks so you always have a dry change ready to go. SmartWool Adrenaline Mini Crew socks ($15 per pair; www.smartwool.com) would go well with any of the shoes above. So too would Wigwam Cool-Lite Mid Hiker socks ($9; www.wigwam.com), which have breathable, fast-drying Coolmax polyester in a soft acrylic blend. With good socks, and a good fit in the shoes, I wouldn't think you'd be plagued by blisters.
For more expert reviews of El Camino-worthy kicks, check out Outside Online's all-new Trail-Runner Buying Guide.
Trending on Outside Online