Which backpack is suitable for both travel and technical backpacking?
I'm going to Nepal for an internship this summer and then to South erica for the Peace Corps next winter. I need a backpack that's durable enough for travel and big enough to hold all of my stuff. But, I would like one that is technical enough for backpacking trips. Any suggestions? Sean Columbus, Ohio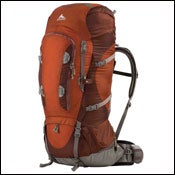 Heading out the door? Read this article on the new Outside+ app available now on iOS devices for members! Download the app.
There are pretty good "traveling" backpacks out there. But for the kind of thing you have in mind, my default position is to make a regular backpack double as a travel pack, rather than asking a travel pack to work as a serious backpack.
Gregory Palisade Backpack

Palisade 80 Backpack
The first thing to do is decide on the size. I should think 4,500 to 5,000 cubic inches would give you the leeway to pack all you need when traveling, without letting you overload or giving you too much to handle on planes, trains, and automobiles.
An example: Gregory's newly revised Palisade 80 ($319). It's just an excellent all-purpose pack, with a hair less than 5,000 cubic inches of room, a clean design, an excellent suspension, and lots of tie-down spots. It's also a very rugged pack—not a "light" design. So it should take some abuse.
Another example: Osprey's Aether 70 ($249). It's smaller than the Gregory (4,200 cubic inches), which may be a good thing. I love Osprey suspensions, and it has the toughness to hold up under extended-travel circumstances.
You might also take a look at the Eagle Creek Grand Voyage Travel Pack ($225). It's a big (5,600 cubic inches) travel pack that has a pretty good backpack suspension. You can trim the size by removing a daypack that attaches to the main bag. True travel packs have some advantages over regular backpacks, such as the ability to easily stow straps if the airline demands it. Otherwise, a large duffel is handy for stuffing the pack into when checking it as baggage.
Sounds like you have some great trips lined up, Sean. Send us some pictures!
The 2008 Summer Outside Buyer's Guide is now online. From riding to trail-running to camping, get reviews of nearly 400 gear must-haves.