Which pack is best at distributing the load from the shoulders?
Any advice on which packs will help transfer as much weight as possible off my shoulder while backpacking? I broke my collarbone a few years back and the newly formed peak in the bone is right where the shoulder strap lands. After a few hours with a fully loaded pack my arm seems to go a bit numb, and quitting isn't really an option. Matt es, Iowa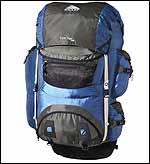 Heading out the door? Read this article on the new Outside+ app available now on iOS devices for members! Download the app.
Generally speaking, an external-frame pack is best-suited for getting the load off your shoulders and onto your hips. I speak from experience on this matter, as a few years back I came off a bicycle and snapped my right collarbone clean in two. I mean, I really took it apart. And for the next several years, while backpacking or hiking, I had persistent pain and bruising in the area where the bone had healed but had left a big lump right where a pack strap lands.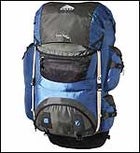 Super Tioga


So I bought what was at the time the best external-frame pack on the market—Dana Design's Terraframe, which hung a Terraplane pack bag onto the frame of Dana Design's estimable Longbed external-frame pack.
Alas, you no longer can purchase these packs (except on eBay, where they pop up on occasion). So these days there's really only one choice: Kelty's Super Tioga ($190; www.kelty.com). Which is a pretty good pack, but it's sad that no one is really taking external-frame packs seriously. They work great, but marketing has convinced everyone that internal frame is the only way to go.
Here are some other tips: One thing that helped me, and that I still use, is to cut a little "doughnut" out of Ensolite foam (the blue stuff used to make cheap sleeping pads). Put the hole of the doughnut over the bony peak, and that does quite a bit to distribute the load away from that area. You also can take your pack strap to an outdoor-gear repair place and have them split it where the sore spot is, so the strap neatly goes down either side.
Anyway, good luck. In time the shoulder will get used to a load.
Check out Outside's Gear of the Year winners in the
2005 Buyer's Guide
, then get yourself a copy of the issue, on newsstands now!
Trending on Outside Online