Which plastic mountaineering boots will get me up rock and ice?
For the past couple of winters, I've been climbing ice and mountains in a used pair of plastic boots that are a couple sizes too big. I bought them because they were inexpensive and fit reasonably well, plus I wasn't sure how long I'd stick with ice climbing. I now ready to drop the cash for a brand-new pair of plastic boots that fit. Any recommendations for a female with slightly narrow and cold feet? Claire Minneapolis, Minnesota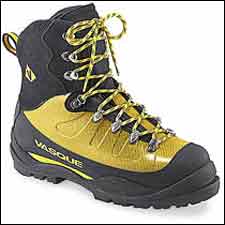 Heading out the door? Read this article on the new Outside+ app available now on iOS devices for members! Download the app.
The classic plastic boot has long been the Koflach Degre ($269; www.koflachusa.com), a good all-around boot for snow travel, glacier climbing, and moderate ice climbing. The Degre is light, comfortable, takes step-in crampons, and is reasonably warm. However, it's built on a men's last so sizing may be a problem for you.
Super Alpinista

It sounds, though, as if you're ready for more serious ice climbing. So a beefier boot might well be in order. Scarpa's Inverno ($300; www.scarpa-us.com), while not wildly expensive, is stiffer and warmer than the Degre, and offers excellent all-around performance in technical conditions. I have a narrow-ish foot and the Invernos fit me well—but here again, they're not lasted for women, so you'll want to try some on. There might be some tricks you can do to make a boot fit better, such as adding heel inserts or a high-volume insole such as ones made by Superfeet ($30; www.superfeet.com).
You might also look at the Vasque Super Alpinista ($345; www.vasque.com). It's a hybrid boot, with leather and plastic construction. That tends to give you the best of both worlds—the warmth and waterproofing of plastic, with the extra comfort and boot "feel" of leather. Boots like this one have become very popular in recent years.
Anyway, I think you'll find a boot that fits—after all, you've been getting by in boots that are too big!
Check out Outside's
2005 Buyer's Guide
to get you outfitted for the toughest of outdoor expeditions.
Trending on Outside Online