Which shoe will get me through a 28-day survival course?
I'll be on a 28-day outdoor survival course in southern Utah shortly and I looking for a pair of light, quick-drying shoes that can last over 500 miles of rough terrain and provide good traction. My current choice is a pair of Salomon XA Raid 3D's, but I'm having second thoughts as the ordeal approaches. Pierre Ardeche, France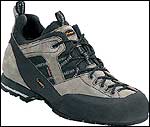 Heading out the door? Read this article on the new Outside+ app available now on iOS devices for members! Download the app.
Interesting question. The Salomon XA Raid 3D ($110; www.salomonoutdoor.com) is a good shoe, but it's clearly meant to be an adventure-racing shoe—very light, very well-ventilated, not really designed for a month of pounding. But I can't think of any shoe that's really suited for what you're asking, given that they have to be on your feet all the time, wet or dry, with no room for a spare pair of shoes to wear in the water.

Stone XCR

One suggestion: Two pairs of the Salomons. That way, one of them is almost certain to make it to the finish. And while one is drying out in your pack, the other can be on your feet. Better for your feet, better for your shoes.


Alternatively, look into a slightly heavier grade of shoe. Montrail's Comp cross-training shoes ($100; www.montrail.com) combine the lightness and comfort of a pure trail runner with the heavier materials and stiffer midsole of a light hiker. But—they're also leather, and won't dry well if you really wade in them (what the hell kind of vacation is this, anyway, when you can't stop for ten seconds to put on some water sandals?). Take a look as well at Adidas's Yokura Mid ATS ($130; www.adidas.com), which is sort of a runner/hiker hybrid that has leather coated with polyurethane so it repels water. The Adidas shoes also have a mid-height design for better support.
Finally, the Aku Stone XCR ($149; www.akuus.com) further upgrades the runner/hiker concept into a more rugged shoe than perhaps those above, with little penalty in weight or comfort. They have leather, but still should dry quickly—and should survive the month. So take a look at those as well.
Read more trail-runner reviews in Outside's
2004 Buyer's Guide
.
Trending on Outside Online