Why are nearly all backpacks internal-fre?
Dear G-squared: Why are 90 percent of backpacks internal- as opposed to external-fre? Is their comfort and performance really that much superior to justify the price difference (yes, I cheap, but I try not to be stupid)? My son and I will be carrying about 50 pounds for ten days in the New Mexico mountains. Also, can you get a good fit on a pack you buy on the Internet, or is it better to deal with a local shop? W.B. Nako Cincinnati, Ohio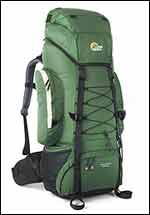 Heading out the door? Read this article on the new Outside+ app available now on iOS devices for members! Download the app.
Most backpacks on the market are internal-frame simply because the market spoke—people almost always prefer the internal-frame models to their external-frame brethren. They're generally more comfortable, offer better balance on rough terrain, and are easier to store or travel with. External-frame styles have their advantages—they're easier to pack, can handle enormous loads, and are cooler on warm days—but those haven't been enough to help them hold market share.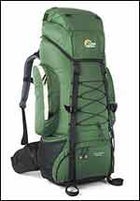 Appalachian 65

For that reason, external-frame packs have largely been relegated to the lower end of the market, hence the price differential. Dana Designs tried to take external-frame packs upmarket several years ago with some brilliantly designed, exceedingly comfortable packs (the Longbed and related models, which sold for around $250), but the effort didn't get far and the packs were discontinued. Kelty still produces a high-end external-frame model, called the 50th Anniversary pack ($260; www.kelty.com). For budgets, JanSport's Carson 90 ($100; www.jansport.com), mostly marketed to the Scouting set, is lots of pack for the money.


That said, good-quality internal-frame packs can be had for under $200. Lowe Alpine's Appalachian 65 ($149; www.lowealpine.com) is a proven performer that can schlep big loads. So, too, is the Canadian Serratus Alpinelite (about $180 U.S.; www.mec.ca). And there's always REI's Mars ($195; www.rei.com), new this year and a very well designed backpack, with an excellent suspension and good packing options.
As for fit, you're best off in the hands of a good pack-fitter in a shop. Packs are a lot like shoes—not all packs fit all people. But most packs are also highly adjustable, so it's perfectly feasible to order one off the Web and fit it yourself. You can do so in your house with various things stuffed inside for ballast, and if you find it just doesn't work, you can always send it back into the cyber wilds from whence it came.
More of the year's best backpacks reviewed in Outside's 2004 Buyer's Guide.
Trending on Outside Online