Why I Never Leave Home Without a Folding Aluminum Hiking Pole
After having my butt saved numerous times by a trekking pole, I now make sure to always pack one in my backcountry kit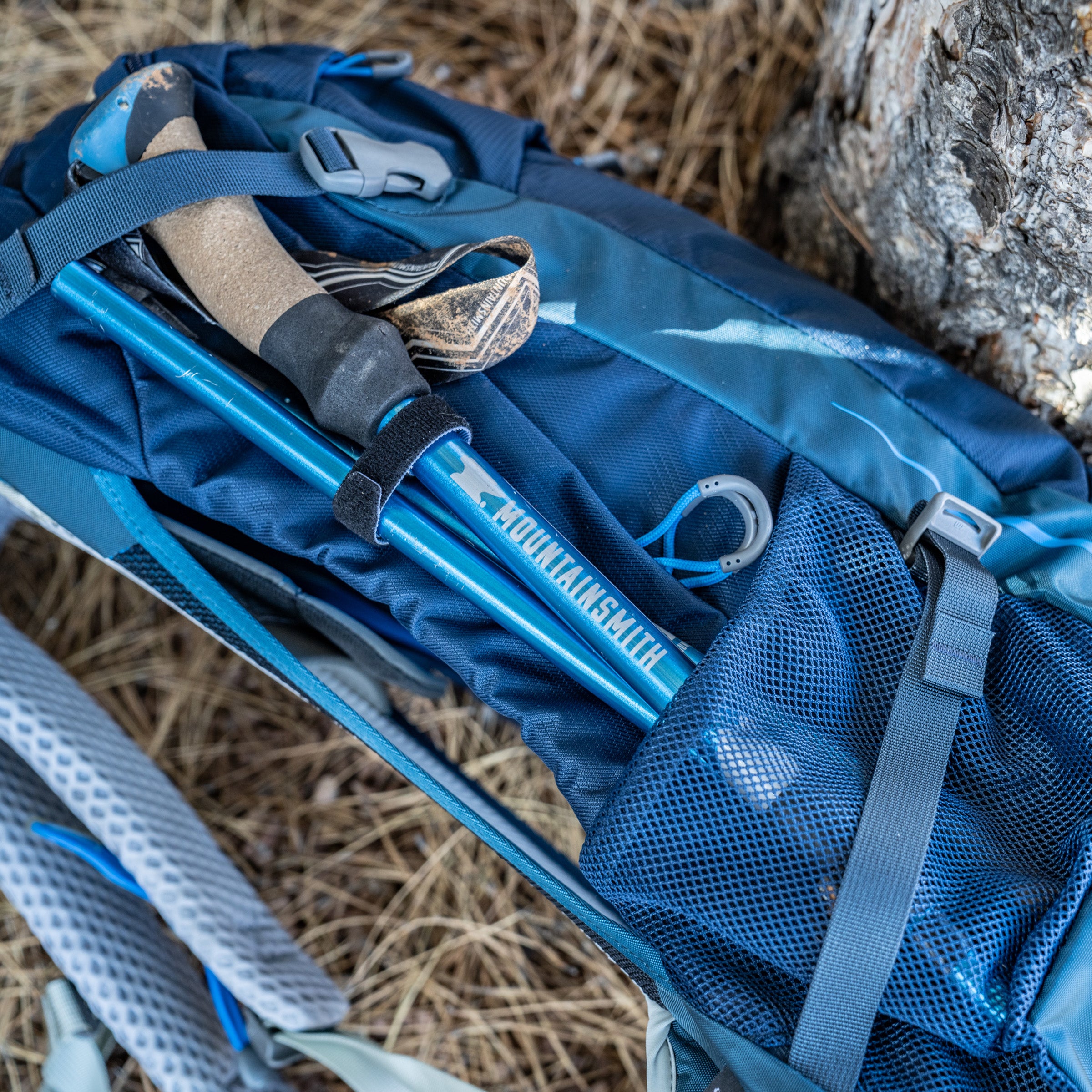 Jakob Schiller
Heading out the door? Read this article on the new Outside+ app available now on iOS devices for members! Download the app.
Back in October, a buddy and I hiked the 23-mile Sandia Mountain traverse that goes up and over the entire length of the range outside of Albuquerque, New Mexico. For the first 15 miles I felt great. But then, about a mile into the long descent off the top, I developed a terrible pain in my right shin. I was immediately hobbled and started to worry. The remaining miles were steep and if I couldn't make it down, a rescue effort was going to either involve a lot of people carrying me or a helicopter.
Free Gear Upcycling
When it's time to upgrade your gear, don't let the old stuff go to waste–donate it for a good cause and divert it from the landfill. Outside's partner, Gear Fix, will repair and resell your stuff for free! Just box up your retired items,
print a free shipping label
, and send them off. We'll donate 100 percent of the proceeds to
The Outdoorist Oath
.
Luckily I'd brought a Mountainsmith Halite 7075 folding aluminum pole, just in case. I thought it might take some pressure off my knees on the descent, but as the pain increased, its role quickly transformed from a  convenience into a rescue mechanism. To get down the last eight miles of the trail I had to put almost all my weight on the pole whenever I stepped down with my right foot. That system got me another four miles or so, and then near the end of the hike the pain got so bad I borrowed my buddy's two poles and gave him my one so that I could almost crutch my way down. I made it, but just barely. 
Fast forward a month and I was once again in the Sandias, this time to accompany a friend bow hunting for deer. We'd spent the entire day up on the steep faces that line the western side of the mountains so we could look for a buck down on the flats. By three o'clock it was time for me to pick up my kids from school and the only way back to the car was to descend a hill that easily pitched to 40 degrees or steeper.
Parts of the hill were covered in small kitty litter-like rocks that acted like marbles under my feet. Even worse, other parts were covered with re-frozen snow that wasn't quite as slippery as ice, but came awfully close. Once again my Mountainsmith pole came to the rescue. I'm not exaggerating when I say that I would have taken a couple scary tumbles or slides without it. I was able to keep my footing only by jamming the pole into the rocks and snow below me as I slowly traversed the hill in a series of miniature switchbacks. I still ate shit a couple times but the pole kept me from falling hard enough to really hurt myself.  
Back at my car, grateful that the pole had now saved me twice in a matter of months, I vowed to never leave home without one if I was heading out on a hike, backpacking trip, or hunt. I no longer think about the pole as an extra item that might come in handy, I consider it an essential part of my emergency kit alongside things like a Garmin inReach and first-aid kit. Besides saving me on steep terrain and when injured, when matched with a tarp, it could help me set up an emergency shelter if needed.
You may wonder why I go with an aluminum pole versus something carbon, which would weigh less. The primary reason is that aluminum can take more abuse. On the scree field, for example, the aluminum pole endured scratches and dings, and I never once worried that it was going to fail, or that I was slowly destroying it. I know carbon is plenty strong, but when abused, it can fall apart faster than aluminum. I've even strapped a pair of Black Diamond aluminum poles to the outside of a checked suitcase on a flight to France. That's not something I would do with a set of carbon ski poles.
Some people who are fitter than me and move as fast and light as possible will obviously go for carbon. But I log a lot of miles throughout the backcountry, and I'm never bothered by the extra weight of aluminum. The essential extra jacket and water are far heavier than the pole, so a couple extra ounces of metal is not a big deal.
Finally, there's the price. Aluminum poles average around $80, versus paying upwards of $150 for an equally robust pair of carbon hiking poles. I plan on having my Mountainsmith poles for a decade or more to come, but if I somehow manage to destroy them, replacement won't be as painful. 
Lead Photo: Jakob Schiller