Indefinitely Wild
Why Your Next Hiking Boot Might Be Designed for Hunters
High-tech hunting brand Kuiu wants to make a mountaineering boot you can wear for day hiking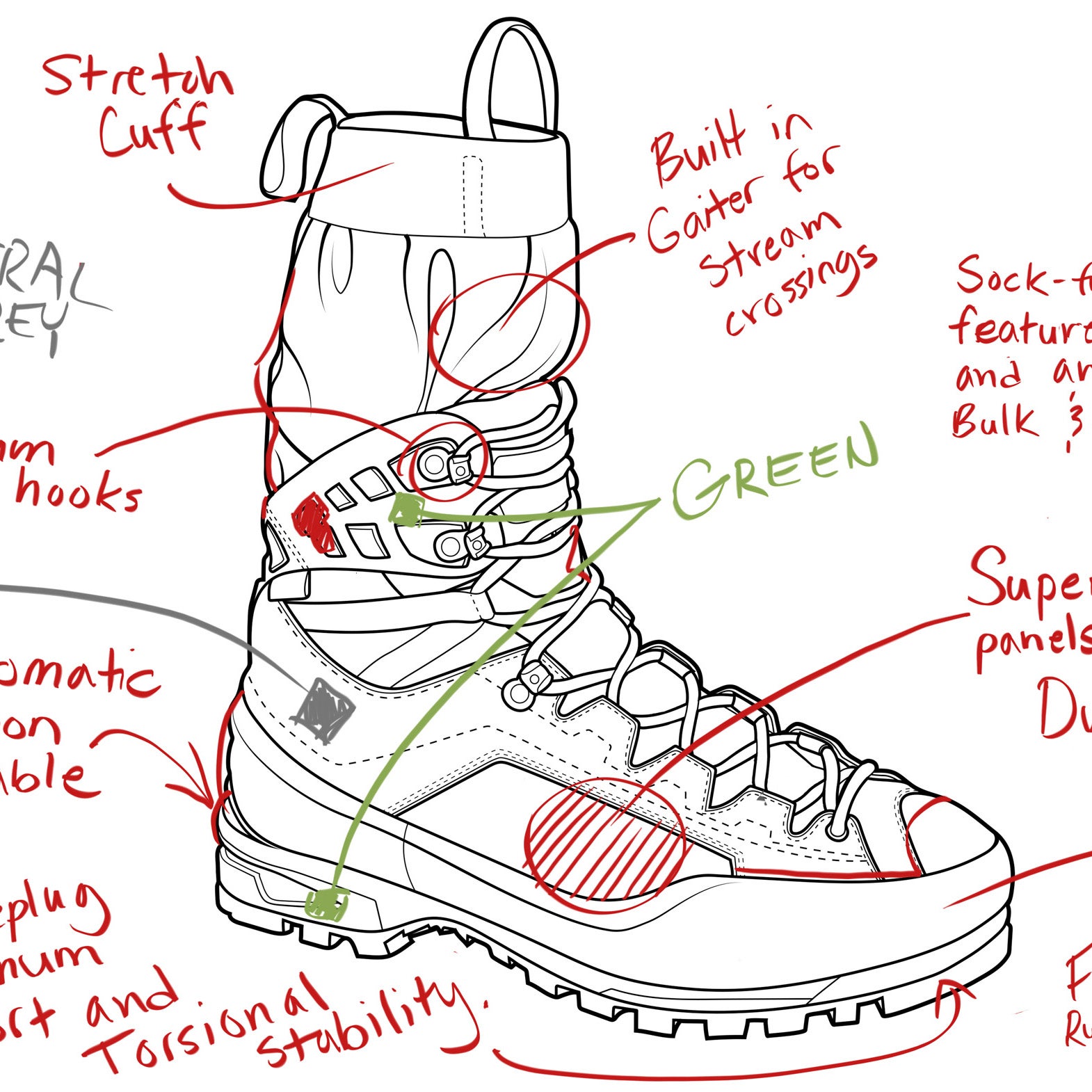 Heading out the door? Read this article on the new Outside+ app available now on iOS devices for members! Download the app.
In 2010, former NFL linebacker Jason Hairston launched a high-end technical apparel company targeted at hunters. By skipping retailers and going direct to consumer, Kuiu has become famous for offering some of the most innovative and high-value outdoor clothing available. Now Hairston is setting his sights on footwear with a range of three new boots developed in partnership with Scarpa. They're designed for hunters, but like the brand's clothing, these boots could end up making other outdoor types more comfortable too.
Hairston's personal passion is sheep hunting. As described last week in the New York Times, that pursuit may not sound like one of the toughest outdoor challenges, but it unquestionably is. To bag a sheep, hunters set off unsupported into the mountains of Alaska or Canada for weeks at a time, sometimes covering as many as 150 miles in the process. They go on foot, carrying a huge amount of weight through some of the most challenging terrain on the planet. To say it's hard on your feet is a gross understatement.
In addition to scaling vertical cliffs, crossing glaciers, and picking their way through fields of loose rock, sheep hunters spend a lot of time in water—sometimes a stream or river is the only passable terrain. Traditional footwear just doesn't get the job done. Mountaineering boots are great for supporting your ankles under a heavy load and provide the stiffness necessary for climbing, but walking in them is miserable. Hiking boots and trail runners are comfortable but don't provide the necessary protection or work with crampons. None of the above keep water out while wading in ice-cold, knee-deep rivers. So Hairston set out to design his own boot.
Rather than find his own sources for materials and factories, as he's done with his clothing line, Hairston partnered with renowned Italian bootmaker Scarpa, picking and choosing the optimal combination of components from across its line to make the ideal sheep-hunting boot while adding his own finishing touches. "Scarpa has proven technologies and proven designs," Hairston tells us. "The requirements we needed were available across several other boots, but never in a combined package—one boot."
Well, actually three boots. The upcoming range of Kuiu boots is topped by the $550 Rebel Ultra (above), which combines components of hiking, mountaineering, and ice-climbing boots with new materials to create Hairston's ideal boot for hunting in rough northern terrain. "They have the highest durability and the most traction out there," Hairston claims.
"The Rebel Ultra uses the thick, deeply lugged Vibram outsole of the Scarpa Grand Dru, combined with a midsole that has enough flex to be comfortable over a wide range of terrain," explains Hairston. "The 100 percent synthetic upper was designed for ice climbing and has good moisture management as a result."
But Hairston didn't feel that ice-climbing boots offered a tough-enough exterior, so he faced the sides of the Rebel Ultra's upper with a highly abrasion-resistant material made from printed ceramic, known as SuperFabric. You'll find that same material facing motorcycle jackets, boots, and gloves, thanks to its extraordinary toughness. I've crashed several times while wearing it—SuperFabric is the real deal.
To keep water out, the Rebel Ultra is equipped with a shin-high built-in gaiter. Hairston says it's able to keep water entirely out of the boot. "If you need to wade, you can tuck your socks down inside, and they stay dry," he says. "That solves a lot of problems."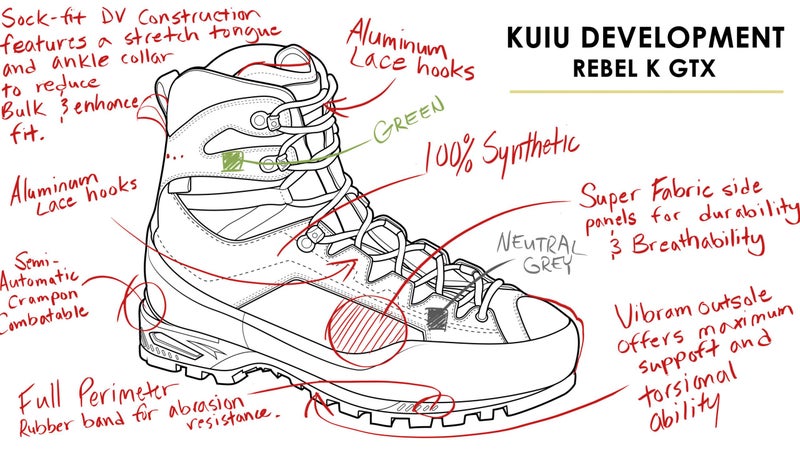 Weighing in at 846 grams per boot in a men's size nine, the Rebel Ultra is targeted at people who need the gnarliest multiterrain boot possible. If you spend less time climbing mountains or fording streams, you'll be better off with the lighter Rebel Carbon ($450; 700 grams). It omits the gaiter and incorporates the outsole and midsole of the popular Scarpa Charmoz Pro, plus Kuiu's fancy new upper.
There's also the R-Evolution ($300; 663 grams), which Hairston describes as "a really solid boot for hunting the lower 48 in mountainous conditions." It's the most flexible of the three styles but still provides the ankle support, moisture management, traction, and durability you'll need to tackle rugged terrain.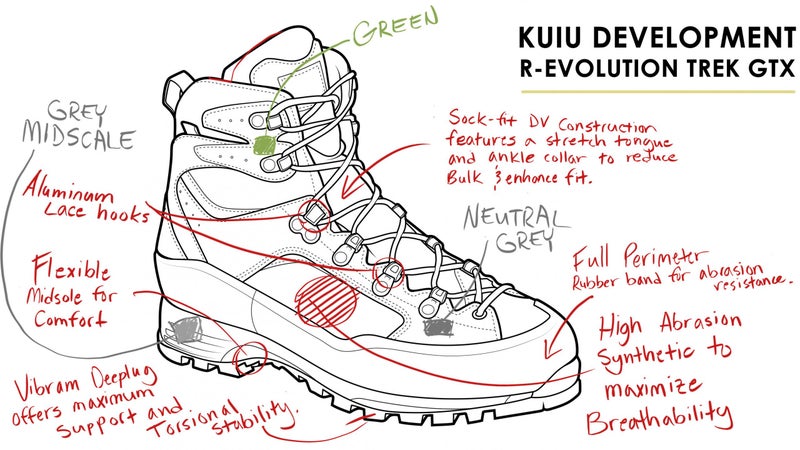 All three boots benefit from an upper that won't retain moisture and feature a comfortable, formfitting "sock-fit" tongue. Both Rebel styles are semiautomatic crampon compatible. All three should be unprecedentedly strong. "Synthetic boots of the past have never been durable enough," says Hairston. "They always fail."
"You've always had to choose between something that is either crampon compatible or flexible," he continues. "There's never been anything in between. If you have a boot that is too stiff, it's great for the steep stuff but terrible on the approach. The goal is to find the perfect balance that gives you enough support but isn't miserable between the mountains."
"I think we've significantly raised the bar for quality and performance," Hairston concludes. "I think there's a need for this mix outside of hunting, too, for anyone who needs to travel through mixed terrain."
Kuiu's new line of boots debuts later this year.