Gear Guy
Will mink oil ruin leather hiking boots?
I recently purchased a new pair of leather hiking boots and, after a ten-mile break-in hike, cleaned them and treated them with mink oil (I couldn't find Sno-Seal anywhere locally). Despite all my years of backpacking, I didn't realize this oil can over-soften the leather and affect the support. Have I ruined my boots for good or is there something I can do to save them? Mark Indianapolis, Indiana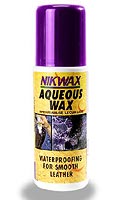 Heading out the door? Read this article on the new Outside+ app available now on iOS devices for members! Download the app.
Well, I wouldn't describe the don't-mink-oil-boots advice as common knowledge, but the outdoor boot world has known for a while that it's not the wisest thing to do. (Quite apart from what might happen if you run into a PETA activist as you're slathering up with this stuff.) As you've since discovered, it does over-soften the leather, particularly the "chromium-tanned" leather that has been the norm in hiking boots for a number of years. That alone does a pretty good job of keeping the leather wearably soft.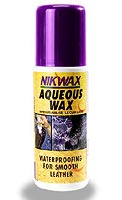 Nikwax Aqueous

So, what can you do? Nothing, at this point. I wouldn't agonize too much over it. For everyday backpacking you might even find that an extra-soft boot is just fine. Beyond that, while mink oil is greasy and so tends to stay on, and in, the leather, maybe it won't sink in too far with just the one application. You could even wash the boots with warm, soapy water, rinse thoroughly, and let them dry. Then treat them with a modern boot-waterproofing agent such as Nikwax Aqueous Wax ($8 a bottle; www.nikwax-usa.com). It's specifically designed so it doesn't sink too deeply into the leather, which means it does wear off in time but is easily re-applied.


Generally, the drill today is to do nothing to a new pair of boots for some time, except clean them off if they get very muddy. Once you begin to notice that the leather "wets out" more easily when exposed to rain or other water, then start treating with Nikwax or a similar product (silicon treatments, such as REI's Ultra Seal—$4.50 for two ounces—are fine). And, keep your boots clean by washing with water and a soft brush, even rinsing them out occasionally to remove sweat, an acidic residue that can damage boot linings and leather.
So, Mark, no mink oil necessary. Besides, I don't even want to think about how they get that stuff.
Trending on Outside Online