Would you be seen dead wearing a fanny pack while hiking?
Would you be seen dead wearing a fanny pack on a day hike? Pack makers like JanSport do model bigger backpacks with detachable waist packs, but I'm not convinced that this would do my trail cred much good. However, I after some sort of compact, light daypack that will cover me for short yomps where my load isn't all that big. Any ideas? Aaron Salt Lake City, Utah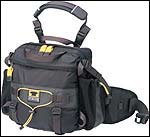 Heading out the door? Read this article on the new Outside+ app available now on iOS devices for members! Download the app.
In all the years I've been traipsing around the backcountry, I have never seen someone wearing a fanny pack of the type that detaches from a larger pack. Nor have I used such a fanny pack, although several packs I've used have them. I think they're really sort of a silly add-on.

Day Lumbar Pack


But purpose-built fanny packs? Sure—they're handy things. I often use a small one while mountain biking, and bigger models are quite capable of handling day-trip loads. Mountainsmith, for instance, built its early reputation on fanny packs and still makes some good ones (although they call them "lumbar packs"). An example: the Mountainsmith Day Lumbar pack ($75; www.mountainsmith.com). It'll hold more than 1,100 cubic inches of stuff—plenty for even a long day hike. Mesh side pockets hold water bottles, or you can retrofit it with a hydration bladder. Ultimate Direction's Tandem HHS ($65; www.ultimatedirection.com) is a little smaller at 65 cubic inches, and holds two sport bottles plus a jacket and lunch. Arc'Teryx also gets into the lumbar-pack act with the Q10 ($110; www.arcteryx.com), which is about the same size as the Tandem but has a slightly beefier suspension/belt system to handle pretty dense, heavy loads.
Of course, ultimately a small backpack will often make more sense. After all, a fanny pack may let you carry what you think you need, but what if you need more than the absolute minimum? As in, what if you end up out overnight with a sprained ankle, or helping someone with the same? Not that you need to carry 30 pounds on a day hike, but I always think it prudent to have a little more along than the bare essentials, just in case. A pack such as Osprey's small-sized 1,600-cubic-inch Aether 30 ($79; www.ospreypacks.com) is just the ticket.
What's the well-clad day hiker to wear? Find out in Outside's 2004 Buyer's Guide.
Trending on Outside Online