Gear Guy
How do I remove tree sap from a Gore-Tex shell?
Do you have any tips, or can you recommend any sources of information, on how to remove tree sap from the outside of a Goretex XCR shell? Thanks!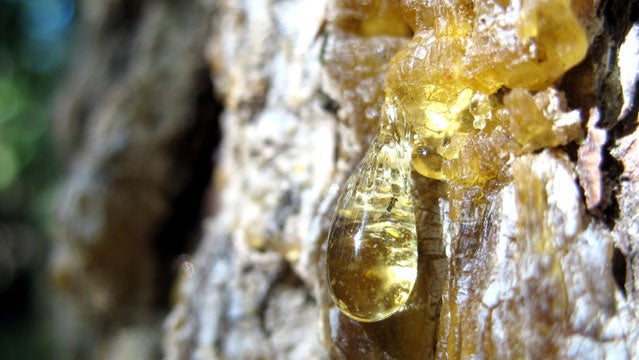 Heading out the door? Read this article on the new Outside+ app available now on iOS devices for members! Download the app.
That does come up on occasion. Darn trees they just don't show any respect for our high-priced outdoor gear. And it's an XCR shell, so a pretty new one. Shame to have sticky crap all over it.
I'd suggest an escalating range of cleaning tecniques. For starters, put the thing in a freezer. That's right, a freezer. Let it sit for an hour, then take it out. While it's still very cold try to gently scrape the now-hardened pitch with a dull knife. Most of it might just flake right off.
If that doesn't work, then got to a hardware store and buy some water-based Goof-Off, an excellent paint remover that's fairly mild yet works on a reasonably wide range of substances. Give that a try. I'd shy away from the solvent-based Goof-Off (the cans are marked with ingredients), although you might try some on a discrete portion of the jacket to see if it works. For that matter, any solvent-based cleaners (most spot removers, for instance) probably should be avoided.
Next: Gasoline. That sounds extreme, but your jacket almost certainly has a nylon face fabric. Nylon is made from petroleum, so, of course, is gasoline. So there's considerable chemical affinity between the two substances. Just pour a little gasoline on a soft rag, and rub away. That should do it, if nothing else does.
Lead Photo: Pontus Edenberg via Shutterstock