Gear Guy
How Do They Film Ski Videos?
What gear do filmmakers use to capture the insane aerial shots we see in ski videos?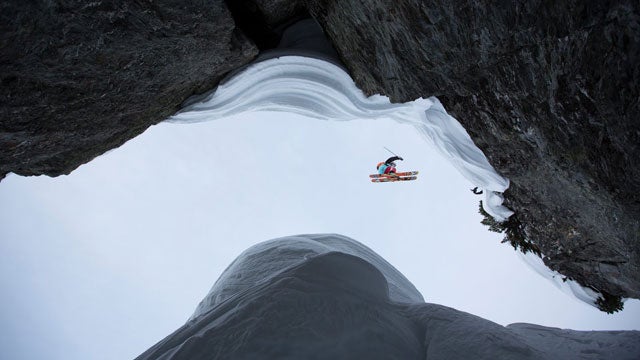 Heading out the door? Read this article on the new Outside+ app available now on iOS devices for members! Download the app.
Now that Labor Day is over, I feel like I can officially start talking about the insane crop of ski videos that are coming out this fall. One of the standouts—based on my assessment of the trailer—is Teton Gravity Research's Way of Life. If you haven't had an opportunity to check out the trailer, you should—if you want to give yourself the chills.
Of the epic shots that make up this three-minute 21-second thrill ride, the one that stuck with me most was the slow motion treatment between 1:22 and 1:24. IN the shot, Sammy Carlson throws snow of his head as the filmmakers fly over him on an unnamed peak in Alaska. When you look at a shot as sophisticated as that, it begs the question: How'd they do that? I caught up with TGR co-founder Todd Jones and found out that behind that shot sits a fascinating gear story.
Jones is the reason TGR is on top of camera trends. The Wyoming based production company credits his research for helping them become the first action snow sport group to shoot in 3D. Before April of this year, TGR had been shooting with Red EPIC—a 4K resolution camera that pushes the resolution limits of what a human eye can comprehend. The camera was great, but TGR believed that the mounting technology that attached the cameras to the helicopters was subpar. They could either use an extremely heavy system that could only use a 4K camera or a lighter one that only housed lower resolution cameras.
While looking for an answer, Jones came across Grass Valley-based engineering company Gyro-Stabilized Systems (GSS) and contacted them about getting an ultra HD system that fit his needs. It turns out that GSS managing director Jason Fountaine was a huge TGR fan and also had been working on the C520 mounting system, which was could already accommodate the Red EPIC camera. GSS and TGR teamed up to finish the product together. "They had it 95 percent of the way there then we helped them tune in the final stages of it," said Jones.
What makes the GSS C520 revolutionary is that it is extremely light, portable, easy to control, and can adapt to a variety of cameras and lenses—including the 4K Red EPIC. All of these factors became critical in getting the shot of Carlson's snow throw. "That camera system is what provides the perfect stability as the helicopter was coming over ridge, said Jones. "The Red EPIC was able to capture the slow motion."
The portability and lightness of the GSS C520 were essential to TGR's Alaska footage. The only helicopter the team was able to get out to the remote location where they camped for five weeks was a Bell LongRanger, which could not have handled a mount heavier than the 130-pound GSS C520. If TGR had not helped fine tune and purchase this gyro stabilization system, there is no way that shot could have happened.