Hybrid 101
Leave it to the road-trip experts—college students—to invent a more efficient ride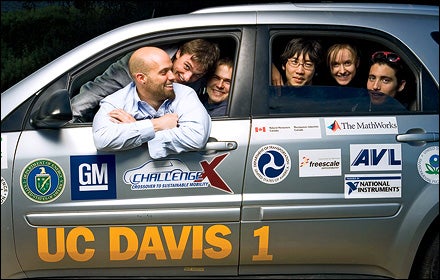 Heading out the door? Read this article on the new Outside+ app available now on iOS devices for members! Download the app.
THE ULTIMATE ROAD-TRIP vehicle exists. It's an SUV, of course, and it does all you'd expect of a big car—carry full-grown friends even in the back, haul gear in its 36-cubic-foot cargo hold, tow a trailer—and one thing you'd never expect: get more than 100 miles per gallon. Just don't look for this wonder vehicle in Detroit or even Japan. The customized Chevrolet Equinox is the creation of the Hybrid Electric Vehicle Center at the University of California at Davis, where a student team, led by Department of Mechanical and Aeronautical Engineering professor Andrew Frank, has converted the SUV into a plug-in hybrid with an engine that runs on any combination of gas and ethanol.
GET OUT OF TOWN
Four new rides for road-trippers who need to load and go
SPEEDSTER

You won't find a better value than the dollars per horsepower of Mazda's Speed3. It's a four-cylinder turbo wagon that can reportedly do 150 miles per hour and haul your gear. MPG: 20 city/28 hwy. MSRP: ,954. mazda.com
FOUR-WHEELER

Jeep's Wrangler Unlimited Rubicon will get you and three friends into, and out of, terrain that would swallow most four-wheel-drives whole. If you plan on driving from Canada to Mexico on dirt (yes, it's possible), take one of these. MPG: 17 city/19 hwy. MSRP: ,500. jeep.com
PEOPLE MOVER

Subaru de…
Frank, 73, has been at the forefront of hybrid-vehicle research since 1970, and actually holds a patent for the plug-in electric hybrid—though it's unclear if he will be able to cash in on the technology without going to court.
Nevertheless, Frank and his students will unveil the Equinox at the Challenge X, an eco-car showdown that starts May 31 at General Motors' Michigan proving grounds, sponsored by the U.S. Department of Energy and GM. "What we plan to show is that plug-in hybrids are feasible now," says Douglas Saucedo, 25, a mechanical-engineering grad student who averages 10 to 15 hours a week in the UC Davis auto-shop-cum-lab. "We're a team of students, and we're building this plug-in; there's no reason that a major car company can't do it." The class project runs for 50 miles on electric power alone—better than the ballyhooed Chevrolet Volt concept car, announced in January (see Code Green, April)—then switches to conventional hybrid technology that nets 40 miles per gallon. Plug it into any standard 110-volt outlet to replenish the battery in about seven hours.
In camp, with 15.7 kilowatt-hours on board, the Equinox can be converted into a powerhouse for every road-trip convenience. You could run an in-car fridge, electric stove, microwave, DVD player, and more. Such luxe upgrades could easily be added to future models to create the ultimate road-tripper.
So when can you hit the open road in a gas-sipping SUV? Domestic commercial production is still some years away. In the meantime, Frank plans to take the eco-Equinox on its first long-distance journey next summer, driving from Detroit to Washington, D.C. And who knows? With his students help, he might just load up with camping gear, throw a few bikes on top, and make it a proper road trip.
Trending on Outside Online