Climate Neutral-ish
I Have a $400 Jacket I No Longer Wear. What Should I Do with It?
Make money and do the planet a solid by embracing the circular economy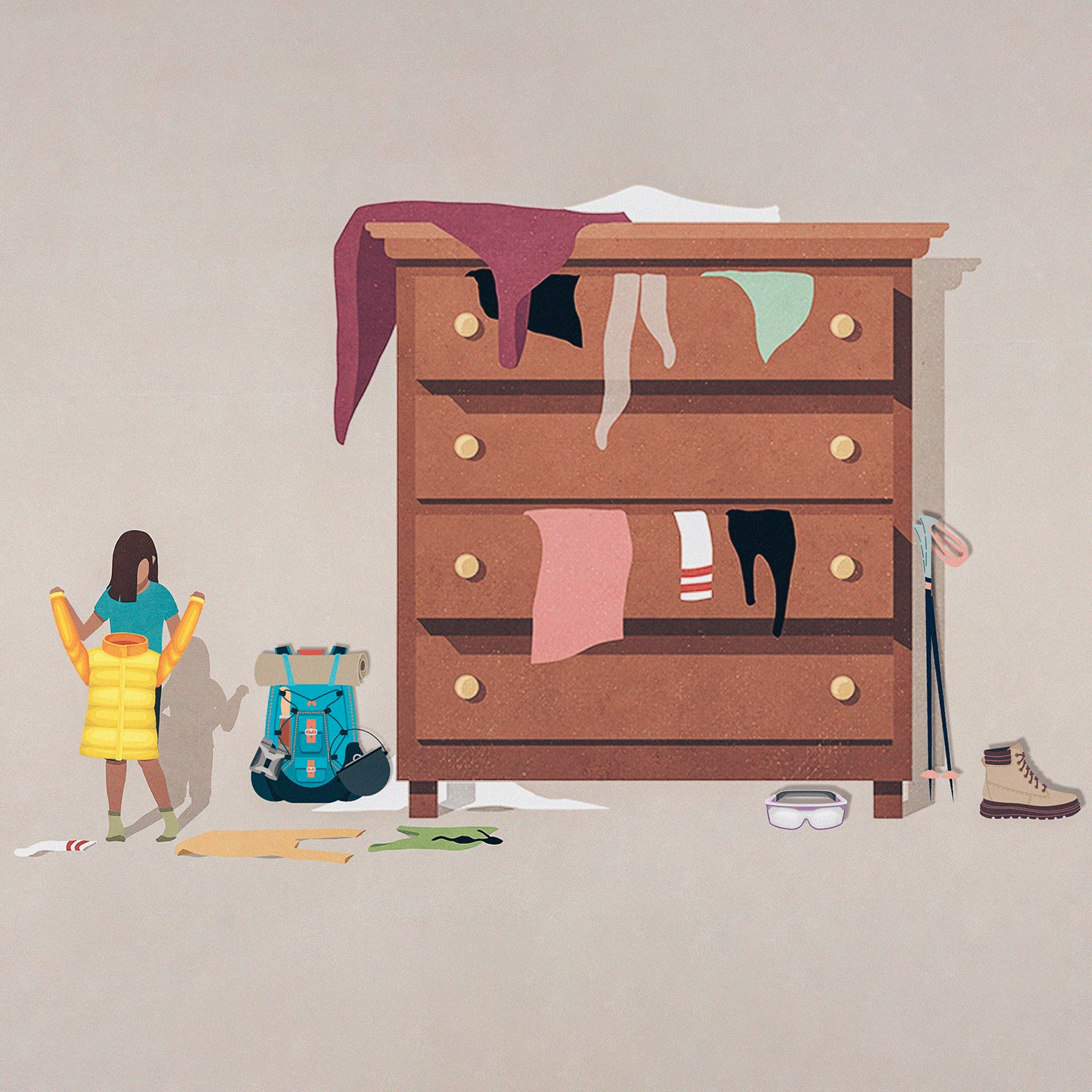 Malte Mueller/Getty
Heading out the door? Read this article on the new Outside+ app available now on iOS devices for members! Download the app.
Doing right by the planet can make you happier, healthier, and—yes—wealthier. Outside's head of sustainability, Kristin Hostetter, explores small lifestyle tweaks that can make a big impact. Write to her at climateneutral-ish@outsideinc.com.
Chances are, there's an expensive piece of outdoor gear in your closet that you no longer use or want. Maybe it's a Gore-Tex rain shell that never fit quite right, mountaineering boots you wore a few times, or a giant pack you bought for a bucket list trip that you've checked off.
It's not doing you, anyone else, or the planet any favors collecting dust. In fact, you can reduce your carbon footprint, divert gear from the landfill, save–and even make–money, and be a part of the movement toward a circular economy by making sure your gear gets a second life. Your first thought might be to take your items to a local thrift store, but there are also trade-in, re-sale, and donation options that can put cash in your pocket and support great non-profits, all while helping you clear our your garage.
"As consumers, there are a lot of things about how our gear is made that we don't have control over," says Aaron Provine, president of Geartrade, an online outdoor gear consignment company. "Aside from learning about how and where our gear is made and voting with our wallets, we have no say about the resources and energy that goes into a product. But if we extend the life of the items we buy and choose used over new, we can, over time, reduce the amount of products being produced and have a significant impact on the overall emissions of our outdoor gear."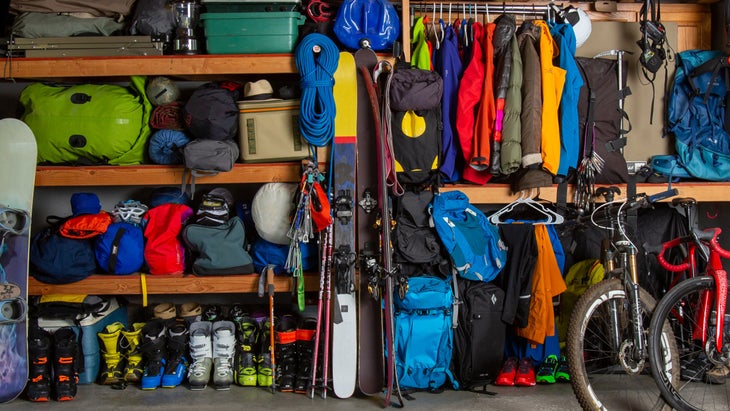 According to Global Data, an independent data analytics and consulting company, the overall resale market represented $182.4 billion in 2022 and is expected to grow by 16 percent by 2026.  Why the growth spurt? Because consumers are becoming more aware of the climate impact of their shopping habits and they want to make sustainable and ethical choices.
According to the 2019 State of Fashion report, nine out of ten Generation Z consumers believe companies have a responsibility to address environmental and social issues. "Over the past three years a third of consumers worldwide have expanded the scope of their purchasing decisions to incorporate principled values and views," says the report. "A new global ethos is emerging, and billions of people are using consumption as a means to express their deeply-held beliefs."
So back to that $400 jacket. What's the smartest way to get it into the hands of someone who will keep using it? Here are the four best options.
Host a Gear Swap
Gear swaps are local (no shipping gear around the country required) and can build community around the notion of sustainability. Plus, as my colleague, senior editor Abigail Barronian, confirms: "Hand-me-downs are not just for kids. I've given away hundreds of pieces and probably received about half that. I've come away from swaps with so many cool treasures: suede, Western fringe jackets, billowy linen pants, perfectly worn-in vintage tees, leather sandals, slouchy jeans, and more."
Barronian is part of a gear swap community in Santa Fe, New Mexico, that was started by her friend, Diane. "I think of her as the clothing swap master," Barronian says. "There are a few elements that make Diane's swaps successful: consistency, volume, and community. You have to have enough clothing, a big enough invite list, and a reliable date. Diane has been doing this for a few years, so word-of-mouth has spread throughout our small-to-medium town that her swaps are goldmines. She hosts them quarterly, and if you have clothes you want to off-load in the interim, she'll happily store them for you until the next swap. She emails a big list of friends the schedule at the beginning of the year, and sends out reminders a month ahead and then again one week out."
Pro tip: Think beyond clothing. Swaps are a great way to hand off tents, packs, boots, skis, and all manner of outdoor gear.
Consign It
When you donate specialized gear to a general charity, like Goodwill, there's no guarantee it will get a second life, much less a second life that it was designed to live: in the mountains. But if, on the other hand, you consign it in a marketplace that caters to a very specific buyer looking for that item, the odds are high that your high-tech waterproof-breathable jacket will end up back on the trail, living its best life.
And because of the growing demand for second hand stuff, consigning gear has never been easier. If you're lucky enough to live near a shop like The Gear Fix in Bend, Oregon, or Ragged Mountain Sports in Carbondale, Colorado, or Wonderland Gear Exchange in Seattle, Washington, by all means swing by and see if you can strike a deal.
But sites like Geartrade make it easy no matter where you live. When Provine started at Geartrade in 2019, he did a big customer survey and the main takeaway was that it's way too hard to sell gear. So he set about taking the burden off the seller and making it frictionless.
In minutes, you can either post your own item (it takes a bit of legwork to photograph and describe it) or cram a box full of stuff and send it all off to GearTrade to handle everything—taking the photos, writing the listing, shipping, and getting your payout back to you. Posting your own item means you'll pay a flat 15 percent fee. If you choose to let Geartrade do the heavy lifting, you'll pay a little more. "The higher the selling price, the higher the payout," says Provine. "You could earn up to 80 percent of the pricetag."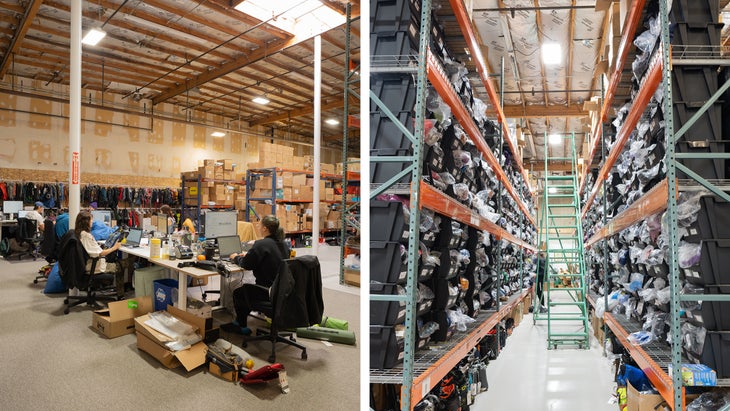 Trade It In
In the outdoor gear sector, brands like Stio, Arc'teryx, The North Face, Lululemon, and Patagonia all run their own used gear programs. If you're a brand loyalist, you can send your stuff back to those companies and when it sells, you'll get credit to spend with that brand (anywhere from 10 to 50 percent depending on the item, its condition, and the brand.) REI Garage Sale is a similar trade-in option for REI members, accepting items in a variety of categories and from a select list of popular outdoor brands.
Donate It
You can donate your gear to a good cause, too. Outside's Gear Up Give Back is one such program that was built to help promote a circular gear economy, and support getting more people outdoors. (Full disclosure: I adore this program and I'm part of the team here that manages it.)
All you need to do is box up your stuff, print out a free label, and ship it off to our consignment partner, Gear Fix (the used gear shop mentioned above). They'll make any needed minor repairs, then sell it at an affordable, accessible price. We then donate 100 percent of the proceeds to a nonprofit partner. Our current partner is the Outdoorist Oath, which supports a more inclusive and healthier outdoors.
Plenty of outdoor nonprofits accept gear donations, too, like Gear Forward or Teens to Trails. If you have a favorite, reach out and ask if they're in need of anything in particular.
Of course, you could just drop your stuff at a local Goodwill, and that's certainly better than trashing it. But there's an element of wishcycling that comes with donating to a national, general purpose organization because you don't really know where the item will land. A better bet would be to find a local organization or shelter that actually needs your items and can put them straight to good use.
Rethinking the Way We Shop
We all buy too much crap without really thinking about whether we really need it. Instead of living according to slogans like "shop till you drop" and "retail therapy" let's live by these tenets instead:
>Only buy things that you need and love.
>Buy durable things that will stand up to your lifestyle.
>When it's time to invest in a new piece of outdoor gear, explore used options first.
>And for every new item you buy, put one back into the system for someone else to enjoy.
If we can do this at scale, we'll eventually slow down the production and consumption of goods and reduce the carbon emissions and impact of our outdoor lifestyles.
Kristin Hostetter is the head of sustainability at Outside Interactive, Inc. and the resident sustainability columnist on Outside Online.
Lead Illustration: Malte Mueller/Getty