Gear Guy
Panniers or trailer: What's better for bike touring?
Please end this debate going on in my head! I'm planning a bike tour around Lake Michigan next year and thinking about panniers versus a gear trailer, like the BOB Yak. What's your opinion? Kenneth Vernon Hills, Illinois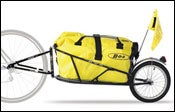 Heading out the door? Read this article on the new Outside+ app available now on iOS devices for members! Download the app.
The short answer to your quandary: Neither solution is perfect—loading up bikes with gear causes all sorts of problems. So which one is "less" bad?
BOB Yak

BOB Yak
With panniers, the upside is that they're relatively easy to manage in terms of packing and loading on the bike. And they don't add any mechanical complexity because they're just bags. On the downside, they put a lot of strain on the bike and wheels, a broken rack is always a possibility (much reduced if you have a well-made one such as a Jandd Expedition: $65; www.jandd.com), and they're not very aerodynamic.
If you go that route, I like Ortlieb bags because they're tough, well-made, and waterproof. The Bike-Packer Classics sell for $150 per pair, and can hold enough gear for several days or longer on the road (www.ortlieb.com).
Now, the BOB Yak is a different creature. It's a single-wheel trailer ($329 with large dry bag; www.bobtrailers.com) that attaches to the bike with a special rear skewer that extends out an inch or so on each side. The trailer yoke hooks to that skewer. I've used a Yak, or a "Bob" as we typically call them (aka, Beast of Burden), since they were first introduced close to ten years ago. That includes tours of hundreds of miles through Montana, Oregon, and parts of Washington. I find the advantages of the Bob to be easier packing, much less strain on the bike, and more aerodynamic riding. Overall I'd estimate a Bob setup is good for a mile per hour or more in terms of average speed, compared with the same load all on the bike.
On the downside, Bobs add mechanical complexity due to their additional wheel (and yes, it can go flat as well). Bobs also used to have some issues with weld strength and the yoke assembly. I once had a Bob yoke disassemble itself while on a long, long, 25-mph downhill (fortunately I was able to find the bolt that fell off and put it all back together). But the design has been improved and re-engineered to correct those shortcomings. Handling is a little weird at first, too, but once you get it dialed in it's less of an issue. Big panniers change bike-handling, too.
In conclusion, I'm a Bob guy. I just think it's a more elegant and advantageous way to travel.
For more expert reviews of essential bike gear, check out the Outside's 2006 Buyer's Guide.