Plaid and Canvas: Hudson Bay Blanket
Jason Diamond looks at how the Hudson Bay's gone from a treasured heirloom blanket to a vintage fashion piece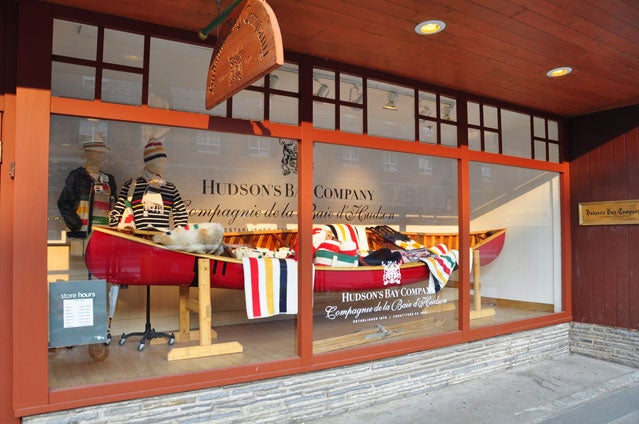 Jeff Whyte/<a href="http://www.s(Photo)
Heading out the door? Read this article on the new Outside+ app available now on iOS devices for members! Download the app.
God's Country. It's not a name you'd associate with the Michigan of the American auto industry and current Detroit "rebirth" that has been touted by newspapers over the last few years. But it's there, sitting right above the Mackinac Bridge, with its waterfalls, rivers, and varied landscape. Shaped by the large number of "Yoopers" who claim Nordic ancestry, it's home to white-tailed deer, black bears, and some of the best bird-watching in the world. It's a beautiful Midwestern pocket all its own. But in the winter, God's Country turns into a frozen hell.
Surrounded by three Great Lakes, the winters freeze quicker and bite sharper than maybe anywhere else in the continental United States that I've experienced. I've been stuck in the Upper Peninsula twice before for the kind of snowfall most Americans would call a "blizzard," but a friend who grew up in the area described it as "normal winter weather." Both times I kept warm sleeping next to wood-burning fires while huddled underneath Hudson Bay blankets, not ever wanting to let it go—just like people in the region, near-frozen and not, have been doing since the mid-1700s.
French fur trappers huddled in their Hudson Bays, trying to keep warm after long days spent hunting for beaver pelts. They were traded to Native Americans for pelts and buffalo robes. Today, the blankets retain an iconic status in Canada usually reserved for great hockey goalies, but also sit on the sofas and in the sheds of American homes around the Great Lakes. The Hudson Bay became an artifact like a sturdy old axe or a field watch that once adorned the wrist of a long-gone relative. A family member might have a linen closet full of them, denoted in size by their points—the lines on the side that look almost like claw marks—stitched into the thick wool just below the iconic green, red, yellow, and blue stripes against a white background.
Today, Hudson Bay point blankets serve several different functions. You can still buy them brand new from the company, but people are snatching them up from their families and from antique stores for extra warmth when the thermometer dips below freezing, as well as for fashion accessories and decoration for their living rooms. While others still cherish them for the memories.
ONE FRIEND OF MINE who grew up in Michigan but now lives in a small house overlooking the Housatonic River (an area with no shortage of severe weather) in the woods near the shared borders of Massachusetts, New York, and Connecticut spends the colder months tucked underneath a passed-down four-point blanket that his grandfather bought in the mid-1940s, right after the Second World War while on a fly-fishing trip through Canada. While the blanket his grandfather called his "Canada blanket" has kept various family members warm throughout the years, he believes the blanket is extra special. "I sort of think the family was conceived under it."  
A priceless family heirloom or an extra layer on the bed or in a tent; whatever the case, an uptick in trading among younger, upwardly-mobile consumers indicates that Hudson Bay blankets have moved from the realm of utility to aesthetic. Somewhere along the way it made the jump from family artifact to vintage-looking must-have. Take a Sunday stroll around the Brooklyn Flea, held weekly on the East River Waterfront, and you're sure to see several of the blankets being sold along with other pieces of North Americana originating from the Pacific Northwest to the Sun Belt, the Rust Belt, and the forests of New England. The brightly colored stripes stand out against the rusted tools and framed tintype photographs of long-dead John and Jane Does being sold by the market vendors. Vintage Hudson Bay blankets have begun to go for upwards of a thousand dollars if old enough and in near-mint condition. Even a quick search through online photoboards and microblogs like Tumblr and Pinterest yields hundreds of results featuring everything from dog sweaters to canoes that showcase the iconographic primary-colored Hudson Bay stripes.
One of those boards, Hudson Bay Blanket Love, is run by L.L. Bean senior PR rep, Laurie Brooks. Brooks has been working for the Maine company for 15 years. Brooks points out that her employer and Hudson Bay have had a business relationship since L.L. Bean began selling the blankets 75 years ago, but is quick to point out that her own love of Hudson Bays started with an Internet search. "I always hoped to buy a new one, but once I discovered vintage Hudson Bays on Ebay, I started scooping up deals." Brooks mentions that she likes the way the blankets' age has helped fade the blankets' bright white background to cream and tan and also reiterates the history each blanket has, but she adds that her own collecting habit has turned up a white whale. "I search for the elusive two and three and three-and-a-half point blankets. They have been harder to find."
One collector I talked to at a tag sale in Connecticut, a banker who spends the weekdays on Wall Street and the weekends roaming the forests of New England, spoke at length about his collection that he says numbers around 30, including one that he says has been in his family since "at least" the middle of the 20th century. A Canadian by birth, he tells me that the blanket was one of the items up for grabs when he went with his siblings to clean out his late grandfather's house. "Everybody wanted that blanket." He rattles off a list of other priceless pieces of Canadian ephemera, from a stick autographed by the legendary Montreal Canadiens right-winger Maurice "The Rocket" Richard to a small cache of hunting rifles and fishing poles. "But I was no nonsense when the car pulled up," he says. "I popped right out and ran to one of the two places he usually kept the blanket; my brother ran to the other. I got lucky, because I guessed it would be in the shed." The blanket now sits behind the desk in his home office, "like a beautiful piece of Modernist art," he says.
But the irony of this collector's description of the blanket as "Modernist" art is that the iconic design hasn't changed much since fur traders first exchanged Hudson Bays in lieu of currency. Harold Tichenor, one of the (if not the only) leading researchers on the history of the Hudson Bay blankets says the phenomenon of collecting blankets is "rather new." The people who are paying hundreds of dollars for the vintage finds are fanatical about their love of Hudson Bays. They're framing the blankets, setting up Pinterest boards for them, and getting ready to pass them down to their own children some day. A reversion and recreation of the blanket's history-as-artifact. As a piece of material culture that represents a particularly North American sense of adventure, the blanket has re-entered the cultural consciousness in good company—think Airstream trailers and Maglites, both items included in the permanent collection at the Museum of Modern Art—but whether or not it ever moves from Michigan to the MoMA is certainly dependent on somebody, anybody, deigning to part with their beloved, well-worn Hudson Bay.
Jason Diamond lives in New York. He has a wife, a dog, two cats and a Twitter account that can be found at @ImJasonDiamond.
Lead Photo: Jeff Whyte/<a href="http://www.s
Trending on Outside Online