The Woman Who Took On Nike with Running Shorts
Sally Bergesen created Oiselle to give female runners great-fitting shorts and sports bras with a dose of style. Now the swift little brand is on a mission to empower athletes by taking on Nike and its dominance over track and field.
Heading out the door? Read this article on the new Outside+ app available now on iOS devices for members! Download the app.
---
To understand the indignation that made Sally Bergesen resort to Photoshopping to take on an empire, you have to believe that you can fight for justice through the medium of running shorts.
It was just a regular rainy Saturday in May 2014: Bergesen was home in Seattle, gearing up for a seven-mile run, watching the women's 4×1,500 meters at the IAAF World Relays on her laptop. The 4×1,500 meters, sanctioned by the International Association of Athletics Federations, the sport's gov­erning body, is extremely low-stakes in track and field—not an Olympic event, or even an NCAA one.
But Bergesen didn't care. She had an athlete in the race. Seven years earlier, she'd mortgaged her house and started a women's running-clothes company called Oiselle. Her mission was modest: to make a decent pair of running shorts that didn't make a fit woman look three months pregnant—was that too much to ask? She'd grown the company patiently, intelligently, considering all the brand "touch points" (hang tags, packing tape), choosing her fabrics with care. She'd also sponsored her first runner: Kate Grace, an 800-meter specialist and recent Yale University grad. Now here Grace was, on the sunny blue track at the Thomas Robinson Stadium in the ­Bahamas, representing the United States.
Four teams lined up for the start: Australia, Romania, the U.S., and Kenya. And truth be told, by the time Grace, who ran third, grabbed the baton, the Kenyans, who had arrived to break the world record, had ­blasted so far ahead of the pack that the camera feed showed only the front-running African, alone on 200 meters of track. Still, the Americans showed heart and grit, finishing second in a respectable 16:55.33. After they cooled down, they stood on the podium, smiling and waving their silver-medalist bouquets.
Bergesen felt proud, of course—but mostly she felt pissed. Grace wasn't wearing Oiselle. Her teammates weren't ­wearing ASICS, Brooks, or New Balance, the companies that sponsored them. No, the World Relays is an international event. As such, ­according to USA Track and Field (USATF), the sport's Indianapolis-based national governing body, all American competitors represent the national team and must wear Nike. ­Period. Sure, Oiselle, not Nike, supported Grace. But Nike, which in 2014 ­renewed its contract with USATF in a ­23-year, report­edly $500 million deal, owned the glory. Bergesen snapped a picture of her laptop screen—Grace with her relay partners, flowers overhead, enjoying what should have been a great Oiselle ­moment but was not.
Already Bergesen had suffered some ­logo-related track-wardrobe trauma. In 2012, Grace qualified for the Olympic Trials, and Bergesen, new to the elite game, set out to design a singlet compliant with Olympic Trials specs. She knew that Oiselle's existing singlet (multicolored, with OISELLE in large letters running down the body) wouldn't work. So she created a navy design with a large yellow bird (oiselle is an archaic French word for "bird") and OISELLE in small yellow letters. USATF instructed Bergesen to make the bird smaller—it looked too much like a company logo. So Bergesen tinkered. Her second pass included still-smaller letters and a flock of different birds. USATF told her that the U.S. Olympic Committee (USOC) might have concerns about the use of any birds. Bergesen submitted the singlet a third time. Sorry, USATF e-mailed, "The birds need to be 5% darker." Finally, on Bergesen's fourth attempt, she filed art for a singlet with navy birds on navy fabric, the two navies so nearly identical that the design resembled a solid shirt with a large grease stain. USATF said it was "good to go"—­success (sort of) at last.
If you looked closely, you could still read OISELLE in small yellow type.
---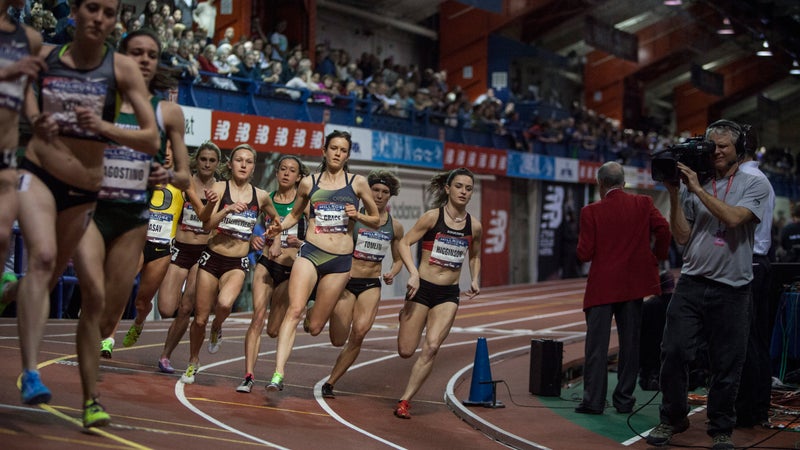 It is tough to overestimate how influential Nike is in the sport of track and field. The company, which made $31 billion last year, has been the official sponsor of USATF's ­national team since 1991 and will continue to be until 2040. With the exception of shoes, sunglasses, and watches, national-team runners must wear Nike, and Nike only, at all international events. Nike also sponsors major domestic competitions like the Prefontaine Classic as well as elite training programs like the Nike Oregon Project, coached by famed former marathoner Alberto Salazar. Of course, it sponsors individual athletes as well, among them Olympic gold-medal sprinter Allyson Felix and distance-running superstar Shalane Flanagan. It is the sole running-shoe and athletic-apparel partner of the USOC, meaning that its logo, the Nike Swoosh, is the only athletic-apparel logo that can be seen on U.S. track and field competitors during the Olympic Games. For 38 of the past 38 and a half years, Sebastian Coe, Britain's middle-distance Olympic star and the new president of the IAAF, received an ­annuity, reportedly as much as $140,000, for his ­position as a Nike ambassador. He severed that relationship last fall under ­intense pressure from the British press.
In the past year, Nike has found itself on the defensive on several fronts. In May 2015, a federal indictment against 14 FIFA offi­cials stated that an unnamed U.S. multinational sportswear company had made tens of million of dollars in questionable payments starting in 1996 in connection with the sponsorship of Brazil's national soccer team. (Nike began spon­soring the team in 1997.) No charges have been brought against any company in that case. Now Nike is caught up in a controversy unfolding in ­Kenya over the disappearance of a $500,000 "commitment ­bonus" to the country's national running team, which it sponsors. "There are no alle­gations that any Nike-sponsored athlete participated in any bribery or kickback scheme in Brazil or Kenya," Nike's ­director of North American communications, Jo Taylor, told me. She also noted that "commitment or signing bonuses are not unusual in the industry.
Whatever the case, scrutiny of Nike continues. Last summer, the BBC and the investigative-journalism nonprofit ProPublica published an exposé of Nike's hero-coach Salazar, alleging that he pushed quasi-­legal substances and ­unneeded prescription drugs on his Oregon Project athletes. "At best they are misinformed," wrote Salazar in a detailed public rebuttal. "At worst, they are lying. I believe in a clean sport and hard work and so do my athletes."
Back home on that rainy 2014 Saturday, Bergesen imported her snapshot of Grace at the Bahamas podium and started tweaking. Let's show who all these women really run for!—that was about as far ahead as she thought. She changed the runners' Swooshes to their sponsors' logos and posted the image on Oiselle's Instagram feed. She went running, showered, bought groceries, drove one of her daughters to a soccer game.
Four hours later, she received a cease-and-desist letter via e-mail from USATF's general counsel and chief of business affairs, Norm Wain. "The removal and replacement of the Nike Swoosh, especially in the context of a promotional piece, misleads consumers to believe that the USATF team is sponsored by these other brands, and not by Nike," Wain wrote. "Oiselle's display of these doctored photographs not only damages Nike, which is likely to suffer (or has already suffered) direct lost sales resulting from such confusion, but also diminishes the value of USATF's sponsorship and ­licensing rela­tionships." If Bergesen didn't remove the image, he wrote, "USATF will have no choice but to take the necessary measures to protect its rights and interests."
​Bergesen knew, when she set out to make cute shorts, that clothes are never just fabric. Brands are emotional, freighted with semiotics. You choose one brand over another because of how the label makes you feel, what it says about your values, identity, and desired tribe. Bergesen also knew, when she poked her spikes into the running-apparel business, that Nike was the 800-pound gorilla.
Yet her first reaction upon receiving the letter was defiance: "Fuck no. I'm not going to take it down." Then she realized Oiselle could be buried in a lawsuit so complex and expensive that the company could ­never dig out. So she removed the photo from Oiselle's Instagram feed and posted Wain's letter on her personal Tumblr page.
Bergesen describes Oiselle's identity as "low-key, committed to an ­active life, with a New York aesthetic and a feminist bent." The brand is upscale, thoughtful, just shy of trendy.
At 47, Bergesen looks a bit like Mary ­Tyler Moore. Warm smile, smooth brown hair, nice eyes—your new friend. But over the past year, she's started to emerge as a different pop-culture icon entirely: the unassuming rebel, a fledgling Erin Brockovich. "I've had moments of genuine fear," she says. "But I do think you have to make people uncomfortable." So along with designing well-cut shorts and strappy athletic bras, she has taken it upon herself to start trying to expose the dynamics of power in track and field, the ways the rules are stacked against small businesses and the athletes sponsored by them.
---
"'If you don't have a seat at the table, you're probably on the menu.' That's one of my favorite quotes," Bergesen told me over her donburi lunch bowl last October in ­Seattle. (A few people have said this; one is senator Elizabeth Warren, who makes total sense as a Bergesen hero—she looks like a PTA president and reasons like Fidel Castro.)
We'd just walked across the huge University Village shopping center from Bergesen's new (and first) Oiselle store, where two-time U.S. 5,000-meter champion Lauren Fleshman, a former Nike athlete and now a ­partner in Oiselle, sat at a blond wood table with a rainbow assortment of Sharpies, signing copies of her popular Believe Training Journal. Bergesen describes Oiselle's identity as "low-key, committed to an ­active life, with a New York aesthetic and a feminist bent." (This is an apt description of Bergesen, too, who was dressed impeccably in great tortoiseshell glasses, black boots, and skinny jeans.) The brand is upscale, thoughtful, just shy of trendy—the Madewell of athleisure. Bergesen comes by her radical roots ­honestly. She grew up in Berkeley, California, in the seventies and eighties, when, she says, the dominant parenting philosophy was "You can be anything you want to be, and I'm not going to help you figure it out."
By her own assessment, Bergesen was a "nerdly outsider kid" who obsessed over Vogue, wore scarves and ripped jeans, and only started running cross-country her ­senior year at Berkeley High after she failed to make the volleyball team. Even so, she didn't take running seriously until her senior year at the University of Oregon. ­Shortly after graduation, she moved to Seattle for a boyfriend—Alec Duxbury, now her husband, a 47-year-old high school English teacher and bike racer—whom she'd met when they were studying abroad in France. While in Europe, Bergesen had also taken up smoking. One day she found herself on the corner of Third Avenue and University Street in downtown Seattle sucking wind and weighing her life choices. "Smoking? Running? Smoking? Running?" she recalls. "I wonder which one I should give up?"
​Bergesen took a similarly meandering route to her career. After a false start as a paralegal, she took an entry-level job at a design firm. By the time she delivered her second daughter, in 2003—her first was born in 1999—she'd been helping companies brand themselves for ten years and running seriously for twelve. That's when she took a fateful shopping trip for athletic clothes and had a running-shorts epiphany: "I love running and I love design, and oh my God everything here is so awful. It doesn't have to be."
She spent the next year crafting what would become Oiselle's first product, the Roga shorts. ("Roga" stands for running plus yoga.) They have a flat waistband, like yoga pants, but without the baggage of a brand like Lululemon, whose founder publicly blamed women whose thighs rub together when Lululemon recalled a batch of fraying yoga pants. At the 2006 Seattle Marathon expo, just before she launched Oiselle, she printed up some branded T-shirts—nothing fancy, just bird silhouettes on an American Apparel blank. The tee sold out immedi­ately. This set off a trend that remains true for Oiselle to this day: Women love their stylish cuts, yes, and their just-right design details, like zip pockets for IDs. But what they really crave is the chance to signal membership in a community—in this case a community of well-dressed, serious-but-not-too-­serious, running-obsessed women.
​Oiselle did $10 million in revenue in 2015. It's targeting $15 million for 2016, still tiny compared with Lululemon ($2 billion) and Athleta (part of Gap's $16 billion empire). Oiselle is not yet profitable, either. But even so, Bergesen has managed to shape it into a small company with huge, like-minded pros.
---
Oiselle's first big get was Lauren Fleshman. That the charismatic, Twitter-savvy, two-time U.S. 5K champ who'd run for Nike since 2003 would even consider signing with Oiselle was just a dream. Among the brand's demographic, Fleshman is a goddess: fierce, fast, smart, spirited, effortlessly beautiful, married to Jesse Thomas—a handsome pro triathlete with an MBA—and mother to an adorable son. Everybody wants to be her.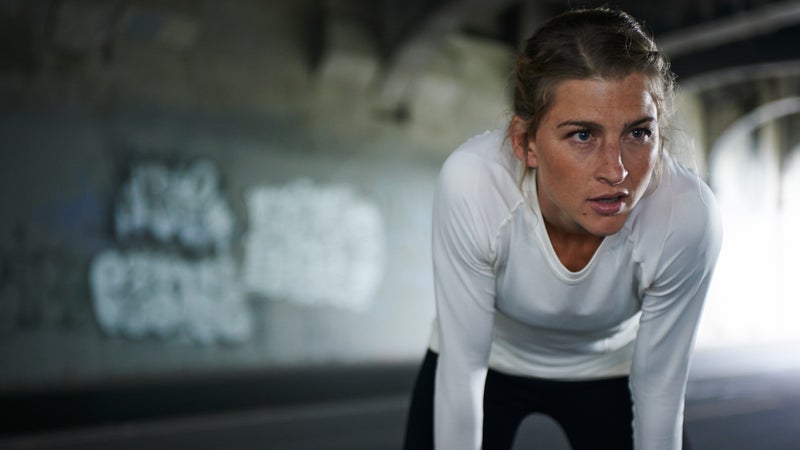 Like many serious women runners, Bergesen first fell in love with Fleshman in 2010, when Fleshman came from behind to win the USATF Outdoor Championships 5K by two seconds. She was then asked by a TV ­reporter how she did it. Fleshman, still sweaty, her hair up in her race ponytail, said, "That was just balls. All that was was balls."
Fleshman had her own small-business radicalization moment in 2011, when she ran the New York City Marathon. She arrived at the Staten Island start with temporary tattoos for Picky Bars, the energy-bar company she'd founded with her husband and another pro runner. During the marathon, Fleshman realized, her body would be seen by millions of spectators. What a great opportunity for their young brand! The race organizers disagreed. The race is an IAAF event, with strict sponsorship rules. At the Verrazano Bridge, a race doctor helped ("helped") Fleshman ­remove her tattoos. This led her to start thinking about who controls what is essentially billboard space on athletes' bodies.
In the coming years, Fleshman's radical, antiauthoritarian (but, let's not forget, capitalist) thinking matured. Many big running-apparel companies include so-called reduction clauses in their sponsorship contracts, allowing them to cut athlete pay for the ­remainder of the contract if a runner doesn't hit certain benchmarks, fails to compete in a specified number of IAAF-sanctioned races, or falls below a certain rank.
Take, for example, an athlete with a four-year, $40,000-per-year contract that includes a 25 percent reduction clause. (This would be a good contract.) If that athlete fails to meet their contractual benchmarks in the first year, pay is reduced to $30,000. If that athlete then gets injured and can't compete during the second year, pay drops to $20,000. It will remain at that level ­unless the athlete triggers the reduction clause yet again. Contracts often do include performance bonuses. But as Phoebe Wright, a Nike-sponsored 800-meter runner, told me,
"Most athletes have had reductions even after a good year. Reductions tend to make athletes bounce between feeling taken ­advantage of and feeling worthless."
By late 2012, Fleshman had a stubborn IT-band injury that was causing her to miss races. Her pay had not been reduced, but she also knew that she wanted to have a baby. Thus, after what Bergesen describes as much "flirting over Twitter," Bergesen flew Fleshman and her husband to Seattle to meet the Oiselle team. Bergesen made her an offer: as much cash as she could muster (she declined to give details), plus an equity stake in Oiselle. On January 1, 2013, Bergesen and Fleshman dropped what they called "the F-bomb," announcing that
Fleshman had joined the company. The move put Oiselle on the running map. 
Next, Bergesen landed an even bigger name: Kara Goucher, one of America's most beloved distance runners. Goucher, too, had been under contract with Nike—and had grown more and more unhappy there. According to her, Nike stopped paying her when she became pregnant with her son, Colt, in 2010 and put racing on hold. (Nike upheld its full contractual commitment that year, says Jo Taylor, pointing out that marathoners Paula Radcliffe and Joan Benoit Samuelson had multiple children as Nike athletes.) Goucher says her contract also ­included a large reduction for every year that she was not ranked among the top three female marathoners in the United States. Meanwhile her family relied on her income, and in order to avoid a reduction clause, she felt she needed to compete on a broken foot. By 2011, she told me, her feelings about Nike were interfering with her training. "This is a lie," she remembers thinking. "I'm putting on a uniform and representing something that doesn't support me. I felt like there was an ax above my head."​
Oiselle couldn't compete with the seven-figure deal that another company offered Goucher as her contract expired. But Bergesen had her decidedly pro-woman culture. She had seen marketing value in Fleshman when she was pregnant, when she was struggling with injury. (Vulnerability is very relatable.) It made no financial sense, but Goucher and her husband met with a planner and decided to change their lifestyle. On March 18, 2014, the day she was released from Nike, Goucher signed with Oiselle. "I couldn't stop crying," she told me. "I felt like I was free."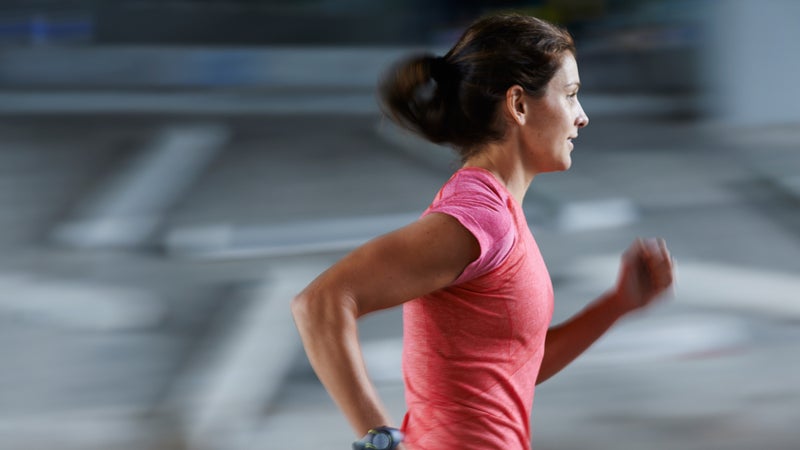 ---
Trust inside the sport of track and field is at an all-time low. In November 2015, ex-IAAF president Lamine Diack was arrested in France on allegations of corruption re­lated to doping scandals. Now incoming president Coe—who served as Diack's vice president and whose top aide also stepped down amid the doping scandals—was supposed to clean up international track. It didn't help that, in December, four months into Coe's tenure, French prosecutors began investigating the IAAF's decision, under Diack, to award the 2021 World Championships to Eugene, where Nike was founded. Coe told the British press that in the past, other cities were also awarded the right to host championships without an open bidding process.
The day she was released from Nike, distance runner Kara Goucher signed with Oiselle. "I couldn't stop crying," she told me. "I felt like I was free."
The IAAF's struggles exacerbated existing credibility problems here in the United States. Athletes were irate in December 2014 when USATF's board of directors ­appointed the organization's president, Stephanie High­tower, 57, a former star hurdler and manager of the 2004 Olympic women's track team, to represent the United States at the IAAF, despite the fact that the longtime incumbent representative had won more than 80 percent of the athlete vote. (USATF stated that it had overturned the vote because the IAAF was in the midst of change.) Athletes were also concerned about the length of the new Nike contract and how that mountain of revenue would be shared with them, though as ­USATF chief public-affairs officer Jill Geer reminded me, three representatives from the organization's Athletes Advisory Committee sit on the board."Athletes are the backbone of our sport," Geer e-mailed.
Nonetheless, professional track athletes on the whole are surprisingly broke. ­According to an analysis by the USATF Foundation, an affiliated nonprofit that promotes athlete development, more than 50 percent of American track and field competitors who rank in the top ten in the U.S. in their events earn less than $15,000 a year from their sport. A report from Smith College sports economist Andrew Zimbalist, commissioned in April 2015 by the Track and Field Athletes Association, found that they receive a much lower share of revenue than their peers. "In other professional sports, athletes roughly earn between 25 and 35 percent of revenues in individual sports and between 45 and 55 percent of revenues in team sports," Zimbalist wrote. By contrast, he estimated, "In the USATF, the elite athletes are receiving $3.46 million," which works out to just under 10 percent of USATF's 35.2 million revenue in 2015. USATF disputes these figures, saying that it budgeted more than $15 million in 2015 for athlete support, a category in which it lists broadcasting costs and fees for championship officials. Of that,
$5.1 million (about 14 percent) was paid to athletes in prize money, health-insurance deductibles, and other direct benefits.
Last summer, U.S. 800-meter champion Nick Symmonds, who in January 2014 left Nike for Brooks, took a very public stand. In the lead-up to the IAAF World Championships in Beijing, he refused to sign USATF's statement of conditions, which promised that he'd wear Nike clothes at all "official" team activities, a stipulation Symmonds found vague. His contract with Brooks required him to wear Brooks clothing the rest of the time, but USATF had also advised athletes to pack only Nike or unbranded apparel for the entire two-week trip. Symmonds felt caught between competing obligations. "I think we can all agree that the way the statement of conditions is written right now is just a real dog turd," he told press at the time. As he reasoned: He was being paid by Brooks to represent the Brooks brand. His value would be diminished if he could not perform his job for a portion of the year. And he was ­being blocked from doing that job by the deal ­USATF had signed with Nike. USATF ­issued a statement that "the only restriction ­USATF places on athletes' apparel or ­appearance at any time is when they represent the United States in national team competitions, award ceremonies, official team press conferences, and other official team functions." Symmonds did not go to Beijing.
Not all Olympic sports rely so heavily on a single apparel sponsor. USA Swimming, for instance, currently partners with ­Arena, Speedo, and Tyr. All three companies' ­logos can be seen on athletes at various World Championship events, which creates a healthy ecosystem of competitive brands. USATF does have ­additional sponsors—BMW, the Hershey Company, Visa, and others—but none with nearly as much sway in the sport as Nike.
Nike's outsize commitment to track does have serious benefits. "Nike began as a running company, and our commitment to serve runners and athletes of all kinds, at every level, continues to drive everything we do," says Jo Taylor. "Nike's goal is to help grow the sport"—which, she notes, is good for everybody, even smaller brands like Oiselle. Besides, says Ken Goe, a longtime sports reporter at Portland's Oregonian, "Really pop­ular sports don't have this issue, because lots of big companies want to step up and be a part of them. In track, not so much. It doesn't attract a mainstream ­audience apart from the Olympics." No doubt, no company besides Nike would likely be prepared to support USATF at the $500 million level. Nike only does so, Goe says, because cofounder Phil Knight "feels a love for the sport that transcends Nike's business interests."
Still, the power differential causes problems. Attorney Sathya Gosselin, who served on the plaintiff's legal team for O'Bannon v. NCAA—an ongoing lawsuit arguing that college football and basketball athletes should be compensated when the NCAA uses their images for commercial purposes—told me that he regularly receives phone calls from aggrieved track athletes concerned about Nike's influence on the sport. He believes antitrust cases can be hard to prove. Hypo­thetically, he says, "If there are ways in which the athletic federation is colluding with Nike to squeeze out sponsors and athletes, above and beyond their contractual agreement, that would be concerning. It is very difficult for a professional track athlete to earn a living without taking on second and third jobs, and that impinges on their ability to compete at the highest levels."
Last year, Bergesen consulted with Gosselin about bringing an antitrust case on behalf of Oiselle. He declined the case, leaving Bergesen with the impression that an athlete, not a small business, would make a more sympathetic plaintiff. But in January, Symmonds's caffeinated-gum company, Run Gum, represented by Gosselin's firm, Hausfeld, filed a lawsuit against ­USATF and the USOC alleging anticompetitive conduct regarding the 2016 Olympic Trials. Under current rules, athletes can only wear the ­logos of approved athletic-apparel and gear companies during the trials, icing out small brands. (USATF emphasizes that these are USOC regulations, not USATF's, and that it is merely following protocol.) Bergesen is ­wholly supportive of Symmonds. Yet she says, "In my mind, the case doesn't solve the bigger issue at hand—unpaid athlete representation at the Olympic and world levels." She may still pursue legal action.
---
Everybody was still playing nice in early ­December 2015, when Bergesen and Fleshman flew to Texas to attend USATF's annual meeting. Fleshman had a plan to present to the Athletes Advisory Committee for how athletes might seize control of marketing space on their bodies. Bergesen was there for moral support. But she couldn't resist a good opportunity for consciousness-raising.
After registering at the Hyatt Regency and declining their red Nike swag backpacks, thank you very much, Fleshman and Bergesen fortified themselves with bagels and coffee in the hotel lobby. Then, while Fleshman attended an athletes-only session, Bergesen headed up two escalators to the ethics-committee meeting, which took place in a windowless room filled with brown-clothed tables. The meeting was just about as boring as a person could imagine. That is, until Bergesen, sitting in the back row and looking as unassumingly Mary ­Tyler Moore–esque as ever, raised her hand and politely asked, "So I'm curious how ­USATF plans to handle the issues of harassment and intimidation by Nike against small companies and the athletes sponsored by them."
The room fell silent.
Frank Sullivan, the committee's earnest Midwestern chairman at the time, stepped in. "Can you give us some examples?"
Bergesen straightened up her posture. "Well," she said, "one particular incident of concern was at the Olympic Trials in 2012," when, Bergesen claimed, the 10,000-meter winner, a Brooks runner, was required to wear Nike sweats at the medal ceremony. "Here is what should have been this happy, triumphant podium moment, and this athlete was ­harassed to get out of her sponsor uniform and into Nike apparel."
"Yeah, where do we stand on that?" asked Tyree Washington, an exceedingly well-muscled ex-sprinter. "We've all heard ­examples of that happening. That should not be happening."
Bergesen then brought up a second incident, widely reported in the running press. According to a University of Oregon police report, multiple witnesses at the USATF Outdoor Championships in Eugene last summer saw John Capriotti, Nike's vice president of global sports marketing for athletics, verbally and physically harass Brooks head coach Danny Mackey, a former Nike ­employee, in a heated encounter over an undisclosed matter. (Mackey declined to press charges; neither he nor Capriotti would comment.)
A few minutes later, USATF counsel Norm Wain walked in. Bergesen introduced herself, and Sullivan politely recapped her issue.
Wain, one of the few people at the convention in a suit, fiddled for a moment with his phone.
"Let's peel back for a second," he said. "Number one, USATF does not ­interfere with the business of athletes and sponsors. USATF has a deal with a sponsor with ­regard to the national-team uniform. Number two, with regard to reporting, it's really hard to answer that question. The athletes have a panel, the coaches have a panel. This committee developed a vendor code of conduct in terms of how to drive best prac­tices. I'd have to go back and look to see what that document says. I'm late for a meeting, so…"
​Bergesen smiled tightly and rephrased. "The question is: How far is USATF willing to go to remedy a situation that involves their major sponsor?"
Wain bobbed and weaved some more. "We'd need to do an investigation to get more facts. Then we'd look at our bylaws. There are a lot of different things that come into play."
By this point it was 12 o'clock, and another committee needed the room.
Bergesen looks a bit like Mary ­Tyler Moore. Warm smile, smooth brown hair, nice eyes—your new friend. But over the past year, she's started to emerge as a different pop-culture icon entirely: the unassuming rebel, a fledgling Erin Brockovich.
The next day, Fleshman made her own ­attempt at change. She had some allies in the ballroom that housed the Athletes ­Advisory Committee, foremost among them Symmonds, though he'd grown skeptical about change through offi­cial channels. ("I can accomplish more in one tweet than in an entire weekend here at USATF," he told me.) But this was a tough crowd: 100 elite athletes, including dozens of sprinters who looked like they could each squat a Ford F-150 with Symmonds and Fleshman in the cab.
"I'm on the older side," Fleshman started out when she took the mic. "I'm 34. I'm in my last one to two years of competing." Then she presented her plan. In high literary-­feminist style—Fleshman graduated from Stanford in 2003—she called it "A Space of Our Own: A Proposal to Make a Living."
She asked everyone to imagine standing on a track, in a huge stadium, about to start an international race. "The sponsor on the bib number—somebody else sells it. The sponsor on the uniform—­somebody else sells it. The logos behind you when you're on the starting line—somebody else sells them. The television commercials—somebody else sells them. The only person that can't sell any space on the biggest stages of the world is you, is us."
​Fleshman flashed a slide. (Bergesen had designed it.) It showed a standard race bib and, alongside it, a revised one with a small piece of real estate outlined in red that an athlete could sell to a sponsor of his or her choice—say, General Mills or Oiselle. "This proposal says athletes should have a space of our own, that we get to monetize as we see fit, considering we are the ­asset."
The energy in the room felt weirdly flat.
"Perfect, thank you, Lauren," said committee vice chair Jeff Porter, a hurdler who is sponsored by Nike.
​Fleshman sat down.
It was hard to see how her plan could hurt anybody present. But a lot of athletes are sponsored by Nike, or want to be. Perhaps more to the point, as North Carolina sports agent Evan Morgenstein notes, athletes don't make good revolutionaries. "The current system is only possible because athletes are indentured servants and afraid to come together because they're worried that they'll get kicked off teams," he says. "And once you make that national team, what happens? You become a ward of the state. Someone from the governing body immediately makes you sign a code of conduct that says you won't smoke, you won't philander, all that legitimate code-of-conduct stuff. Then, at the end, it says you're signing over all your marketing rights to the governing body. Once you sign, you've given it all away."
​USATF has made some recent strides toward ­equity. Most notably, in November, the federation announced that each athlete who makes an Olympic or World Outdoor Championships team would ­receive a stipend of roughly $10,000. The reaction was positive. Who doesn't like $10,000? Still, some see this as shut-up money, a bone tossed to ­reduce their negotiating power.
"You hear this a lot from the leadership here now: Just be grateful," Symmonds told me. He was not buying it. "No, no, no. We earned this," he said. "This is ours. We're not going to be grateful that you stole this from us and are now giving 10 percent back."
---
It can be hard to remember sometimes that what Bergesen is doing, primarily, is selling cute running clothes.
"I've been to the future. You're all going to have a lot more color in your underwear drawers soon," one of her designers said at an all-staff meeting last fall. The Oiselle office, on the second floor of a commercial strip in Seattle's Green Lake neighborhood, is exactly how you would picture it: lots of young women in excellent shape, a dozen bins overflowing with samples, a table of homemade baked goods.
The big questions of the day were: How do you design a running bra with a pocket for a phone? (In the cleavage? Will it hurt?) How big should their largest size be? (They opted for 12.) And, a company perennial, any thoughts on a monster bottom, meaning a pair of pants every woman is just ­dying to have? "I'd like to see us push harder on a lifestyle short," Bergesen told her team. "Let's do a Roga lifestyle short with pockets. Kind of like a jeans style. Jean shorts are so uncomfortable. They're so crotchy." Everybody agreed.
Bergesen's mantra, lifted from Karl Lager­feld, is "Fashion is a sport now—you have to run." In other words, you have to keep moving fast, keep evolving. (Lagerfeld also said, "Sweatpants are a sign of defeat. You lost control of your life, so you bought some sweatpants." But let's leave that to the side for now.) In 2013 and 2014, Bergesen produced Oiselle runway shows during New York Fashion Week. Fleshman, Grace, and other athletes served as models, making a statement about power and beauty. The shows generated tons of buzz. But she did not repeat in 2015—as Lagerfeld says, you have to run.
Surprising even Bergesen, there's a lot you can communicate with a foot or two of fabric draped around your ass and legs. "When I started out," she said, "I sensed what was lacking in the shorts"—good design and quality construction, proxies for respect toward the consumer—"and I knew that symbolized what was missing in the sport and in the industry as a whole. It ended up being much bigger than the product."
Yes. It ended up being about the logo.