Gear Guy
Are there battery-heated socks I can wear with ski boots?
Do you know of any battery-heated socks that I can wear with ski boots? If not, can you recommend the warmest possible socks? I love to ski, but my feet freeze, even with toe warmers. Lisa East Greenwich, Rhode Island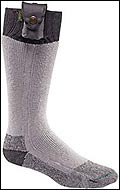 Heading out the door? Read this article on the new Outside+ app available now on iOS devices for members! Download the app.
Sure, there are several pairs of battery-heated socks out there. Cabela's sells one called simply the Battery Heated Boot Sock for $20 a pair (www.cabelas.com). They have a little pouch at the top that takes a D-cell battery; the socks run far enough up the calf that ski boots won't interfere with that pouch. You might also look at Cabela's Battery Heated Wader Socks ($22), which have batteries that clip to a belt or go into a pocket, then a wire runs down your pant leg to the socks. That design might give you a little more flexibility in terms of battery placement.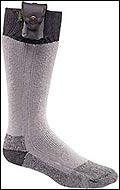 Battery Heated Boot Sock

When you say you've tried "toe warmers," do you mean the chemical models? Have you tried the Heat Treat-brand of toe warmers? These consist of little pouches that heat to 100 degrees once exposed to air. Regular price is $82 for 40 pairs (www.grabberwarmers.com), though you can buy smaller boxes, too.


You could make your boots warmer. Replace the stock insoles, for instance, with a pair of Insolator Winter Insoles ($8 at Campmor, www.campmor.com), which add an insulated later beneath your foot to help reduce the cold that's invariably conducted into the boots by your ski bindings. And of course, good socks help a lot. You might try Lange ThermaStat Silk Socks ($30, www.snowshack.com), a very thin ski-specific sock that uses hollow synthetic fibers along with silk to make a warm sock that isn't bulky. You also could buy silk sock liners ($10 at Lands' End, www.landsend.com), and over that wear a pair of SmartWool Ski Socks ($19, www.smartwool.com).
As a last resort, check the fit of your boot. Boots that are too tight can restrict circulation to your feet, making your feet cold. But I think tinkering with your socks will solve the problem.