2024 Winter Gear Guide
The Best All-Mountain Skis of 2024
Introducing the best one-ski-quiver options of the year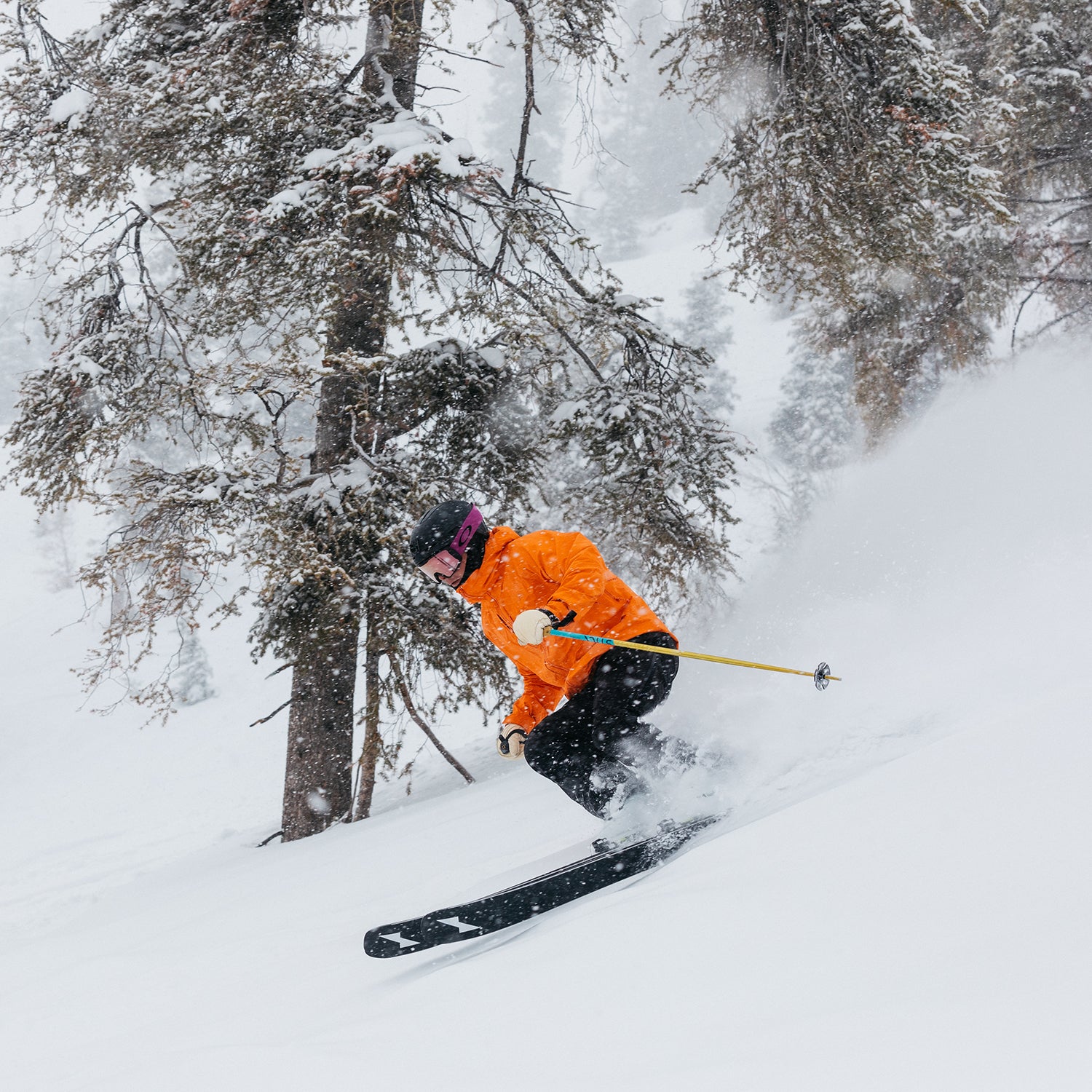 Ray J. Gadd
Heading out the door? Read this article on the new Outside+ app available now on iOS devices for members! Download the app.
This article was first published by SkiMag.com.
The all-mountain category is the sweet spot for those who want one ski made to handle every North American ski resort, every day. The skis we test in this category feature wider platforms underfoot—usually between 90mm and 100mm—but aren't as fat as powder planks. This means they float in powder, but they still feature enough camber, sidecut, and beefy materials in the core to tackle the groomers and the conditions you're likely to encounter off-trail at the resort. If you're looking for one ski to do it all, you've come to the right place.
Related: Looking for the best women's all-mountain skis of 2024? You'll find those here.
How We Test
Number of skis tested: 20
Number of testers: 24
Testing location: Sun Valley, Idaho
Average age of tester: 39
Average height of tester: 5'9"
Average weight of tester: 170 lbs
The unisex all-mountain skis listed below are the cream of this year's crop—out of 20 unisex all-mountain skis tested over the course of a week at the SKI/Outside 2024 gear test in Sun Valley, Idaho, these are the 13 sticks that impressed testers the most with their ability to tackle everything and anything thrown at them. They're listed in ranked order, with the highest performing ski, the 2024 Nordica Enforcer 100, at the top. Each ski's overall score is a product of how 24 testers—a mix of men and women who are all advanced and expert skiers from across the country—scored the ski across nine different skill departments: Versatility, Crud Performance, Stability at Speed, Responsiveness, Carving, Quickness, Forgiveness, Playfulness, and Flotation.
When judging an all-mountain ski, we primarily assess how versatile it is in terms of the type of terrain and snow conditions it can handle. So in Sun Valley, we put the all-mountain skis through the wringer, testing them on groomers, in the bumps, in glades, and even in Sun Valley's famous Burn zone, where powder stashes can be found days after the last storm. Lucky for us, we didn't have to make do with stale powder—it was nuking on the day of our All-Mountain category test. The skis that impressed us the most with their balance of skills on hard snow and in powder, in tight terrain and on wide open groomers, made this list of the best all-mountain skis of the year.
We believe the skis listed below set the benchmark for what an all-mountain ski is designed to do. That said, remember that ski testing (and skiing) is somewhat subjective. While we're big fans of the category-winning Nordica Enforcer 100, it may not be the best choice for every skier. So don't just look at a ski's score—read testers' feedback to understand the nuances of each ski and who it's best suited to. Otherwise, you might wind up with a great ski, just not the right ski for you.
Meet the Ski Testers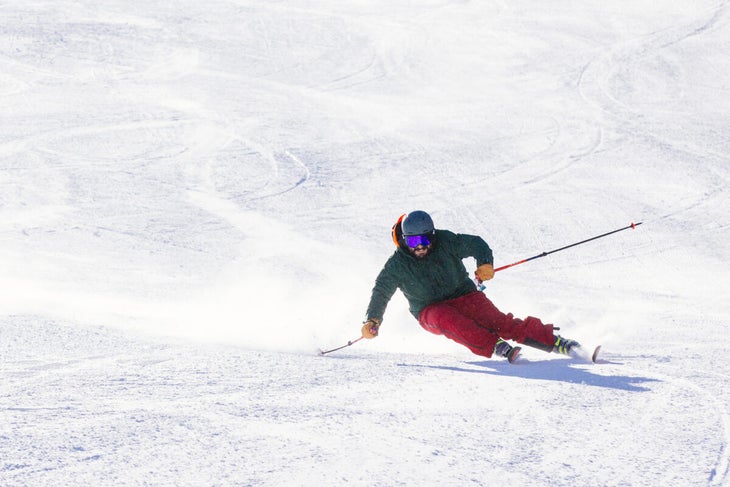 Jake Stern
Age: 28 | Height: 5'11" | Weight: 170 lbs
Stern has held many jobs within the ski industry, but the one constant has been his focus on gear. These days he's a professional bootfitter at Footoose Sports in Mammoth Lakes, Calif. In a prior life, he was a ski bum waiting tables at Alta and skiing 120 days a year, before serving stints on the editorial staff of Powder and Freeskier.  A lifelong skier and gear nerd, he spends every free minute of his winters skiing Mammoth Mountain and exploring the Eastern Sierra backcountry.
Chad Jacob
Age: 40 | Height: 5′10″ | Weight: 195 lbs
Jacob is a ski race coach from the East Coast and skis like one. At his home hill of Bristol Mountain, N.Y., you'll likely find him carving up icy groomers on a set of skinny skis. Jacob is a veteran gear tester who has tested skis for both Outside Magazine and SKI.
Jon Sexauer
Age: 36 | Height: 5′7″ | Weight: 150 lbs
A self-proclaimed gear nerd when it comes to skis and mountain bikes, Sexauer grew up skiing in Northern California, spending the majority of his time getting loose and sendy in terrain parks. He now lives in Colorado and calls Copper Mountain his home hill. Though he still gravitates towards playful and wide all-mountain skis, he's developed a more open mind when it comes to skis since joining SKI's official gear test crew five seasons ago. These days, you'll find him ripping around Copper on his trusty Nordica Enforcer 100s.
Reviews: The Best All-Mountain Skis of 2024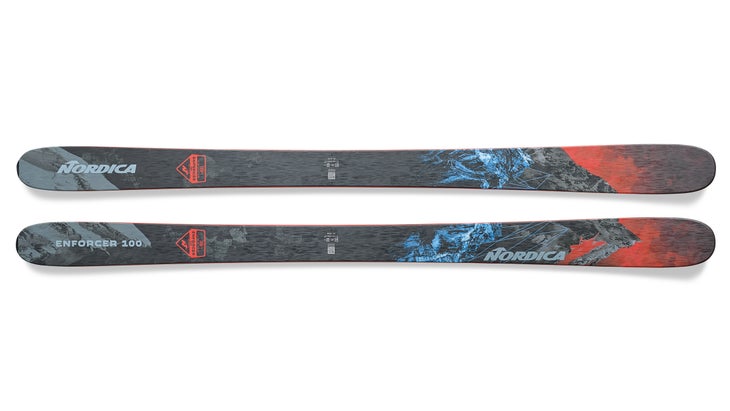 Overall score: 7.82/10
Lengths (cm): 165, 172, 179, 186, 191
Dimensions (mm): 132.5-100-120.5
Radius (m): 17.3 (179)
Weight (per ski in grams): 2,175 (179)
Pros: Stability at Speed, Crud Performance
Cons: Quickness, Forgiveness
The Enforcer 100, the ski that has defined this category since its inception, swept away its competition yet again with an all-new layup. Advanced skiers and ex-racers alike will swoon the moment they put their foot on the gas, while intermediates and beginners may want to look for a more forgiving ride. Nordica's redesigned charger treated our testers with a rock-solid platform, burning sidewall for thousands of feet from the top of Sun Valley, Idaho's Challenger chair. The brand may have put its beast on a diet, but the Enforcer 100 hasn't lost any of its teeth. And while the tech talk intimates that this ski was cooked up in the bowels of the race department, it is most at home carving off-piste chalk and snaking at the margins of groomed runs. Put simply by tester Luke Larsen, who owns a ski shop in Salt Lake City, Utah, "If you love to ski, you will love this ski."
Read the full review for category scores, strengths, weaknesses, and tester feedback.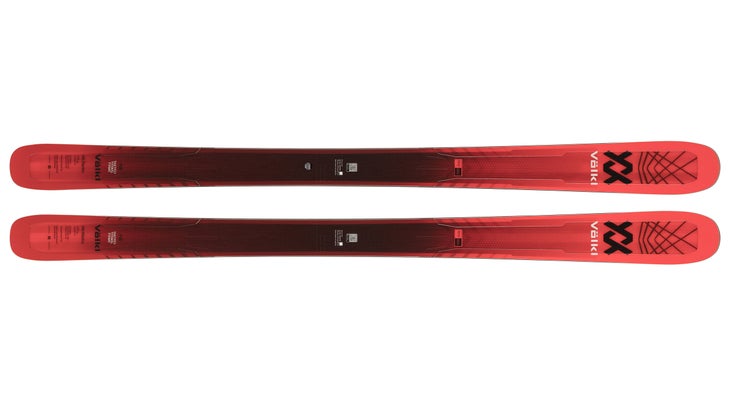 Overall score: 7.42/10
Lengths (cm): 163, 170, 177, 184, 191
Dimensions (mm): 133-96-121
Radius (m): 18 (177)
Weight (per ski in grams): 2,070 (177)
Pros: Stability at Speed, Hard-Snow Integrity
Cons: Quickness, Forgiveness
The most surprising thing about Völkl's M6 Mantra is that for such a serious, no-nonsense German ski, our testers in Sun Valley could not stop talking about how fun it was on snow. At the debrief after a long day of testing Unisex All-Mountain skis, these race coaches, shop owners, and general rippers couldn't keep the grins from their faces. Perhaps that's because there is nothing folks who like to ski fast prefer more than a ski with an instantaneous rocket boost and no discernable speed limit. The M6 Mantra is a "fun, strong ski that feels at home slicing groomers and still is game to go off trail and find fresh snow. It's a classic, and there's a reason it is still such a favorite in this category," said Crystal Mountain, Washington, skier Otto Gibbons. Be careful, though: This pick is demanding and isn't interested in a leisurely pace. Expert skiers will be thrilled to take the M6 Mantra into big open bowls or anywhere you can see your tracks from a long way away. If you want to make the only two turns down the Hollywood line and point them out an hour later, look no further.
Read the full review for category scores, strengths, weaknesses, and tester feedback.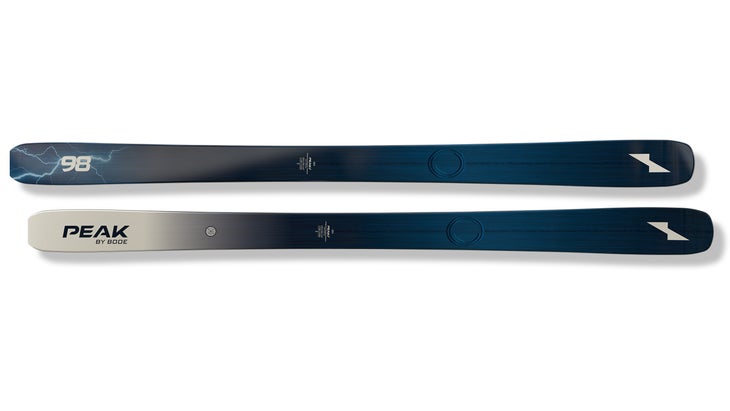 Overall score: 7.41/10
Lengths (cm): 160, 168, 178, 184, 190
Dimensions (mm): 128-98-116
Radius (m): 23.5 (178)
Weight (per ski in grams): 1,918 (178)
Pros: Stability at Speed, Hard-Snow Integrity
Cons: Forgiveness, Playfulness
Do we really trust Bode Miller, the man with the most unconventional but inarguably successful style in alpine racing, to make a set of planks for your average skier? As it turns out, being a genius innovator in the sport isn't a bad place to start. The Peak 98 is the flagship of Miller's new ski brand and is charging out of the start gates at, well, Miller's pace, impressing our testers across the board. "This is an über-universal all-mountain ski that appeals to the masses, and it gets attention in the lift line," said Bristol Mountain, New York, race coach Chad Jacobs. Considering Miller's prowess on blue ice, our testers were most surprised by the Peak 98's capabilities in soft snow. Intermediate to expert skiers who want to rail groomers and bite into chalk will be as impressed as we are by this new offering. If we didn't know any better, we'd think Miller pulled this ski straight out of the stone.
Read the full review for category scores, strengths, weaknesses, and tester feedback.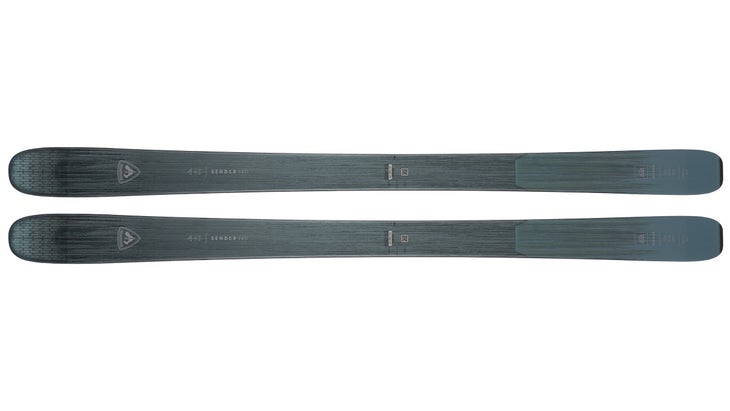 Overall score: 7.39/10
Lengths (cm): 156, 164, 172, 178, 186
Dimensions (mm): 128-94-118
Radius (m): 19 (178)
Weight (per ski in grams): 1,800 (178)
Pros: Versatility, Hard-Snow Integrity
Cons: Forgiveness, Flotation
The biggest talking point behind Rossignol's new Sender 94 Ti was how good it was all over the mountain. Our testers were thinking spring: long arcs on perfect cord in the morning, hop-turning steep chutes at midday, and seeking high-mountain chalk in the afternoon while the bottom of the hill cooks. The blessing and curse of the All-Mountain category is that these skis try to be all things to all people, but the Sender 94 Ti never lacked in guts. It just delivered glory. If you like an aggressive tail shape, a feathery swing weight, and a backbone that will hold an edge in all but the absolute firmest conditions, the Rossignol Sender 94 Ti is worth your attention. It may not be the category leader in float, but for a mixed- conditions bump and groomer ski that we wouldn't hesitate to take into the steeps, this ski is a rocket ship in search of a pilot. "This ski is an all-around workhorse," said tester RJ Peshek, a shop tech in Aspen, Colorado. "Performs great on groomers, nimble and fast in the trees and bumps, super stable at high speeds."
Read the full review for category scores, strengths, weaknesses, and tester feedback.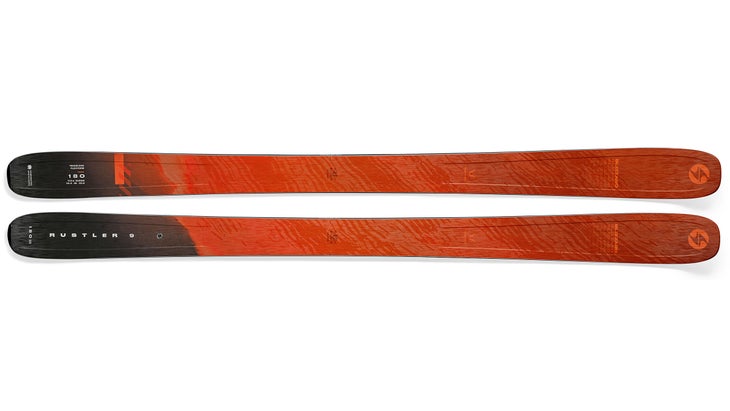 Overall score: 7.38/10
Lengths (cm): 162, 168, 174, 180, 186
Dimensions (mm): 131.5-96-121
Radius (m): 17 (180)
Weight (per ski in grams): 1,935 (180)
Pros: Quickness, Carving
Cons: Forgiveness, Hard-Snow Integrity
Blizzard's buzzy revamp to the Rustler and Sheeva series was greeted with open arms by our testers, who unanimously agreed that the brand took a good thing and improved the hell out of it. "The Rustler 9's skill zone has been shifted upward," commented Gibbons, "offering a more dependable platform for an aggressive skier in variable conditions or someone simply wanting the narrower waist width." This ski was a favorite from the get-go; it lost a few points for stability at the very highest of speeds, but raked in accolades in every other category. To a lot of our testers, this ski felt like a marriage of the old Rustler 9 and the Bonafide. A playful Bonafide may not be the perfect ski for lower intermediates, but it could be the holy grail for expert skiers who want a stiffer platform with less of a "dad shape." The Rustler 9 feels like what happens when a race-room development team goes on a bender at a Freeride World Tour after-party and listens to one too many of Léo Slemett's ideas. And we couldn't be more thrilled with the result.
Read the full review for category scores, strengths, weaknesses, and tester feedback.
No. 6: Fischer Ranger 96 ($850)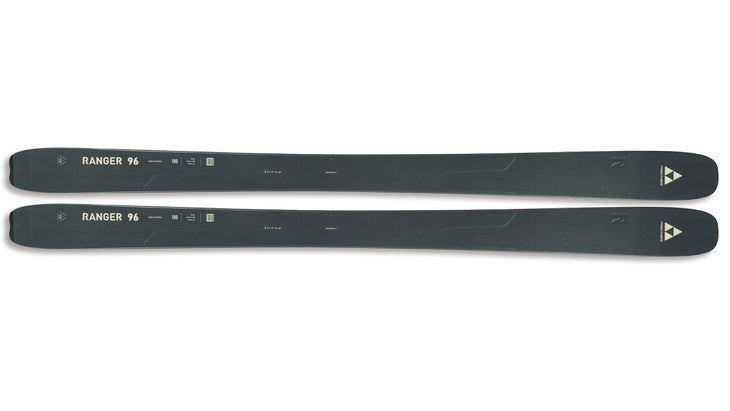 Overall score: 7.15/10
Lengths (cm): 159, 166, 173, 180, 187
Dimensions (mm): 128-96-119
Radius (m): 18 (180)
Weight (per ski in grams): 1,950 (180)
Pros: Playfulness, Responsiveness
Cons: Stability at Speed, Flotation
As one of the most versatile skis in the Unisex All-Mountain category, the Fischer Ranger 96's ability to shine on- and off-piste thoroughly impressed us. We appreciated its light swing weight and ample rocker profile for hacking short turns on steep, chalky terrain. The Ranger 96 is "fun and poppy," according to Larsen. "It's the perfect ski, balancing playfulness with fantastic edge hold that can carve a turn at serious speeds." If you're not looking for the dogged grip of a ski like the Völkl M6 Mantra and instead want something that's more willing to pop and slarve and slither through zipper lines, give the Ranger 96 your consideration. It was so intuitive that we almost forgot we were getting on a brand-new ski. It's not a rocket on rails; it's a solid platform on which you can progress.
No. 7: 4FRNT MSP 99 ($739)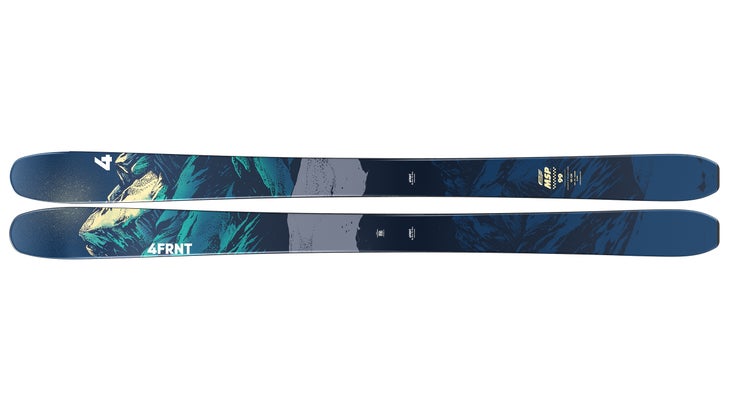 Overall score: 7.02/10
Lengths (cm): 171, 175, 181, 187
Dimensions (mm): 134-99-122
Radius (m): 18 (181)
Weight (per ski in grams): 2,050 (181)
Pros: Crud Performance, Stability at Speed
Cons: Quickness/Maneuverability, Responsiveness
The 4FRNT MSP 99 was one of our favorite Unisex All-Mountain skis for soft-snow performance. It wanted to truck through piles of chopped-up powder without a second thought and is an excellent choice for soft variable snow. We weren't afraid to haul on this ski because the tip shape allowed easy variation in turn shape. Testers could pivot on a dime and scrub speed when they got a little fast and loose in Sun Valley's trees. Once you do slow it down, however, the MSP 99 isn't as happy making short turns at slow speeds; it feels a little sluggish until you open it back up. This is a "strong big-mountain ski in a waist width that'll still be fun to tip over on the groomer heading back to the lift," said Peshek. If your idea of an all-mountain ski is a slimmed-down version of a big-mountain missile, check out 4FRNT's MSP 99.
No. 8: Salomon Stance 96 ($749)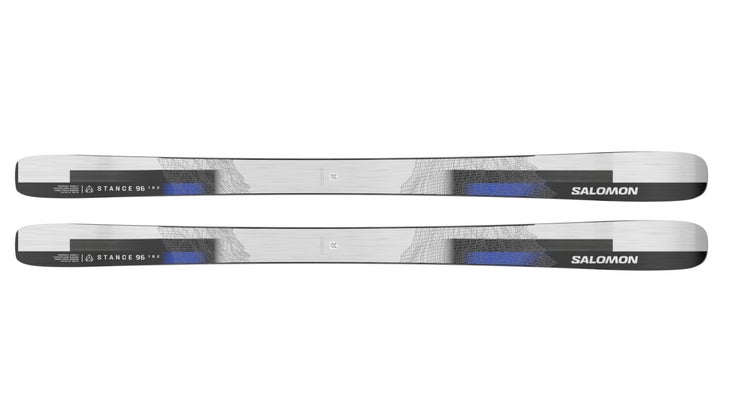 Overall score: 6.97/10
Lengths (cm): 168, 176, 182, 188
Dimensions (mm): 132-96-114
Radius (m): 20 (182)
Weight (per ski in grams): 1,920 (182)
Pros: Hard-Snow Integrity, Stability at Speed
Cons: Forgiveness, Flotation
Salomon's redesigned Stance 96 took an already excellent all-mountain tool and tailored it toward off-piste skiing. The new shape was a resounding success, and didn't sacrifice edge hold. Salomon lightened up the swing weight, taking some mass out of the tip and tail while increasing the taper lines in the tip to decrease hookiness in soft snow. The result was a ski that we felt comfortable pinning into piles of powder without fear of having a tip dive or getting yanked across the fall line into a tree. "This model has life both for the person wanting to upgrade into a metal-laminate ski and the skilled skier who loves to find out how far they can tip a ski over on edge," said Gibbons. The Stance 96 still requires a skilled driver who can pressure the tip, but it rewards good technique with massive rebound.
No. 9: Head Kore 93 ($875)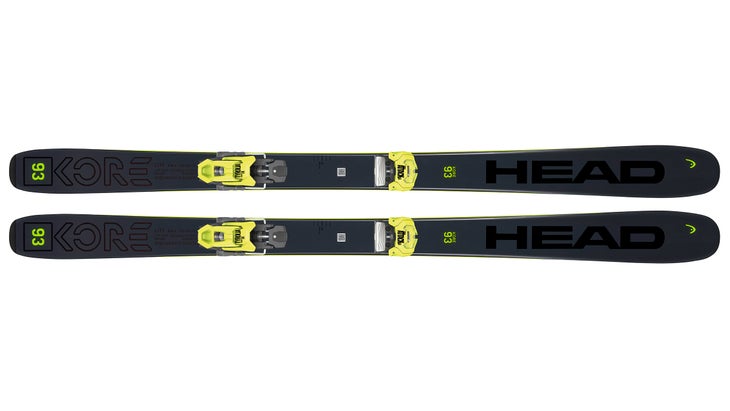 Overall score: 6.91/10
Lengths (cm): 156, 163, 170, 177, 184, 191
Dimensions (mm): 133-93-115
Radius (m): 16.4 (177)
Weight (per ski in grams): 1,700 (177)
Pros: Carving, Responsiveness
Cons: Flotation, Forgiveness
One of the most surprising skis in our test, the Head Kore 93 offered some of the best carving performance in the category—without any of the metal and heft of the other top contenders. "The carbon construction cuts the weight down, keeping it nimble and lively without being an absolute leg-burner," reported Gibbons, "but doesn't offer the 'bulldozer' sensation of a metal ski." The minimally tapered shovel engaged immediately when we tipped the ski on edge and drew us smoothly across the fall line. The best part, however, was how locked in the tail felt—until we released it and got rocketed out of the bottom of the turn. The ultralight weight was both an asset and a liability in the bumps and variable off-piste terrain: The Kore 93 was incredibly quick when needing to slide and slarve the trough line, but the ski didn't offer a ton in terms of dampness when we made errors. Stay off the tails and you won't have issues…but, well, to err is human. If precision is your name and carving is your game, the Kore 93 could very well be your ski.
No. 10: Armada Declivity 92 Ti ($850)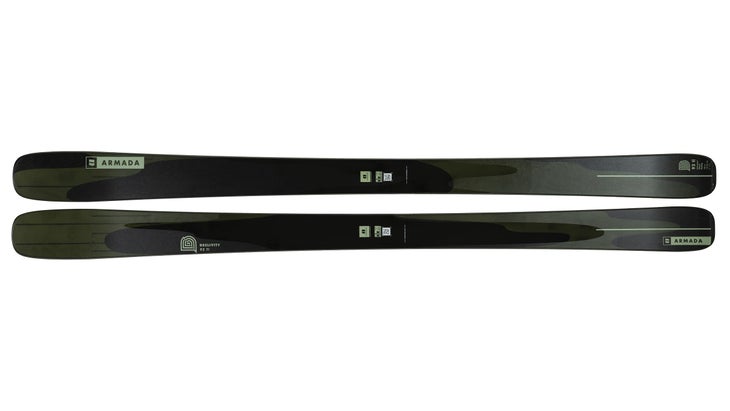 Overall score: 6.7/10
Lengths (cm): 164, 172, 180, 188
Dimensions (mm): 132-92-118
Radius (m): 17.5 (180)
Weight (per ski in grams): 1,825 (180)
Pros: Quickness, Playfulness
Cons: Flotation, Hard-Snow Integrity
Armada's directional freeride Declivity series, which started as a hard left turn for the core freestyle brand, is proving once again that it's at home competing with the old guard. Made in the Amer Sports factory in Austria, the Declivity 92 Ti has immaculate build quality and remains an ultra-capable and versatile addition to the all-mountain market. This offering feels like two skis melded into one. The shovel is heavily tapered, allowing the ski to float above its waist width. This also helps it pivot on a dime and ski variable snow with confidence. These elements could combine into a really hungry and unpleasant ski, but the Declivity 92 Ti's flex pattern is remarkably smooth. The result is a very dependable bump ski that's most at home off-piste in lower-snow areas and while carving soft groomers. "It's a versatile, confident ski that loves the softer snow," shared Jacob. "Its nimbleness is refreshing and it blasts through crud with ease." This model is approachable and reliable, but you can drive it as hard as you're willing; it'll give it right back.
No. 11: Line Blade Optic 96 ($850)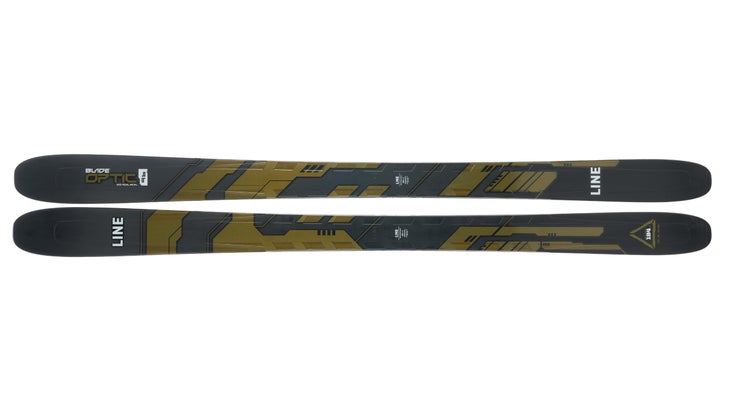 Overall score: 6.52/10
Lengths (cm): 163, 170, 177, 184
Dimensions (mm): 129-96-119
Radius (m): 16 (177)
Weight (per ski in grams): 1,880 (177)
Pros: Playfulness, Quickness
Cons: Hard-Snow Integrity, Forgiveness
In perhaps the weirdest sentence ever written, the Line Blade Optic 96 isn't your dad's old pair of Lines. (Jason Levinthal's core brand, which has always been dedicated to doing things a little differently, started in 1995, so we can say that now.) This is a progressive freeride ski with a ton of backbone and a 16-meter sidecut that wants to get rowdy. The Blade Optic 96 is a "super-energetic ski that nails the radius. The edge always feels available underfoot and oozes energy out of the turn. This appeals to anyone who can set an edge and ride it," said Jacob. The partial twin tip and forward mount point might be classic Line, but this ski would be just as comfortable hucking into Corbet's as it was pivoting through the trees in Sun Valley. The Blade Optic 96 was the most playful ski in the test, but it still wants to haul. It may be an enigma, but it's also a riot.
No. 12: Black Diamond Impulse 98 ($700)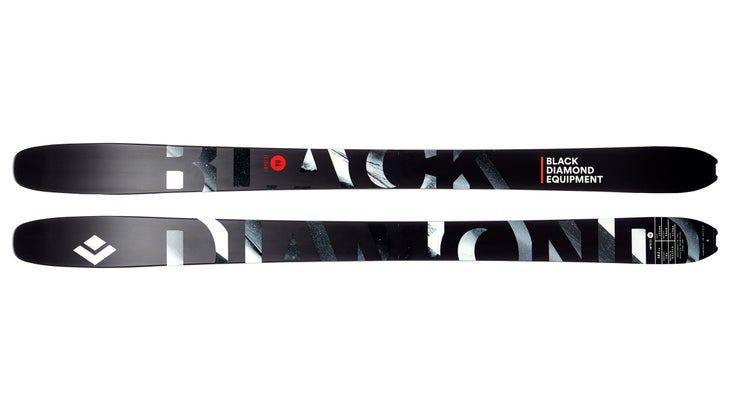 Overall score: 6.37/10
Lengths (cm): 161, 168, 175, 182, 189
Dimensions (mm): 132-98-119
Radius (m): 18 (182)
Weight (per ski in grams): 1,810 (175)
Pros: Flotation, Quickness
Cons: Carving, Hard-Snow Integrity
The Impulse 98 is far and away the most powder-oriented ski in the Unisex All-Mountain category. If you are an East Coaster looking for a dedicated soft-snow tree ski, Black Diamond's new offering should be at the top of your list. The Impulse 98 is equipped with an enormous amount of early taper and rocker in the tip, which supplies a surfy, pivoty feel—one most of us have been more familiar with in a 115-millimeter waist width. This ski's flotation is outstanding in this class, but that came with a fair bit of sacrifice in the groomer department. "On firm snow, the Impulse 98 feels a little lost and skittish," said Colorado-based writer Jon Sexauer. "The ski can hold an edge, but it isn't confidence-inspiring." Our testers also reckoned the Impulse 98 would be a top-tier slackcountry setup for powder hounds who want easy access to a quick stash beyond the gates.
No. 13: Dynastar M-Pro 99 ($900)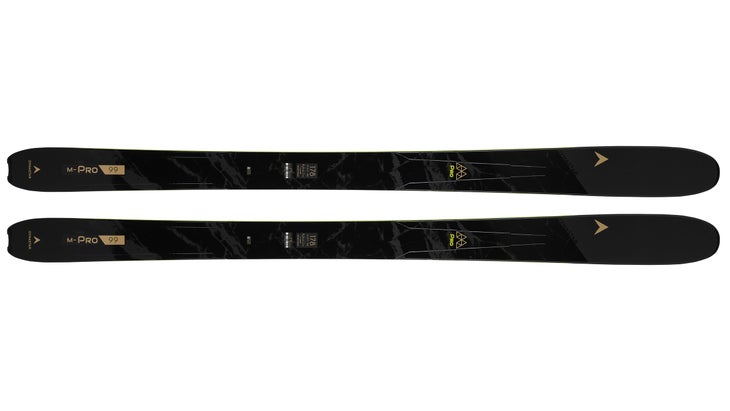 Overall score: 6.29/10
Lengths (cm): 162, 170, 178, 186
Dimensions (mm): 127-99-117
Radius (m): 20 (178)
Weight (per ski in grams): 1,900 (178)
Pros: Quickness, Playfulness
Cons: Stability at Speed, Crud Performance
The M-Pro 99 is one of the best skis for tight terrain that we tested in the Unisex All-Mountain category. Its heavily tapered tip and generous tip rocker allowed us to place the shovel exactly where we wanted it in the steep trees and deep bump runs of Sun Valley. Shoring up that light swing weight is a stiff and dependable tail that wants to finish turns and provides an excellent platform for hop turning in steep, variable snow. While it didn't want to plow through the worst chunder we encountered, the M-Pro 99 was still able to be skied with a more intentional, athletic style. This ski felt very at home billy-goating in technical terrain and was an extremely fun and energetic carver when we needed to head back to the chairlift. "Pick this pony if you want to giddy up and go," said SoCal skier Jamie Klopp.
Frequently Asked Questions
What are the best all-mountain skis?
Fischer Ranger 96
4FRNT MSP 99
Salomon Stance 96
Head Kore 93
Armada Declivity 92 Ti
Line Blade Optic 96
Black Diamond Impulse 98
Dynastar M-Pro 99
What is an all-mountain ski ?
From groomed runs to moguls to the steep-and-deep freeride terrain, all-mountain skis are designed to take on the entire mountain. They usually feature a waist between 85-100mm and are sold without bindings. The majority of all-mountain skis that our testers prefer feature wood cores and two sheets of metal—but there are exceptions that include no metal at all in favor of keeping the ski light and more playful. It's hard to beat the versatility of an all-mountain ski, though these skis can be too wide for those who spend the majority of their time on groomers, and too narrow for those who ski mountains blessed with regular and bountiful snowfall. Read more: Can wider skis hack it back East?
What's the difference between the All-Mountain and Frontside ski category?
Truth is, the line can be blurry between these two ski categories since ski manufacturers started throwing everything they have at producing well-rounded and versatile skis in both. As a result, you can now find narrow all-mountain skis that also rail on groomers and frontside skis that can hold their own in crud. That said, there are still some key differences between frontside and all-mountain skis, the biggest being that frontside skis are primarily designed for on-trail performance, while all-mountain skis (even the narrower ones) are engineered to tackle conditions and terrain off the groomers. Learn more here.
How long do skis last?
With proper care and regularly performed tuning by a professional ski tech, skis can last for 200-300 days on snow depending on the size and aggressiveness of the skier. Larger skiers and people who are harder on their equipment will not get as many days on snow before the wood core, edges, or other aspects of the ski become compromised. Bindings should be tested by a professional ski tech every season, and replaced when they do not meet standardized norms.
What's the difference between men's and women's skis?
In truth, most skis are unisex and not gender-specific. Many brands produce the ski with the exact same construction technologies for both genders, but often create two different top sheets to appeal to men vs. women. A handful of brands are making truly women's-specific skis, where the ski takes a woman's physique into account when building the ski. Men and women can ski on the same ski but may want to choose different lengths depending on their height and their skiing ability.
Lead Photo: Ray J. Gadd