2024 Winter Gear Guide
The Best Backcountry Touring Ski Boots of 2024
We're entering the Goldilocks age of backcountry boots. These new models aren't too heavy and they aren't too flimsy—they're just right for a variety of adventures.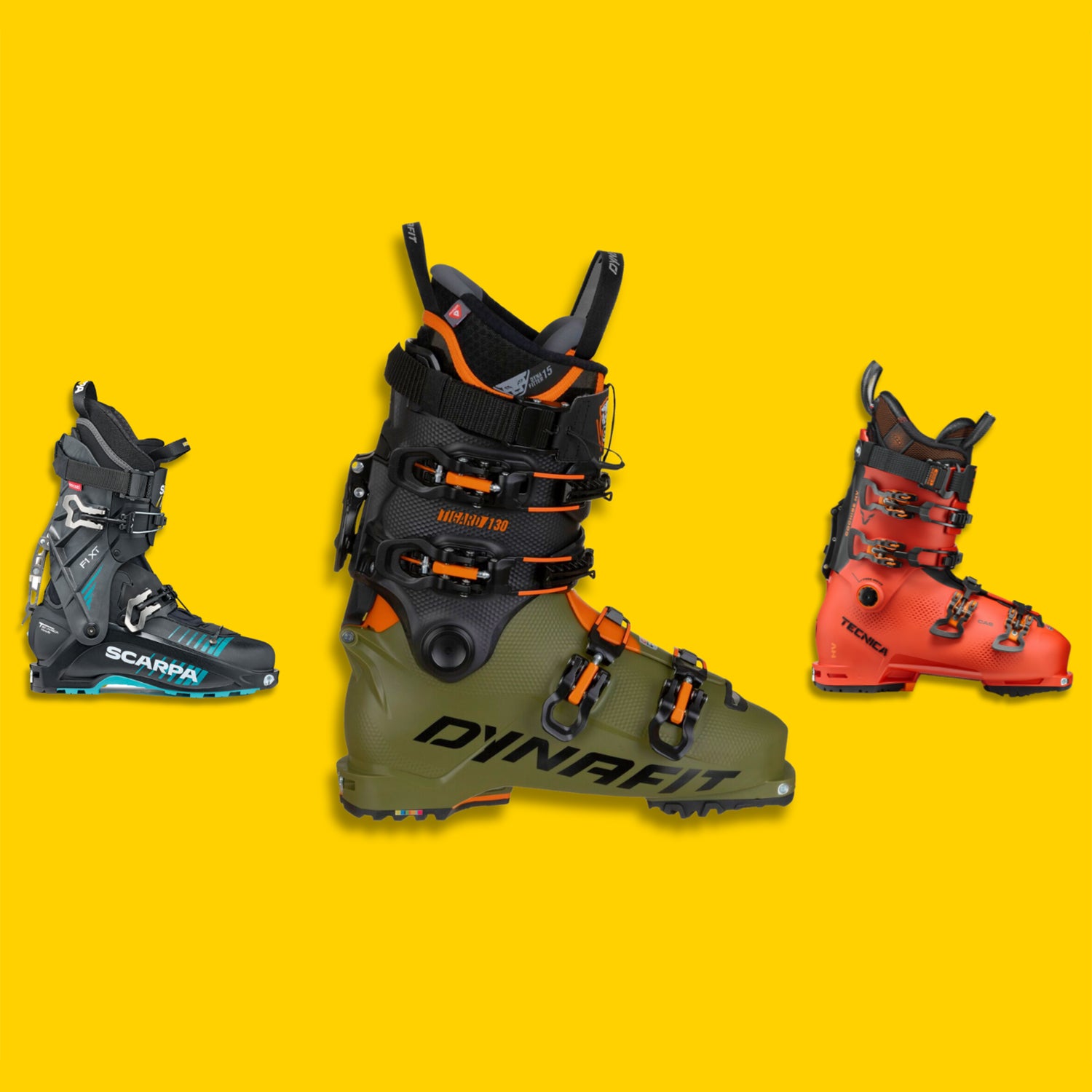 Courtesy the Companies
Heading out the door? Read this article on the new Outside+ app available now on iOS devices for members! Download the app.
This article was first published by SkiMag.com.
"Backcountry skiing" means different things to different skiers. Backcountry purists log serious miles and thousands of feet of vert to access the best views and most technical lines. These skiers need ski boots that are on the same page: lightweight alpine touring boots that feature tech inserts in the toe, burly Vibram soles for bootpacking and scrambling, and above all, walk-modes that give you ample fore-aft range of motion so you're not killing your ankles and calves on long, steep tours.
Other backcountry skiers are in it for untracked powder—they head out of the resort's backcountry gates to ski and skin lap after lap of pristine snow just beyond the resort boundaries. These skiers don't care so much about how light their equipment is so long as it crushes the downhill. It's for this type of skier that the hybrid backcountry boot category was born.
Hybrid boots bridge the gap between the downhill performance of alpine boots, and the uphill performance of alpine touring boots. They may also feature tech inserts in the toe and walk-modes with an acceptable range of motion for longer tours, but they tend to be heavier because they're made with burlier plastics and materials that increase downhill performance. These boots also often feature GripWalk or Multi Norm Compatible (MNC) soles that may be compatible with the bindings mounted on your resort skis, meaning they can be great one-boot quiver options that you can ski in and out of the resort.
Because we all have different backcountry agendas, we've included 2024's best backcountry boot options in both the hybrid and alpine touring categories. If you're looking for one boot to use inbounds and in the backcountry, peruse our top-rated hybrid options. If you're a dedicated backcountry skier who's looking to shave grams to make big backcountry missions more doable, check out the boots labeled under the "Alpine Touring" category. Whatever you choose, make sure you carefully consider and research your boot/binding compatibility.
How We Test
Our test starts in the back of the boot room, where we strip and examine each boot and assess the features and biomechanics of the shell and liner. Then we determine which tester would best fit each boot out of the box and send it to them to ski. We ski each boot for a minimum of three full days with our own custom footbeds and then make any necessary adjustments and ski it for a final day. For backcountry boots, we climbed and skied at least 6,000 vertical feet per boot.
Meet Our Lead Tester
Jake Stern is a freelance writer and professional bootfitter based in Mammoth Lakes, California. Footloose Sports, the shop where he fits, has been a leader in custom bootfitting for four decades. Working with flipper-footed Angelenos who haven't worn a closed-toed shoe in their lives, he understands the importance of comfort as well as performance when it comes to finding the right boot. Stern has been testing skis and boots professionally for four years.
The Reviews: The Best Hybrid Resort/Backcountry Ski Boots of 2024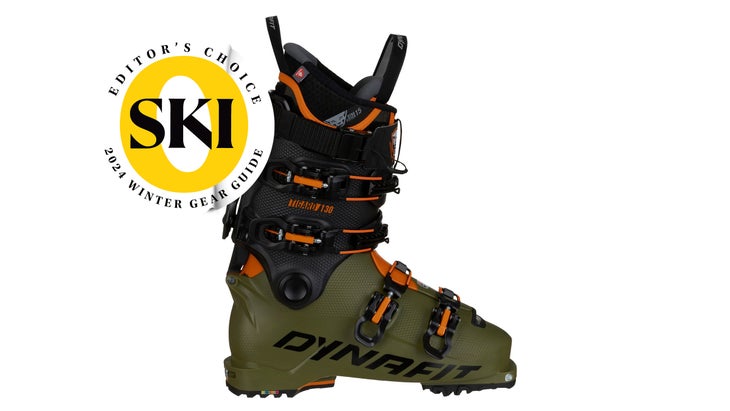 Flex: 130
Last (mm): 101
Volume: Medium
Weight (per boot in grams): 1,590 (26.5)
ISO: 23223 (GripWalk with Dynafit inserts)
Size range: 25.0-31.5
Gender: Unisex
Pros:
Amazing downhill performance for a boot with walk-mode
70-degree range of motion is more generous than what you find in other hybrid/all-mountain boots
Cons:
Fit can be tricky for skiers with low-volume feet
Let's get this out of the way at the top: Dynafit's Tigard 130 is the most impressive hybrid boot we've ever tried. In a category defined by compromise, this model seems to operate in a different plane of reality. The Tigard 130 is the hardest-skiing boot with a walk mode we've ever had the pleasure of stepping into; it's also the best walking boot we've ever been able to put into an alpine binding. This model has replaceable GripWalk soles and could be perfectly happy never seeing a skintrack. Or a chairlift.
The Tigard, Dynafit's imaginary tiger/leopard combo, stalks the skintrack and pounces on untracked powder, perfect corn, and manky mogul lines right under the chair. While the fit can be a little tricky for lower-volume feet, it's a godsend for folks with high insteps who want a single boot to charge inbounds and seek adventure in the great beyond.
Read more testing feedback in our deep-dive review here.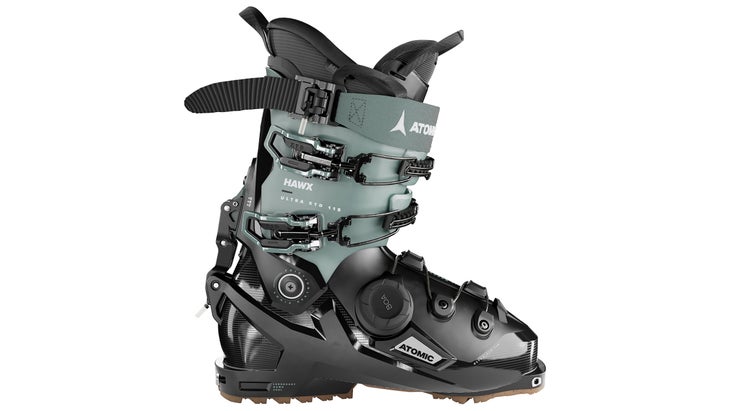 Flex: 115
Last (mm): 98
Volume: Low
Weight (per boot in grams): 1,630 (24.5)
ISO: 23223 (GripWalk with tech inserts)
Size range: 22.5-27.5
Gender: Women's
Pros:
A BOA boot that actually achieves a high-performance fit
A solid option for narrow-footed skiers
Cons:
Range of fore-aft motion is restricted by stiffness of the cuff, resulting in less comfortable touring
Atomic turned heads this year when it unveiled the only new H+i1 BOA boot in a low-volume last. For aggressive skiers who want a super-snug do-it-all boot, the new Hawx Ultra XTD 115 W is a panacea in polyurethane. While other brands conceived their BOA boots as a one-size-fits-all solution for medium- to wide-volume feet, Atomic saw an opportunity to crank down on an already snug last to give experts an even higher-performance fit on one of its most popular boots. Our testers in Washington ski a lot of bad snow, and they were pleased to report that this boot ate up refrozen death cookies, windstripped chutes, and "lumpy terrain in complete whiteout." If you're a strong expert skier who craves a low-volume fit without a lot of wiggle room and you're interested in short hikes or sidecountry tours, you should definitely swing by your local shop and check out the Hawx Ultra XTD 115 W. Atomic really knocked this boot out of the park; it's confidence-inspiring and skis inbounds incredibly well.
Read more testing feedback in our deep-dive review here.
Flex: 130
Last (mm): 102
Volume: High
Weight (per boot in grams): 1,850 (26.5)
ISO: 23223 (GripWalk with tech inserts)
Size range: 22.5-30.5
Gender: Unisex
Pros:
Finally, a high-volume version of this popular boot for those with high-volume feet
New mold uses mostly recycled materials, a big win in the world of ski boots
Cons:
Skews more towards resort skiing than getting after it in the backcountry
We couldn't have been more thrilled this year when we found out Tecnica was building a high-volume version of the Cochise, its venerable freeride touring boot. This offering stays true to the brand's nature: fit-focused, downhill-oriented, and built with as little compromise against skiing capability as possible. The best part? Tecnica accomplished all of this in a brand-new mold that incorporates recycled materials. The Cochise HV 130 is an alpine boot with a nice walk mode, and for a large and ever-increasing number of skiers this option fills the niche. Want to walk five days a year? Great! Ski a Cochise. Did Alta open the Baldy Chutes and the booter is in? Perfect. This is an ideal boot for the skier who wants just one pair and is curious about backcountry powder, but not willing to commit to a featherweight backcountry model. With a new high-volume fit that will attract skiers looking for comfort and performance, the Cochise HV 130 checks all the boxes.
Read more testing feedback in our deep-dive review here.
K2 Mindbender 130 BOA ($1,000)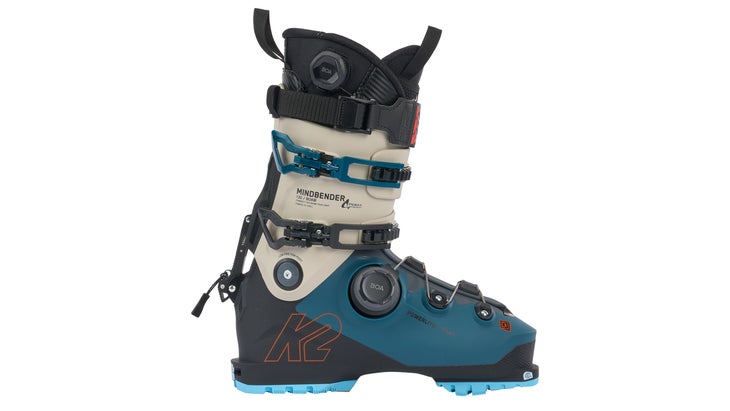 Flex: 130
Last (mm): 97 to 104
Volume: Low to Medium (K2 MultiFit)
Weight (per boot in grams): 1,945 (27.5)
ISO: 23223 (GripWalk with tech inserts)
Size range: 24.5-30.5
Gender: Unisex
Pros:
A solid resort-meets-backcountry boot option for skiers who split their time evenly and do it one boot
Roomy fit above the midfoot makes it a good choice for skiers with high insteps
Cons:
You really have to crank the BOA dial to get this boot to fit a lower volume foot
The all-new Mindbender 130 BOA is a versatile 50/50 option for skiers who don't want to think about their setup before heading into the mountains. Equally at home on the skintrack as it is riding chairs, this boot is also a perfect travel option for ski trips without a set itinerary. Skiers with a high instep, rejoice! The Mindbender 130 BOA has a ton of room atop where the second buckle would traditionally sit. Because of the room in the heel pocket, we're a little skeptical of K2's MultiFit Last cranking all the way down to 97 millimeters, but our low-volume testers were able to ski this boot as hard as they wanted with the BOA spun down. The walk mode, while not delivering an astonishing range of motion, felt smooth and frictionless, and we were able to put in big days with minimal fatigue. The Mindbender 130 BOA is a solid quiver of one for the advanced, backcountry-curious skier.
Rossignol Alltrack Pro 130 LT MV ($849)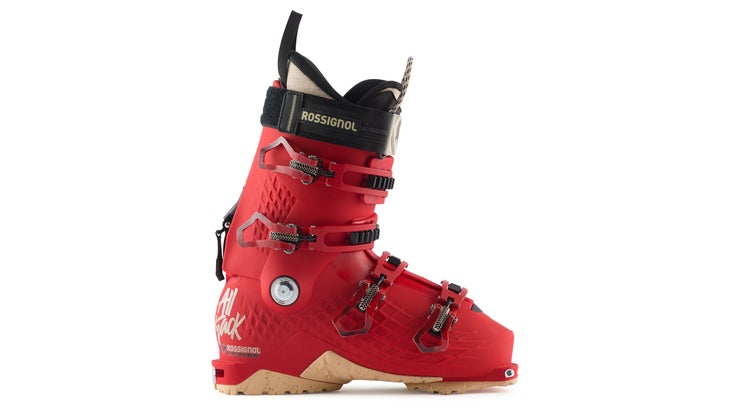 Flex: 130
Last (mm): 100
Volume: Medium
Weight (per boot in grams): 1,830 (26.5)
ISO: 23223 (GripWalk with tech inserts)
Size range: 24.0-29.5
Gender: Unisex
Pros:
Familiar alpine boot feel
Deluxe comfort features
Cons:
Walk-mode range of motion is limited and better suited to quick sidecountry skins than backcountry tours
Rossignol's ever-popular Alltrack Pro remains one of the most comfortable downhill-oriented hybrid boots on the market. The polyether Dual Core scaffo (lower shell) provides true alpine suspension and rebound, while the polyolefin cuff lightens the total package to keep you fresh in the sidecountry. Our tester loved the new double-sided power strap: It allows you to slot it under the cuff and to easily tweak the tension for hiking. The Alltrack Pro 130 MV is the most resort-focused boot we tested in the Hybrid category. There is almost no perceptible play in walk mode, keeping the spine of the boot stable and dependable. We felt the walk mode was more of a "performance-lodge mode" that wasn't the most efficient for tours longer than an hour. But for an inbounds bootpack or quick sidecountry hits, it was more than adequate. The Alltrack Pro 130 MV is a versatile option for advanced skiers who want deluxe comfort features from a boot that doesn't shy away from aggressive skiing.
The Reviews: The Best Alpine Touring Ski Boots of 2024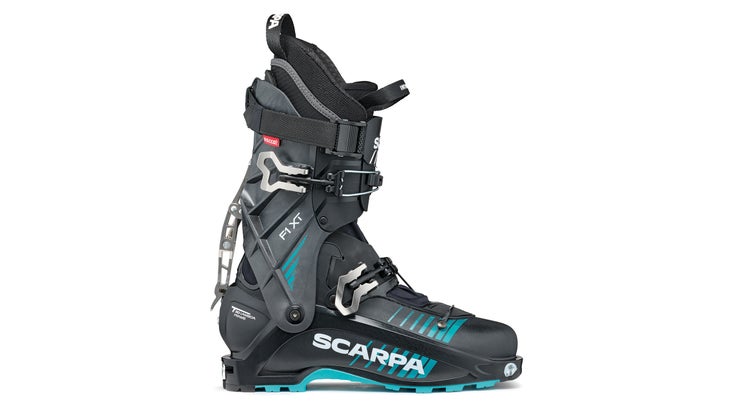 Flex: 95
Last (mm): 100
Volume: Medium
Weight (per boot in grams): 1,145 (27)
ISO: 9523 (Touring)
Size range: 23.0-31.5
Gender: Unisex
Pros:
For a lightweight AT boot, it drives a heavier ski exceptionally well
Surprisingly warm for a minimalist boot
Cons:
Not quite burly enough to handle variable conditions with confidence
If your vision of spring skiing includes pre-dawn starts, steep couloirs, and booting thousands of feet to the top of your line with enough gas left in your tank to enjoy the descent, Scarpa's brand-new F1 XT could be the boot of your dreams. The scaffo (lower shell) of the boot has a nice low-volume fit that doesn't feel crushing for those with a medium to high instep, thanks to the tall waterproof gaiter. The upper cuff is nice and tight, with no play at all, allowing for easy power transfer to the ski. We tested the F1 XT in the biggest winter—and longest spring—the Eastern Sierra has ever seen. That means we put it through the paces skinning steep, icy slopes, crossing raging streams, booting impossibly long chutes, and skiing back to the sagebrush. This boot blew our minds with both its blissful walking abilities and its capacity to drive any ski we threw at it.
Read more testing feedback in our deep-dive review here.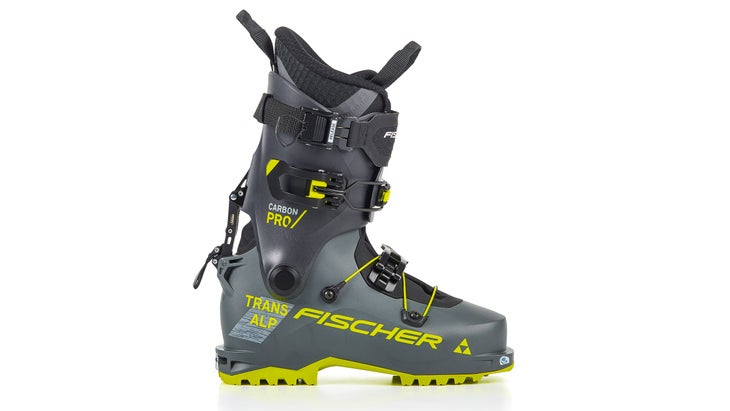 Flex: 130
Last (mm): 100
Volume: Medium
Weight (per boot in grams): 1,280 (26.5)
ISO: 9523 (Touring)
Size range: 24.5-30.5
Gender: Unisex
Pros:
Stiffness inspires confidence at speed and in technical terrain
Exceptional weight-to-performance ratio
Cons:
Lack of rearward flexion makes skinning on flat approaches a bit cumbersome
Latching the ski mechanism on Fischer's new Transalp Carbon Pro at the top of a very big line was one of the more confidence-inspiring feelings our tester has had in the backcountry. There aren't a lot of sub-1,300-gram boots that have the progressive flex and stiffness of this one. We tested this boot on several routes with greater than 6,000 feet of vertical and were repeatedly impressed with its ability to drive the hell out of a big ski in big terrain. It doesn't have the best rearward flexion while walking, which can feel cumbersome on flats, but is much more stable and secure when booting steep sections than a model with no friction in its walk mode. If you're looking for an option that skis astoundingly well for its weight, and you don't care that it doesn't walk like a pure skimo machine, then the Transalp Carbon Pro is a sure bet in the medium-volume category.
Read more testing feedback in our deep-dive review here.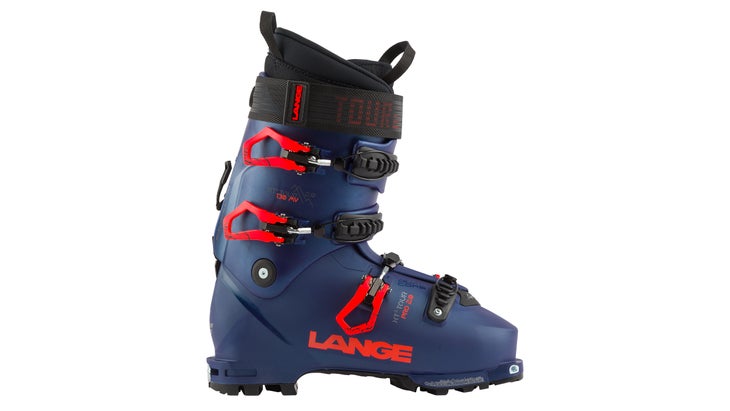 Flex: 130
Last (mm): 99
Volume: Medium
Weight (per boot in grams): 1,450 (26.5)
Gender: Unisex
ISO: 9523 (Touring)
Size range: 24.5-29.5
Pros:
Incredible walking range-of-motion that feels more generous than advertised
Burly Vibram outsole stands up to even the toughest scrambling
Cons:
Sacrifice in stiffness in the name of shaving weight
Lange was never going to make a really light touring boot until it knew it could do it right. Each winter for the past three years, it's released a touring boot that skis just as well as the last, while weighing less and less. This year, the brand has again shaved some grams from the XT3 Tour Pro and is introducing the XT3 Tour Light. This all-new construction keeps what we loved about the Tour Pro and adds an enormous Vibram outsole while dropping weight with lighter buckles. Lange's ethos has put downhill performance above all else, and with its Dual Core Light Grilamid mix we felt the pop and suspension the company is known for, albeit in a breezier package. We would recommend this boot for big days in the spring, overnight missions (or longer), or powder-chasing far from the trailhead. Maybe Lange wanted a downhill weapon, but it created an uphill monster that can ski anything you have the gall to boot to the top of.
Read more testing feedback in our deep-dive review here.
Scarpa Maestrale RS ($949)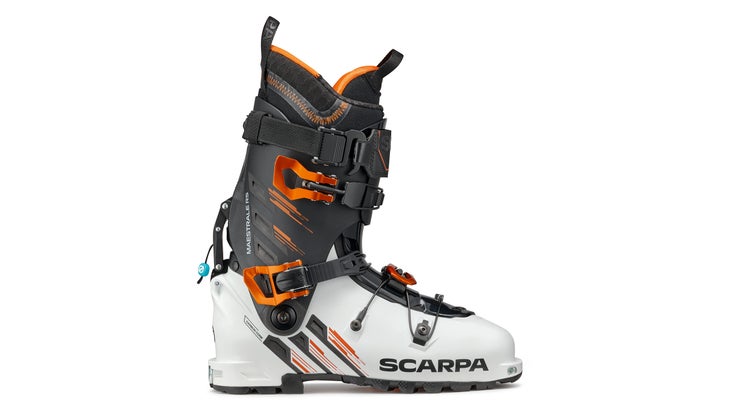 Flex: 125
Last (mm): 102
Volume: Medium-high
Weight (per boot in grams): 1,470 (27)
ISO:
Size range:
Pros:
Expanded forefoot improves comfort fit and warmth
Built-in versatility makes it a do-it-all AT boot
Cons:
Flex isn't quite as smooth as other boots in this category
Scarpa redesigned its beefiest touring boot this year, optimizing for comfort and fit. Still using industry-leading bioplastics, the Italian brand expanded the forefoot of its flagship free-touring boot to increase warmth and ease for long days in the backcountry. We put about 20,000 vertical feet on this boot in the Eastern Sierra and were impressed by its versatility as a do-it-all AT tool. The cuff rotation felt fluid and efficient on the skintrack, with a 61-degree range of motion. The rockered Vibram sole performed solidly while scrambling up scree-choked gullies, and we appreciated the wider toe box for punching steep booters in firm snow with boot crampons. The three-piece Pebax Rnew tongue delivered a linear flex that didn't feel quite as smooth as its more progressive competitors, but in sun-cupped and slushy snow this boot provided dependable power transfer and a stable ride. If you're looking for a more comfortable fit for longer days or are used to cabrio-style alpine boots, the Maestrale RS will feel like home.
Frequently Asked Questions
How do I know my ski boot size?
Ski boots use mondopoint sizing, typically ranging from 22/22.5 to 29/29.5 for adults. Your appropriate mondopoint indicates the shell size you should be in, but there are other measurements that also factor into finding the right ski boot size for your foot. You need to know your foot sole length, the width of your foot, and your instep height, among other things. To determine your ski boot size and get the best ski boot fit, go see a bootfitter. A professional will be able to take all kinds of foot measurements to find the right ski boot size for your foot and your style of skiing. Learn more here.
What is ski boot flex?
Ski boots come in a variety of flex points, from 60-130
Ski boot flex ratings vary across ski boot brands
The higher the flex rating, the stiffer the boot; the lower the flex rating, the softer the boot
Flex refers to how easily you can distort the ski boot—how much force it takes to drive your shin forward. That's based on what type of skier you are (beginner, intermediate, or expert) as well as your physical stature. Ski boots come in a variety of flex points, generally along a spectrum of 60 to 130, where 60 is considered soft and 130 considered very stiff. Read more here.
What is ski boot volume?
Volume refers to how much space there is between the floor and ceiling in the instep of the boot, as well as how much space there is in the toe box. Most brands now make boots that come in three volume options: low volume (LV), ranging between a 97-99mm last; mid-volume (MV), between 99-101mm; and high volume (HV), between 100-104mm. Learn more here.
More from the 2024 Winter Gear Guide
The Best Backcountry Skis of 2024
The Best New Bindings of the Year
The Best Powder Skis of 2024
Lead Photo: Courtesy the Companies