2024 Winter Gear Guide
The Best Cross-Country Skis of 2024
7 testers tried 26 pairs of cross-country skis in all conditions—from late-season slush to deep powder. These four came out on top.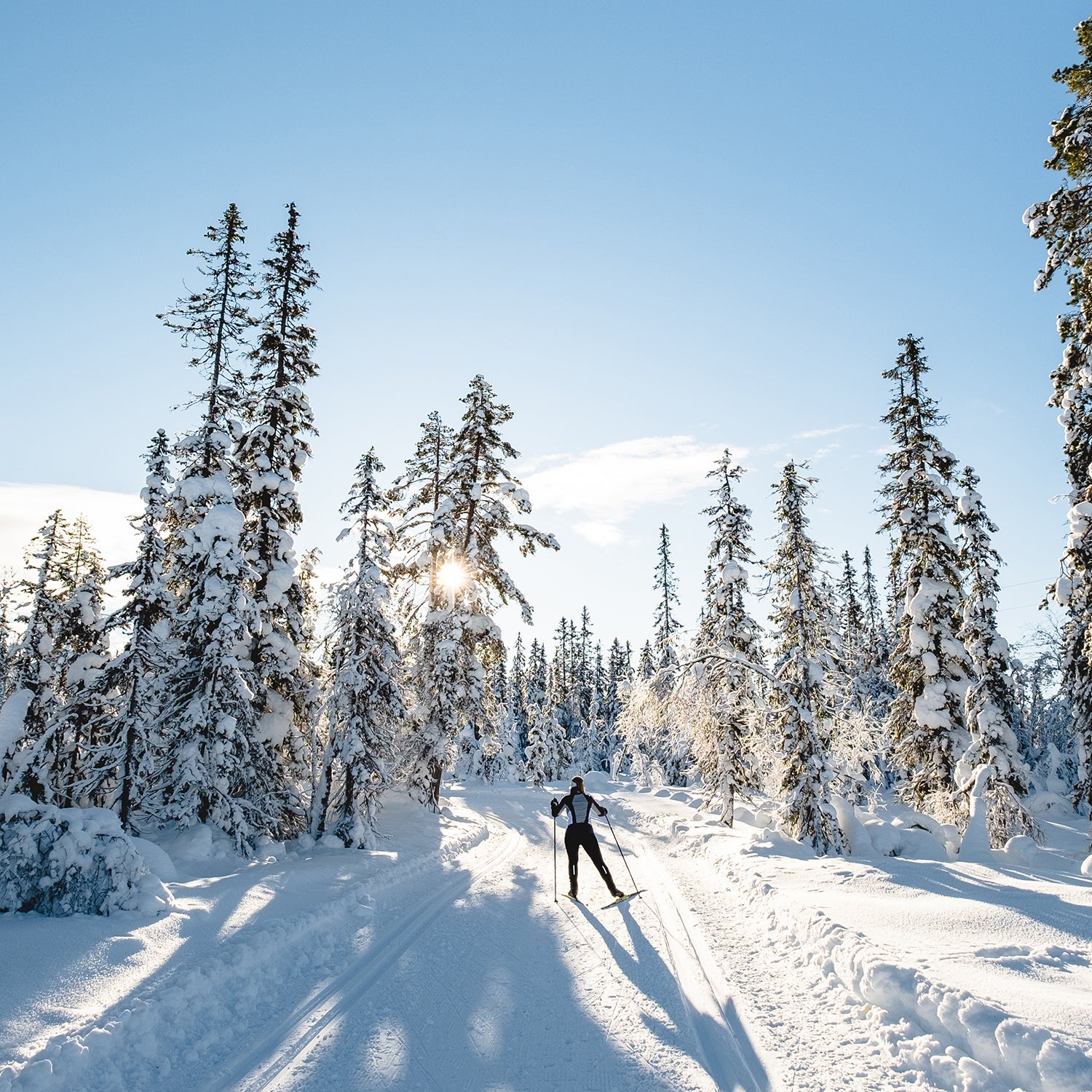 Glenn Pettersen/Getty
Heading out the door? Read this article on the new Outside+ app available now on iOS devices for members! Download the app.
2024 is a huge year for U.S. nordic skiing. For the first time since 2001, an FIS Cross-Country World Cup event will take place on American soil. But that's not the only reason to get stoked for nordic season. Most ski manufacturers run on two- to three-year design cycles, which means that during non-Olympic seasons like 2023-24, they focus on upgrading their beginner and intermediate-level lines. While you may not see the skis below on a World Cup podium, they will make beginner and intermediates' forays onto snow a lot more fun. Improvements include enhanced grip patterns for dialed traction, more stable side cuts for better balance, and updated cambers for better overall performance. Nordic skiing may be the world's toughest endurance sport, but even if you've never skinny skied, don't let that intimidate you: it's getting easier every year.
The Winners at a Glance
Rossignol Evo XT 60 Positrack
Salomon RC 10-E Skin Endurance Classic
Madshus Endurace Skate
Fischer Outback 68 Crown/Skin
How We Test
Number of testers: 7
Number of products tested: 26
Number vertical feet: 28,000
Number of kilometers: 870
Number of inches of snow over the year in Duluth, Minnesota, the primary testing ground: 135.4 
Northern Minnesota, where most of our testers are based, had a record-breaking snow year of more than 11 feet, which made for unique nordic conditions. For a few days the snow was so deep that our only option was to ski out the front door, down the middle of the street, and to trailheads where we found feet of late spring powder.
Our testing period lasted for seven weeks in March and April on snow that varied from cold, squeaky Styrofoam to spring corn to wet cement. Our eight testers (three women and five men) varied in ability from rank beginner to elite-level marathon racer, and rangedfrom 19 to 62 years old. To ensure that at least two testers would experience the same ski in the same conditions, we rotated the skis in groups of two or three.
We tested on a wide range of trails, from punchy 5k loops on lit city trails after work to a 25k groomed, hilly wilderness loop on the weekends. Some used Strava to track miles and loosely compare ski speeds throughout the course of testing. Once our volunteers skied on as many skis as possible in as many conditions as possible, they filled out a form that included details on snow type, ski performance, and technology. Because this year's models are oriented toward beginners and intermediates, we focused less on speed and more on ease of use in a wide variety of weather.
The end result: We found an excellent ski for each of four categories: classic, skating, touring, and a hybrid touring/track ski.
Meet Our Lead Testers
Stephanie Pearson
Category manager Stephanie Pearson grew up in Duluth, Minnesota, nordic skiing out her backyard. She started at Outside as an intern in 1995 and has worked in various positions with the magazine, most recently as a contributing editor, for almost three decades. She's also a 2023 National Geographic Explorer.
Jen Pearson
Jen Pearson is a physician and associate professor in the Department of Family Medicine and BioBehavioral Health at the University of Minnesota. She's raced the American Birkebeiner more than 20 times with multiple top 20 finishes.
Doug Hoffman
Doug Hoffman is an MD who specializes in musculoskeletal ultrasound. He has raced roughly 20 Birkies, but his first love is soccer. His final collegiate soccer game as a defender for Duke University ended in an eight-overtime loss in the 1982 NCAA final.
Brian Hayden
Brian Hayden is the founder of the Duluth Devo Mountain Bike Program. He's a former collegiate Nordic ski racer and ski wax technician for the Duluth East High School Nordic Ski Team. His patience at the wax bench made this test possible.
Erik Torch
Erik Torch has been an avid cross-country skier since arriving in northern Minnesota from the fringes of New York city 30 years ago. He works in philanthropy and specializes in late-night skis after the kids are in bed and the dishes are done.
Jeff Corey
Jeff Corey started cross country skiing in grade school on snowmobile tracks in the snow-covered soybean fields of southern Minnesota. Today he lives in Duluth and skis on groomed trails with friends. He works for One Roof Community Housing.
Kai Hoffman
Kai Hoffman is a sophomore at the University of Wisconsin-Madison. A former racer on the Duluth East High School Nordic ski team, Kai has textbook classic skiing form, but prefers playing soccer.
Paula Williams
Paula Williams is a high-school guidance counselor for Duluth Public Schools who first cross-country skied at the age of 12. After a four-decade hiatus, the avid walker who averages 40,000 steps per day, decided to try the sport again.
The Reviews: The Best Nordic Skis of 2023
Rossignol Evo XT 60 Positrack: ($270, including Tour Step In binding)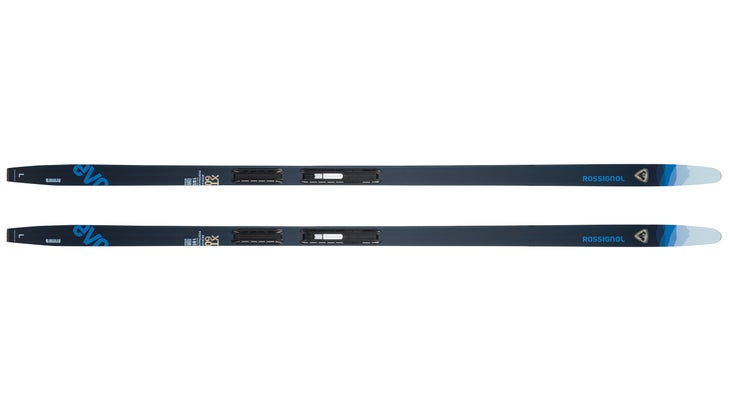 Sidecut: 60/50/55 mm
Weight: 1340 grams per 175 cm (pair with plate and binding)
Pros: A super stable hybrid touring/track ski that allows beginners to tackle every snow condition
Cons: Because this classic ski has such a grippy kick zone, downhill speeds are greatly reduced—a good thing for beginners, but some may quickly grow out of the ski
The last day we tested the Evo XT 60 it was 35 degrees and almost raining, but there were a few inches of fresh, ungroomed snow at the trailhead. Beginner tester Paula Williams still kicked out a 7.5 minute-per-kilometer pace in this entry level, waxless, wood-core ski that's built to tour, but is still narrow enough to slide in a groomed nordic track.  For skiers like Paula, this versatile, well-built ski is a game changer, allowing for maximal fun without the usual two-glides-forward-one-kick-back frustration of learning how to cross-country ski.
Two major factors contribute to this ski's stability and versatility. First, its waxless, fish-scale base grips every snow condition we tried it in, from freshly fallen fluff to heavy sludge. Second, an updated camber—that intangible alchemy that bows a ski just right—makes the kick easier and the glide more dependable. All these characteristics make the ski feel stable on flats and uphills but help control speed on the downhills (which can be dangerous and scary for new skiers). "As a first time nordic skier I was thrilled with these skis," reported Williams. "Within minutes I felt comfortable with the grip and flexibility. Climbing the hills was even fun."
Bottom Line: This versatile, stable, low-maintenance ski brought instant joy to a beginner in a sport that has a notoriously tough learning curve.
Salomon RC 10 ESkin Classic ($500, including Prolink Shift binding)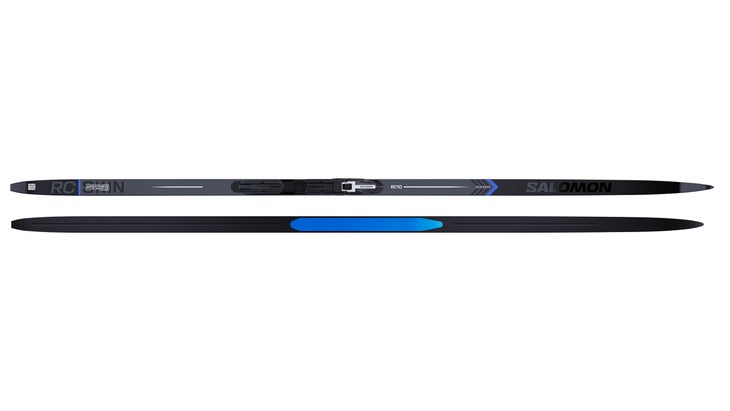 Sidecut: 44/44/44 mm
Weight: 1300 grams per 201 cm pair with binding plate
Pros: This fast, light endurance classic skin punched up and performed as well as race classic skis we've tested in years past.
Cons: To adjust Salomon's Prolink Shift binding forward or backward, skiers have to stop. And when they do, the lever to adjust the binding requires opening it, which takes time and is not intuitive.
For the few skiers who still believe that skin skis are inferior to wax skis (see the "How to Buy section for a definition of each), we are sorry for the time you've lost applying the perfect kick wax when you could have been having fun out skiing. Every tester who tried Salomon's new RC 10 ESkin raved about it, whether they took it out in the cold, icy snow of dawn or in golden spring corn before it turned to slush.
Salomon built this ski on a reverse-fishbone stringer core, which looks a lot like it sounds: a foam core with three vertical stringers connected by intersecting horizontal chevrons placed a few centimeters apart. The outcome is a torsionally strong core with 22 percent less weight,  resulting in a sustainable and lively ski.
The base of the ski is the G5 p-tex polyethylene that Salomon used on their highest-end World Cup skis two seasons ago. While the World Cup-level skis now have an even faster base, the durability and excellent wax absorption of this base goes a long way toward explaining why the skis were so darn smooth and fast. (Note: Other ski brands may use similar bases, but the exact formula is proprietary—it's sort of like a nordic Space Race.) The 100 percent mohair skin gripped well on every snow iteration late winter threw our way.
Our testers' opinions were summed up nicely after one 35-degree, sunny April morning ski through a municipal forest in Wisconsin.  "I love these skis," reported Brian Hayden. "They are so stable and cut through crud, while also providing a fun glide. They were way faster than other skis in this category we tested."
Bottom Line: This fast, light skin ski is the only classic ski most skiers will ever need.
Madshus Endurace Skate ($355)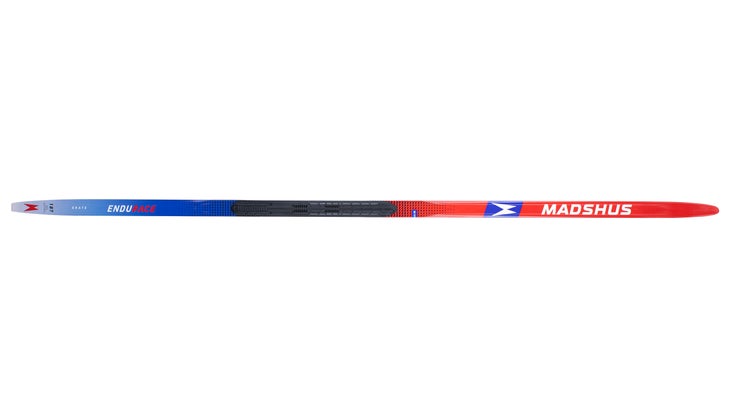 Sidecut: 44-43-44 mm
Weight: 1094 grams per 187 cm pair
Pros: A powerful ski that can plow through crud on days when the skate deck isn't perfectly groomed.
Cons: Speed is not the defining feature of this ski.
World Cup-level skate skis are like Formula One race cars: feisty and deadly until you've learned how to handle them on curves, hills, and corners. The beauty of the Endurace Skate—which is two steps below Madshus' top of the line World Cup Redline skate ski but still "race-inspired"—is that a few design tweaks allow it to occupy that liminal space between an elite-level race ski and a more stable, forgiving endurance ski (as the name suggests). The Endurace is all about balance. Its moderate sidecut makes it feel solid under foot while still being maneuverable at all speeds. And its proprietary foam core has an excellent strength to weight ratio, making it responsive but not so jittery that you feel a crash is imminent around every corner. Madshus also dialed back the camber to reduce the Endurace's aggressiveness while still keeping it lively.
Madshus came late to the testing party at the end of March, which is a notoriously tricky month conditions-wise. We took it out on ten kilometers of a skate deck that had been left ungroomed through at least two or three freeze-thaw cycles, leaving it terrifyingly rutted and icy in patches and knee-tweaking slushy in others. But we were impressed with how gracefully the Endurace handled the conditions, letting us eke out the last bits of joy during a tough end-of-season snow week.
Bottom Line: It's faster than most endurance-level skis, yet still fun and stable.
Fischer Outback 68 Crown/Skin Xtralite ($329)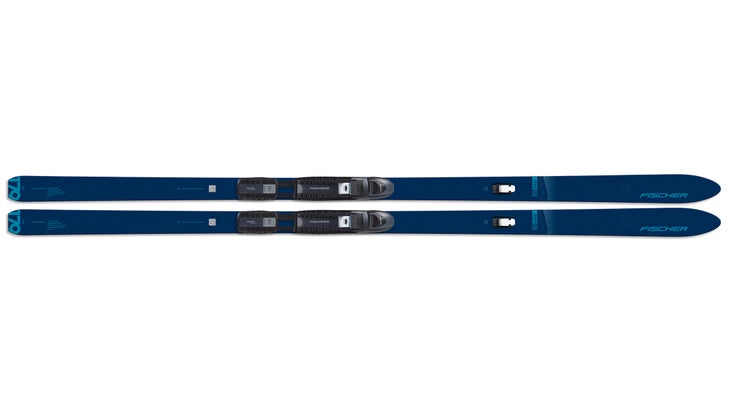 Sidecut: 68/59/64 mm
Weight: 3,560 grams per 179 cm pair
Pros: A fun, light touring ski for romping around rolling, ungroomed sidecountry.
Cons: While it's awesomely light and grippy (even without skins) for going up, it's not a beefy enough ski to tour in steeper terrain.
The Outback 68 is not brand-new to Fischer's line, but thanks to a few additional fiberglass layers on the topsheet, it's stronger and more durable without compromising on its signature light weight.  We quickly understood the cult-like love for this steel-edged touring ski after a late March blizzard shut down Duluth for two days. Our only way out the driveway in the thick, wet snow was on skis. We took the Outback 68s right out the front door followed city streets a mile to a local mountain bike trailhead. We then toured up the switchbacks, plowed through three feet of blown snow, and climbed 1,000 feet to the top of a wooded ridge where we attempted to ski the mountain bike park's jump lines—which was an effort, considering they were covered in wet snow up to our waist.
The Outback 68 handled the cement beautifully: Despite the heavy snow, we didn't sink too deep thanks to the ski's lightwood core hollowed by five vertical air channels. The waxless ski also climbed like a champ with its progressive-depth crown pattern in the kick zone that offered plenty of traction on a rugged, snowy 30-degree slope. For steeper uphill terrain, it's also compatible with Fischer's mohair and nylon Easy Skins, a minimalist 650-millimeter skin that covers only the kick zone. The Outback 68 isn't meant for big-mountain touring, but the full-length steel edges offered plenty of control for the rolling backcountry of Duluth.
"These skis were stable and had great grip throughout," tester Jen Pearson said. "They were easy to get up every hill without back slipping. I could see these being a nice addition to the quiver if someone were interested in breaking through less-trodden territory at a slower speed."
How to Buy
Nordic skiing is hard to learn. But with each passing year, new design, technology, and material keeps shortening the learning curve. The first step is to determine which type of ski you want: classic, skate, backcountry touring, or hybrid touring/track ski. For first-time buyers who want the best ski for their buck, its essential to go to a shop and talk with a nordic expert who can also take your weight, height, and other dimensions to fit you with the perfect ski.
Classic
Classic skis, most often used in a groomed track, are longer than skate skis and require a stride in which you propel your skis forward in a parallel motion. This sport has been around for literal millennia, but it's still very challenging to learn perfect technique. All nordic skis require a base with friction that comes in the form of waxless fish scales, a mohair/nylon grip known as a skin, or a smooth base on which you apply kick wax that sticks depending on the temperature of the snow. Waxable classic skis are generally used by elite racers who are used to the speed and grace of a full glide with little friction. Most beginners prefer the maintenance-free option of fish scales, which are carved into the ski's base and require no waxing. The rest of us—a wide array of enthusiasts and waning ski racers—prefer the skin option. It replaces the need for kick wax, making it much more low maintenance than a wax ski, but is still fast and reliable enough to train or even race on.
Skate
Skate skis are used on a groomed skate deck that looks like the horizontal corduroy we see at an alpine resort. Instead of propelling skis in a parallel motion, skiers use a faster skating technique, where the skis are in a V shape and the skier transfers weight from one ski, pushing off and gliding, then transferring it to the other—sort of like a speed skater—except with help from poles, which are generally moved in unison. It's a difficult technique to learn, but feels akin to flying once you have it down.
Skate skis are shorter than their classic counterparts by about 10-15 centimeters and have more rounded tips. In general, shorter skies are easier to handle, while longer skis provide better glide. Flex and structure are two other important specs. A more flexible ski is more forgiving for softer snow, and a more rigid or structured ski is better on hardpack for power transfer but can also be harder for an inexperienced skier to drive. There are so many factors when considering the best skate ski that it's especially important for first-time buyers to go to a ski shop and get properly fit by a professional.
Touring
Touring skis are for those who want to get off the trail and into the woods or rolling sidecountry in ungroomed terrain. Like alpine skis, touring skis have steel edges that make carving on downhills easier, but even with their sculpted waists and rockered tips, the lightweight touring skis you might use in the Midwest aren't designed for alpine terrain like ski mountaineering skis are. Depending on how you want to use them, most lightweight touring skis are equipped to handle a touring, alpine touring, or telemark binding. The length is generally shorter than classic yet longer than skate. The stride while using a touring ski is generally a slower, more truncated version of a classic stride because the terrain is variable and mostly ungroomed.
Hybrid Touring/Track
This hybrid model is relatively new to the market and is a great entry level choice. Slightly wider than classic skis, it can still ski well in a track, but is also wide enough to take it out on untracked terrain. This is an excellent choice for beginner skiers who might want to practice technique on their local snow-covered golf course before hitting the tracked trails or for those who live in an area where there may not always be enough snow to groom tracks. Since this is focused toward a beginner skier, the length would generally be the same size or slightly shorter than a touring ski.
---
More 2024 Gear Guide Reviews
Lead Photo: Glenn Pettersen/Getty
Trending on Outside Online