2023 Winter Gear Guide
The 9 Top Performing Skis of 2023
Introducing this year's crop of SKI Test category winners. Chances are, they'll be at the top of your list, too.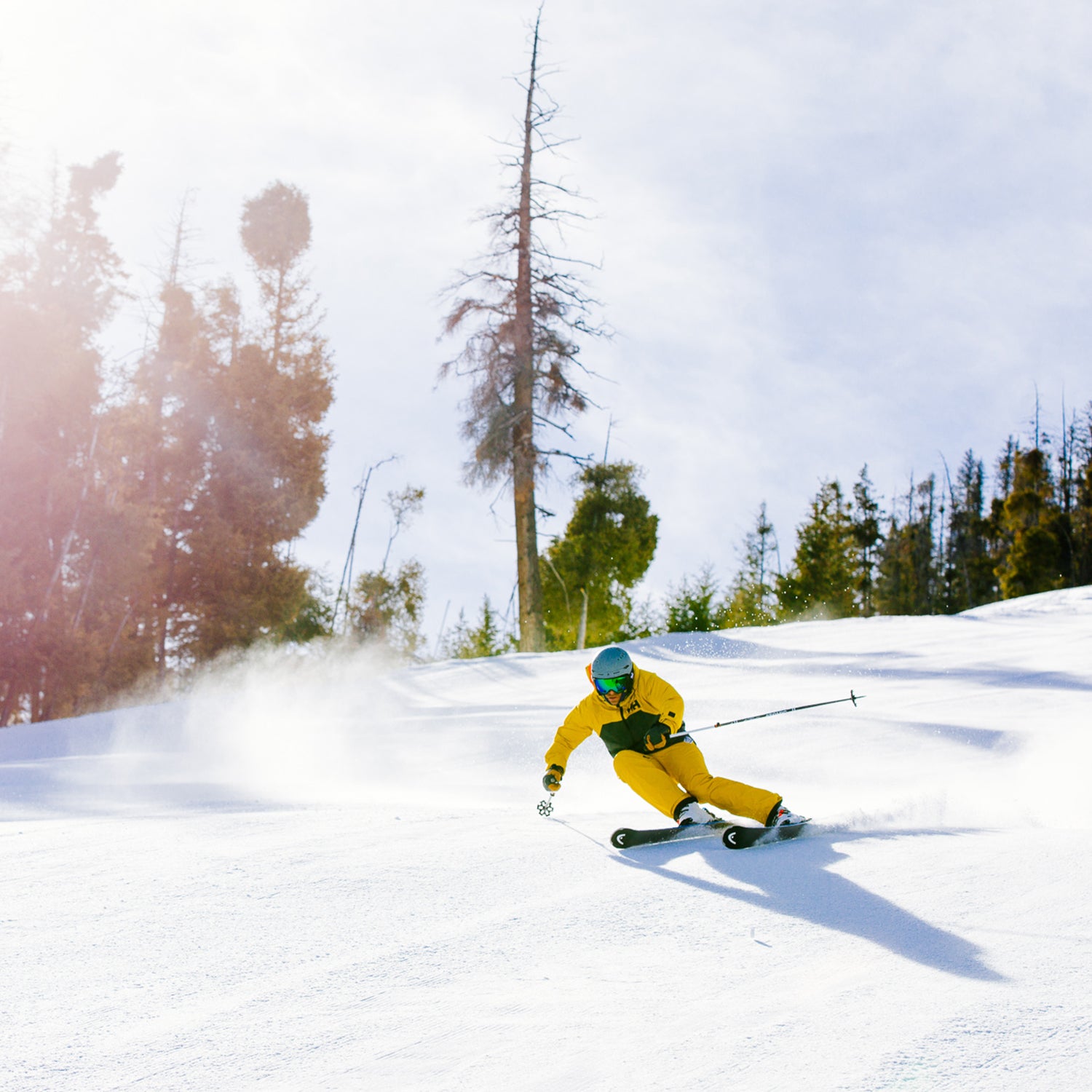 Heading out the door? Read this article on the new Outside+ app available now on iOS devices for members! Download the app.
This article was first published by SkiMag.com.
Testing skis isn't easy. Especially when there are 23 brands, 27 testers, and over 150 pairs of skis that need a fair shake. But, when the powder cloud settles and the scores are tallied, there can only be one group of skis at the top of the pile. And these are the skis that survived every turn, mogul, and test card in order to earn the distinction of being named the top performing ski in their respective categories.
With that being said, just because our SKI Test crew thought these were the best this year doesn't necessarily mean that they are the best skis for you. Dig below the surface and check out the detailed scores for each ski, the reviews and scores of other skis in each category, and remember the basics of how to buy skis in order to determine what pair is right for you this winter. And if it's one of these beauties, well, hate to say we told you so…
How We Test
We invited a crew of 27 industry professionals to descend on Sun Valley, Idaho in early March of 2022 to hop on more than 150 pairs of skis to determine the best of the best across five categories: frontside, all-mountain, all-mountain wide, powder, and backcountry. Between 14-24 pairs of skis were entered into each category.
To make sure testers were given ample time to put each pair of skis through the wringer, we divided our test crew into smaller pods whose sole focus for two days was to assess the performance of the skis from one of the five ski categories.  Testers were asked to ski multiple runs on each ski and provide written feedback on how each performed in multiple skill departments, including Hard-Snow Integrity, Carving, Responsiveness, Quickness, Crud Performance, Playfulness, Stability at Speed, Forgiveness, and Versatility. Of the 150-plus skis tested in Sun Valley, the following 9 skis impressed testers the most across the board, earning the highest overall score within their categories.
Meet the Testers
Matt Schiller
Age: 49 | Height: 5′6″ | Weight: 145 lbs
Schiller considers himself a blue collar ski industry middleman. He's spent 32 years in skiing and tried all the jobs within the industry, including lift operator, patroller, race coach, brand rep, World Cup technician, and custom ski boot shop owner. He's been a gear tester for SKI for more than a decade. If he's not exploring Utah's Wasatch backcountry, you'll find him punching boots at the Park City Boot Room.
Courtney Harkins
Age: 33 | Height: 5′8″ | Weight: 130 lbs.
Harkins grew up ski racing, starting on the icy slopes of New England and finishing at the University of Colorado at Boulder. She now lives in Park City, Utah and works as the Director of Marketing & Communications at the U.S. Ski & Snowboard Team. Harkins has been testing skis since 2016 and has been a SKI gear tester for three seasons.
Tommy Flitton
Age: 29 | Height: 5'10" | Weight: 185
Born and raised in Salt Lake City, Flitton joined the Snowbird ski team as a young racer at the age of 7. He learned his solid ski fundamentals through the Snowbird race team as well as his love of skiing powder. He worked his way through the ranks as a racer, spending time at a ski academy in Vermont before returning to his favorite mountain in Utah. Now he spends his time coaching young freeriders how to send it big at Snowbird. He's a veteran gear testers who has tested skis for both Powder and SKI.
Otto Gibbons
Age: 23 | Height: 5′6″ | Weight: 130 lbs
Gibbons has spent 22 of his 23 years on this earth on skis. The son of Sturtevants Sports' head buyer, Tracy Gibbons, Otto has basically lived in the ski shop his whole life and has worked there for the past seven years as a hardgoods buyer. If he's not in the shop, he's ripping laps at Washington's Crystal Mountain.
Abby Ghent
Age: 29 | Height: 5′6″ | Weight: 145 lbs.
Ghent grew up just outside of Vail, Colo., where her mom became the Alpine Director of Ski and Snowboard Club Vail. She attended Vail Ski and Snowboard Academy for high school and joined the U.S. Ski Team in 2010 to race professionally for six years. She now lives in Utah and calls Park City Resort her home hill.
Tracy Gibbons
Age: 54 | Height: 5′4″ | Weight: 136 lbs.
Gibbons is the President and hardgoods buyer for Sturtevant's, a legendary ski shop in Bellevue, Wash. She's worked in the same shop for the past 20 years; safe to say, this lady knows skis. When she's not in the ski shop, you'll find her ripping up Crystal Mountain.
Meet the other members of SKI's official gear testing group 
Reviews: The Best Skis of 2023
Frontside: Rossignol Experience 82 Ti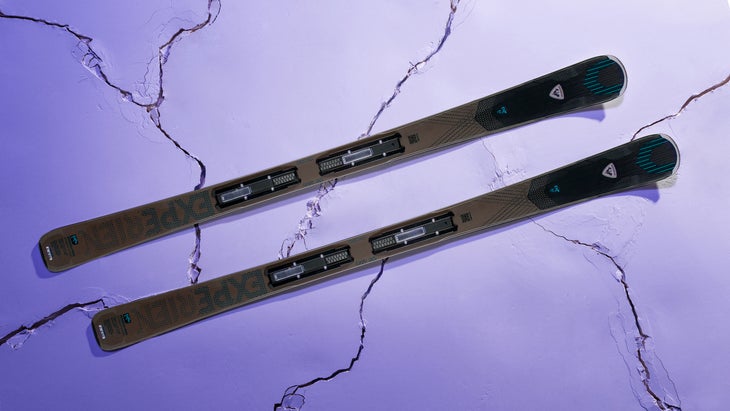 Overall score: 8.66/10
Lengths (cm): 160, 168, 176, 184
Dimensions (mm): 127-82-115
Radius (m): 16
Price: $800
Pros: Carving, Stability at Speed
Cons: Playfulness, Crud Performance

The Experience 82 Ti, a carry-over from last season, blew our testers away this year. "This is the ski!" said one. "Knocked it out of the park," commented another. In the Experience 82 Ti, Rossignol has created a true frontside ski, utilizing two sheets of metal to establish stiffness, while still delivering a lightweight, forgiving ride. Its blend of performance and playfulness allows for any and all speeds, permitting every skier to drive at their unique ability. Intermediate cruisers can push their skills with the ski's inherent desire for speed, while more-advanced skiers can tap into its reactiveness and power. Our 2023 best in show in the frontside department is a ski with some serious carving chips—it rails like a champion on the corduroy—so take this model out on that bluebird groomer day and feel like the best dang skier on the mountain. "Phenomenal choice for the widest of skier demographics," said Matt Schiller, one of our Utah-based testers with a racing background. "You'll have complete confidence that you chose the right ski for whatever the mountain offers."
Read the full review for category scores, strengths, weaknesses, and tester feedback.
---
Women's Frontside: Nordica Santa Ana 88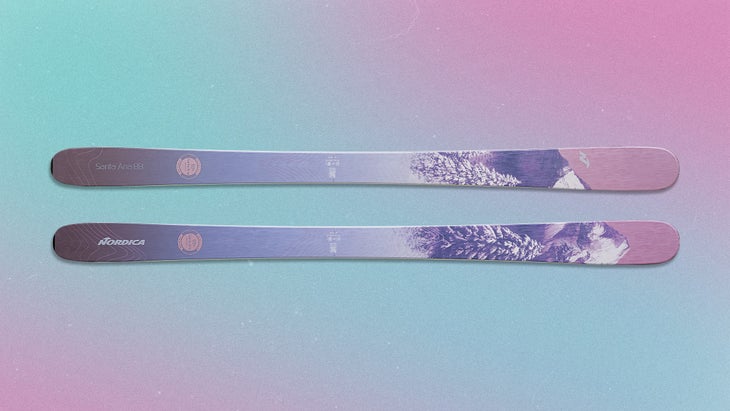 Overall score: 8.15/10
Lengths (cm): 151, 158, 165, 172
Dimensions (mm): 119-88-107
Radius (m): 15
Price: $650
Pros: Carving, Stability at Speed
Cons: Crud Performance, Versatility
Reviewers across the board agreed that the Nordica Santa Ana 88 is the perfect ski for any woman on any mountain. Ex-racers and experts loved its desire to get on edge and arc turns, while intermediate skiers felt the ski's stability and dependability made them  heroes at all speeds and turn shapes. It takes little effort to tease the pop and play out of each turn, then quickly put that energy back into the next. The best part? No matter the conditions—fresh cord, soft snow, or crud—the ski matched the ability of the skier. The Santa Ana 88's quick edge-to-edge transitions and solid edge grip inspires confidence while its playfulness makes you want to grin and giggle at the end of each run. "Hero ski!" exclaimed one tester. "Incredibly zippy and easy to drive, while maintaining stability. Cruise or charge: The choice is yours," said tester and Jackson Hole local, Lily Krass.
Read the full review for category scores, strengths, weaknesses, and tester feedback.
---
All-Mountain: Nordica Enforcer 100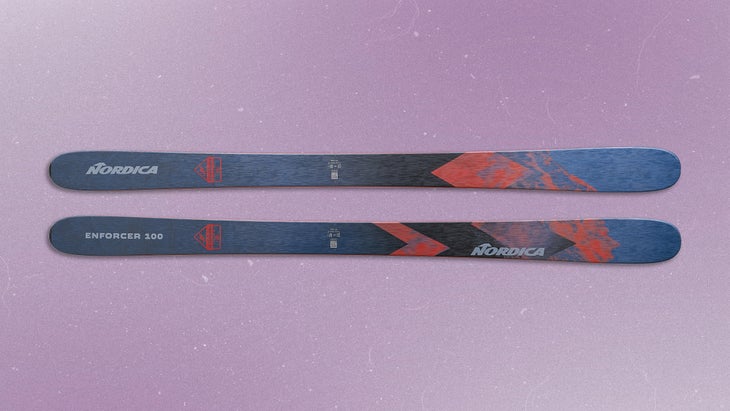 Overall score: 7.5/10
Lengths (cm): 165, 172, 179, 186, 191
Dimensions (mm): 132.5-100-120.5
Radius (m): 17.3
Price: $800
Pros: Versatility, Crud Performance
Cons: Quickness, Forgiveness
The Nordica Enforcer 100 is a perennial high performer in the all-mountain category, and this year is no exception. Once again it scored the highest overall marks after snagging top scores in the Versatility, Crud Performance, and Flotation departments. Testers were impressed with how much energy it displays for those willing to ski fast and aggressively, both on- or off-piste, although the group agreed that the latter is where the ski really shines. Just be forewarned: The Enforcer 100 isn't the most forgiving and requires strong fundamentals and a willingness to ski hard to unlock its full power; smaller and lighter skiers may have a hard time managing this ski, since it has a tendency to take off on you if you find yourself in the backseat. Nevertheless, testers concurred that it's the best option for advanced and expert skiers looking for one ski to tackle the whole mountain on all but the deepest of days. "This is that do-everything ski you tell your friends about—as long as you've got some weight behind you," said Vermont-based tester Adam Jaber.
Read the full review for category scores, strengths, weaknesses, and tester feedback.
---
Women's All-Mountain: Blizzard Sheeva 9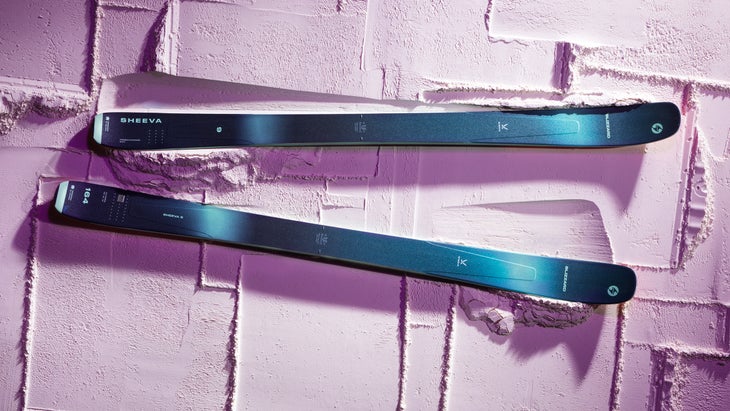 Overall score: 8.31/10
Lengths (cm): 148, 157, 164, 172
Dimensions (mm): 124-92-114
Radius (m): 14
Price: $650
Pros: Crud performance, Hard-Snow Integrity
Cons: Forgiveness, Responsiveness
Looking for the Black Pearl 97? You won't find it on this list. Instead, allow us to introduce you to this year's chart-topping women's all-mountain ski: the more freeride-oriented Blizzard Sheeva 9. Cut from the same cloth as Blizzard's popular unisex Rustler line but with a lighter core, it features the same construction designed to focus more on performance off-trail than on groomers. And that's exactly where the Sheeva 9 shines, with testers praising the ski's ability to plow over and through variable snow conditions above all else. That said, it's just as comfortable on groomers and hard snow, and its balance of skills and perfect mix of dependability and energy are what make it the category winner. Intermediates will find it an approachable and confidence-boosting all-mountain tool, so long as they size down. In the longer lengths, the Sheeva 9 packs a punch best suited to experts willing to dial it up to 11. "A super-dependable ski you can reach for in all conditions and not be let down," said East Coast-based tester Avery Pesce.
Read the full review for category scores, strengths, weaknesses, and tester feedback.
---
All-Mountain Wide: Völkl Mantra 102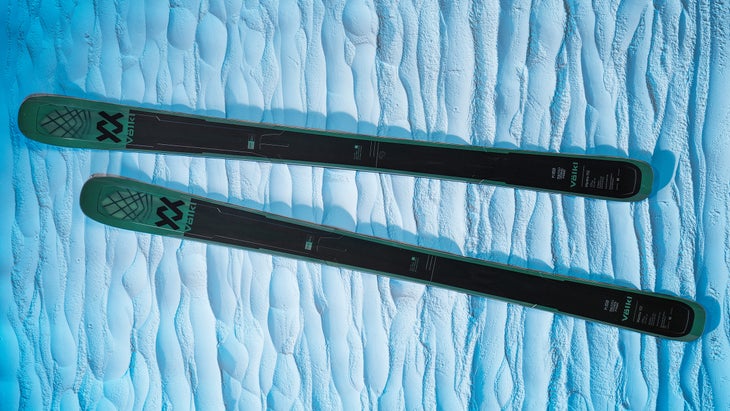 Overall score: 8.59/10
Dimensions (mm): 142-102-124
Lengths (cm): 170, 177, 184, 191
Radius (m): 16
Price: $800
Pros: Stability at Speed, Responsiveness
Cons: Quickness, Forgiveness
With so many exceptional all-mountain-wide skis on the market, to have the Mantra 102 be such a standout is a testament to Völkl's commitment to their craft. According to tester Peter Nestor, a Sun Valley local, "It's the benchmark of the category." The Mantra 102 was voted the best all-mountain wide ski of 2023 after impressing testers across all nine scoring categories, but particularly in the Versatility, Stability at Speed, and Responsiveness departments. With a poplar/beech wood core, full-height sidewalls, a Titanal frame, and carbon in the tip to reduce swing weight and improve torsional rigidity, this ski was built from the inside-out to be an allrounder, and testers raved about its performance and energy in soft snow, hardpack, and crud. "This is one of the best skis I've been on in years," said Montana-based tester Sam Cox. Its relatively long effective edge is tailored toward edge hold on natural snow and demolishing crud, though tip rocker and its middle-of-road waist width provide enough surface area to smoothly sail through fresh powder. Its only shortcoming is that it's not exactly forgiving. It takes a confident skier with advanced skills to unlock this ski's full potential. That said, strong intermediates who aren't afraid of putting in some work will find it a very dependable and confidence-inspiring all-mountain ski. If it's time to upgrade your quiver with a wider all-mountain tool, look no further.
Read the full review for category scores, strengths, weaknesses, and tester feedback.
---
Women's All-Mountain Wide: Rossignol Rallybird 104 Ti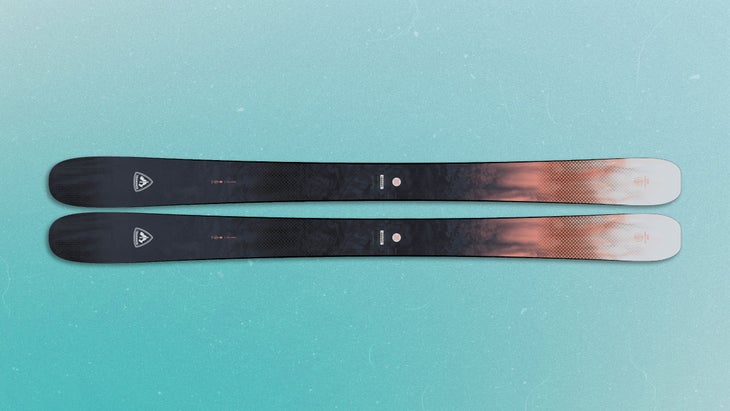 Overall score: 7.91/10
Lengths (cm): 163, 171, 178
Dimensions (mm): 137-102-127
Radius (m): 16
Price: $850
Pros: Crud Performance, Stability at Speed
Cons: Quickness, Forgiveness
Ladies loved last season's Rossignol Rallybird Ti, which remains unchanged this season except for new graphics, so it's no surprise to see this ski rise to the top of the all-mountain wide pile. For a wide ski, it performs surprisingly well on hard snow, though its girth does force you to put a little more effort into setting an edge. Testers didn't mind, since  the added surface area makes for stellar crud performance. During the gear test in Sun Valley, testers had to contend with a heavy melt and refreeze cycle that culminated in coral-reef conditions, and this was the ski on which testers felt most comfortable. It takes more muscle to swing the Rallybird 104 Ti around in big moguls, where it feels a little sluggish. But its beefier construction, which includes a layer of Titianal, allows it to bomb through mank when you get it up to speed. Testers did note some chatter at high speeds on hardpack, so keep it in softer snow to see this bird soar. "It's a fun, solid ride that likes to cruise and blasts through the chop," said tester Tracy Gibbons, president of Sturtevant's ski shop in Bellevue, Wash. "Definitely more of a freeride feel than a racey feel." If you're not afraid to put in the work, like to wander off-piste, and often ski less-than-stellar conditions, take a long, hard look at the Rallybird 104 Ti.
Read the full review for category scores, strengths, weaknesses, and tester feedback.
---
Powder Skis: Salomon QST Blank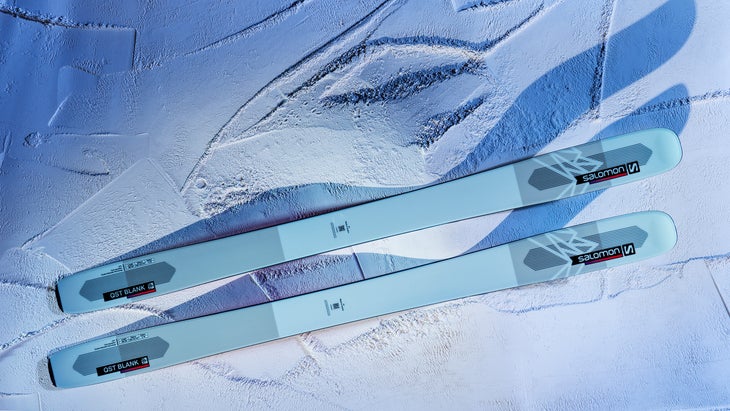 Overall score: 8.39/10
Lengths (cm): 178, 186, 194
Dimensions (mm): 138-112-127 (186 cm)
Radius (m): 17
Price: $975
Pros: Crud Performance, Stability at Speed
Cons: Quickness, Forgiveness
This year's top-ranked unisex powder ski offers a balanced, dependable platform to push intermediate and advanced skiers to the top of their game. Tester Dustin Cook, former Canadian World Cup alpine ski racer and Olympian, noticed a considerable improvement from the QST line last year. "This year's model is better balanced all around," he said, "they charge and blast through anything." Made with a full poplar wood core and Salomon's Cork Damplifier, the QST Blank is nimble and energetic, making it our number one choice to hunt down hidden powder stashes in tight trees. While a 112mm waist may be too much ski for our friends back East, we recommend the QST Blank for any powder-hungry skier who likes a quiet, dependable ski to keep you on the snow. "The QST Blank sets itself apart from the pack at moderate speed for its responsiveness and maneuverability," summed up tester and former U.S. World Cup alpine ski racer Brennan Rubie says. "It's easy to ski, and it delivers."
Read the full review for category scores, strengths, weaknesses, and tester feedback.
---
Women's Powder: Line Pandora 110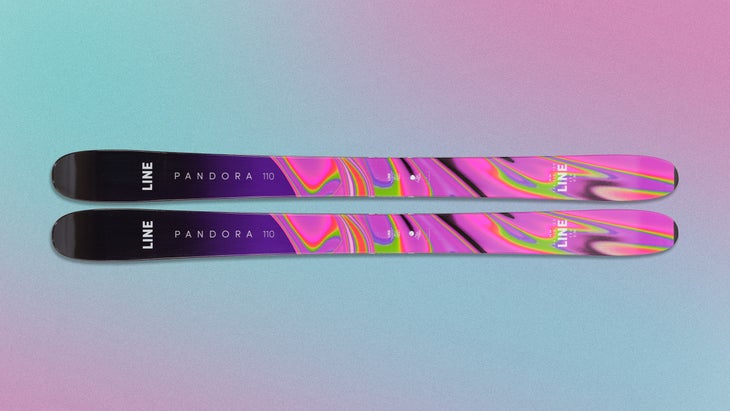 Overall score: 8.1/10
Lengths (cm): 162, 170, 178
Dimensions (mm): 144-110-130
Radius (m): 16.5
Price: $950
Pros: Flotation, Responsiveness
Cons: Stability at Speed, Crud Performance
The Line Pandora 110 ranked high in playfulness and responsiveness, making it an approachable ski that reminds us we don't always have to work hard to have fun. A soft flex pattern in the tip makes for intuitive steering and effortless float, while stiffer tails create power and stability when transitioning from fresh snow to firm, groomed runs. Built with a strong yet lightweight paulownia and maple core, the ski stays pretty quiet on hardpack thanks to a layup of aramid, carbon, and fiberglass, which also dampens vibrations when plowing through chunder. It does have a speed limit, and testers noted the ski becomes squirrely when you drive it too hard in anything but deep snow, rewarding playful styles and medium speeds rather than hard chargers. "Such an easy ski to flick around—almost like it reads your mind," said 5-foot-2 tester Jordan Garrett. "Lighter skiers are going to appreciate being able to manipulate this ski in countless types of snow."
Read the full review for category scores, strengths, weaknesses, and tester feedback.
---
Backcountry: Blizzard Hustle 10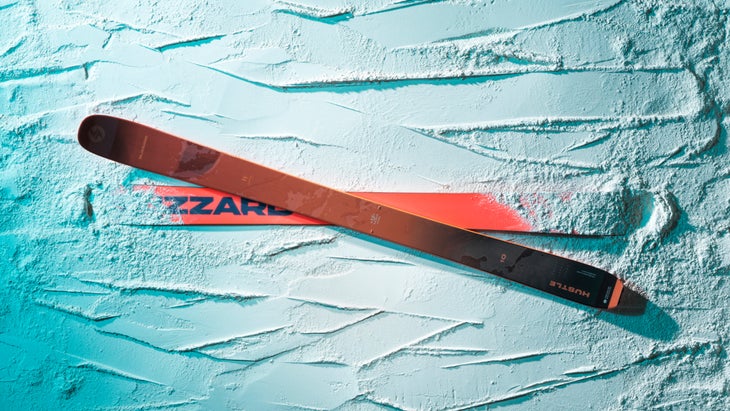 Lengths (cm): 156, 164, 172, 180, 188
Dimensions (mm): 133-102-122.5
Radius (m): 17.5
Weight (per ski): 1,780g
Price: $800
Pros: Versatility, Stability at Speed
Cons: Playfulness, Forgiveness
The most talked-about ski in this year's test lived up to the hype as a one-ski quiver for the backcountry that more than holds up in the resort. It's light enough to charge uphill, but stable as anything in all downhill conditions, and testers felt confident railing on the Blizzard Hustle 10 anywhere. This ski busts through crud as well as it floats through the freshies in open terrain and tight trees alike. "I don't think there's any skier who wouldn't like this ski," said Lily Krass, a fired-up tester from Jackson Hole, Wyoming. "It's strong, reliable, and chews through crud. This would be a great ski for an intermediate to advanced backcountry skier who isn't overly weight conscious."
With three different flex zones that get progressively softer toward the tip and tail, the ski is extremely well-balanced and agile, though a few testers noted a slight lack of pop and pizazz in and out of turns at high speed. "The Hustle is bread to any kind of snowy butter. Will not disappoint," assured Colorado-based tester Keri Bascetta. "Light enough to save your strength on the uphill for the fun part," added tester Drew Schulte, also from Colorado. "The performance allows you to forget you're skiing on a lightweight setup during the descent. Amazing all-around performance in a lightweight package."
Read the full review for category scores, strengths, weaknesses, and tester feedback.
---
Frequently Asked Questions
How does SKI test and rank skis?
SKI's editors and veteran gear testers, who are all proven industry professionals, spend a week each March testing more than a 200 pairs of next season's crop of skis. We test men's and women's skis separately in five different categories: Carving, Frontside, All-Mountain, All-Mountain Wide, and Powder. Testers ski each pair of skis for one or two runs, making sure to take the skis into different kinds of terrain and conditions. Testers then immediately fill out a ski test score card, rating each ski in eight different criteria, including Stability at Speed, Hard-Snow Integrity, Playfulness, etc. SKI's editors then crunch the numbers to see which skis come out on top of each category and to determine each ski's strengths and weaknesses. Read more here.
What makes these skis the best skis of 2023?
Out of the 200-plus skis that were tested at SKI Test at Sun Valley Ski Resort, only the top-ranked skis make it into SKI and Outside's Gear Guide and earn our "Official Selection" award. The top-ranked ski within each category (across both unisex and women's offerings) then earn the "Editor's Choice" distinction.
How do I choose a pair of skis?
Do your research. Start by asking yourself what type of skis you are looking for, and being honest about your current ability level and goals for the season. Check out our "How to Buy Skis" article to get started. Then, use SKI's Gear Guide and extended ski reviews to get an idea of different options in different categories.
Just remember: ski testing is not an exact science. While we rely heavily on the feedback and opinions of our veteran gear testers to rank and review each season's skis, at the end of the day ski testing is subjective. That mean's our top-ranking ski in one category might be a great ski, but it may not be the best choice for you if it's above or below your ability level, or if it's too wide or too narrow for the type of skiing you typically do. So do your research.
What's the difference between men's and women's skis?
Most skis are technically unisex skis—they are not specifically designed for men or for women. These skis come in a variety of length options, usually from 150cm to 190cm to accommodate for both men and women, as well as different ability levels. However, some skis these days are women's-specific. These skis have adapted constructions, usually to make the ski a little lighter, less stiff, and to move the mount point forward to improve a woman's ability to drive a ski. That said, many advanced and expert women, especially if they're aggressive skiers, still prefer to ski a unisex ski. Read more here.
Lead Photo: Ray J Gadd