2023 Winter Gear Guide
The Best Powder Skis of 2023
These wide, rockered planks designed for the deepest days of the year will do more than float—they fly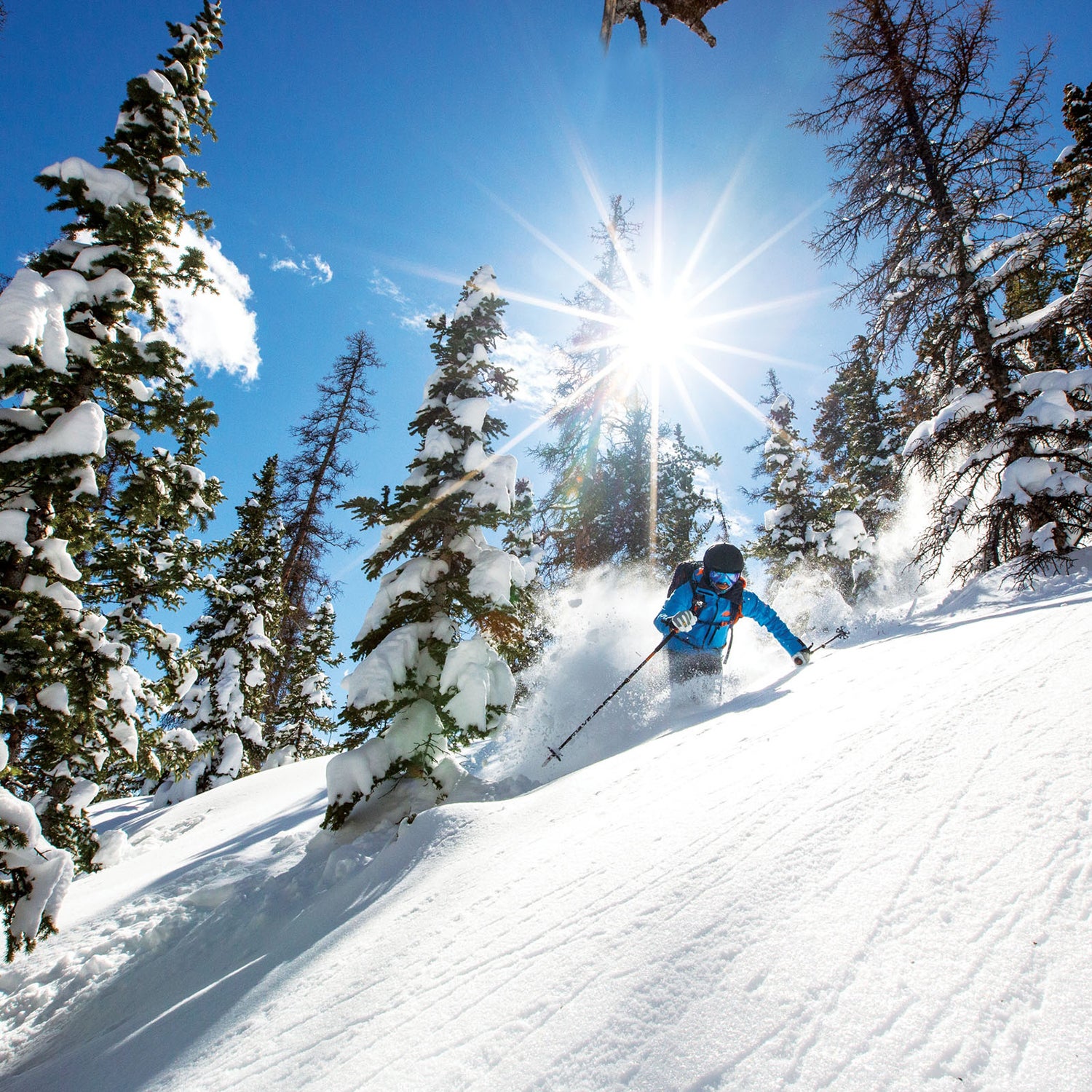 Heading out the door? Read this article on the new Outside+ app available now on iOS devices for members! Download the app.
This article was first published by SkiMag.com.
Powder skis are fat skis designed to lift you up so you can get through deep snow—like really deep, best-day-ever snow. To encourage float and easy steering, powder skis feature wide waists (ranging from 106-112mm), more tip and tail rocker than you'll find in all-mountain skis, and lightweight materials to help them stay above the fray.
Not every skier needs a fat powder ski in their quiver, but if you're lucky enough to frequent resorts that measure snowfall in feet rather than inches, dive into this list of 2023's best unisex powder skis to find the right tool to maximize any powder day.
Looking for the best women's powder skis? Check them out here.
How We Test
Testing powder skis sounds like it would be a lot of fun (my mom is always asking how I get to call it work) and to be fair, ripping through deep snow on all of the best products for the next ski season is a treat; but it's not always easy to find the right conditions. While Sun Valley provided ample vertical and world-class grooming for testing our other ski categories during SKI's 2023 gear test, we didn't time the storm right this year. That's part of what makes powder days so special—they are rare, often unpredictable, and can be short-lived.
Go deep: Learn more about SKI's testing process
Luckily, we were able to follow up SKI Test with some additional powder ski testing in Snowbird, Alta, and Brighton, coupled with a weekend of deep days at Copper Mountain in Colorado. When the storms came through, our testers were ready to assess each ski's performance across six skills categories, with Flotation and Playfulness being the most important in this category. According to our testers, a group of industry professionals with years of gear testing experience to their names, the following 16 skis are the best powder skis of 2023.
Meet the Ski Testers
Luke Larsen
Age: 39 | Height: 5′10″ | Weight: 190 lbs.
Larsen owns and operates Salt Lake City's Lifthouse ski shop with his brother, Zac Larsen. Larsen practically grew up in the shop, a family-owned business, and spent his free time chasing gates on the Snowbird Ski Team. He has been gear tester for SKI for more than a decade.
Avery Pesce
Age: 39 | Height: 5′6″ | Weight: 138 lbs
Pesce lives in Whitman, Mass., and calls the ski areas of Vermont and New Hampshire home. She's an expert skier with an aggressive style that she applies to any and all type of terrain and snow conditions. Safe to say that as the head ski buyer for Boston Ski & Tennis in Newton, Mass., she knows a thing or two about skis—how they're built, and how they perform.
Otto Gibbons
Age: 23 | Height: 5′6″ | Weight: 130 lbs
Gibbons has spent 22 of his 23 years on this earth on skis. The son of Sturtevants Sports' head buyer, Tracy Gibbons, Otto has basically lived in the ski shop his whole life and has worked there for the past seven years as a hardgoods buyer. If he's not in the shop, he's ripping laps at Washington's Crystal Mountain.
Related: These pro tips make powder skiing less exhausting and more fun
Reviews: The Best Powder Skis of 2023
No. 1: Salomon QST Blank ($975)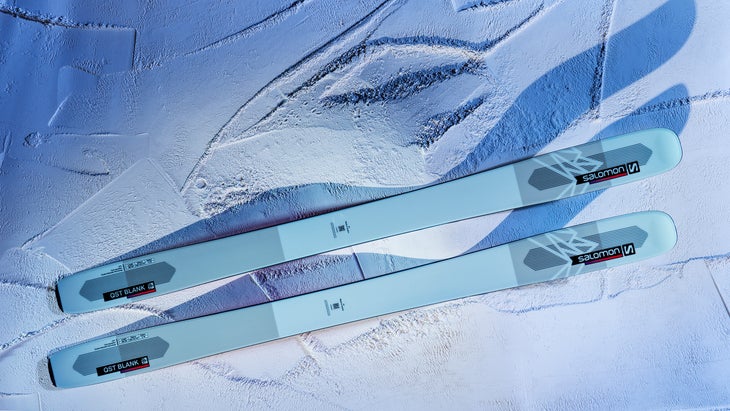 Overall score: 8.39/10
Lengths (cm): 178, 186, 194
Dimensions (mm): 138-112-127 (186 cm)
Radius (m): 17
Pros: Crud Performance, Stability at Speed
Cons: Quickness, Forgiveness
This year's top-ranked unisex powder ski offers a balanced, dependable platform to push intermediate and advanced skiers to the top of their game. Tester Dustin Cook, former Canadian World Cup alpine ski racer and Olympian, noticed a considerable improvement from the QST line last year. "This year's model is better balanced all around," he said, "they charge and blast through anything." Made with a full poplar wood core and cork dampifier, the QST Blank is nimble and energetic, making it our number one choice to hunt down hidden powder stashes in tight trees. While a 112mm waist may be too much ski for our friends back East, we recommend the QST Blank for any powder-hungry skier who likes a quiet, dependable ski to keep you on the snow. "The QST Blank sets itself apart from the pack at moderate speed for its responsiveness and maneuverability," summed up tester and former U.S. World Cup alpine ski racer Brennan Rubie says. "It's easy to ski, and it delivers."
Read the full review for category scores, strengths, weaknesses, and tester feedback.
---
No. 2: Nordica Unleashed 108 ($800)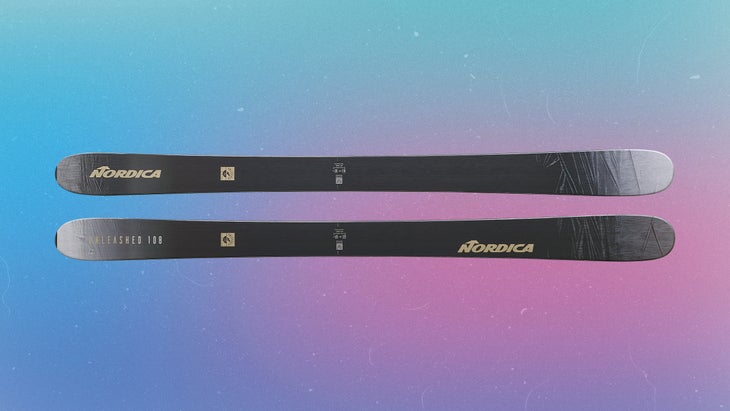 Overall score: 8.31/10
Lengths (cm): 174, 180, 186, 191
Dimensions (mm): 141-108-130 (186 cm)
Radius (m): 19.7
Pros: Crud Performance), Stability at Speed
Cons: Forgiveness, Quickness
The all-new Nordica Unleashed 108 walks the line between a playful, maneuverable ski and a genuine charger. Nordica has taken what they do so well with their Enforcer line and created a softer, more playful ski that is more forgiving than previous Nordica models but still delivers what we've all come to expect from the brand. Its wood and carbon core and a sheet of metal enhance edge hold and dampen vibration. Though it's built with traditional camber underfoot, the Unleashed 108 offers excellent flotation thanks to its early-rise tip and tail. "Nordica didn't lose anything," said veteran gear tester Nick Loomans. "They just became a little more approachable." We appreciated how stable and carvable the ski was right out of the gate. "This is close to best in test," noted tester Avery Pesce, GM of Boston Ski and Tennis, after her first run. "This ski is poppy, fun, nimble, and ready for any conditions you want to throw at it. It responds beautifully and dependably."
Read the full review for category scores, strengths, weaknesses, and tester feedback.
---
No. 3: Head Kore 111 ($975)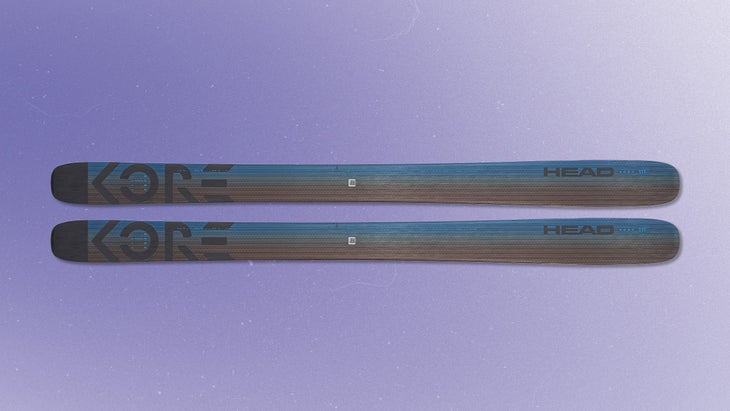 Overall score: 7.93/10
Lengths (cm): 177, 184, 191
Dimensions (mm): 140-111-127 mm (184 cm)
Radius (m): 21.1
Pros: Flotation, Playfulness
Cons: Crud Performance, Stability at Speed
This year, Head added another layer of carbon to the construction, which provides a consistently smooth platform from tip to tail that makes initiating turns a breeze. Most described this ski as quick and very responsive, built with multilayer-carbon sandwich cap construction and a caruba and popular wood core (new this year). Tester Nick Loomans added that the classic tip and tail rocker make the Kore 111 more playful than expected and easy to ski. "This ski is perfect for someone who likes a traditional feel for their powder ski," said tester Luke Larsen, owner of Salt Lake City's Lifthouse Ski Shop. "It has plenty of float with a lot of all-mountain skiability." If you ski bumps and trees in soft snow, from mashed potatoes to hero powder to perfectly wind-buffed chalk, this is the ski we recommend.
Read the full review for category scores, strengths, weaknesses, and tester feedback.
---
No. 4: J Skis The Slacker ($799)
Overall score: 7.52/10
Lengths (cm): 169, 176, 182, 188
Dimensions (mm): 136-110-128
Radius (m): 19.5 (182cm)
Pros: Playfulness, Forgiveness
Cons: Crud Performance, Stability at Speed
If you describe your skiing as spreading butter on warm toast, look no further than The Slacker. A soft, nimble, energetic ski, this is the ski for the powder-hunter looking for playful hits on the backside of bumps and hidden freshies in the trees. The overall sentiment towards this ski: Whether you're exploring resorts or the backcountry, this ski will help make the mountains your playground. Go off the beaten path, friends; that is its happy place. The aspen wood core with maple stringers combined with a four-directional fiberglass layup makes this lightweight and playful ski easy to engage. Carbon stringers keep the ski's weight to 1,910 grams while adding that extra pop this ski is known for. Tester says it's best mounted and skied dead center. "The Slacker is for the experienced skier who wants to ski fast on variable terrain and powder without working too hard," said Jackson Hole backcountry fiend Lily Krass. "If you get too lazy, the tails feel a little hard to get around, but otherwise, this ski is forgiving, and the edge hold is fantastic for a ski this fat."
Read the full review for category scores, strengths, weaknesses, and tester feedback.
---
No. 5: Line Blade Optic 114 ($950)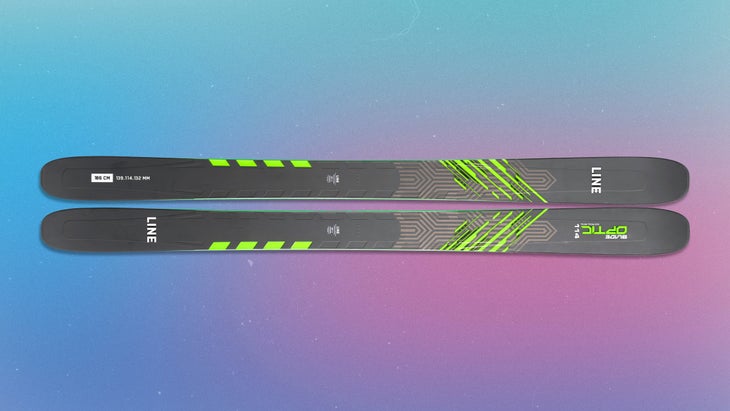 Overall score: 7.49/10
Lengths (cm): 178, 186, 192
Dimensions (mm): 139-114-132
Radius (m): 24 (186cm)
Pros: Stability at Speed, Flotation
Cons: Forgiveness, Quickness
One of the widest offerings in this year's powder skis, the Blade Optic 114 brings a fun factor that other skis in similar constructions lack. This solid powder ski will charge down whatever you throw at it but has big heart eyes for the fall line. Tester Avery Pesce, an expert skier from the East, says she was surprised at how well it blasted through the bumps with zero deflection. "The Blade Optic tracked incredibly well and maneuvered beautifully," she said, adding that while it was energetic and reliable through variable conditions, she felt the swing weight was a bit too heavy. She recommends it to advanced skiers looking for an all-around good resort powder ski that will do what you ask (especially if you know how to ask). That goes for skiers navigating heavy PNW powder to New Englandanders who prefer skiing the sidecountry but often get forced onto groomers. According to the score cards compiled by 30-plus testers, this is one of the most versatile skis in the powder ski lineup.
Read the full review for category scores, strengths, weaknesses, and tester feedback.
---
No. 6: Fischer Ranger 108 ($950)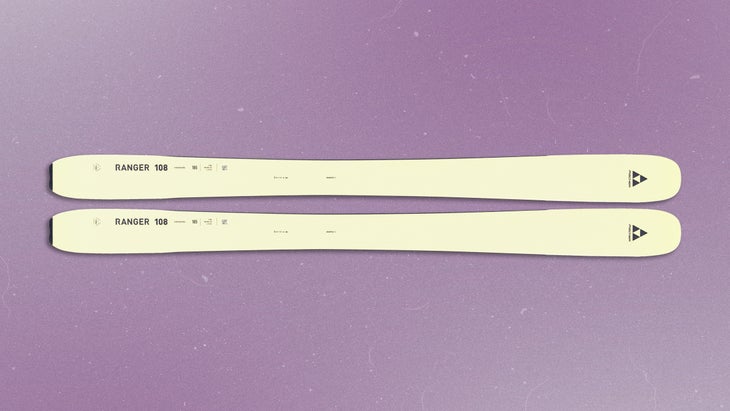 Overall score: 7.47/10
Lengths (cm): 171, 178, 185, 192
Dimensions (mm): 133-108-142
Radius (m): 17
Pros: Flotation, Crud Performance
Cons: Playfulness, Responsiveness
Fischer reimagined their Ranger line this year after years of reconnaissance and experimentation—some loved the changes, while other testers weren't so sure—however, it received a very high score for Flotation, the ultimate criteria for a powder ski. Beyond that,
"balanced, dependable, and energetic" were the top descriptors used to describe the Ranger 108. Ideal for an advanced to expert skier who prefers a more aggressive ski, this ski can be a little unforgiving if you are not over the front on the ski. At 108mm underfoot, a few of us found it tough to whip around in the trees but agree it floated much better than expected. At the end of the day, this is a well-rounded resort ski for deep conditions but versatile enough to ski hardpack if you're looking for a wider one-ski quiver. "While it's made for powder, I felt confident on hardpack and crud, even at speeds," said tester Elyse Schreiber, who calls Copper her home mountain.
Read the full review for category scores, strengths, weaknesses, and tester feedback.
---
No. 7: LibTech Hemi 112 ($749)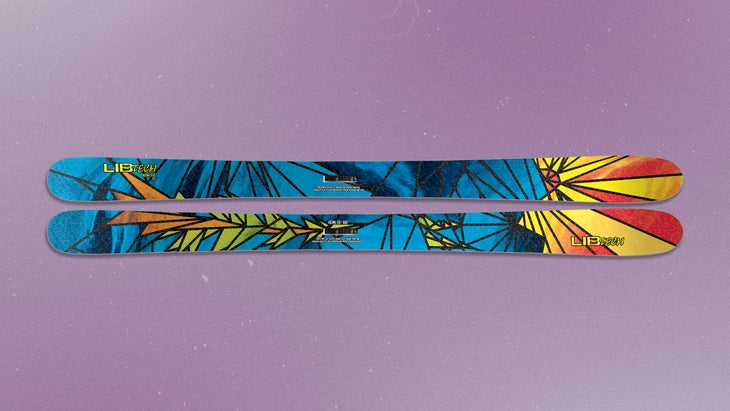 Overall score: 7.41/10
Lengths (cm): 171, 178, 185, 192
Dimensions (mm): 144-112-134 (185 cm)
Radius (m): 20
Pros: Flotation, Crud Performance
Cons: Versatility, Stability at Speed
Typically, a top sheet doesn't tell us much about a ski's performance, but in the case of the Hemi 112, which features bright, loud, playful graphics by artist and skier Evan Whitehead, the look signals exactly how this all-new powder ski performs. It's a floaty, carvy, "I-got-up-early-for-this" powder day destroyer. This is the perfect ski to turn your next powder day into a playground, and it's bound to give you an ego boost to boot. "Feel free to get the slightly bigger ski than you're used to," said tester Otto Gibbons, a hardgoods buyer for a ski shop in Washington. "Take all the float you want while still keeping the ability to throw the ski opposite across the hill at a moment's notice." We all agree: The Hemi can get a little loose when pinned in the fast lane but makes up for it with its pow slashing ability and creative expression. "This is a jibby, playful powder ski perfect for someone who has no interest in powering a ski but just wants to enjoy the snow on a predictable ski," said tester Brady Newton.
Read the full review for category scores, strengths, weaknesses, and tester feedback.
---
No. 8: Elan Ripstick 116 ($1,000)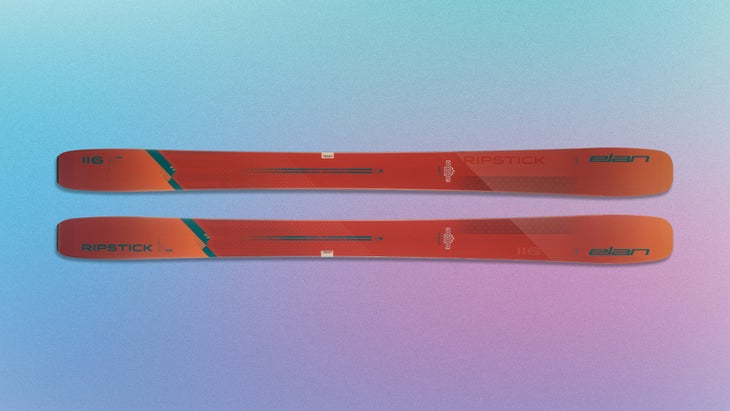 Overall score: 7.34/10
Lengths (cm): 177, 185, 193
Dimensions (mm): 146-116-132
Radius (m): 20
Pros: Flotation, Responsiveness
Cons: Crud Performance, Stability at Speed
So you like to savor your powder days, dipping in and out of trees, and a lot of speed isn't your speed? Dial it to six and turn to the Ripstick 116, an intermediate to advanced skier for those craving a fun and playful tool. "The Ripstick is easy to understand and does what you tell it to," said tester Nick Loomans, a former ski racer turned powder hound now based in Park City. "I recommend this ski for someone who enjoys spending their powder day in bumps and trees at mellower speeds." Trees, you say? Absolutely. We were blown away by how nimble and maneuverable the Ripstick 116 is, even in the longer lengths, thanks to the proprietary Amphibio technology. By adding rocker to the outside edges of each ski, Elan has created an asymmetrical ski shape that allows you to get out of your own way to initiate smooth, clean turns. Testers agreed that this ski has an old-school feel that's best for a skier who stands over the front of their ski—or, as tester Erika Northrop put it, "anyone who knows their right from their left and loves to shred powder on the deepest days."
Read the full review for category scores, strengths, weaknesses, and tester feedback.
---
No. 9: Dynastar M-Free 108 ($900)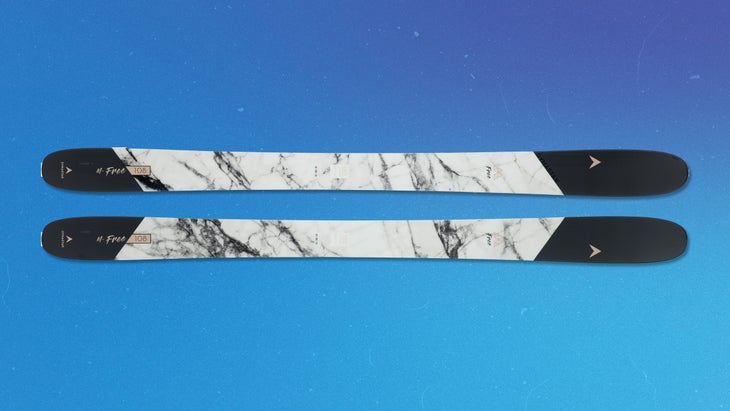 Overall score: 7.25/10
Lengths (cm): 172cm, 182cm, 192cm
Dimensions (mm): 138-108-128
Radius (m): 18
Pros: Playfulness, Responsiveness
Cons: Crud Performance, Quickness
The M-Free is one of the standout freeride skis of the year, beloved by skiers who treat their powder like a creamy schmear on a freshly toasted bagel. It's responsive, forgiving, and most enjoyed by strong, aggressive skiers who like hauling it. (I've had this ski in my quiver since the first iteration in 2020 and travel with it often for its versatility. If you can only have one ski, the M-Free stays on edge across the hardpack and floats plenty, even at 108mm underfoot.) The poplar wood core is shored up with a layer of Titanal under the mounting plate, providing added stability at speed and a trustworthy platform for hard-charging. We noted the consistent flex makes for large, round 10m radius turns, and many appreciated the predictability and controllable nature of this ski. It scored high marks from directional skiers who gravitate towards a traditional ski with backbone, but still want to spin, flip, and get airborne from time to time.
Read More Read the full review for category scores, strengths, weaknesses, and tester feedback.
---
No. 10: Armada Declivity 108 Ti ($1,000)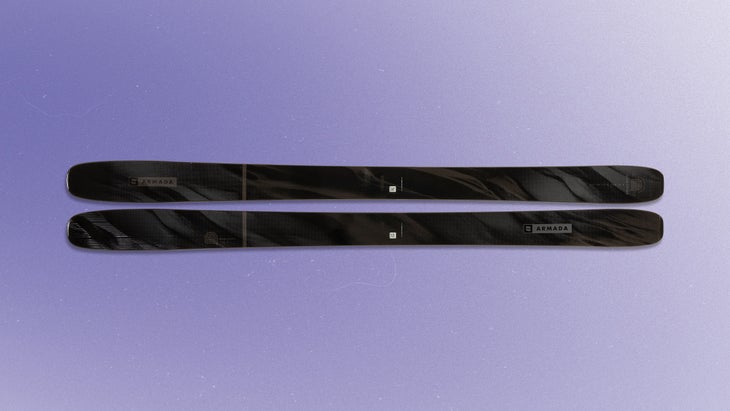 Overall score: 7.21/10
Lengths (cm): 182, 190
Dimensions (mm): 136-108-126
Radius (m): 21.7
Pros: Responsiveness, Stability at Speed
Cons: Forgiveness, Flotation
If you're a confident, aggressive intermediate skier, or you find yourself at the top of the food chain at your home hill, you have to make an effort to have a bad time on this ski. Thanks to a caruba core, the Declivity 108 Ti is easy to engage on short notice and stable when laid over to carve. Softer flexing in the tip keeps the ski damp, while Titanal throughout the core offers plenty of stability underfoot and through the tail. You will need a slightly more centered stance to ski the front of this ski—it's a little demanding that way—once you find the sweet spot, you can take it anywhere and everywhere for a good time. At 108 underfoot, the Declivity 108 Ti isn't for the deepest of days (it scored 7 out of 10 in Flotation), but it's a great everyday ski for the West. We scored these sticks high after running them through chalk, old soft snow in the trees, and even the late afternoon crud (but why take it there?) "The Declivity performed where I expected it to, and then it was faster on the edge-to-edge transition than I expected from a 108mm waisted ski," said tester Otto Gibbons. "It's happy to ski everything you throw at it and won't talk back to you."
Read the full review for category scores, strengths, weaknesses, and tester feedback.
---
No. 11: RMU Professor 121 ($849)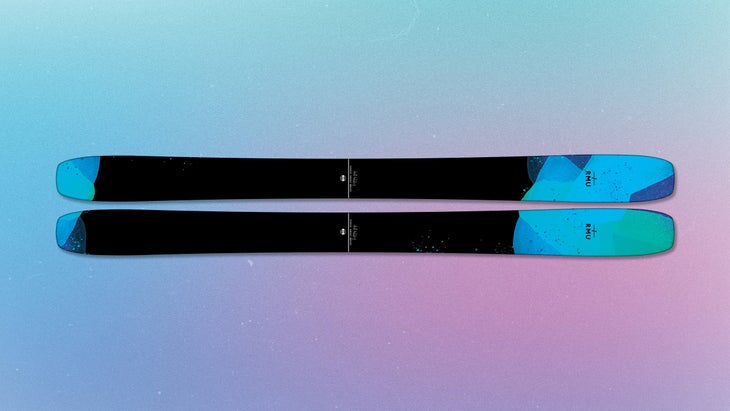 Overall score: 7.17/10
Lengths (cm): 178, 188
Dimensions (mm): 126-147-121-139-119 (188 cm)
Radius (m): 21
Surf's up, brah. RMU is giving us aloha vibes with their latest ultra-fat boards, the Professor 121. With this much girth, they're pretty squirrely on crud, but they do what they are meant to do extremely well—float you high and dry across the snow's surface. "No need for a life preserver," said Utah-based tester Luke Larsen. "These things can float. It's a little bit of a one-trick pony, but its ability to move across powder is a pretty neat trick, and it's still fun in the hot pow." Tester Otto Gibbons also called out this ski's agility considering its length and width. "I was surprised by its maneuverability considering its length," he said. "For those who want a uniform flex out of a ski and an excuse to ski a long powder ski, this is it." For folks who have never skied planks this wide, the Professor 121 takes some getting used to, and it's best suited for advanced powder skiers, but once you unlock its power, you'll feel like Johnny Tsunami in the deep powder.
---
No. 12: Völkl Blaze 106 ($650)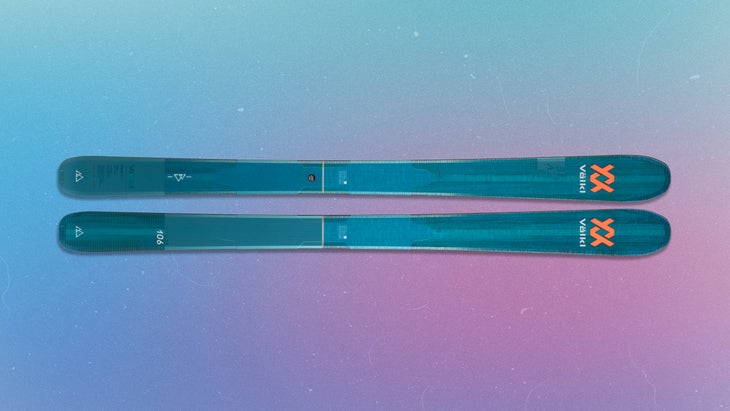 Overall score: 7.17/10
Lengths (cm): 165, 172, 179, 186
Dimensions (mm): 146-106-128
Radius (m): 17
Put this thing on cruise control and have yourself a time. We loved the easy, breezy nature of this nimble and dependable ski that doesn't ask for much but gives a lot. "It's effortless to pivot this ski when the snow is soft, don't be afraid to punch it," said tester Luke Larsen of Salt Lake City. "This is the ski for the guy or gal looking to get the most out of their legs. It's so easy to ski, it's silly. Just relax and have a good time." One of the narrower powder skis in the lineup, this 106mm-wide set is better for lighter snowfall days and the ideal Ice Coast powder ski. If you're new to powder skiing or looking for something that feels more accessible, go ahead and Blaze one up. Said tester and Sun Valley local, Paul Marshall: "I can see a wide variety of skiers having a great time on this ski in soft snow and even on the groomers you take to get there."
---
No. 13: Black Diamond Impulse 112 ($800)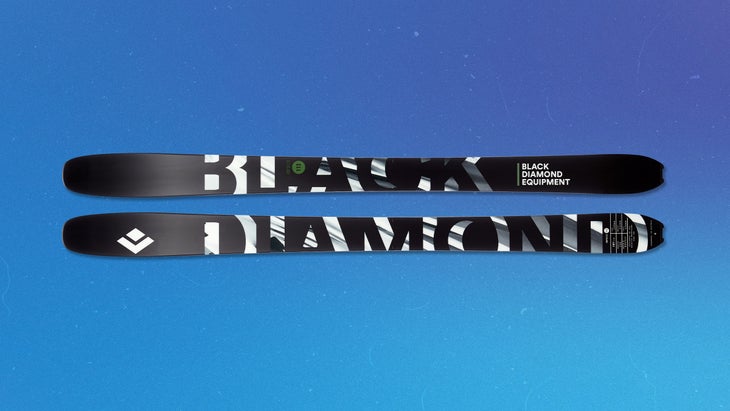 Overall score: 7.13/10
Lengths (cm): 181, 186
Dimensions (mm): 139-112-126 (181 cm)
Radius (m): 20
If you gravitate towards Black Diamond skis, it's likely because you're strong and like to work for your turns. If so, you'll love this option designed for advanced, aggressive skiers. The softer tip of this ski is easy to swing in tight terrain and still has good power underfoot and through the tail. You feel the edge hold wants to finish the turn, but if you try to tighten up the turn, you'll be able to schmear some big rooster tails. "Wow, the Impulse 112 was the biggest surprise of the test," said SLC's Luke Larsen. "This is for the skier that wants a floaty tip and still can be pushed as hard as possible." Ideally, you're skiing the Impulse 112 in expansive open terrain above the treeline without another soul in sight. Spacious glades and natural moguls will work too. This is not a forgiving ski, but if you can handle it, you're going to shred big and fast and float away from it all.
---
No. 14: Rossignol BlackOps 118 ($850)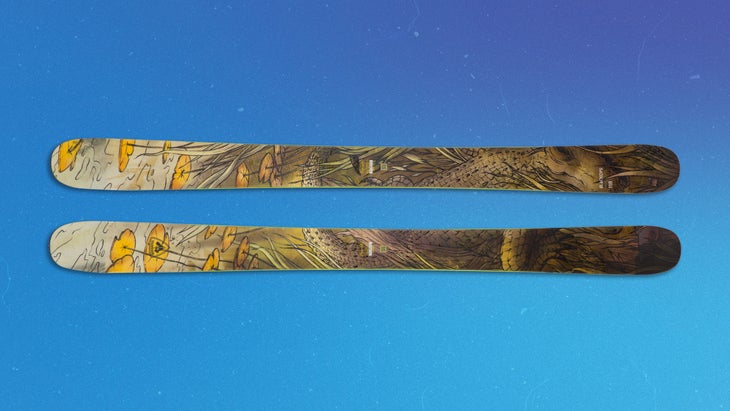 Overall score: 7.13/10
Lengths (cm): 176, 186
Dimensions (mm): 146-118-141
Radius (m): 22
Testers called the BlackOps 118 balanced and dependable, which is more than I can say for myself on a powder day. The BlackOps turns the mountain into a giant playground if the snow is soft. Make stylish slash turns, confidently charge cliff drops, or hang back and play with the swing weight and pivot point on the pillow line. Testers were surprised how playful they felt on this ski despite having minimal tip or tail taper. Credit is due to the unique shape and the 5-6 mm of camber underfoot. While testers say they wouldn't hand this ski to a beginner powder skier, it's a fun and playful ski with enough float for the most significant storms for those with the will to work this ski. It gets a little loose on firmer snow due to its wider waist. But when things get a little too rodeo, testers say it's easy to shut down speed even on a steep pitch. So you can have enormous fun without the significant risk of blowing up. So go for gold, skiers.
---
No. 15: Blizzard Rustler 11 ($800)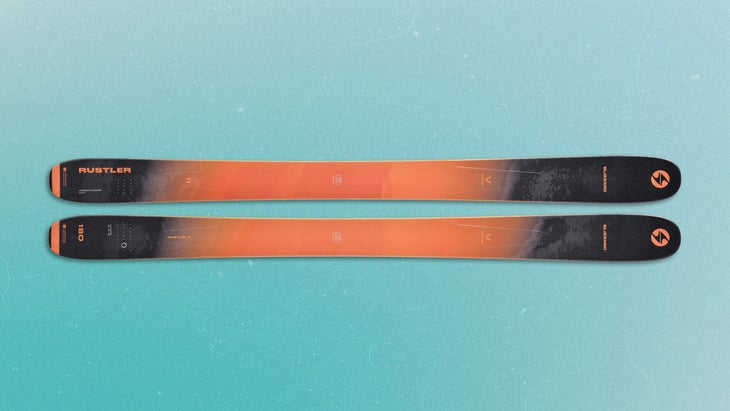 Overall score: 7.02/10
Lengths (cm): 164, 172, 180, 188, 192
Dimensions (mm): 142-114-132
Radius (m): 21
Former racers or aggressive expert skiers are frothing over the Rustler 11. It's a ski that needs to be skied but is not overwhelming. Take it out in chalk, bumps, trees, and of course, powder, and on the way home, you can arc hero turns on the groomers. A burly ski with a 21 meter radius, it's one of the most versatile powder skis we tested this year. There's so much energy and power, it makes us want to go to Alaska and get the shot, nah mean?!"It is a very capable ski, but the ski isn't what will make your lap fun," says tester and hardgoods buyer Otto Gibbons. That has to come from within. "It's damp, maneuverable, stable—everything everyone wants." This refined iteration succeeds at offering a dependable weapon for the hard chargers and isn't out-of-reach for those looking to spend more time in the fall line. This ski isn't your playful, poppy, jib stick and seems to sacrifice a little bit of energy when things don't go exactly to plan. It's unforgiving, and will let you know when you've made a misstep. So if you're ready to Rustle, don't you dare skip leg day.
---
No. 16: Renoun Citadel 114 ($999)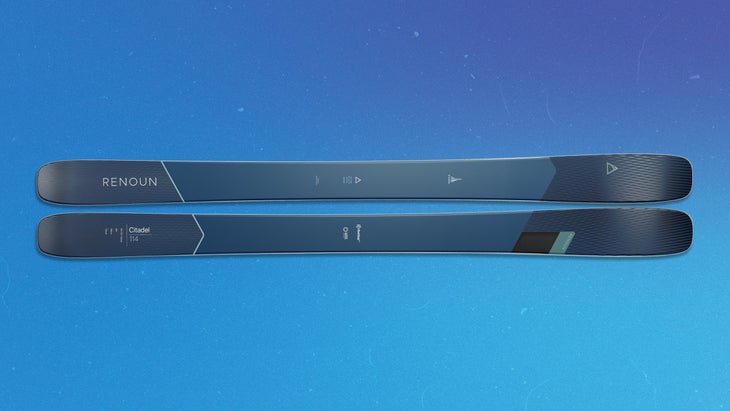 Overall score: 7.01/10
Lengths (cm): 178, 186
Dimensions (mm): 144-114-135
Radius (m): 19
The Citadel demands a skier who consistently can drive the front of the ski. When harnessed, this ski doesn't just float through hero pow but can make light of a fresh dusting, skied-out chop, and chalky faces. Made from Renoun's vibration-reducing tech that's now used in NBA basketball floors, Renoun has found a way to harness the energy of a turn into the stiffness of a ski that releases that same energy in the second half of the turn in a soft, malleable burst of power. "You definitely feel the stiffness change when more energy is put into the ski, he says. "That's what gives it that fun maneuverability in slow tight turn situations while still being incredibly stout at speed." Testers said this ski is for anyone looking for a responsive powder ski. "Everyone can ski this and feel at home," Courtney Harkins says. "I don't have many bad things to say about this ski. Most skiers could take it out and have a grand ol' time."
Frequently Asked Questions
What are the best powder skis?
RMU Professor 121
Völkl Blaze 106
Black Diamond Impulse 112
Rossingol BlackOps 118
Blizzard Rustler 11
Renoun Citadel 114
What are powder skis?
Generally speaking, powder skis (or deep snow skis) are fat. They tend to have 110mm-plus waist widths, generous rocker profiles, and very large turn radii. While they float like a dream in soft snow, many powder skis can perform well in choppy snow as well, and a very special few—most notably the Nordica Enforcer 110—can actually hold an edge quite well on groomed terrain. For the most part, however, these skis are rarely defined as one-ski quiver options and are instead used only when conditions warrant, e.g. powder days.
Who are powder skis for?
Any ski wider than 105mm underfoot is best suited to a skier who gets to ski soft and deep snow more often than not. These wide skis are typically made of lighter materials, feature less metal in the core, and less effective edge, meaning they are not the best tools to handle hard snow, groomers, or bumps. Big boards will enhance any real powder day, but may feel cumbersome in anything less than five inches of fresh snow.
What length powder ski should I buy?
Because of the increased amount of rocker built into most powder skis, it's suitable to have longer skis for deep snow to increase the amount of usable edge on hard and variable snow. Shorter powder skis will likely float and feel more nimble than longer versions, but can also sometimes feel like riding a pogo stick due to the increased floppiness that is caused by generous rocker in the tip and tails. Learn more about rocker profile and how it affects performance.
How wide is too wide for a resort ski?
Skilled skiers will be able to manage a wide ski (100mm-plus) in most conditions and will still be able to make these skis carve. But intermediate skiers still working on their skills may find wide all-mountain skis to be more work in the types of conditions you are likely to encounter at the resort. Learn more here.
What's the difference between men's and women's skis?
In truth, most skis are unisex and not gender-specific. Many brands produce the ski with the exact same construction technologies for both genders, but often create two different top sheets to appeal to men vs. women. A handful of brands are making truly women's-specific skis, where the ski takes a woman's physique into account when building the ski. Men and women can ski on the same ski but may want to choose different lengths depending on their height and their skiing ability.
Lead Photo: Keri Bascetta