2023 Winter Gear Guide
The Best Women's Powder Skis of 2023
These wide, rockered planks will help you milk those powder days for all their worth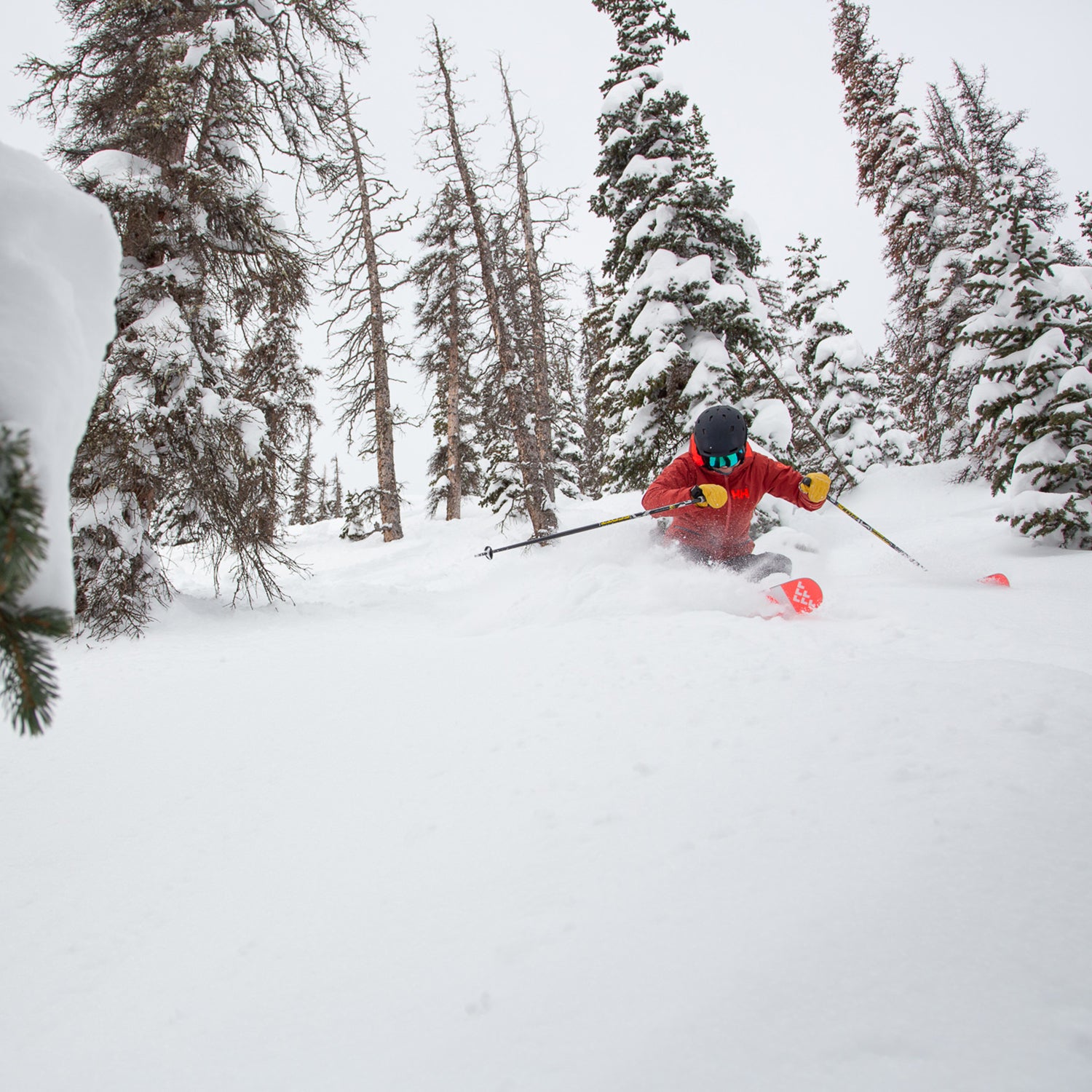 Heading out the door? Read this article on the new Outside+ app available now on iOS devices for members! Download the app.
This article was first published by SkiMag.com.
Long gone are the days of flimsy and noodly powder planks. Today's powder skis don't just surf, they can also turn on a dime and rail at speed. So if you ski mostly soft snow, are a dedicated powder chaser, and generally find yourself in deep powder more often than not, check out these big sticks that feature wider waists and generous rocker profiles to help you stay afloat. And if—or rather, when—you need to ride groomers and bust through chop in order to get to the good stuff, you can count on these skis to have your back.
After multiple days of testing in Sun Valley, Alta, and Snowbird, these are the nine women's powder skis that rose to the top of the pile by impressing ladies the most across eight skill departments: Flotation, Versatility, Playfulness, Crud Performance, Stability at Speed, Responsiveness, Quickness, and Forgiveness. So rest assured that the women's powder skis that made this list know how to navigate the crud as well as the whiteroom.
Looking for the best unisex powder skis of 2023? Check them out here.
How We Test
Testing powder skis sounds like it would be a lot of fun, and to be fair, ripping through deep snow on all of the best products for the next ski season is a treat; but it's not always easy to find the right conditions. While Sun Valley provided ample vertical and world-class grooming for testing our other ski categories during SKI's 2023 gear test, we didn't time the storm right this year. That's part of what makes powder days so special—they are rare, often unpredictable, and can be short-lived.
Luckily, we were able to follow up SKI Test with some additional powder ski testing in Snowbird, Alta, and Brighton, coupled with a weekend of deep days at Copper Mountain in Colorado. When the storms came through, our testers were ready to assess each ski's performance across six skills categories, with Flotation and Playfulness being the most important in this category. According to our testers, a group of industry professionals with years of gear testing experience to their names, the following 16 skis are the best powder skis of 2023.
Go deep: Learn more about SKI's testing process
Meet the Testers
Avery Pesce
Age: 39 | Height: 5′6″ | Weight: 138 lbs
Pesce lives in Whitman, Mass., and calls the ski areas of Vermont and New Hampshire home. She's an expert skier with an aggressive style that she applies to any and all type of terrain and snow conditions. Safe to say that as the head ski buyer for Boston Ski & Tennis in Newton, Mass., she knows a thing or two about skis—how they're built, and how they perform.
Jordan Garrett
Age: 32 | Height: 5′2″ | Weight: 135 lbs
Garett is an assistant ski buyer for Evo in Denver, Colo. When she's not in the shop, you'll find her exploring Colorado's backcountry while testing out the latest skis, or tearing up her home resorts of Copper Mountain or Winter Park.
Lily Krass
Age: 36 | Height: 5′8″ | Weight: 110 lbs
Krass is a freelance ski journalist based in Jackson, Wyoming with work featured in SKI, Powder Magazine, Freeskier, Teton Gravity Research, and Ascent Backcountry Snow Journal. She spends winters backcountry skiing in Grand Teton National Park and riding lifts at Jackson Hole Mountain Resort, with the occasional trip to the Alps (for the food, obviously).
Read more: These pro tips make powder skiing less exhausting and more fun.
Reviews: The Best Women's Powder Skis of 2023
No. 1: Line Pandora 110 ($950)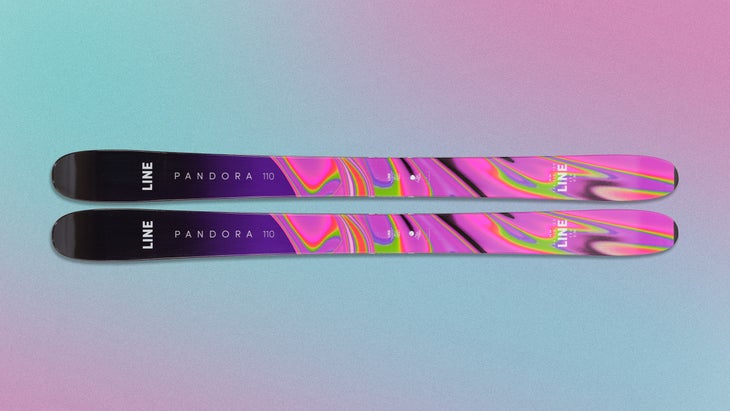 Overall score: 8.1/10
Lengths (cm): 162, 170, 178
Dimensions (mm): 144-110-130
Radius (m): 16.5
Pros: Flotation, Responsiveness
Cons: Stability at speed, Crud performance
The Pandora 110 ranked high in playfulness and responsiveness, making it an approachable ski that reminds us we don't always have to work hard to have fun. A soft flex pattern in the tip makes for intuitive steering and effortless float, while stiffer tails create power and stability when transitioning from fresh snow to firm, groomed runs. Built with a strong yet lightweight paulownia and maple core, the ski stays pretty quiet on hardpack thanks to a layup of aramid, carbon, and fiberglass, which also dampens vibrations when plowing through chunder. It does have a speed limit, and testers noted the ski becomes squirrely when you drive it too hard in anything but deep snow, rewarding playful styles and medium speeds rather than hard chargers. "Such an easy ski to flick around—almost like it reads your mind," said 5-foot-2 tester Jordan Garrett. "Lighter skiers are going to appreciate being able to manipulate this ski in countless types of snow."
Read the full review for category scores, strengths, weaknesses, and tester feedback.
---
No. 2: Blizzard Sheeva 11 ($750)
Overall score: 7.81/10
Lengths (cm): 156, 164, 172, 180
Dimensions (mm): 139-112-129
Radius (m): 17.5
Pros: Crud performance, Stability at speed
Cons: Playfulness, Versatility
Hard-charging women have come to love the reliability and power of the Sheeva series, and Blizzard has let the success of this ski run without significant changes. The Sheeva 11 scored high marks in crud performance, quickness, and stability at speed, with surprisingly solid edge-to-edge transitions on hardpack despite its girth. Blizzard's unique carbon and wood construction reduces torsional strength in the tip and tail while adding stability underfoot, allowing the ski to feel approachable and easy to steer in soft snow while still offering plenty of power when the going gets tough. There's a flipside to that beefy construction, however: This ski isn't the most nimble and may feel like overkill at slower speeds. Those who favor short turns in tight terrain might opt for something with a little less heft, but athletic skiers looking for adventure will immediately feel at home. "More than a powder ski, it plows through crud with stability and speed, inspiring confidence in variable snow," said Jackson Hole-based tester Lily Krass.
Read the full review for category scores, strengths, weaknesses, and tester feedback.
---
No. 3: K2 Mindbender 106C W ($800)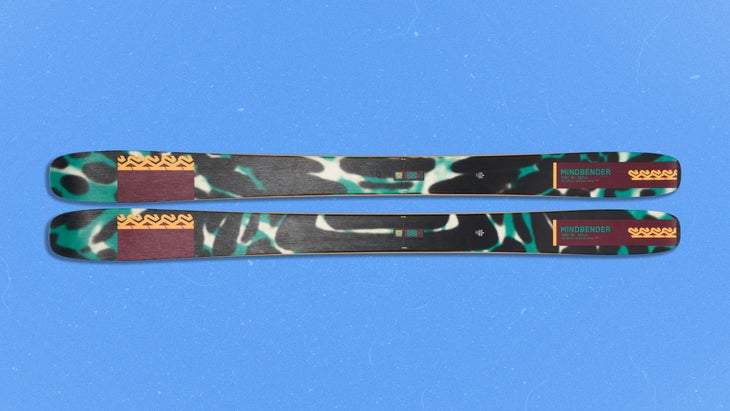 Overall score: 7.76/10
Lengths (cm): 159, 167, 175
Dimensions (mm): 139-106-124
Radius (m): 15
Pros: Flotation, Playfulness
Cons: Quickness, Crud performance
An energetic women's-specific ski that loves to party, the Mindbender 106 W is capable and forgiving, but can handle the heat if you decide to step on it. Unlike the beefier Mindbender Ti skis, the 106 W doesn't utilize any metal. It features a weave of carbon stringers that boosts stiffness and power, creating a poppy, energetic feel that grabbed testers' attention right off the bat. A rockered tip and tail makes for easy steering, and camber underfoot holds a solid edge while railing icy groomers. However, a few testers felt that they had to muscle it around a bit when navigating tight trees and chutes. The 106mm waist was on the slimmer end of the powder skis we tested, but that also makes this ski more versatile when conditions change from untracked pow to cut-up crud. "Great rebound and wicked fun," said Avery Pesce, an expert skier from the East. "A narrower powder ski I'd recommend for a New England resort skier."
Read the full review for category scores, strengths, weaknesses, and tester feedback.
---
No. 4: Armada ARW 106 UL ($875)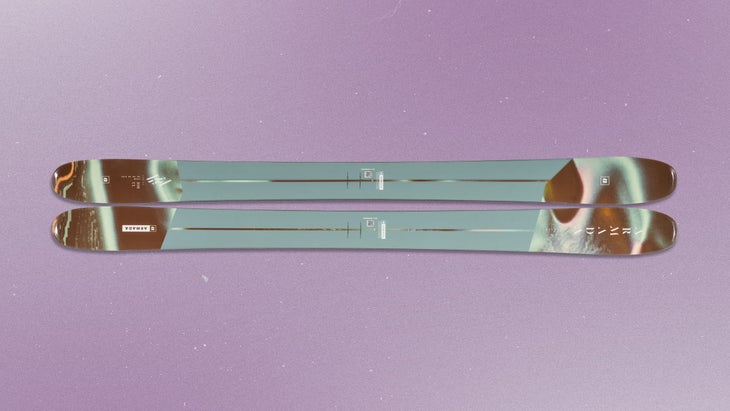 Overall score: 7.73/10
Lengths (cm): 164, 172, 180, 188
Dimensions (mm): 133-106-123
Radius (m): 19.5
Pros: Playfulness, Responsiveness
Cons: Crud performance, Stability at speed
Smeary and playful, the Armada ARW 106 UL pops pillows and weaves through trees with energy and rebound. The easy pivot and low swing weight is courtesy of the ultralight caruba wood core, creating an approachable ski that doesn't demand an aggressive stance to drive. For a playful freeride stick, testers were surprised at the control the ARW 106 UL demonstrated on hardpack, staying relatively quiet and balanced when arcing turns on firm groomers between pow stashes. However, this isn't the tool for railing high-speed in-bounds turns in anything aside from powder. It's definitely got a speed limit, but that keeps it friendly for skiers with less experience in soft snow. With a size run from 164cm to 188cm (testers enjoyed skiing it slightly long), the ARW 106 UL isn't reserved for smaller riders. "Swung around like a dream," said Pesce. "Incredible energy and maneuverability. I trusted the hell out of this thing regardless of how big or small the bumps, or how tight or open the trees."
Read the full review for category scores, strengths, weaknesses, and tester feedback.
---
No. 5: Nordica Santa Ana 110 Free ($800)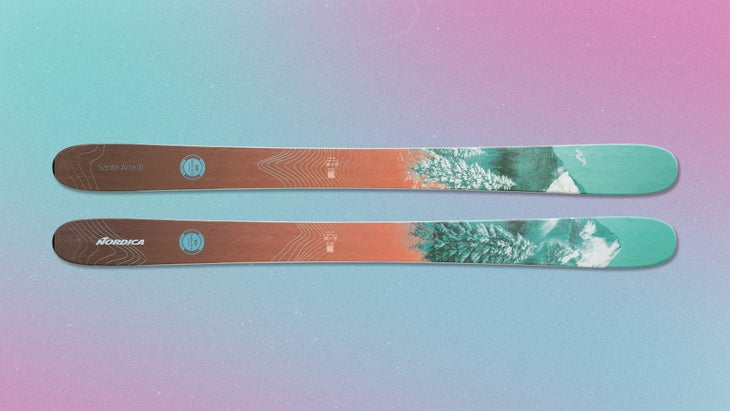 Overall score: 7.45/10
Lengths (cm): 161, 169, 177
Dimensions (mm): 139-110-128
Radius (m): 15.5
Pros: Crud performance, Stability at speed
Cons: Quickness, Playfulness
The Santa Ana 110 Free gets better the more gas you give it, whether it's bombing down a big open face, driving into a choppy turn, or laying into your edges when rallying back to the base for one last tram lap. A layer of Titanal gives these planks enough backbone to bust through afternoon crud, while lighter tips reduce the swing weight for a more accessible ride that's easy to whip around. Testers described the Santa Ana 110 Free as raring to go if you want speed, but willing to cruise if you're looking for mellower wiggles. This isn't our top choice for a nimble tree ski, though. It favors wide open slopes and long fall lines, making for a smooth, stable ride as long as you've got room to roam. "Like going fast through powder, slush, and chop? This is your ski," said Garrett. "It feels reliable underfoot as the sun warms up the snow and makes it heavy."
Read the full review for category scores, strengths, weaknesses, and tester feedback.
---
No. 6: Black Crows Anima Birdie ($1,000)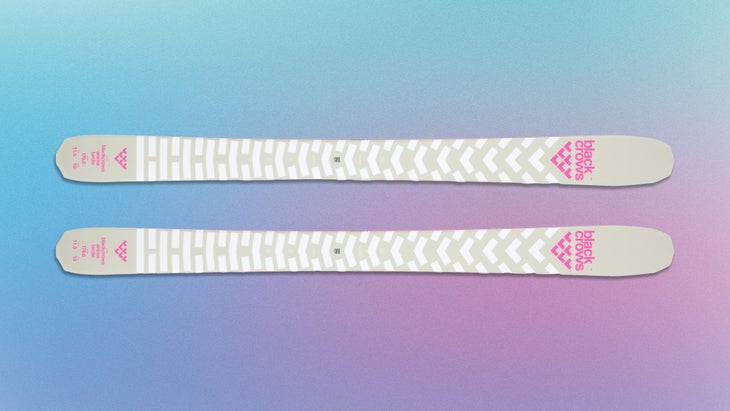 Overall score: 7.12/10
Lengths (cm): 176.6, 182.1
Dimensions (mm): 144-115-134
Radius (m): 19
Pros: Stability at speed, Flotation
Cons: Forgiveness, Quickness
Black Crows skis were born and bred in Chamonix, France, so it makes sense that big mountain terrain is where the Anima Birdie shines. The Anima Bridie is a powerful freeride ski that scored high in flotation and stability at speed after impressing testers with its ability to drive through turns and keep its cool when blasting through crud. That's all thanks to a long sidecut and girthy 115mm waist. A double-rockered design and progressive flex makes this ski maneuverable and easy to pivot in tight trees and narrow chutes, making it a great choice for creative skiers looking for a little air as well as speed-hungry rippers who want to open it up in the steeps. The Anima Birdie rewards aggressive skiers, but can feel harsh on tired legs. Testers agreed that if you can stay off the groomers, you'll have a blast. "The Anima Birdie is a heat-seeking missile with the target set on the fall line," said Garrett. "This is a bombproof ski for skiing fast on big, open bowls. It wants to find a fall line and it wants to find it fast!"
Read the full review for category scores, strengths, weaknesses, and tester feedback.
---
No. 7: Faction Mana 3X ($799)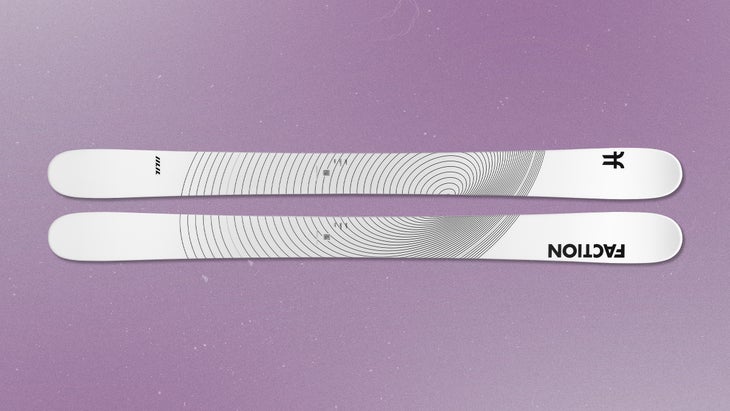 Overall score: 6.94/10
Lengths (cm): 165, 172
Dimensions (mm): 140-112-134
Radius (m): 17m
Pros: Flotation, Stability at speed
Cons: Versatility, Forgiveness
Surfy and playful, the all-new Mana 3X rewards those who want to go big. The floaty, 112mm-waisted twin tip ski was made for B.C. pillow-popping thanks to a generous rocker and just a touch of camber underfoot. This profile encourages pivoting and smearing instead of edging, which is appropriate for a big mountain powderhound such as this. The carbon-rubber Stomp Pad underfoot provides a solid platform for—you guessed it—stomping landings, which contributes to the stable feel; but that's also what makes this ski a little heavy and hard to engage for less sendy skiers. It can be hard to manage in anything but high-speed, wide-open powder, making it a less forgiving ski. But more advanced riders with the power and technique to unlock the Mana 3X will be rewarded with a reliable, sendy ski that's ready to point it to the moon. "Snowy peaks will turn into rodeo grounds when you jump on these skis," said tester Erika Northrop, who's used to charging the extremes of Taos, N.M. "If you are ready for a wild ride, jump on, cowgirl!"
Read the full review for category scores, strengths, weaknesses, and tester feedback.
---
No. 8: Völkl Blaze 106 W ($650)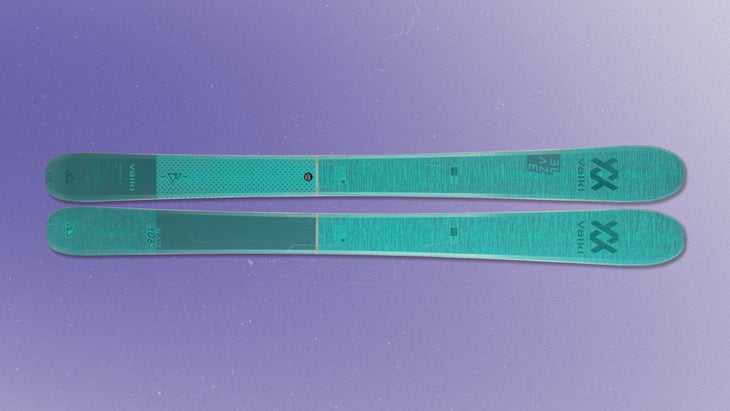 Overall score: 6.47/10
Lengths (cm): 158, 165, 172, 179
Dimensions (mm): 146-106-128
Radius (m): 14
Pros: Playfulness, Quickness
Cons: Crud performance, Stability at speed
Powder is for the people, and no ski reminds us of that more than the ultra-playful Völkl Blaze 106 W. An accessible powder ski, the Blaze 106 W is more nimble than the stable and chargy skis that have given Völkl its race-oriented reputation. Unlike some of the other skis we tested in the powder category, this ski is friendly and accessible enough for new powder skiers to feel confident all over the hill. The wide 146mm shovel allows the Blaze to float surprisingly well considering it's only 106mm underfoot, and ample tip rocker make turn initiation a breeze in the trees. It features some camber underfoot, providing enough edge hold when transitioning to firm snow instead of having to smear your way back to the chair. Like any good powder ski, the Blaze 106 W is happiest with fresh snow underneath it; testers noted that the lightweight construction feels skittish when navigating cruddy slopes at the end of the day. If you're looking to rumble, you might want to opt for something like the Völkl Mantra, but the Blaze is ideal for relaxed skiers who like to swoosh wide-open powder fields and zip through slush bumps and tree alleys. "A great sidecountry or resort ski," said Garrett. "With a very low swing weight and wide shovel, it's a great option for anyone looking for maneuverability all over the mountain."
Read the full review for category scores, strengths, weaknesses, and tester feedback.
---
No. 9: Icelantic Nia Pro 105 ($849)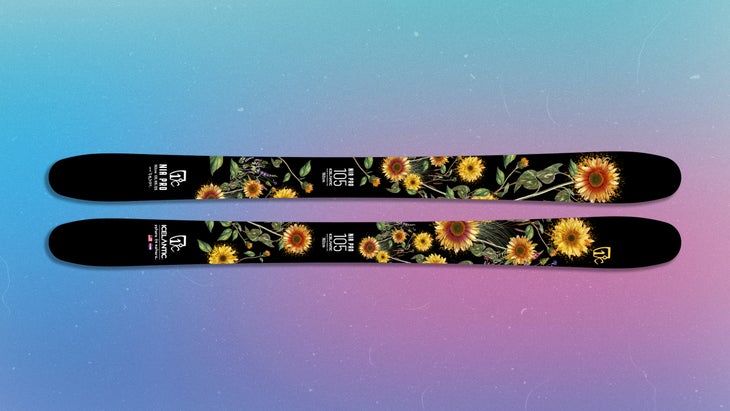 Overall score: 5.51/10
Lengths (cm): 162, 169, 177
Dimensions (mm): 135-105-127
Radius (m): 17.5
Pros: Flotation, Playfulness
Cons: Crud performance, Versatility
Playful and smeary, the fun-loving Nia Pro 105 is Icelantic's pro collab, an accessible mid-fat ski ideal for seeking out pow stashes in the trees. Its surfy feel and easy pivot come courtesy of the fully rockered profile and a springy, energetic poplar wood core that make for a lively ride in bumps and tight trees. If you're in terrain where you can relax and lean into a smeary and surfy style, the Nia Pro 105 will have your back. Otherwise, testers found that it struggles in crud, where it feels "twitchy" and "like it has a mind of its own," said one tester. While it might not be the ideal pick for ripping mank or crud, it sure is fun in softer snow like buttery spring corn. Testers felt the Nia skied a bit short, owing to the reverse-camber design, so don't be afraid to size up. "If you know you're going to ski soft snow, this ski is playful and inviting, encouraging creativity on the mountain," said Krass.
Read the full review for category scores, strengths, weaknesses, and tester feedback.
Frequently Asked Questions
What are the best powder skis for women?
What are powder skis?
Generally speaking, powder skis (or deep snow skis) are fat. They tend to have 110mm-plus waist widths, generous rocker profiles, and very large turn radii. While they float like a dream in soft snow, many powder skis can perform well in choppy snow as well, and a very special few—most notably the Nordica Enforcer 110—can actually hold an edge quite well on groomed terrain. For the most part, however, these skis are rarely defined as one-ski quiver options and are instead used only when conditions warrant, e.g. powder days.
Who are powder skis for?
Any ski wider than 105mm underfoot is best suited to a skier who gets to ski soft and deep snow more often than not. These wide skis are typically made of lighter materials, feature less metal in the core, and less effective edge, meaning they are not the best tools to handle hard snow, groomers, or bumps. Big boards will enhance any real powder day, but may feel cumbersome in anything less than five inches of fresh snow.
What length powder ski should I buy?
Because of the increased amount of rocker built into most powder skis, it's suitable to have longer skis for deep snow to increase the amount of usable edge on hard and variable snow. Shorter powder skis will likely float and feel more nimble than longer versions, but can also sometimes feel like riding a pogo stick due to the increased floppiness that is caused by generous rocker in the tip and tails. Learn more about rocker profile and how it affects performance.
How wide is too wide for a resort ski?
Skilled skiers will be able to manage a wide ski (100mm-plus) in most conditions and will still be able to make these skis carve. But intermediate skiers still working on their skills may find wide all-mountain skis to be more work in the types of conditions you are likely to encounter at the resort. Learn more here.
What's the difference between men's and women's skis?
In truth, most skis are unisex and not gender-specific. Many brands produce the ski with the exact same construction technologies for both genders, but often create two different top sheets to appeal to men vs. women. A handful of brands are making truly women's-specific skis, where the ski takes a woman's physique into account when building the ski. Men and women can ski on the same ski but may want to choose different lengths depending on their height and their skiing ability.
Lead Photo: Keri Bascetta