Long-Term Test: The Best Women's Ski Pants
We tried out every model we could get our hands on over the course of a winter. Here are the ones that rose to the top for backcountry missions, in-bounds days, and everything in between.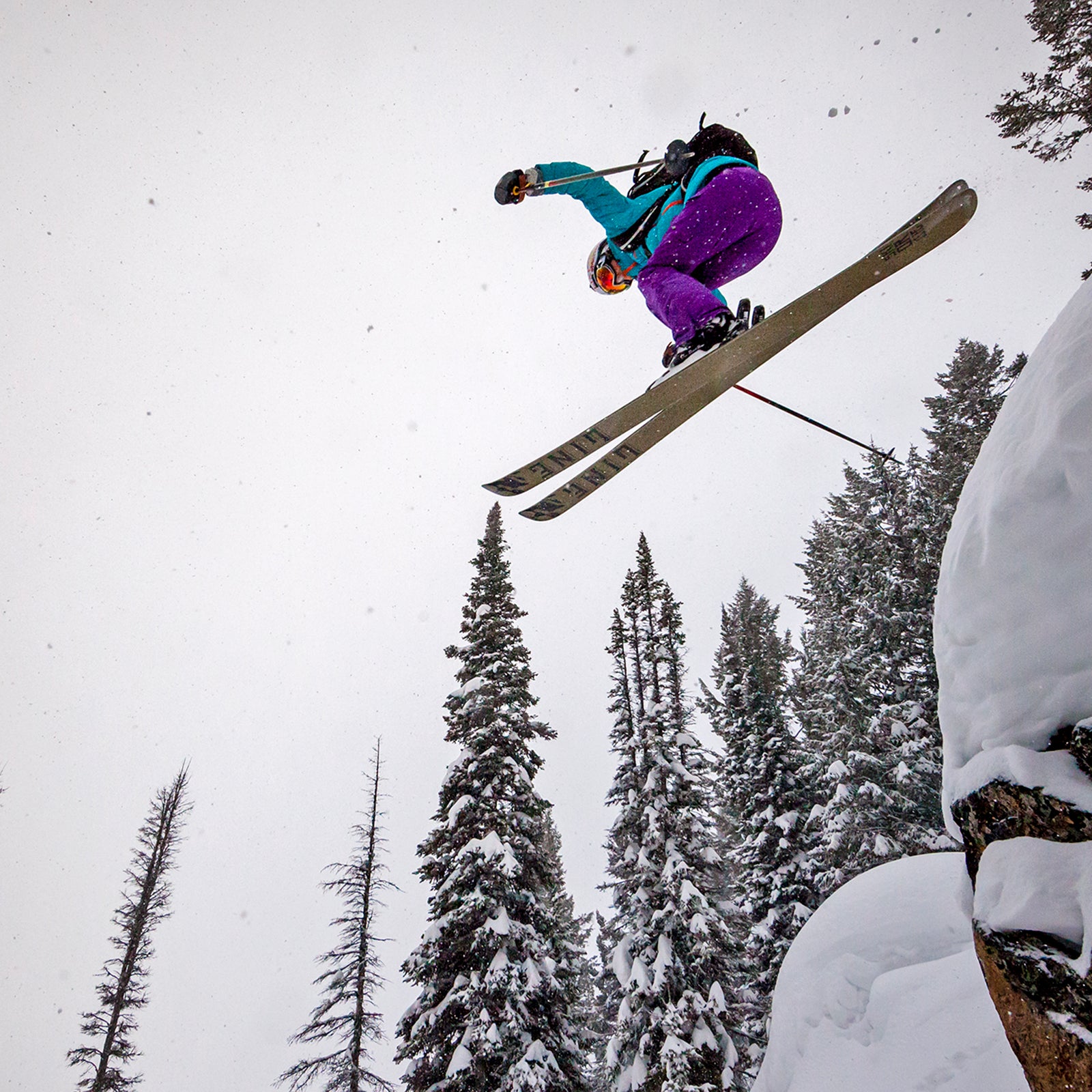 Sarah Jackson(Photo)
Heading out the door? Read this article on the new Outside+ app available now on iOS devices for members! Download the app.
This winter you'll spend arguably more time in your ski pants than any other piece of your kit. Jackets come off at lunch and boots as soon as you get to the car. Base layers rotate days. But your shell bottoms will be with you from breakfast through après, every day of the season. So getting the right pair is vital. 
I've skied for decades and spent months testing women's ski pants and bibs in all types of winter weather and settings: in-bounds, sidecountry, backcountry, and après. Often I wore multiple pairs in a single day. My favorite pants of all time are the Holden Sierra bibs; they're stretchy, have a high pee rating (more on that below), and keep snow out of my nether regions. Meanwhile, dedicated uphill skiers will live in the Dynafit Beast pants, and budget-friendly shredders will love Picture's feature-rich Exa pants. Here's more info on those, plus other pants that have risen above the rest.
How We Test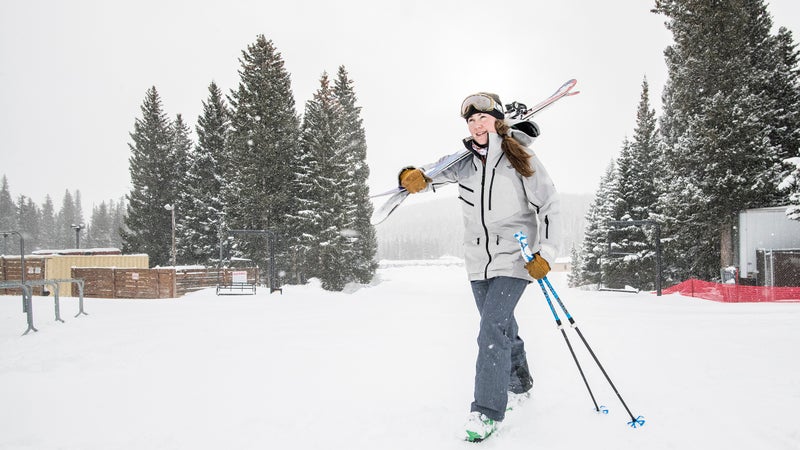 I've been a ski-pants connoisseur for years, trying on every pair I could get my hands on in stores, at trade shows, and out of friends' closets. So when it came time to put together this review, I had a pretty solid idea of where I wanted to start. With ski pants, I look for good fit, freedom of movement, and functionality and practical details that match the mission.
I started with some two dozen pairs of ski pants and narrowed those down to ten over the course of last winter. The pants that made the cut did so because their features enhanced my overall experience. While some have more bells and whistles than others, all of the ones here fill a different niche.
Each year, Outside reviews the best ski apparel of the new season in our annual Winter Buyer's Guide. This review is a bit different. It doesn't just cover the year's best new products but rather encompasses all of the top ski pants and bibs currently on the market—whether they've been out for two years or ten. We've broken down our reviews down into the following categories:
Best Ski Bibs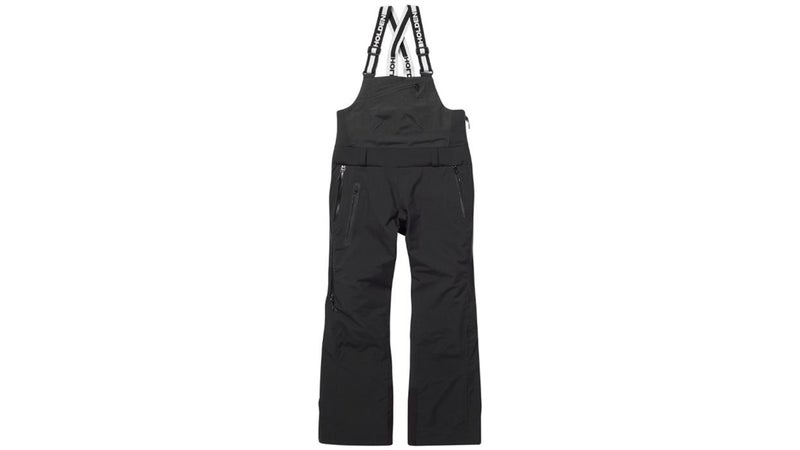 Holden Sierra ($349.95)
Fit: A little extra room through the hips and thighs, with adjustable shoulder straps
In my mind, one design consideration can make or break women's bibs: how easy—or impossible—it is to pee while wearing them. The Sierra's pee rating? Extremely high. There are two different ways to get your derriere out of these pants without undoing the shoulder straps. The first is the drop seat. Starting at the right knee, a zipper runs up the thigh and over the top of your bum. Unnzipped, the flap hangs down toward your knees, allowing you to pee freely. The second option (and probably not intentional by the design team) is a double zipper on the left leg that runs from the knee to the top of the pants. Unzip it from the bottom to pull the pants to the side, and do your business. When nature is not calling, that zipper, and a similar one on the right leg, double as vents.
Initially, Holden's urban, fashion-forward design sensibility made me wonder if the Sierra would be too fashionable to ski well, but it outperformed other bibs in every instance. The fit is dialed with a straight cut that's roomy in the legs and hips without being baggy, and it has just enough stretch to make uphill strides feel unencumbered. The pant legs were slightly shorter than some of the others I tested, which worked perfectly for my five-foot-six frame, and adjustable, stretchy shoulder straps allowed me to get the upper-body fit just right. Skiers with extra-long legs might try the Stio Environ (reviewed below) for longer inseams.
Touring in the Sierra is a dream. The bibs are light and breathable enough to handle a good sweat, with no moisture buildup, thanks to a waterproof-breathable nylon-shell material. When temperatures at Jackson Hole Mountain Resort in Wyoming rose to above freezing and our crew went from snow bunnies to wet blankets, the Sierra fared better than anything else my non-tester ski buddies and I had with us. While my jacket absorbed moisture, the bibs came out dry. I even spent 15 minutes sitting in the wet snow to be sure it wasn't a fluke.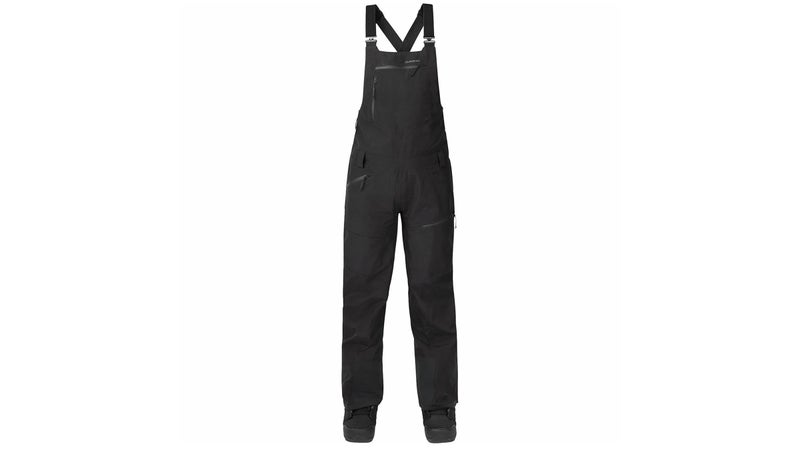 Runner-Up: Dakine Beretta Gore-Tex 3L ($450)
With full Gore-Tex construction, zippered outer-leg vents, articulated knees, and plenty of pockets, the Beretta is a strong contender for a do-it-all pant. The drop seat offers similar functionality to the Sierra, but a slimmer fit in the thighs and a bit more room around the midsection made the Beretta the second choice for my strong skier legs.
---
Best Resort Ski Pants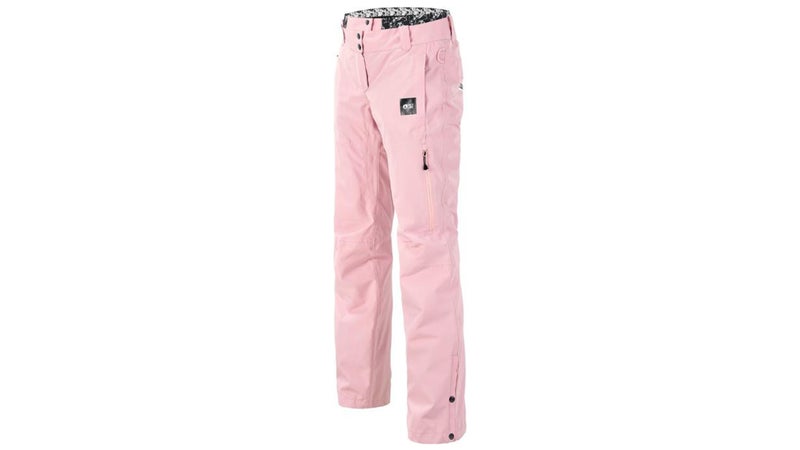 Picture Exa ($190)
Fit: Fitted through the hips, with straight-cut legs
Picture calls the fit of the Exa "regular," which loosely translates to just enough room to move comfortably. The interior is lined with a supersoft fleece, best paired with a thin, slinky-textured base layer (or nothing at all), to minimze friction with the pile. The Exa's 40 grams of synthetic fill took the edge off cold days, like when temperatures at Colorado's A-Basin dropped to the midteens.
On another, warmer day, at Eldora, outside Boulder, Colorado, temperatures hovered around 28 degrees, with not a single cloud in the sky. Exa's dual thigh vents, which run from just below the hip to the knee, were clutch in dumping heat after a few hard mogul runs. And though insulated pants are typically not intended for touring, I did take the Exa for a quick spin on a piercing four-degree day. The pants managed my body temperature from start to finish, with no sweat buildup inside, thanks to a waterproof-breathable, PFC-free membrane.
A nonremovable powder skirt , which extends about five inches above the waist of the pants, looked cool at first but later ended up straddling a line between unnecessary and annoying (I inadvertently wore it with a jacket that also had a powder skirt). The stretchy band at the top felt uncomfortable more often than not. But that's a small inconvenience for an otherwise top-notch pant made by a company with a mission to create organic, recycled, and bio-sourced ski apparel. The final clincher? In a world where we've come to expect $500 price tags on outerwear, the Exa retails at a mere $190, making it the most affordable pant I tried.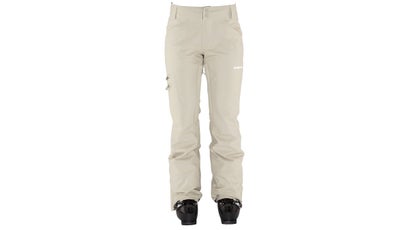 Runners-Up: Spyder Women's Winner Regular GTX ($249) and Armada Whit ($199.95)
The Winner is perfect for the weekend-warrior resort skier: 40 grams of synthetic insulation keeps you warm on long lift rides, and a two-layer Gore-Tex laminate with DWR keeps the weather at bay (though the pant doesn't breathe as well as the Exa's three-layer construction). The Winner is fitted through the hips and waist, making it ideal for narrow-waisted women.
While not insulated, the Whit pant has mesh lining through the legs and fleece on the bum to take the edge off cold days and make riding sans base layer more comfortable. The fit is slim and tailored, flared through the bottoms, and flattering to boot.
---
Best Eco-Friendly Ski Pants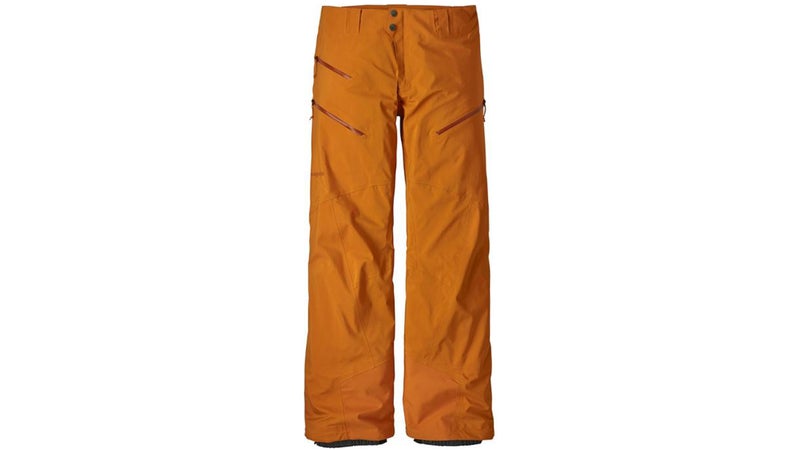 Patagonia Women's PowSlayer ($549)
Fit: Roomy through the waist, hips, and thighs
I recently ran into a Patagonia employee who informed me it would be best for the environment if we didn't buy new ski pants at all. Point taken. That being said, skiing in jeans isn't going to work, so if you've loved your last ski pants beyond repair, then choosing an eco-friendly replacement is a solid move. Patagonia has set the bar for the outdoor industry's environmental efforts, laying the groundwork for companies like Picture and others to join the movement. The PowSlayer is made from 100 percent recycled-nylon plain-weave Gore-Tex Pro. Patagonia also takes responsibility for the entire life cycle of its products—meaning the company will repair or recycle them when the time is right—so you can feel good knowing you're leaving a gentler footprint.
Thanks to all the well-known benefits of Gore-Tex, the PowSlayer is the perfect choice for backcountry powder quests. And when the morning temperature at the top of Jackson Hole's tram read zero degrees, I doubled down on base layers and was thankful for the pants' ability to block wind. To be fair, the PowSlayer is not intended for in-bounds lift riding, but I was comfortable for the entire day.
I welcomed the PowSlayer's roomy cut when making uphill strides (fair warning: it's also arguably loose enough to warrant sizing down.) The pant affords complete freedom of movement, even with pockets packed to the brim. Two deep pockets on the thighs held everything but the kitchen sink, including snacks and sunscreen, without making me look like a hoarder, and one smaller pocket closer to the right hip holds smaller essentials, like lip balm. A third thigh pocket has a built-in beacon sleeve—and of all the pants in this test, the PowSlayer was the most comfortable for carrying a beacon in the thigh pocket (no awkward bunching, no tight spots) while skinning uphill. An adjustable, built-in waist belt also came in handy. The hefty $549 price tag is easier to swallow when you consider that everything about this pant, from performance to sustainability, is on point. Finding a pair on sale leaves you no excuse not to invest.
---
Best All-Around Ski Pants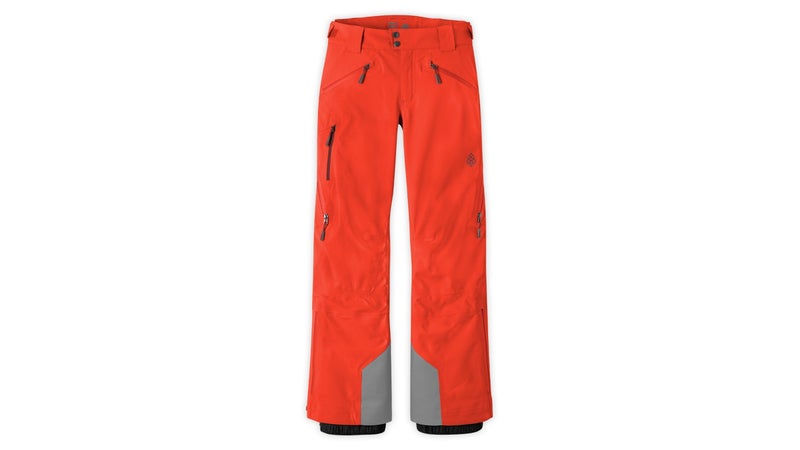 Stio Women's Environ ($379)
Fit: Long inseam, with a roomy, straight-leg cut
Jackson-based Stio is no stranger to long winters full of everything: touring, sidecountry, resorts, après, and the occasional backyard sledding session. So it stands to reason the company would design a pair of ski pants that do it all.
The Environ gives you space to layer but is streamlined enough to avoid bagginess, which meant it was equally at home on uphill missions near Jackson and in-bounds at Colorado's Copper Mountain.
These pants are looser through the hips than others we tested, and they have a slightly higher waistline, so the adjustable band stays out of the way of your pack's hipbelt. With legs that are a touch longer than competing pants, they're best for tall lady shredders (though they're still manageable for shorter women). Fit tip: wear a belt if the waist doesn't stay above your hips, otherwise the sagging will slightly restrict uphill strides.
Two decent-size pockets on either hip come in handy for snacks. And thanks to the roomier cut, they're are actually usable. One smaller vertical-zip pocket on the midthigh is a bonus for an RFID ski pass or similar-size necessity. Unsnap the internal snow gaiters to get your boots off even quicker at the end of the day, and thank the snow gods for Cordura reinforcements on the cuffs, which will keep the Environ in good shape after you wear it all season.
Online perk: Stio's website is über shopper friendly, including photos and videos to illustrate the pant's fit. The brand also provides the model's height, hip, and chest measurements, to give you a solid idea of what to expect. No more shooting in the dark.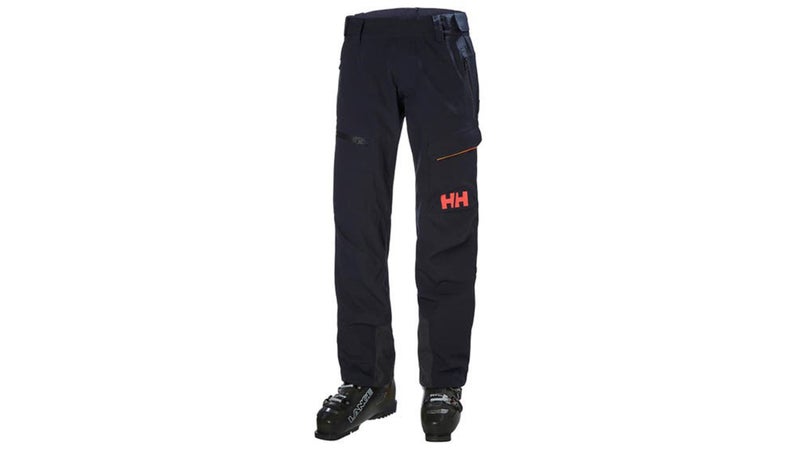 Runner-Up: Helly Hansen W Aurora Shell 2.0 ($350)
Hiking up Highland Bowl, in Aspen, Colorado, was a breeze in the Aurora. The fit is relaxed and roomy, and stretchy three-layer fabric kept weather at bay while keeping this sweaty hiker dry. Five pockets give you more options than you'll ever need for storage.
---
Best Ski-Touring Pants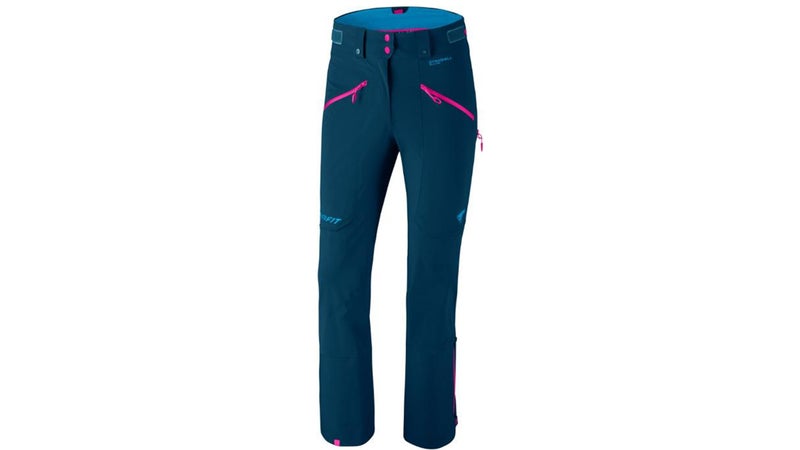 Dynafit Beast Hybrid Women's ($349.95)
Fit: Fitted through the hips and thighs, with a higher waist 
Dynafit is notorious for owning its European roots (read: tight-fitting outerwear) and the Beast Hybrid follows suit. Personal aversions to slim-fitting outerwear aside, as soon as I made ten uphill strides in the Beast, I fell in love with it. The extra-pliant material felt like it was a part of me. With no constricting outerwear, I was efficient and fast with each step—no maxing out at 80 or 90 percent of my stride. On the downhill, I was surprised to find that the fit didn't restrict my range of motion in tight trees and wide-open turns alike.
To be transparent, I have what you might call skier legs. Skinny-legged folks might find that the Beast fits a bit looser fit from hip to knee, but it would still be the most slim-fitting pant in this roundup. The cut in the hips and waist is comfortable without being too constricting, and the pants become slightly wider at the bottom to easily fit over ski boots. The fit lends itself so well to touring performance that you might opt out of looser-cut bottoms for life.
The Beast is an ideal hybrid between a soft shell and a hard shell. Knees, thighs, and rear end are reinforced with water-repellant and wind-resistant three-layer fabric, for a high level of performance through all weather conditions. The rest of the pant is soft shell, for comfort and breathability.
While moisture built up inside my jacket (not a Dynafit) on an early-morning skin at Eldora, I stayed dry from the waist down. Adjustable cinches let you customize fit around your waist. Two pockets on the front are big enough for snacks or a phone—if your legs are lean enough for them to be usable.
Runner-Up: Eddie Bauer Women's BC Fineline Bib ($399) 
These bibs are ultra comfortable for long days, with hard-shell material for storm days and soft-shell material around the torso for when things get toasty. They're also some of the most lightweight bibs we've seen, with plenty of room through the hips.
---
How to Buy Ski Pants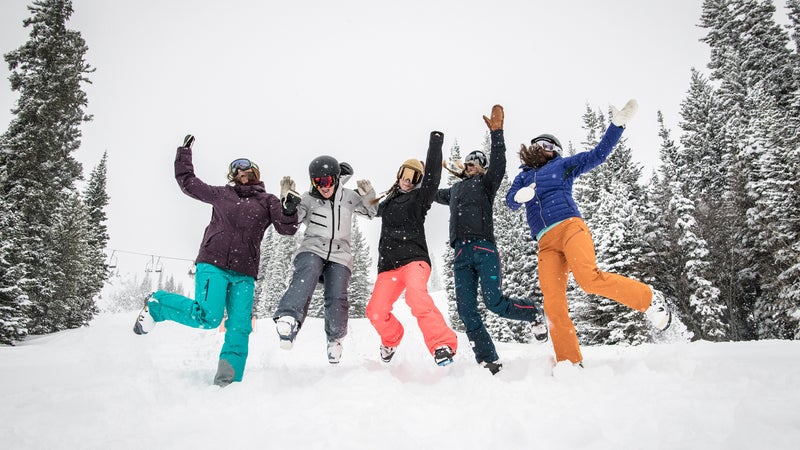 After spending time in so many different ski pants, one factor really rose to the top: fit. Bad fit overrules everything, no matter how much you like a pant's fabric or features. While brands do try to accommodate different body types and fits, ultimately, you won't know for yourself until you try things on.
Look for pants that meet your needs. Do you spend all your time ski touring? Search for something breathable that won't restrict your movement. Or do you prefer lift-served skiing? Find something comfortable, with a hint of insulation. You'll be happiest in pants built to support your agenda, whatever that may be. Most important, all hail the midseason sale.
That said, there are a few basic terms and specifications you should understand before you start shopping.
Waterproofness and Breathability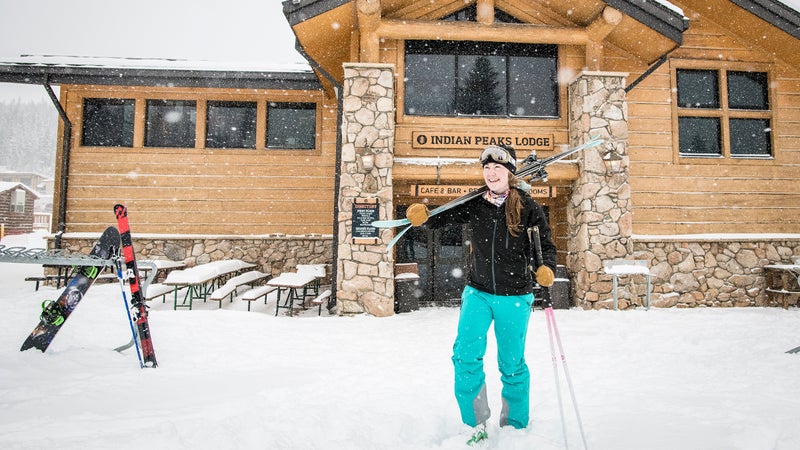 Waterproofness and breathability are typically signified by a series of numbers that look like this: 20k/20k or 10k/10k. The first number relates to the level of waterproofness, the second to breathability. For simplicity's sake, just remember that higher numbers indicate higher levels of both. (A 20k/20k fabric is both highly waterproof and breathable, a 10k/20k fabric is moderately waterproof but highly breathable, and a 10k/10k fabric is moderately waterproof and breathable.) The typical range for both is 5k to 20k.
The more waterproof and breathable an item is, the more technology is involved, which translates to a higher price tag.
Soft Shell or Hard Shell?
Most ski pants on the market are hard shell, which is more often than not the clear choice for any skier, since hard-shell pants offer much higher waterproof ratings. Soft-shell pants, by comparison, offer less waterproofness but more breathability, making them a better choice for uphill skiers. In general, hard-shell pants are better for resort skiing or in adverse (read: wet, windy, sloppy) conditions.
Bibs or Pants?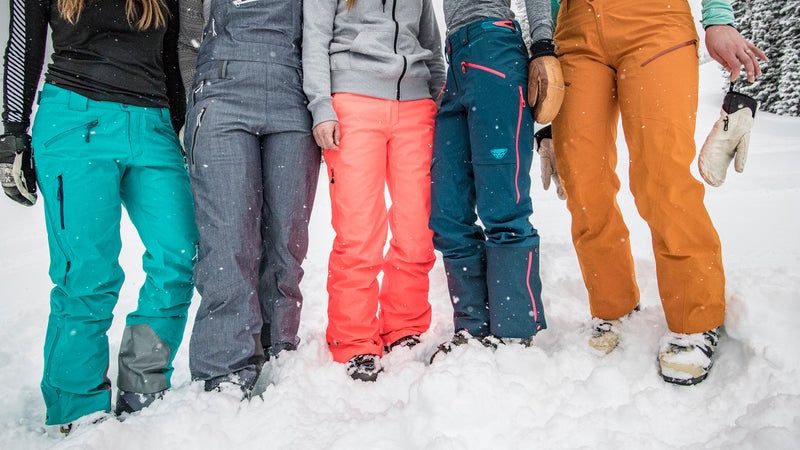 Ultimately, this comes down to personal preference. Bibs prevent snow from creeping into places you don't want it to but can make it harder to answer nature's call. If you opt for pants, consider a jacket with a powder skirt to help keep out snow.
Bells and Whistles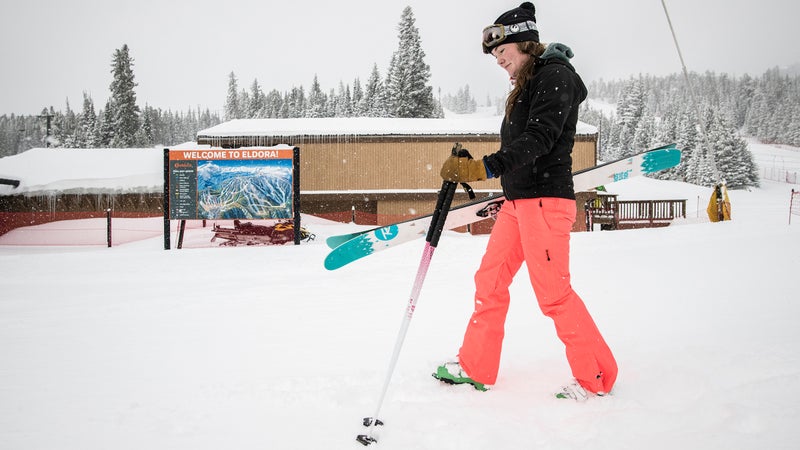 Zippers
While not necessary in all instances, hardcore skiers who live in their outerwear daily will appreciate details like weather-sealed zippers or garages to keep the pull from flapping around.
Cuff Guards
Reinforced cuffs extend the life of your pants. Look for durable patches on the inner ankles. These will stand up to ski edges and, if you're into ski mountaineering, crampons.
Belts and Adjustable Waistbands
The last thing you want is a pair of pants that offers no flexibility in the waist. Look for either belt loops, a built-in belt, or adjustable Velcro tabs on the waist.
Pockets
When trying pants on, don't neglect the pockets. Fill them with ChapStick, a phone, a granola bar, a pair of gloves—anything that will reassure you that they'll actually be usable. This is especially vital for tighter-fitting pants.
Lead Photo: Sarah Jackson