Building a Better Helmet
After a long period of stasis, helmet design is about to get much better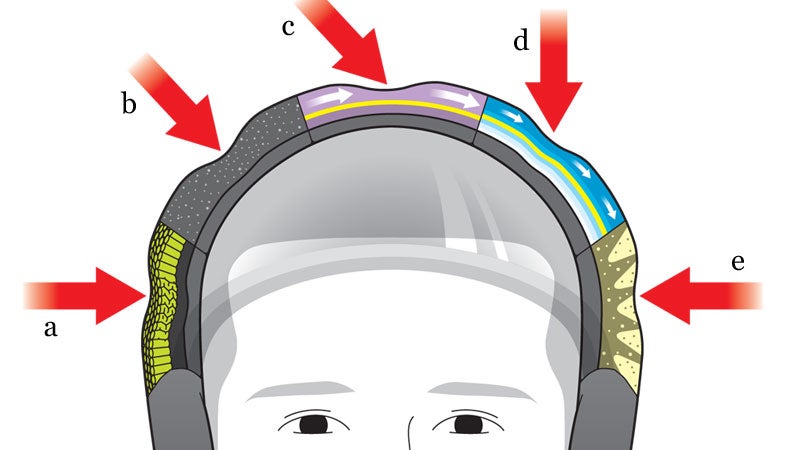 Chris Philpot
Heading out the door? Read this article on the new Outside+ app available now on iOS devices for members! Download the app.
Since the early 1990s, helmet design hasn't changed much: it's basically expanded polystyrene foam (EPS) stuffed inside a polycarbonate shell, designed to withstand a single major impact. But that's changing. Gear manufacturers have been pouring millions of dollars into developing new technologies that may mitigate impacts up to 60 percent better than conventional helmet designs. Among those leading the charge is the snow-sports industry, which has come up with ways of absorbing specific kinds of blows, from high-speed tree collisions to terrain-park wipeouts. Look for the innovations below in helmets available this winter.
High-speed tree collisions to terrain-park wipeouts
A. Aerocore
A polymer called Koroyd replaces foam in some Smith ski helmets, as well as a Smith ­mountain-bike helmet debuting next spring. The material compresses on impact, dispersing ­energy away from the area of contact. ­Aerocore has been shown to reduce forces as much as 30 percent better than EPS.
B. Vinyl Nitrate
Developed by Giro, vinyl nitrate is a soft foam used in the company's Combyn ski helmet, which has a flexible shell. The helmet absorbs both low-and high-velocity impacts, and the shell can take multiple hits without cracking, making it the only model designed for reuse after a hard shot to the head.
C. MIPS
By separating the outer shell and inner liner with a layer of plastic, MIPS (multidirectional impact protection system) is the first helmet technology to address rotational forces. It allows the shell to move independently, absorbing up to 50 percent of rotational acceleration. MIPS is already in helmets from POC, Rossignol, and Scott.
D. HIP-Tec
This California company worked with Johns Hopkins University to dampen forces caused by high- and low-speed falls and rotational impacts by up to 65 percent. The system uses multiple layers: a rigid shell, medium-density EVA foam, and soft EPS. Debuting in January, it will be worn by U.S. aerial skiers in Sochi.
E. Conehead
Cone-shaped pockets of firm EPS foam crush on impact, compressing softer foam pockets on either side. This disperses the energy of a blow laterally instead of vertically. The technology will debut in Kali Protective's Akala helmet this winter.
Tech Essential: ICEdot Sensor – This silver-dollar-size ­device attaches to the back of your helmet and pairs with your smartphone. Hit your head hard enough and the unit triggers the ICEdot app to sound an alarm; fail to switch it off and your GPS coordinates are sent to an emergency contact.