Gear Guy
Can you help an intermediate skier scope gear for winter?
I feel overwhelmed by all the different types of ski equipment. As someone who skis hard maybe a dozen times a year on mostly East Coast snow (probably once out west, too), what kind of boots, bindings, and skis would work for me? I know I'm a little early here, but I'm already dreing of that first snowfall. Ron Washington, D.C.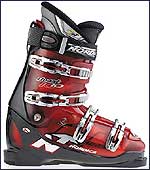 Heading out the door? Read this article on the new Outside+ app available now on iOS devices for members! Download the app.
You don't tell me your ski level, so I'll peg you as a high intermediate, possibly with aspirations to greater things.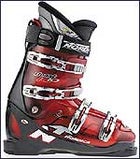 Nordica Beast

Of course when buying ski gear, it all depends on the amount of dough you wish to drop, as even a basic boot/binding/ski setup runs $600 or more. That, and the type of snow you expect to encounter. Back east, of course, you get a lot of hard machine-made snow, so you want a ski that carves well in crud and ice. In the west, you're more apt to run into powder, which requires a little more flex in the ski. So that's a tough combo for one ski.


Still, I'd say any good-quality "all-mountain" ski would suit you well. An example: the Salomon Streetracer 9 ski ($600; www.salomonski.com). They tip a little in the direction of favoring hard snow, but won't let you down when the stuff is softer. Good all-around ski, with a big sidecut for easy turn initiation. Take a look as well at the Völkl 7-24 EXP ($650; www.volkl.com), a true all-mountain ski that nicely balances stiffness and flex, along with a new sidecut design that Völkl bills as helping maintain edge contact. For $200 more you can get the 7-24s with a ski-specific Marker binding.
For boots, probably look at something in the "performance" line—not entry-level, nor an over-turned racing boot. Nordica Beast 10 boots ($369; www.nordica.com) will match up well with either of the above skis, giving you good stiffness for easy skinning but also decent comfort. I like Tecnica boots, and the Rival X10 Ultrafit ($525; www.tecnicausa.com) would work great. It comes with a heat-molded liner for better fit. And fit is everything, so take the time to find a boot that fits great.
The bindings should match up with the ski and boot. Candidates would include Marker Titanium 1200s ($200; www.markerusa.com); Rossignol Scratch 100s ($180; www.rossignol.com); or Salomon's SA10s ($160). All offer good performance at a reasonable price.