Gear Guy
Do you think a helmet for snowboarding is a must?
Not so much a question, more a comment about ski helmets. I'm a ski instructor and the following is my mantra: If I'm skiing normally, I don't really use a helmet. If I plan on skiing in the park, I wouldn't go without it. However, when it's 20 degrees below and I still have to teach, the helmet keeps me way warmer than any toque, any day. Generally, you know it's cold if I'm teaching in my helmet. Also, helmets for snowboarding are a must. Sometimes, a person just falls way too fast to prevent cracking your head on the hard pack. ber Toronto, Ontario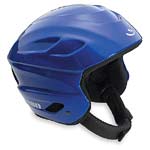 Heading out the door? Read this article on the new Outside+ app available now on iOS devices for members! Download the app.
I don't disagree with you. Several other folks also weighed in on this issue, advocating regular helmet use. One, though, cited a somewhat extreme case—snowboarding on very hard, icy snow through trees. With conditions like that, I think a helmet is certainly appropriate. Indeed, perhaps helmets should be worn whenever one is snowboarding, as the angle of fall one takes is a little different from that taken by a skier.

Giro Camber:

Another reader suggested a helmet would offer protection from flying skis when a skier takes a "ski sale" kind of fall. I don't dispute that point of view, either. And certainly, a hard-shell helmet provides a more windproof and probably warmer way to cover your head, particularly in very cold conditions.
That said, I still don't think your average skier needs to rush out and plunk down $100 for a helmet. Yes, head bangs certainly occur on the slopes, but in contrast with activities such as bicycling or rock/mountain climbing, I'm not sure helmets confer an exceedingly real benefit to the recreational skier. Speaking personally, in all the years I've been skiing—and falling—I've never really felt that a helmet would have been of much value in this situation or that. Helmets when biking and climbing, though, have been called into action lots of times.
Generally, a common-sense approach is best. I think everyone just needs to make a judgment based on his or her own comfort level, the ski conditions and terrain, and what seems to make sense.