Trevor Kennison Helped Design This Adaptive Apparel for Sit Skiers
Eddie Bauer's award-winning Flyline outerwear was designed from the ground up for hard charging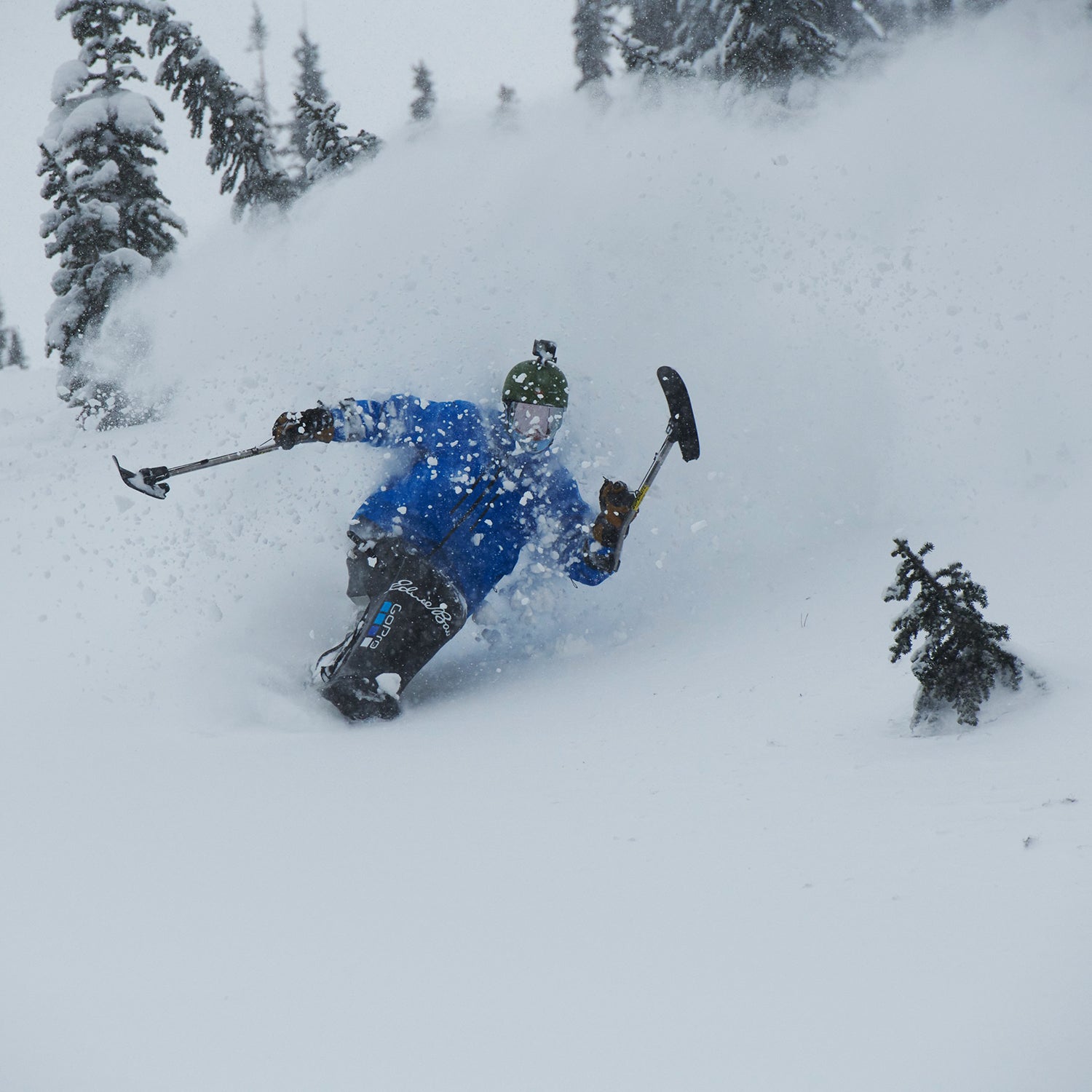 Bruno Long for Eddie Bauer
Heading out the door? Read this article on the new Outside+ app available now on iOS devices for members! Download the app.
In December 2021, it had been snowing for weeks in the Monashee Mountains of British Columbia when Trevor Kennison arrived at Eagle Pass Heliskiing eager to make some early-season powder turns. Kennison, 28, is a paraplegic from Winter Park, Colorado, who attacks slopes on a sit ski, an adaptive device with a single board attached to a bucket chair and two outriggers strapped to his forearms. He lost the use of his legs after breaking his back in a snowboarding accident near Vail in 2015 but has gone on to become one of the raddest skiers in the sport. His 65,000 Instagram followers know him as #sitskiboss, a moniker he earned, in part, after hucking into fame at Kings and Queens of Corbet's, a freeride event in Jackson Hole, Wyoming, in 2019.
Kennison, a brawny, bright-eyed guy with a mop of brown hair, charges hard, but his gear hasn't always been able to keep up. Very little technical outerwear is designed for sit skiers, so he has spent much of the off-season collaborating with his main sponsor, Eddie Bauer, to develop apparel that caters specifically to adaptive skiers like him. The result—limited-edition bibs ($499) and a jacket ($549)—launched to the public January 26.
His day out at Eagle Pass in December was a final, full-conditions test drive and the snow was waist-deep and still dumping. Because Kennison rides lower than standing skiers, he porpoises through the powder in conditions like this, almost disappearing completely as he plunges into each turn. When he finally comes to a stop at the bottom of a run, he laughs and shouts—snow is packed in every nook and cranny of his kit.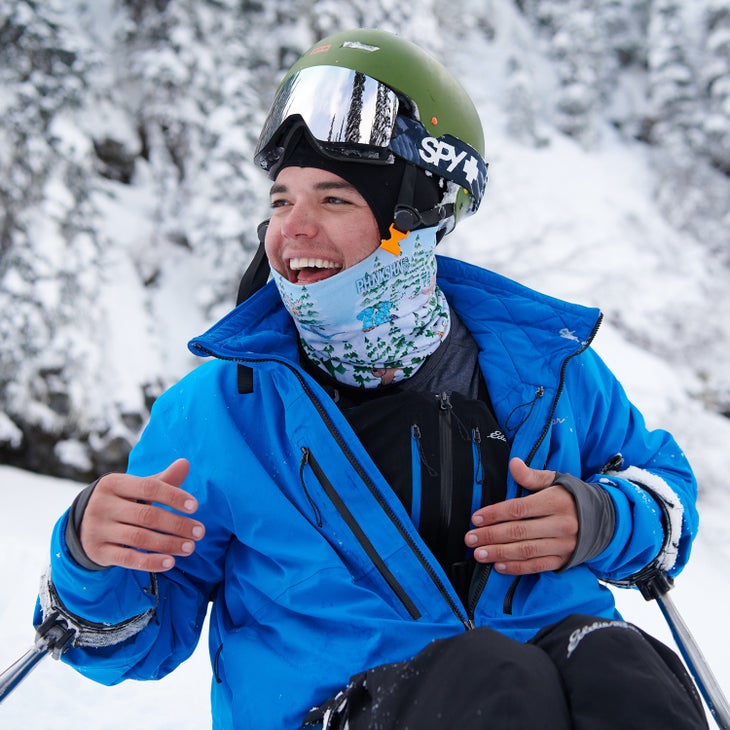 Building high-performance outerwear for sit skiers is far more challenging than it might seem. The ensemble for Eddie Bauer, dubbed BC Flyline, consists of the jacket and bib overalls, but similarities to traditional ski clothing end there. "The most difficult part was the shaping," says Dave Mertes, the project manager for Flyline. "We needed to craft the pieces for a sitting-only position."
While a few small European companies produce technical outerwear for sit skiers, those garments often require custom fitting for a finished product. Engineers at Eddie Bauer decided to start from scratch to make an off-the-line kit for hard-ripping sit skiers, with heavy input from Kennison. Creating a functional fit didn't just enhance performance and comfort, however; since spinal-cord injuries limit sensation below the waist, sit skiers can develop skin sores due to unnoticed irritations—a problematic issue during cold, damp winter sports.
"If I develop a pressure sore on my butt, I can be out for months," Kennison told me. "I have to let it heal completely before I can start skiing again."
That meant the Flyline kit needed to accommodate the contours of a seated skier while eliminating seams, pockets, zippers, and any excess fabric that could bunch up in the chair. Early prototypes from partner factories in Asia didn't incorporate sufficient articulation, so Eddie Bauer turned to its in-house pattern maker, Leanne Walters, to refine the design. Under normal circumstances, Walters would have met with Kennison in person, allowing her to drape fabric and build patterns directly off his body. But the pandemic prevented that, so she had to get creative. Walters used her husband as a model to approximate the correct shape, draping him with fabric panels while he sat on the couch watching TV. The method got them close enough; when the prototype was shipped to Kennison for testing, it only required minor refinement to get it exactly right.
With the form and proportions dialed, the designers turned to other primary issues, namely how to keep the wearer warm and dry. Sit skiers tend to be less aerobic than standing skiers, and thus generate less body heat, so Eddie Bauer lined the bibs and jacket with polyester insulation. To keep Kennison dry, it built the kit out of the brand's proprietary WeatherEdge Pro—a seam-sealed, waterproof-breathable material used in its flagship outerwear.
Other unique details followed. Kennison wears winter hiking boots to ski, so the pant legs taper down to the boot cuff, with insulation extended to his ankles. The top of the bibs rises almost to his collarbone, to help keep the shoulder straps from slipping off. The front of the jacket is trimmed well above his waist to avoid bunching. And the sleeves are cut long, similar to jackets made for alpine climbing, because Kennison requires extra range of motion to swing his outrigger poles.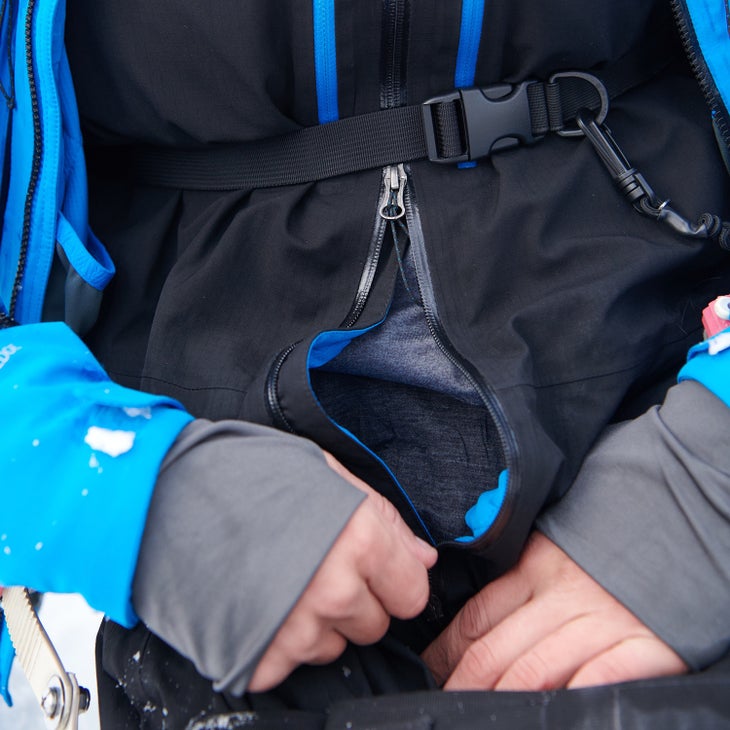 Eddie Bauer is producing 100 BC Flyline kits this season, 20 of which will go to the High Fives Foundation, a nonprofit based in Truckee, California, that supports mountain athletes with serious injuries, including many sit skiers like Kennison. Mertes says they don't really know how big the market may be for this type of apparel, but making the outdoors more inclusive takes precedence over profit. "If we want to be outfitting people for these kinds of activities," he says, "this is just the cost of admission."
The Flyline kit passed the Canadian Rockies powder stress test with aplomb, keeping Kennison warm and dry in the deep conditions—and it has continued to perform. He wore the bibs and jacket when he made history at the Winter X Games as the first adaptive athlete to hit the event's big-air jump in Aspen earlier this month, and he'll sport them on a return trip to Eagle Pass in the spring to film with Level 1 Productions. On January 27, the kit won the Outdoor Retailer Innovation Awards' Product of the Year. Whether throwing a huge backflip in the B.C. backcountry, bashing gates on a slalom course, or cruising groomers at Winter Park, this outerwear lets him focus on what he does best: flying down snow-covered mountains. "I'm pretty hard on my gear," Kennison says with a laugh. "I know if it'll work for me, it'll work for anyone."
Lead Photo: Bruno Long for Eddie Bauer