Four Cold-Weather Boots That Will Keep You Warm
Our Minnesotan travel writer spent a year looking for good snow boots. She finally found them.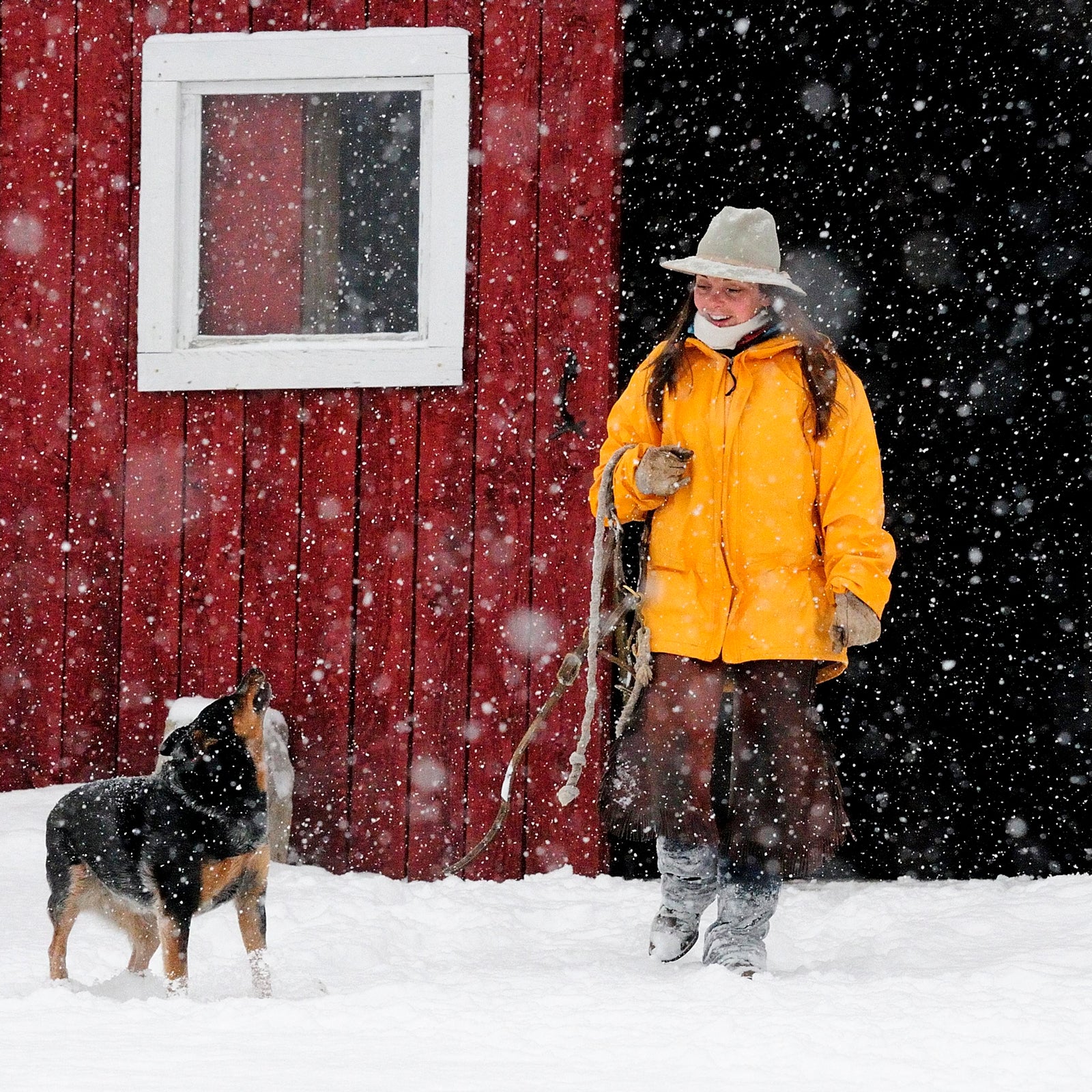 Heading out the door? Read this article on the new Outside+ app available now on iOS devices for members! Download the app.
In 2010 I spent a month at Mount Everest's Base Camp in Nepal. As part of a summit-expedition team, my assignment was to write news, both for Outside and other publications, from the comfort of a tent pitched at the terminus of the Khumbu Icefall.
Say what you will about Base Camp, but I was there to do a job, and I found my work space to be stunningly beautiful and surreal. Where else can you wake to the rumble of an avalanche at dawn, check out expedition setups straight out of James Bond, and stumble across artifacts (like a human arm) emerging from the melting glacier? Some mountaineering companies stake down absurdly luxurious glamping spreads, but ours wasn't one of them. That's why I grew attached to my Ugg boots. It gets cold at 17,500 feet elevation, and those boots kept my feet warm.
Last January, my old Uggs died, their suede uppers worn so thin that it finally slit at the seam. I was eager to buy the exact same pair, but soon learned that my Everest model had been out of circulation for years. To my dismay, I discovered that the soles on the latest Uggs seemed more suited for an airport frequent-flyer lounge than the snow and ice at my home in northern Minnesota, where temperatures frequently dip below zero. So I went on a hunt to find a replacement. Of course, not everyone lives in a polar vortex, which is why I tested boots in temperatures ranging from 25 degrees to minus 20. Ultimately, I found four that will keep anyone warm and upright in harsh winter weather.
---
Best for New Snow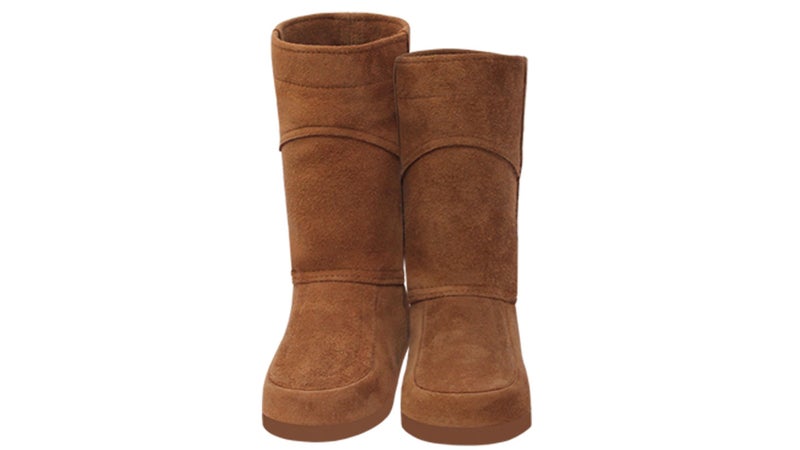 Steger Mukluks Klondike ($250)
Weight: 2 pounds per pair
Temperature Rating: Minus 30 degrees
In 1985, Patti Steger started sewing mukluks in her Ely, Minnesota, home after a ten-month Arctic expedition with her husband, polar explorer Will Steger. She modeled her lightweight, 11-inch-tall, moose-hide Klondike after the footwear their Inuit friends wore. The warmth is the result of a flexible rubber sole. Because your feet can flex easily in these and more constantly stay in motion, blood flows better to the distant appendage than it might otherwise in a stiffer structure, creating heat. Inside the boot is a polypropylene-lined wool felt liner, and it comes with an extra felt insole so you can double up on the coldest days. Steger wears her boots without socks, because she swears they're warmer this way, so I tried that on a minus-18-degree morning walk to watch the sun rise over Lake Superior. The Klondike kept my feet cozy for an hour. This particular model lacks an aggressive sole, so it can be slippery on icy surfaces. For a grippier version that also works in deep powder, try the higher Arctic, the go-to boot for nordic-skiing Olympic champion Jessie Diggins.
---
Best for Hiking on Hardpack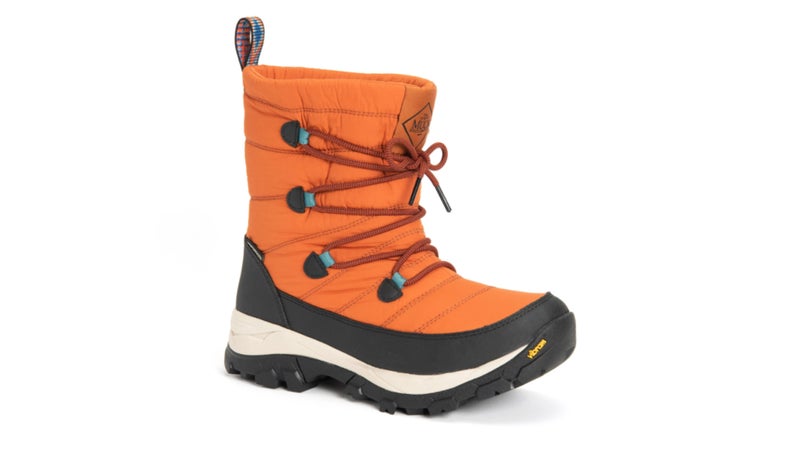 Muck Women's Arctic Ice Nomadic Sport ($180)
Weight: 2.25 pounds per pair
Temperature Rating: Minus 20 degrees
I gravitate toward boots that I can slip on in a second, so I was thrown at first to see that Muck's new Nomadic Sport has laces. Thankfully, a rear pull tab means they're still cinch to yank on without untying. I quickly learned that this boot is a lightweight hiker fit for Antarctica, with a 100 percent waterproof fabric upper, a thermal fleece lining, and a chunky Vibram outsole. My longest and coldest test in them was a six-mile hike up a frozen river north of Duluth when it was minus four degrees out. With the help of two pairs of ski socks, my feet stayed toasty without getting sweaty (an included antimicrobial, wicking footbed insert helped). The deep-lugged outsole, which is made from a rubber compound specially designed to grip on slippery surfaces, crushed it on the icy hardpack.
---
Best for Doing Chores in Above-Zero Temperatures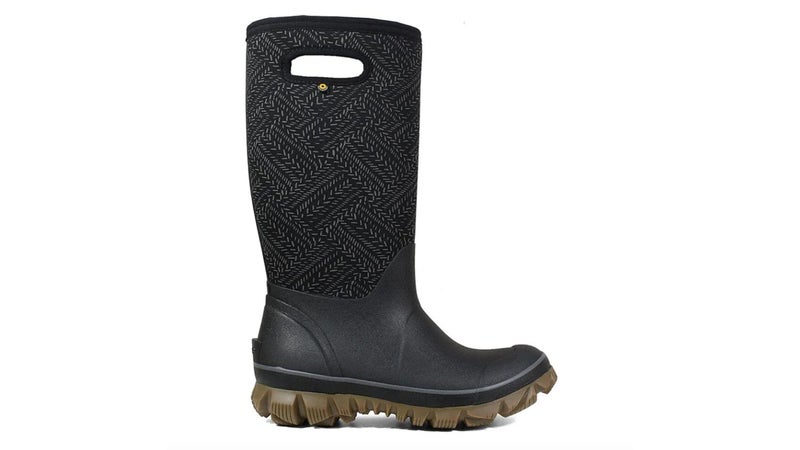 Bogs Whiteout Fleck ($150)
Weight: 3.2 pounds per pair
Temperature Rating: Minus 58 degrees
The beauty of Bogs is how easy they are to pull on, thanks to big dual handles on the uppers. They're an efficient, sturdy companion for everything from grocery store runs to mucking stables. Since we lose a lot of heat through the bottom of our feet, and the Whiteout is meant to wear in cold weather, Bogs outfitted it with a thick, amply cushioned insole that acts as an extra barrier to ground chill. Its 100 percent waterproof, 13-inch-high upper, which is insulated with seven millimeters of neoprene insulation, creates additional warmth and protection in high snow. I wore the Whiteout over several days, including on a five-mile, snow-packed, occasionally icy trail through the woods in temperatures that ranged from 25 to minus 5 degrees. The heavily lugged, slip-resistant outsole handled the terrain like a boss, but on the negative-five day, my feet started to numb, making me a little suspect of the generous minus-58-degrees rating.
---
Best for Icy City Sidewalks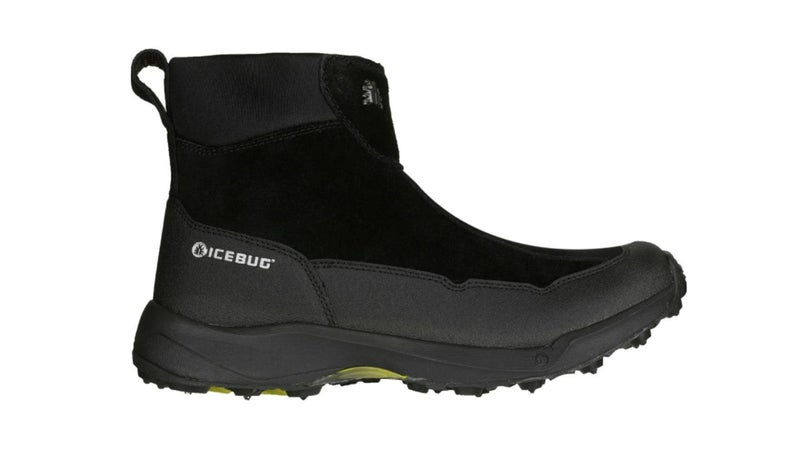 Icebug Metro 2 Women's Bugrip ($190)
Weight: 2.1 pounds
Temperature Rating: 15 degrees
If your nemesis is ice, look no further than Icebug. This Swedish company is known for its traction technology in a range of kicks, from running shoes to hefty winter boots. Because I walk on icy city sidewalks every day, I opted to test its bestselling Metro 2. With an ankle-high, water-repellent, fleece-lined suede upper and a recycled polyester insole, the urban "shootie" is ideal for sharply dressed urbanites who don't want to break a hip. The studded version comes outfitted with 16 carbide-steel studs. They're positioned evenly throughout a special rubber compound that's flexible enough to allow each stud to grip independently, depending on where you weight your foot with each step. After testing the studded version over multiple days on an ice-packed city creek trail with steep ups and downs, I found that the shoes gripped as well as hiking crampons. My toes froze after about a half-hour on a subzero day, but the shoe isn't rated for subzero temperatures.
Lead Photo: Beck Photography/Cavan