Goggles or sunglasses: Which is better on the mountain?
I'm a lot more comfortable in sunglasses than in goggles when skiing. But my buddies tell me that I should be wearing goggles. Are they right? Ad Jackson, Mississippi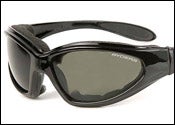 Heading out the door? Read this article on the new Outside+ app available now on iOS devices for members! Download the app.
It really depends on the time of year. During the winter months, or when it's snowing or the snow is deep, it's pretty clear to me that goggles are better. When it's cold, they help keep part of your face warmer, for one thing, not to mention protecting your eyes from cold and flying snow. They're also easier to keep clean—if snow gets on the goggles, a brush with a hand usually cleans them off sufficiently so that you can see. But with glasses, oof, snow gets on both sides, and perhaps into your eyes, and you're functionally blind.
Ryders' Glide sunglasses

Glide sunglasses
Which goggles you get is largely a function of budget. Scott's Split Six goggles ($59; www.scottusa.com) are perfectly fine and have a light orange tint that helps increase contrast when light conditions are flat. They also have an anti-fog treatment on the inner lens. Smith's Phenom Spherical Polarized Goggles ($170; www.smithsport.com), on the other end of the budget spectrum, help cut through haze and reduce glare on bright days, have dual lenses to reduce fogging, and have an excellent fit.
Come spring, glasses might be in order—the one caveat being that goggles will always offer better eye protection should you take a tumble and ice chips, skis, and poles start to fly around. Glasses are lighter, cooler (in the temperature sense), and, well, cooler in the style sense as well. You'll want a pair that gives good coverage on bright days, so you don't get sunburned eyeballs from transient light.
Ryders' Glide glasses ($39; www.ryderseyewear.com) would be a good choice for skiing. They offer 100 percent UV protection, have gradient lenses that are darker near the top, offer great coverage, and have light padding around the frames. They're an excellent buy. I'd also recommend the Oakley Canteen ($95; www.oakley.com), which has dark amber lenses, good eye coverage and side protection, and grippy earpieces so they stay in place. And Julbo's Arctic ($64) combine glacier-glass protection in a remarkably stylish package with excellent lenses, solid frames, and special vents that direct air over the lenses to reduce fogging.
Get more advice from the Gear Guy as he picks this season's top gifts in Away.com's Holiday Gift Guide. You'll probably find a few things to put on your own wish list, too.