Gear Guy
How do I decide on length for a pair of sidecut skis?
I'm giving up my old straight skis for the newer shape of skis. How do I decide what length to get, since I understand that you can drop back on length with a shaped ski. I'm an advanced intermediate with bitions to push my ability, currently skiing on 165-centimeter planks. Ann Bedford, Virginia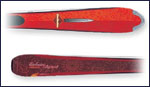 Heading out the door? Read this article on the new Outside+ app available now on iOS devices for members! Download the app.
Ah, winter. Lots of snow-related questions coming in, so people must be getting ready to hit the slopes. From the sounds of things, Denver was just slammed with a big dump this past weekend. Bad news if you're a power company rep; good news for powderhounds.

Dynastar Exclusive Legend

As for fitting your new skis, the general rule of thumb is that a shaped ski should be anywhere from 10 to 20 centimeters (four to eight inches) shorter than a "straight" ski. For you, that would translate into a ski that's in the 150- to 160-centimeter range. Naturally, there are lots of variables: the kind of skiing you do, the type of snow you typically hit (probably icy in your area), that sort of thing. So you'll want to look at several skis and talk to a good local ski technician.


That said, there are some skis you might put on your shortlist. One is the Dynastar Exclusive Legend Ski ($549; www.my-dynastar.com), a women's-specific all-mountain ski. These have a very generous sidecut for easy turning, with good stability on nearly all snow conditions. They come in 152-centimeter and 158-centimeter lengths—the shorter one should certainly meet your needs. K2's T:9 Burnin' Luv skis ($599; www.k2skis.com) are also for women, with perhaps a stiffer core than the Dynastar that'll offer you better performance for when you're pushing hard. The 153- or 160-centimeter lengths will work for you. For more of a carving ski, but one that is still good on all the slopes, Völkl's Supersport Gammas ($699 with Marker Motion LT bindings; www.volkl.com) is also a solid choice, a women's ski for the advanced skier, with lots of control and great turning ability.
You'll love these new-generation skis once you get them out. They're virtually telepathic—you think "turn" and you're on your way.
Check out the 2004-05 Skiing Guide for resort reviews, gear ideas, snow reports, trail maps, and more.