Gear Guy
How do I pick out the right snowshoes?
What's the difference between all these snowshoes available? The price range is so huge. What are just bells and whistles, and what do I really need to look for? Kevin Chattanooga, Tennessee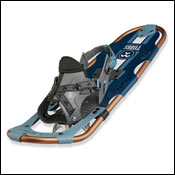 Heading out the door? Read this article on the new Outside+ app available now on iOS devices for members! Download the app.
Snowshoeing is one of the great winter sports. Most of the gear you have for summer hiking works just fine in the winter, and all you need then are the snowshoes, poles, and maybe some gaiters. And the learning curve is about…well, you can walk, right? So you already know how to snowshoe. And the places you can go! It's great.
Tubbs Ridgeline 30

Ridgeline 30
Snowshoes are all more or less the same (yeah, I know all the makers would dispute that point). They consist of a perimeter frame, nearly always made of metal, that supports tautly stretched "decking," which is what provides the float on snow. A binding that straps onto the boot provides a pivoting attachment point. And various crampon designs offer some bite on hard snow or ice.
The main differences are: the size of the snowshoe, which determines the float, the design and heft of the binding, and the size and capability of the crampons.
For instance, the Atlas 925 ($130; atlassnowshoe.com) is a casual snowshoe for jaunts off the back steps or in moderate terrain. At 25 inches in length, it offers enough support for 120 to 200 pounds, including the person and pack. That figure varies with snow density. Its bindings are adequate but not terribly beefy, and its crampons don't offer bite when the going gets steep. Redfeather's Trek 30 ($169; redfeather.com) offers similar features in a little different design—a tapered tail helps improve stability, like a rudder on a ship—and in a longer length that's good for up to 220 pounds.
At the higher end is a snowshoe such as the Tubbs Ridgeline 30 ($250; tubbssnowshoes.com). They're a big 30-inch-long snowshoe for big loads, and they have features such as extra-tough 7000-series aluminum frames, long, sharp crampons, and a beefy binding that's easy to use when wearing gloves and that offers lots of support when sidehilling or climbing steeply. Wear these puppies when ferrying a big load on a weekend or week-long winter trip.
One of the more interesting snowshoe designs is from MSR. That company's Ascent 22 snowshoe ($259; msrcorp.com) feature a perimeter frame that isn't tubular, as with most snowshoes, but that is made from a vertical blade of aluminum. Multiple teeth formed into the frame, plus toe crampons, make the Ascents the grippiest snowshoe around.
The other things you need that probably aren't in your summer kit are gaiters to keep the snow out of your boots and poles for support and balance. Outdoor Research's Crocodiles ($59; outdoorresearch.com) are sort of the gold standard in gaiters. They're tall, fit well, and are made with waterproof Gore-Tex. Black Diamond's FrontPoint GTX gaiters ($60; bdel.com) also have Gore-Tex and are a little trimmer cut than the Crocs.
You've got your winter gear, now get outside and use it. Away.com's ski and snowboard guide makes it easy to find nearby slopes just begging for fresh tracks.