2024 Winter Gear Guide
Review: 2024 Stöckli Laser WRT Pro
This year's best carving ski will allow you to live out your World Cup racing fantasy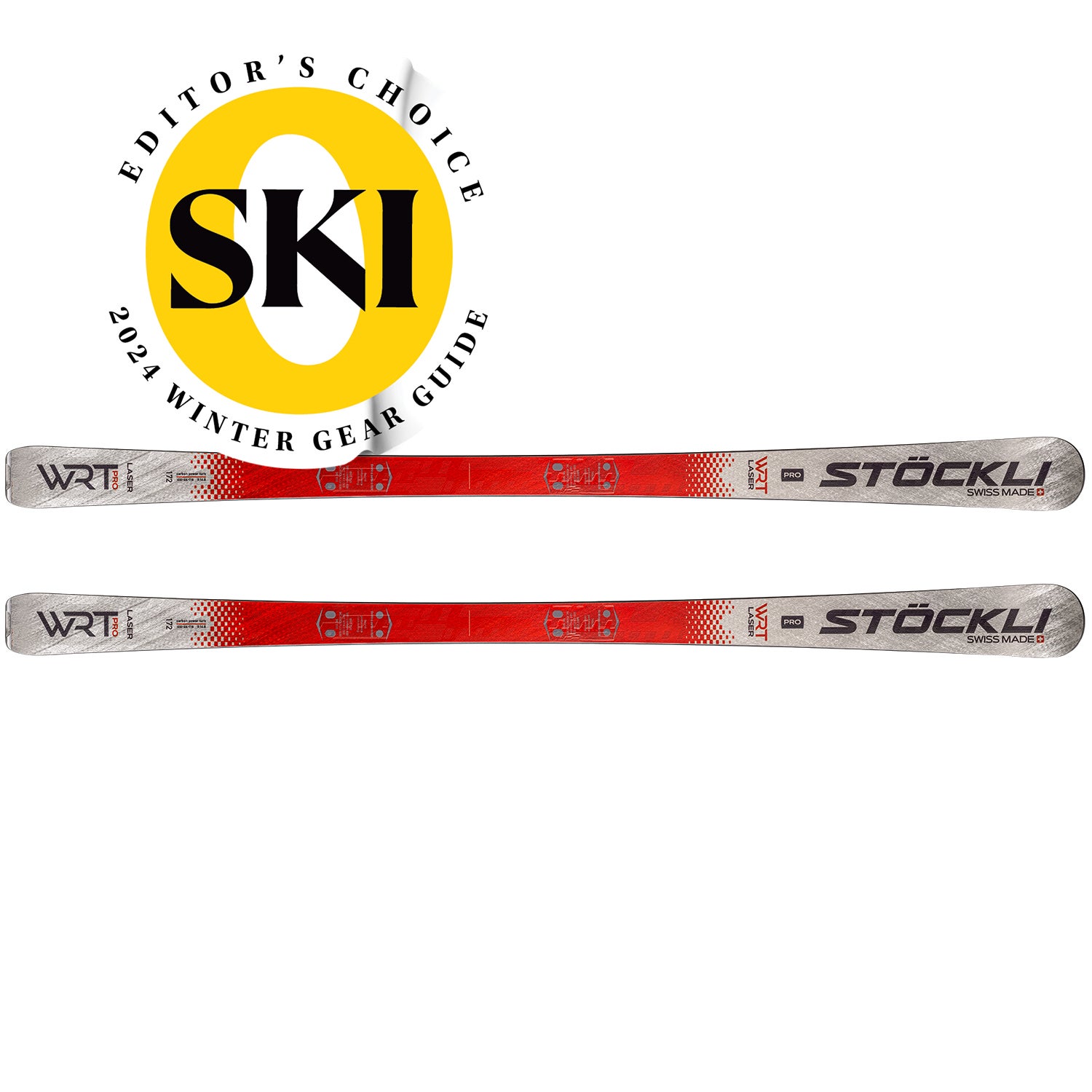 Courtesy Stöckli
Heading out the door? Read this article on the new Outside+ app available now on iOS devices for members! Download the app.
This article was first published by SkiMag.com.
At a Glance
Brand: Stöckli
Model: Laser WRT Pro
Overall Ranking: #1
Overall Score: 9.17/10
Strengths: Hard-Snow Integrity, Stability at Speed
Weaknesses: Playfulness, Forgiveness
Gender: Unisex
Level: Expert
Specs
Tip/Waist/Tail (mm): 118-66-100
Lengths (cm): 162, 172, 180
Radius (m): 14.8 (172cm)
Waist Width (mm): 66
Weight (per ski in grams): 1,765 (172)
Test Scores
Stability at Speed: 9.6/10
Quickness/Maneuverability: 7/10
Playfulness: 8.4/10
Forgiveness: 7.2/10
Hard Snow Performance: 9.6/10
Versatility: 9.2/10
Responsiveness: 9.6/10
Carving: 8.8/10
If the Stöckli Laser WRT Pro were college bound, it'd be an Ivy League contender. This carry-over model scored top marks in all review categories, solidifying the spot as the No. 1 Unisex Carving ski in this year's test. The high achiever earned near-perfect scores for Hard-Snow Integrity, Stability at Speed, and Responsiveness, with Versatility and Quickness not far behind. "The responsiveness was next-level," said tester Geof Ochs, director of marketing for Sync Performance. "This is an energetic, dependable, stiff ski with lots of pop that will hold on groomers, ice, or crud—no matter how hard you push it."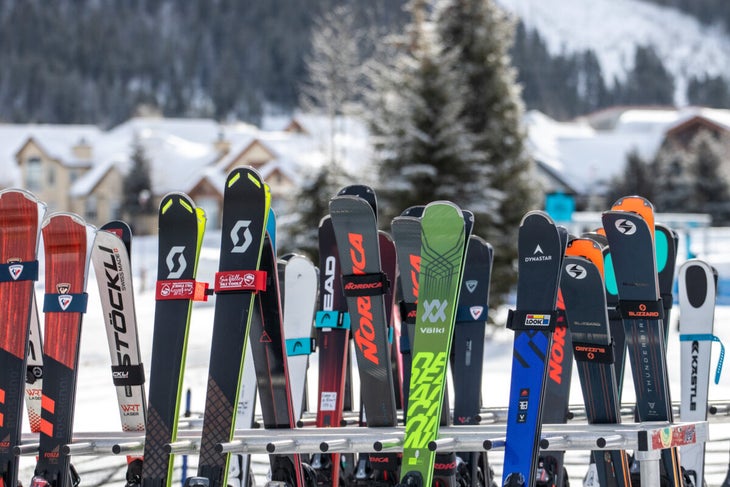 At 66 millimeters underfoot, this model had one of the narrowest waists of all skis submitted in the Unisex Carving test; however, the 14.8-meter turning radius hovers between favoring short- and medium-radius turns, which testers rewarded with high scores in Versatility. The Laser WRT Pro's construction comes directly from race skis, including wide metal edges and stiff racing sidewalls with full edge contact for direct power transfer. That full-on World Cup, metal-enhanced, sandwich-sidewall layup elicited adjectives like "burly" and "bomber." "My only gripe is that this ski is on the heavier side," commented Ryan Collopy. "It feels like it's got six sheets of metal in it, and it needs to get up to operating speeds to get good-quality turns going."
Related: Learn how metal impacts a ski's performance
In juxtaposition to the burly feel, testers were surprised at the variety of turn shapes the Laser WRT Pro could offer, as well as the responsiveness and rebound energy. The poppy, energetic demeanor comes from Stöckli's Carbon Power Turn tech, which includes a layer of carbon fiber placed underfoot and under the wood core. It's designed to contract at turn initiation and release at its finish, resulting in acceleration out of the carve. The sidecut trends toward short- to medium-radius turns, but reviewers found the Laser WRT Pro kept edge grip at high speeds and in GS-style turns, particularly on the skied-out springtime Colorado hardpack at Copper Mountain. Evidenced by the high marks in Hard-Snow Integrity, skiers felt that this model would suit advanced through expert shredders, coast to coast. "This is definitely for an expert who likes to ski hard snow and ice," noted Collopy. "It would be a great ski to rip GS turns down Main Street at Stowe."
The Swiss-made Laser WRT Pro is directly descended from Stöckli's race-ski collection, but with an everyman construction that includes the aforementioned carbon underfoot. At the SKI Test, it proved itself to be a high-performance carving ski with a wider bandwidth than the others, allowing it to perform well in a variety of turn shapes and snow conditions. Unapologetically not for the faint of heart, testers said, the Laser WRT Pro favors the skier who wants to lay a hip down on the snow and expects great edge hold, no matter how hard they push it. It's not playful, but it has all the other attributes to make it a bomber carving ski. "It's a no-nonsense beer-league missile," said Chris Bivona, owner of Ski Town All-Stars in Vail, Colorado. "This ski lives up to its name and roots as the hardest-charging ski in the category, by a long shot."
See how the Stöckli Laser WRT Pro compares to our other favorite carving skis of the year.
Lead Photo: Courtesy Stöckli
Trending on Outside Online