The Gear a Denali Ski Guide Relies On
IFMGA guide Jed Porter walks us through the gear in his ski-mountaineering kit for North America's highest peak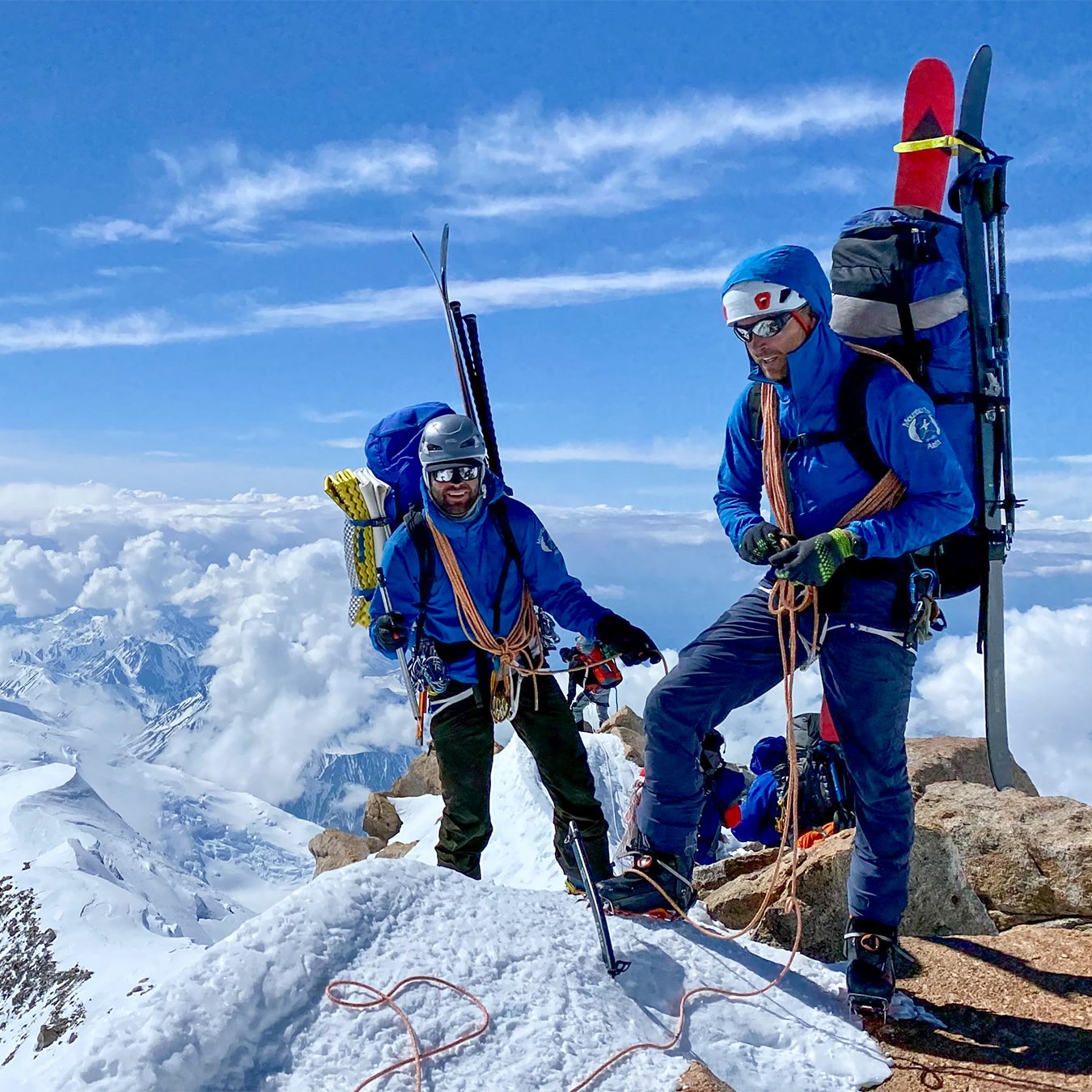 Dave Riggs
Heading out the door? Read this article on the new Outside+ app available now on iOS devices for members! Download the app.
At 20,310 feet, Denali is the tallest peak in North America—known as "the high one" by Athabascan tribes. The summit success rate up the standard West Buttress route usually hovers around 50 percent, although last year's unprecedented dry spring created many weather windows, availing a 70 percent success rate (the 2023 season was around 31 percent due to challenging weather).
One of those ascents was completed by Mountain Trip ski guide, Jed Porter, assistant guide, Jake Skeen, and guided guest, Dave Riggs, in June 2022. "Denali is extremely hard in every single way," said Porter, a full-time IFMGA (International Federation of Mountain Guides Association) guide since 2005. While the challenges to summit may be vast, the glory comes in the experience and the knowledge gained along the way. Here's the gear that Porter relied on to get himself up and down Denali safely.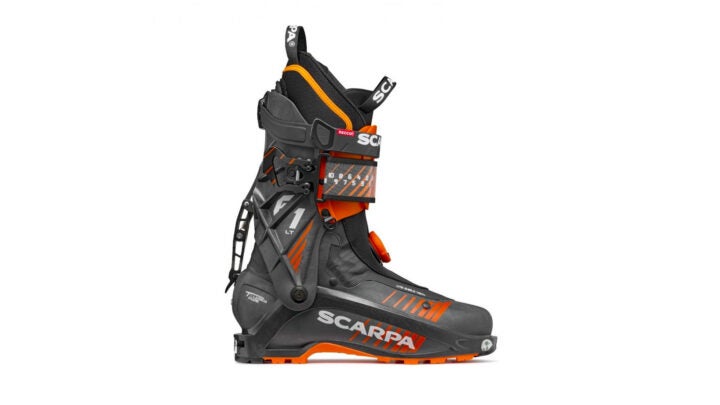 Boots
Denali records some of the coldest temperatures of all the high peaks in North America. Throughout the spring and summer, temperatures between high camp and the summit dip well below freezing, oftentimes lingering around minus 20 to minus 40 degrees Fahrenheit and comfortable extremities are an absolute necessity. Keeping this in mind, Porter chose to go with the lightweight Scarpa F1 LT boot ($899). "Cold temperatures at high endeavors meant a need for thicker foam liners," says Porter, who opted to go with a shell two sizes larger than his usual size to accommodate a thicker boot liner.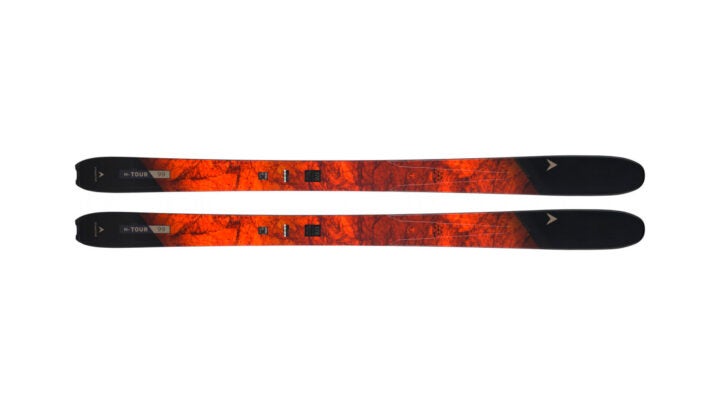 Skis
Ski mountaineering objectives tend to be more enjoyable with a lighter ski setup because they require less effort on the ascent. However, lightweight setups do compromise stability while traveling downhill, which Porter wasn't willing to risk. With this insight he used the Dynastar M-Tour 99 ($950), a versatile and reliable option that weighs 1300 grams per ski with a hybrid Paulownia and PU core. In general, Porter recommends choosing a ski that weighs around 1400 grams per ski with a width of 90 to 100 millimeters and provides a good amount of agility and precision.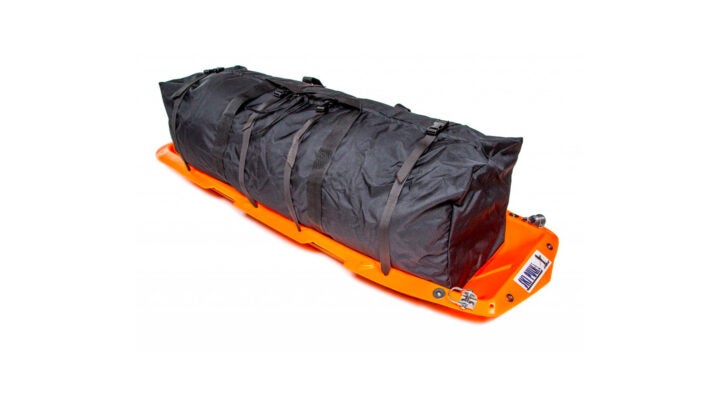 Ski Sleds
Denali requires a lot of equipment, which means guides often rely on a durable sled to transport gear between camps. Typically, groups will carry at least 60 pounds worth of gear in their backpack (sometimes even more), with a little less in the sled. Porter's team climbed with sleds up to 14 Camp, and advanced without sleds from there to the summit. Skiing with a sled can present some challenges (for example, it can be difficult to stay balanced and keep the sled from rolling over on tricky terrain while the sled is pushing on the skier from behind). Porter went with Ski Pulk's Paris Pulk ($260) and the Ski Pulk Full Length Pole Set ($145). "It took ten minutes to set up and helped a ton with the downhill," he remarked.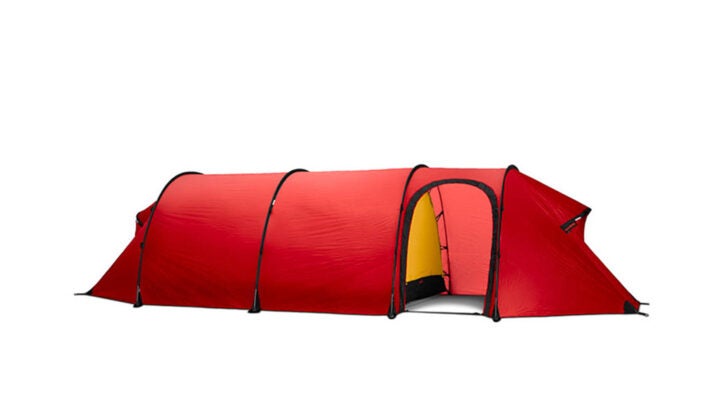 Tent
Deciding between tents on Denali can be somewhat of a gamble. Some teams choose to haul up one tent for sleeping and another for a kitchen—while others may just elect to bring one group tent. Porter and his group decided on one tent—the Hilleberg Keron 4 GT ($1,535), because the team didn't want to be weighed down with any unnecessary gear. The Keron is quite strong thanks to the tent's Kerlon 1800 outer fabric and 10-millimeter poles. Plus, the spacious vestibule provides enough room to dig out a kitchen for three people (which is great when the forecast is predicting dry weather). While the team lucked out on the weather, Porter said if they did catch a surprise storm, they would have been confined to one tent all day, which would have been a tight squeeze.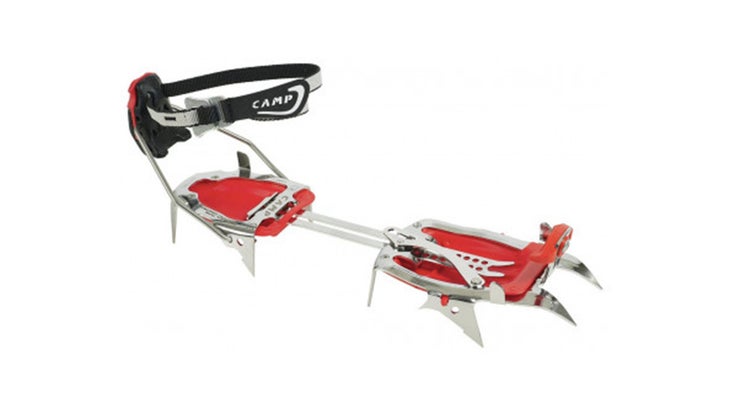 Crampons and Ice Axes
On a route like the West Buttress, crampons matter most on the upper mountain above 14 Camp. Porter and his crew down-climbed and belayed a section of the Rescue Gully from around 17,000 feet to just below 16,000 feet when conditions turned icy, with a fair bit of consequence below—open crevasses, rocks, steep slopes, and slide for life conditions. Because of situations like these, the crampons, ice axe, and pickets to bring up "the high one" has to be a calculated decision. Guides need to consider weight and the ski mountaineering objectives. If you opt for lightweight crampons, you may compromise on security on unpredictable slopes. 12-point steel crampons, while heavy, are more durable and secure.
Porter chose to go with a modified, all-steel C.A.M.P. Skimo Pure Nanotech crampon ($280) and the 45 cm C.A.M.P. Corsa ($120) aluminum ice axe. He picked lighter-weight options because he knew his team was experienced and wouldn't need to use their axes for the majority of the climb given the current conditions. While Porter thought the ice axe was the right decision, he wish he had brought the C.A.M.P. Ascent Universal ($170) instead, a more stable, lightweight steel crampon that holds 10 points (the Skimo Pure Nanotech crampon is 596 grams per pair, and the Ascent Universal is 776 grams per pair). According to Porter, the Skimo Pure Nanotech crampon was a little too light, with points that are too short (he described the Nanotech crampons as "squirrely"). 
Porter also decided not to take any pickets, which he admitted was a slightly aggressive decision. A picket is an aluminum T beam with a pointed end that can be hammered into snow or ice to add extra protection on a climb or serve as an anchor for crevasse rescue. Bringing pickets is widely debated in the ski mountaineering community—some argue that they're always worth the extra weight. In this case, Porter figured his team could use a combination of the ice axes, screws, and skis if they needed to administer a rescue haul.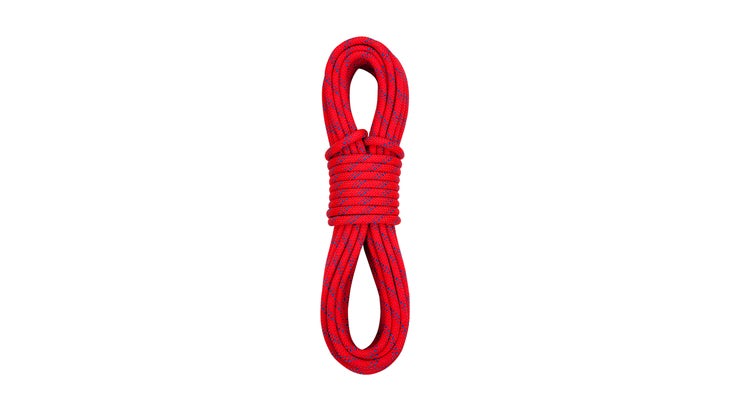 Rope
Deciding which ropes to bring up Denali requires a good amount of planning. Bring excess rope, and you could be carrying too much weight. Bring too little, and you could jeopardize your team in a dangerous situation. Ultimately, Porter and his team went with the ⅜" Sterling SuperStatic2 Static Rope ($195) at 46 meters for their ascent and descent below 14,000 feet, where navigating bigger crevasses is more prominent. They selected two 6-millimeter, 30-meter Petzl Rad Line ($240) ropes tied together in the middle for the upper mountain. This allowed the front and the back person to drop an extra 10-18 meters of rope at the top, which helped lighten the load for the summit push.
Lead Photo: Dave Riggs
Trending on Outside Online