Gear Guy
Is a three-season tent enough for winter camping?
You recommend the Marmot Equinox as a three-season tent, but will this work for winter camping when temps hit the mid-20s and 30s? I'm looking at some convertible tents (Mountain Hardwear's Skyview 2, Marmot Swallow 2, and The North Face's Nebula), as well as non-convertible options like the Equinox and TNF's Roadrunner 2. Thanks, I just started reading your column and really appreciate the insight. Alexis Syracuse, New York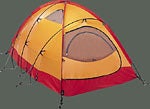 Heading out the door? Read this article on the new Outside+ app available now on iOS devices for members! Download the app.
Yes, insight we have. Just ask any recumbent-bike rider you happen to know!

Marmot's four-season Thor: 9

Winter camping? I'd suggest a tent with as little interior mesh as possible, or one that can be effectively sealed up. The Equinox ($259; REI currently has them on sale for $190) is a fine tent, but is a little too airy for really cold temperatures. I've been comfortable in my Equinox in temps down to the 30s, but I wouldn't take it out snow-camping.
"Convertible" tents are designed to bridge the fall-to-winter season by offering zip-out panels inside the tent, allowing you to change ventilation as conditions change. An example: The Mountain Hardwear Skyview you mention ($295; www.mountainhardwear.com). It has doors that can be closed with mesh—for buggy, warm nights—or with a ripstop panel when it's cool or breezy. It works well, but the downside is that the tent's eight-pound payload is a little porky for summer use. Marmot's Swallow ($359; www.marmot.com) is similar in concept, but weighs a little more—almost nine pounds—due to its larger size and additional windows and doors. A nice tent, but nine pounds? The North Face Nebula ($349; www.thenorthface.com), meanwhile, has convertible features and can be stripped down to about seven pounds.


A convertible-type tent would work well for folks who want to get a single tent that can manage summer trips as well as the odd winter outing, particularly if you're willing to pack the extra pound or two. For regular winter camping, though, I really recommend a true four-season tent. These tents typically are a little larger (to accommodate bulky clothing and sleeping bags), have less ventilation, and often add an extra pole to handle snow-loading. A good example: Marmot's Thor ($449; www.marmot.com), which has nearly 40 square feet of interior space, a big pole-supported vestibule, and an extremely strong design. It doesn't even weigh all that much—about eight pounds—so is the equal, or even superior, to many convertible tents.