Gear Guy
These North Face Slippers Are Essential Ski Gear
The super-comfy ThermoBall Traction Mules are as happy hanging out in the snow as they are around a fire back at the lodge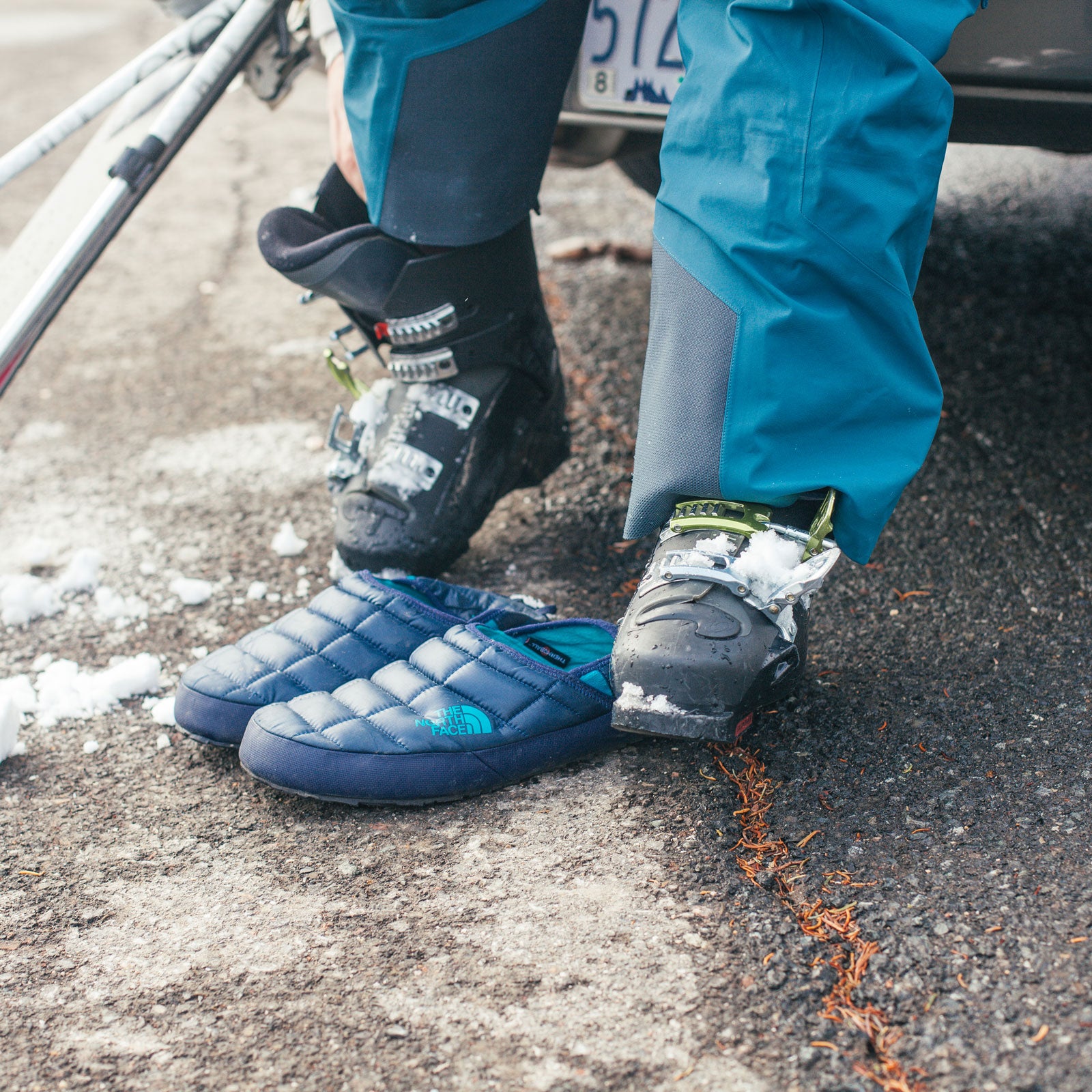 Sarah Jackson(Photo)
Heading out the door? Read this article on the new Outside+ app available now on iOS devices for members! Download the app.
My relationship with The North Face ThermoBall Traction mule slippers ($50) began when I got them in a goodie bag for running the 50-mile North Face Endurance Challenge in San Francisco in 2013. I hadn't trained sufficiently for the event, but even worse, my shoes were too narrow for my feet. My bleeding pinky toes, which had lost their nails, were swollen larger than my big toes. I spent the night soaking in a hot bath, choking down the pain with three In-N-Out burgers and a six-pack of IPA delivered by my loving wife, and got up in the morning to make the six-hour drive back to Ashland, Oregon. I can confidently say I wouldn't have made it without the divine comfort of these mules swaddling my battered dogs. That was five years ago, and I'm only exaggerating a little when I say I've hardly taken them off since.
The nice wide footbed coupled with an oh-so-sweet brushed fleece interior is a winning combination. After a day of skiing, these mules are supple enough to easily accommodate my cold, achy feet. The dropdown heel cup makes for easy on and off if I'm just running outside to take out the trash. A single pull of the back tab raises the heel for more security if I'm driving to the resort on a powder day.
Most slippers sit firmly in the lifestyle realm, relegated to hours sitting around the fire in the ski lodge. That's not the case with these mules. The sturdy synthetic uppers feature a water-repellant treatment and are stuffed with PrimaLoft's ThermoBall, the filler made famous by TNF's line of jackets of the same name, which will still insulate if it wets out from melting snow. My mules have kept my feet cozy while sipping aprés beers outside in subfreezing temps. The soles are plenty grippy to safely navigate ice in the ski area parking lot.
My fondest memory of these slippers is standing in the Bunny Flat parking lot, having just summited and then skied down Mount Shasta. I held a beer in one hand and a salami sandwich in the other and was nearly crying with joy as the blood rushed back to my toes. As I wrote in my holiday gift roundup, there's almost no better feeling than prying your feet out of stiff ski boots and sticking them into plush slippers.
The mules have their limits, though. A buddy and I were driving down from the ski hill two winters ago, and we stopped four times to help dig cars out of snowbanks. The slippers made a valiant effort to keep me warm and dry, but they soaked through by car number three, and my feet were frozen solid when we got done. So maybe don't wear them if you plan on working a plow. But for downtime after a big day in the mountains—whether you're outside or inside—the ThermoBall Traction mules can't be beat.
Lead Photo: Sarah Jackson