Gear Guy
What gear do I need for cold winter runs?
I run in temps as low as 12 degrees. However, as I've been running in an old one-piece snowsuit for the past 18 years, it's time to treat myself to some new gear that's warm, breathable, and stylish. Any ideas? Adria Columbus, Ohio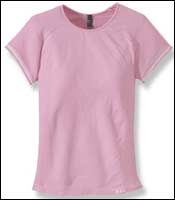 Heading out the door? Read this article on the new Outside+ app available now on iOS devices for members! Download the app.
I imagine you must look like something out of A Christmas Story, where Ralphie and Randy are zipped into Michelin-Man-like suits for their excursions into the brutal winters of Cleveland. What you need to do is follow the classic, and always valid, rule for cold-weather dressing: Layer. That way you can carefully modulate your apparel if it's 32 degrees out instead of ten, or windy rather than still. True, you need to assemble a larger array of clothing than your good ol' snowsuit, but none of the stuff needs to cost a lot, and in the long run it'll work much better.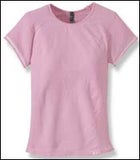 Seamless Women's Crew

For your torso and arms, start with a good-quality synthetic (or wool, if the budget allows) short-sleeve tee as your first layer when it's really cold. Patagonia's Silkweight T ($32; www.patagonia.com) would fill this role nicely, as would REI's Seamless Women's Crew ($30; www.rei.com), a great wicking piece made with CoolMax. Next, a midweight long-sleeve shirt, such as L.L. Bean's mid-weight Polartec Power Dry Crew ($32; www.llbean.com), or Patagonia's Capilene Midweight Crew ($38). These pieces add a lot of warmth without much weight. A luxurious higher-priced option is the SmartWool Women's Midweight Zip-T ($75; www.smartwool.com). I wear a lot of wool these days, and love it—it seems to regulate temperature better than synthetics, and doesn't feel at all clammy if you sweat out a bit. Plus, over multiple days of use, wool's better at battling the bane of joggers everywhere#&151;body odor's natural stink!
For bottoms, tights are really best for running, though I'll leave that to your aesthetic sensibilities. The Women's Under Armour Frosty Tights ($50, and available online at Road Runner Sports; www.roadrunnersports.com) should be right for most conditions. They're a mid-weight tight, and because you don't lose that much heat off your legs they ought to be all you need down to really cold, cold weather. Then, layer them with a pair of lightweight synthetic tights from any of the makers I've mentioned (will usually set you back $20 to $25). If you'd prefer something a little less form-fitting, Pearl Izumi's Tokyo Tight ($69; www.pearlizumi.com) is a trim but slightly loose tight. Find them at www.coloradocyclist.com.
All you'll want over this is a light shell to repel wind, snow, and light rain. The Women's Hind Mobility Jacket ($90 from Road Runner) is just the ticket; it's a well-fitted, comfortable piece that sheds moisture and helps wick body vapor out from underneath so you stay warm and dry. L.L. Bean's Agility Soft Shell Jacket ($129; www.llbean.com) combines a wind- and water-repellent shell with a light fleece liner for a bit more warmth than a shell alone. That would be a very versatile piece, as you could combine it with a T-shirt or long-sleeve crew alone, or with both shirts depending on conditions.
The other extremities you'll want to cover are your hands and head. Try Pearl Izumi for some slimline gloves, particularly its Encore Glove ($40; www.pearlizumi.com). The eVENT fabric promises breathability and windproofing in a design that won't encumber as you gobble up the miles. As for hats, take a look at Outdoor Research's Wind Pro skullcap ($20; www.orgear.com) to keep your noggin' toasty (and which will stuff in a pocket as things warm up).
So there you go. Layer up, and you'll be comfortable no matter what the weather.
Read "Desperate Housewife Stalks Male Supermodel in Sports Death March" from the October '05 issue of Outside for a glimpse into the extreme world of ultrarunning.