Gear Guy
What gear setup do I need for telemark skiing?
Any recommendations for a beginner's telemarking setup (skis, boots, skins, bindings) to use on groomed downhill runs and backcountry trips? I also recently bought a used Mountainsmith sled in the hope of taking my toddler up and down some trails at a local ski resort. Can this sled handle this type of use or I putting my kid's life in danger? Wayne Cleveland, Ohio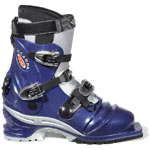 Heading out the door? Read this article on the new Outside+ app available now on iOS devices for members! Download the app.
Well, of course, the ne plus ultra in telemark boots remains the Scarpa T2, successor of the T1, the boot that utterly transformed telemark skiing in 1992. The T2 goes for $435, and improves on the original through its superior fit, stiffer body, better insulation, and improved buckles (www.scarpa-us.com). Kinda pricey, I admit, but perhaps you can find a pair that fits you on eBay or someplace such as that. (Gear Guy is an avid eBay-er, and thinks it the greatest online innovation since…well, the Gear Guy.)

Scarpa T2

The T2s are so good you can lash the proverbial barrel staves to them and still make it down the slope. Hell, I can telemark with them, which is the equivalent of getting a pig airborne and moving at near-supersonic speeds. But, short of homemade solutions, you want to try something like the Atomic TM 10 Superlight skis ($292; www.atomicsnow.com), which offer pretty good all-around performance at a reasonable price. For a step up, K2's Super Stinx ($460; www.k2skis.com) are extremely popular.


Ascension Adhesive ClipFix skins will get you uphill just fine. About $120, depending on length and width (www.bdel.com).
I think the kid-in-sled idea is fine, but I would be cautious about it. Stick to trails only—no downhill slopes. Once in a while I see parents skiing down the slope with an infant in a backpack. This gives me the willies. Sure, the parent probably thinks, "I'll never crash!" But that doesn't take into account getting clobbered by an errant skier or 'boarder. I just think it's flat hazardous, and even foolish.