Gear Guy
What headlp will hold up best on a winter trek?
All I want for Christmas is a good headlp for winter use, but things have gotten complex. Voltage regulators, duo headlps, multiple settings, alkaline versus lithium batteries: these have all muddied what should have been a simple choice. Basically, what's the perfect headlp for an overnight or multi-day winter backpacking trip? Scott Maple Valley, Washington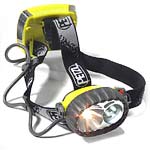 Heading out the door? Read this article on the new Outside+ app available now on iOS devices for members! Download the app.
I agree, it really is pretty tough to find a headlamp that seems "right" these days. Too many options. But, a few things are clear. For an "all-purpose" headlamp, a model that combines an incandescent-type bulb (halogen or xenon) with LED bulbs will give you the ideal combination of bright light for night hikes or other uses. Add to that the power efficiency of LEDs for reading or other activities that don't require blazing brightness.

One excellent example of such a beast: The Petzl Duo ($65; www.petzl.com), which has three LED bulbs—bright enough for probably 75 percent of the things you need it for—plus a very bright halogen bulb. Run the LEDs on their own and get 60 hours out of your four AA batteries. With the halogen alone, three hours.


Of course, the wild card is the temperature. The Duo's battery pack is attached to the head strap, meaning it can be exposed to the cold, diminishing battery life (though the Duo can automatically switch to its low-battery mode to conserve juice; I assume that's what you mean by a "voltage regulator"). Generally, it would have to be in the teens or colder for that to make a real difference, as even a head-mounted battery pack picks up body heat, especially if you have a hood or hat over it.
Additionally, there are some lights designed specifically for cold-weather use. An example: Black Diamond's Polar Star ($45; www.bdel.com), which has one halogen and one LED bulb. Its battery pack can be detached from the head strap and stuffed into a pocket or under a jacket—a big help in very cold conditions. Petzl's new Myobelt 5 has a similar feature, plus five LEDs and a xenon-halogen bulb. Very nice, but steepish price-wise at $75.