Gear Guy
What is the lightest, warmest winter sleeping bag?
Pound for pound and dollar for dollar, what is the lightest, warmest winter sleeping bag available? Brian Reno, Nevada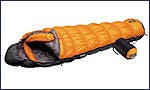 Heading out the door? Read this article on the new Outside+ app available now on iOS devices for members! Download the app.
What do you think I am, a scientist? That would take some pretty complicated number-crunching, featuring elaborate graphs plotting the curves of price, weight, and performance to divine the ideal intersection of the three lines. Because warmth is in part a factor of weight, a heavier bag is a warmer bag. Weight also is a factor of price—pay more, get a lighter bag in the same temp rating. Now I've confused myself…

Super Stretch #2

Two examples, though: You could, for instance, purchase Valandre's La Fayette 550. It's an exquisitely made down-filled bag, rated to five degrees, which weighs a mere two pounds two ounces. That's the lightest bag in that temperature range that I'm aware of. But, for the privilege of sleeping in it, you'll pay $539 (www.valandre.com). Or, you could purchase a Goliath 3D bag from The North Face. It's rated to zero degrees Fahrenheit, and costs only $179 (www.thenorthface.com). But it weighs nearly four pounds.


In between you'll find all sorts of good bags. Western Mountaineering's Antelope Super MF, for instance, has a five-degree rating and a very respectable weight of two pounds seven ounces. Cost: $385 (www.westernmountaineering.com). I'd say that's right in the cost/performance/weight sweet spot. Same for Feathered Friends' Ibis, a zero-degree bag that's slightly heavier than the Antelope—two pounds ten ounces—and costs just a touch more ($390; www.featheredfriends.com). One wild card would be Mont-Bell's Super Stretch Down Hugger #2 ($300; www.montbell.com). Although it has a "comfort rating" of about 25 degrees, meaning you'll be very toasty, Mont-Bell bills it as capable of keeping you healthy down to five degrees. And it weighs just one pound 13 ounces. A formidable competitor in this arena, I'd say.
More sleeping bags reviewed in Outside's 2004 Buyer's Guide.